Campus Recruitment Software
Simplify your virtual campus recruitment process. Use Online Campus Recruitment Software to screen and hire top talent. No More Operational Hassles.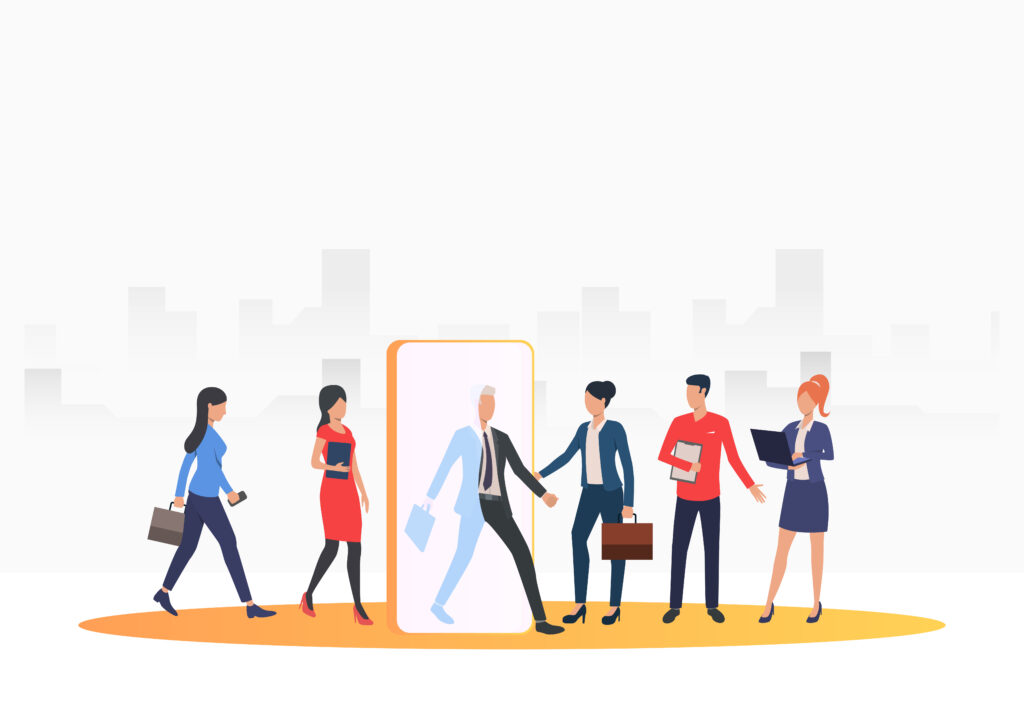 Trusted Partner for Virtual Campus Hiring
ASSESSMENTS FOR CAMPUS HIRING
CAMPUS RECRUITMENT SOFTWARE FOR END-TO-END HIRING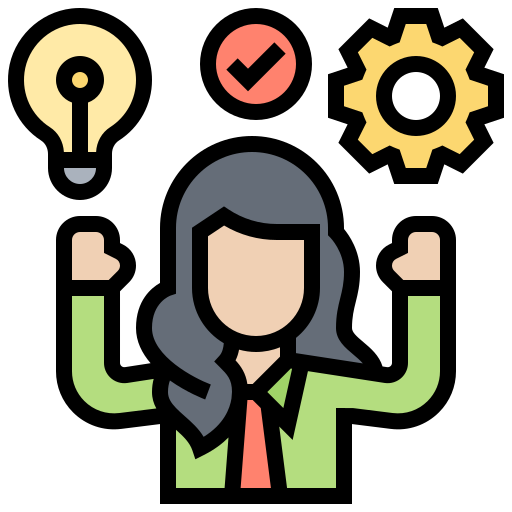 Cognitive Ability
Identify Cognitive Ability and Problem Solving skills of candidates.

Management Skills
Hire for management trainee roles. Assess candidates for competency in customer-centricity, marketing, and finance.

Identify culture-fit candidates on campus. Bring-down attrition rates by understanding job fitment and behavioral traits

Screen multiple skills all at once. Be it Aptitude, Technical Aptitude, or Coding Skills and soft skills. Screen all skills in the same test.
How Virtual Campus Hiring Tool Works
From Test Creation to Candidate Evaluation. The Xobin Platform facilitates Recruiters and Hiring Managers through the complete assessment process.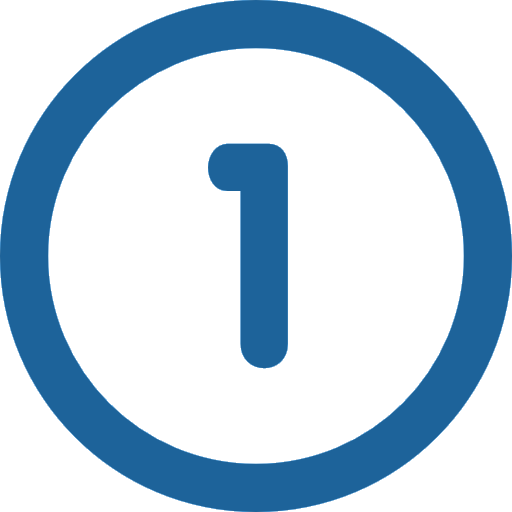 Select Test
Firstly, choose from our Library of job specific Pre-built tests. You can customize your own test too.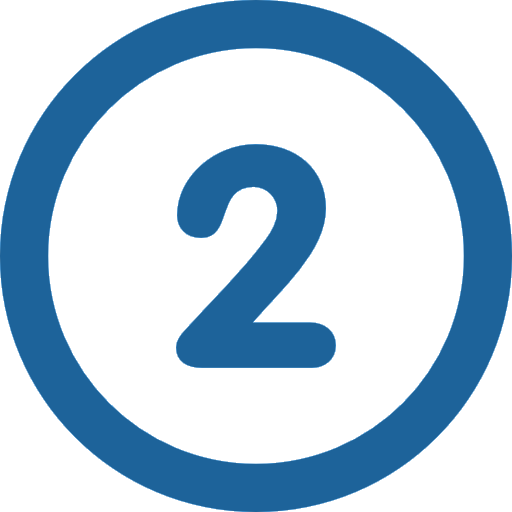 Invite Candidates
Secondly, Invite Candidates via Email, or Share the Url for the Pre-hire Assessment.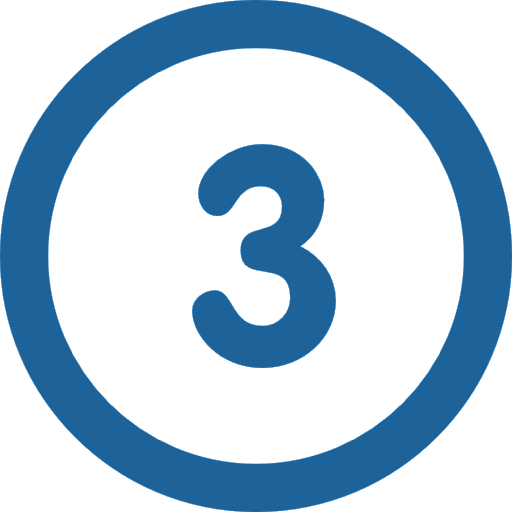 Testing Begins
Sit back while candidates take the online test. AI Proctoring features prevent cheating.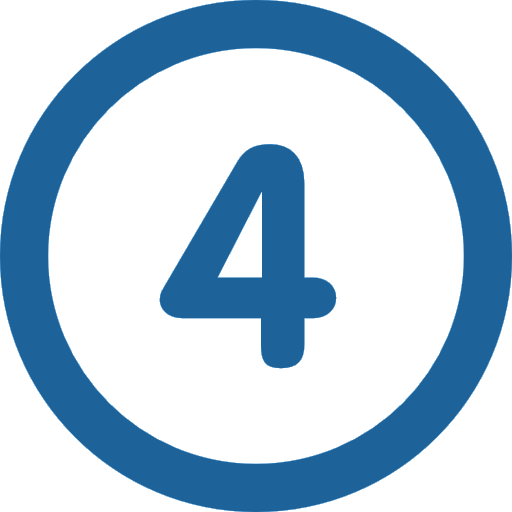 1-Click Shortlist
Lastly, use Auto-generated scores to Sort and Filter. Shortlist your top candidates with ease.
Why Xobin is the Preferred Campus Recruitment Software?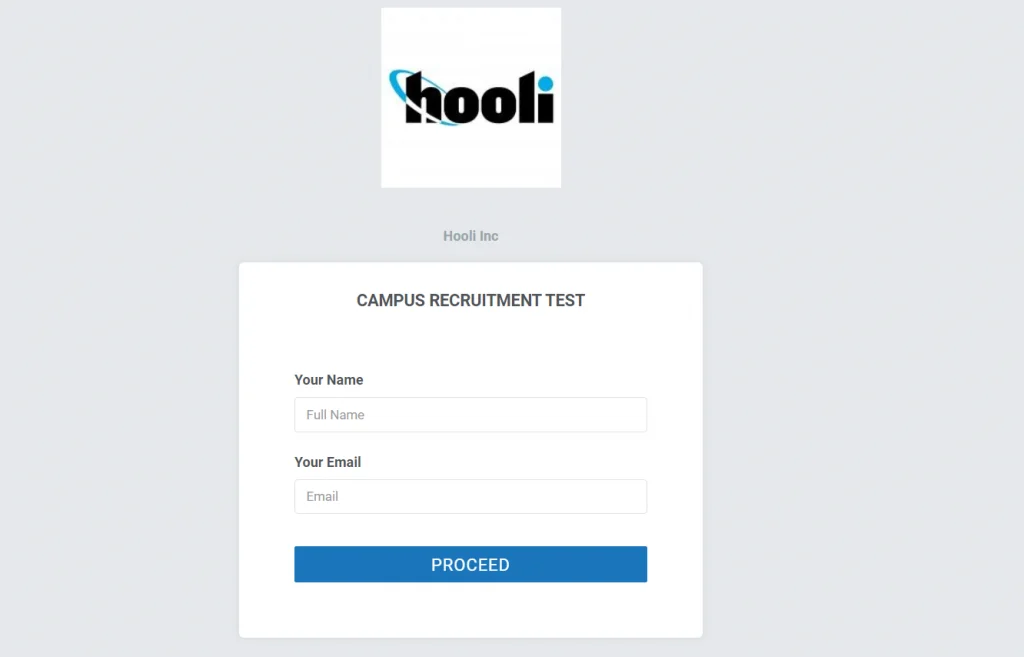 Company Branding
From Test Link to Company Logo. Provide a White-labelled solution during Virtual Campus Hiring Drives. Effortlessly customize your brand name and logo in Campus Hiring Tests.

Customize your testing interface to reflect your brand. Attract and hire the right people for your organization with effective branding.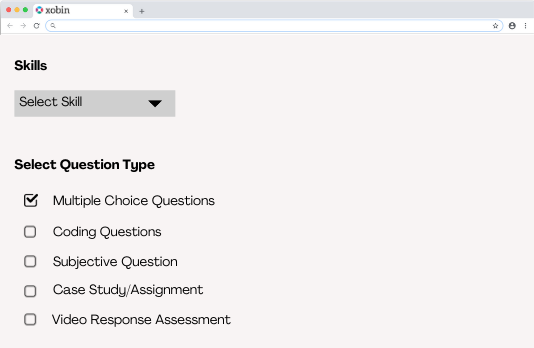 Evaluate on Any Skills
Be it Aptitude, Technical or Coding Skills. Build robust assessments using Xobin's vast question library. Evaluate any skill by choosing from over 35000 questions. Build the perfect Campus Hiring Test tailored to your job profile.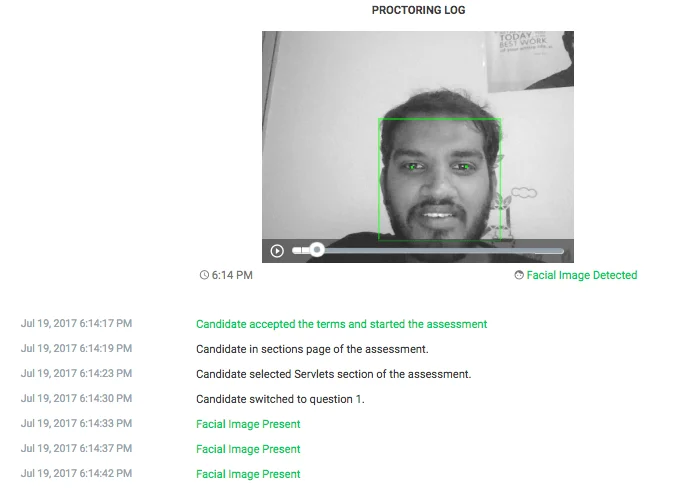 AI-Enabled Proctoring
The video proctoring and browser monitoring tracks candidates during a remote proctored exam. Any suspicious activity or behavior is flagged for Test Admins to view.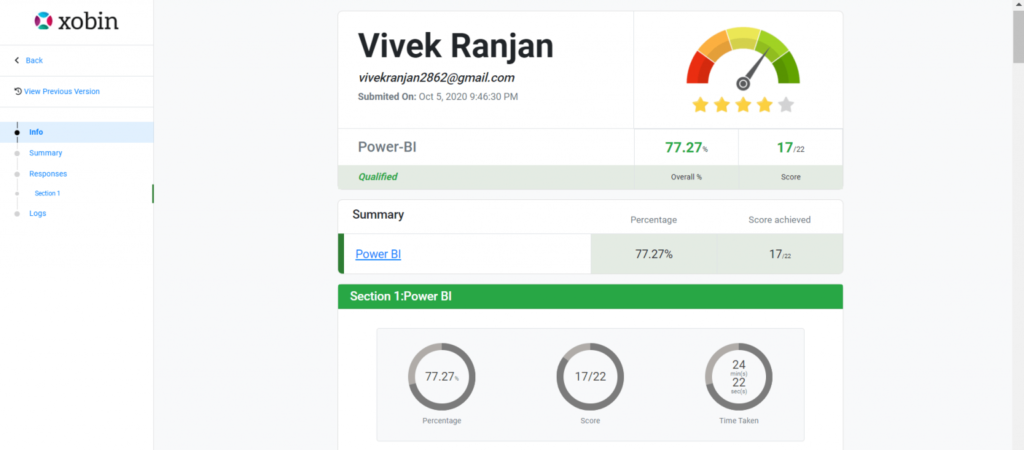 Instant Campus Hiring Reports
Get a Concise and Actionable 360 Degree Report of each candidate. Gain insights into your candidate's competencies. Utilize Xobin's in-depth analytics by tailoring reports to your exact needs. Make data-backed hiring decisions.
ADDITIONAL FEATURES TO MAKE YOUR CAMPUS HIRING SEAMLESS
Add a question, delete a question, modify our pre-built assessment, customize cut-off scores, customize timer, randomize the question library.

Global Multi-Channel Support With Best-in-class Turnaround Time. Xobin Team is available 24/7.

Want us to create exclusive custom assessments? We Help You Set Up and Guide You Through the Process.

Xobin enables you to add additional users to the platform. Collaborate and share reports with your teammates all in one place.

Unlike our competitors, we don't restrict our customers with invites. In Xobin, all plans come with unlimited invites.
Customer Reviews
Xobin alleviated every applicant's experience and facilitated in reducing the hassle in the whole hiring process.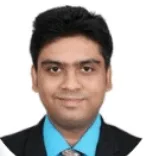 Gautham Sivaramakrishnan
Director at Headstart and Global Head for Startup Initiatives at Infosys
Online Coding Tests by Xobin helped maximizing our "Quality-of-Hire". Top quality questions & timely Customer Support cutback our operational burden.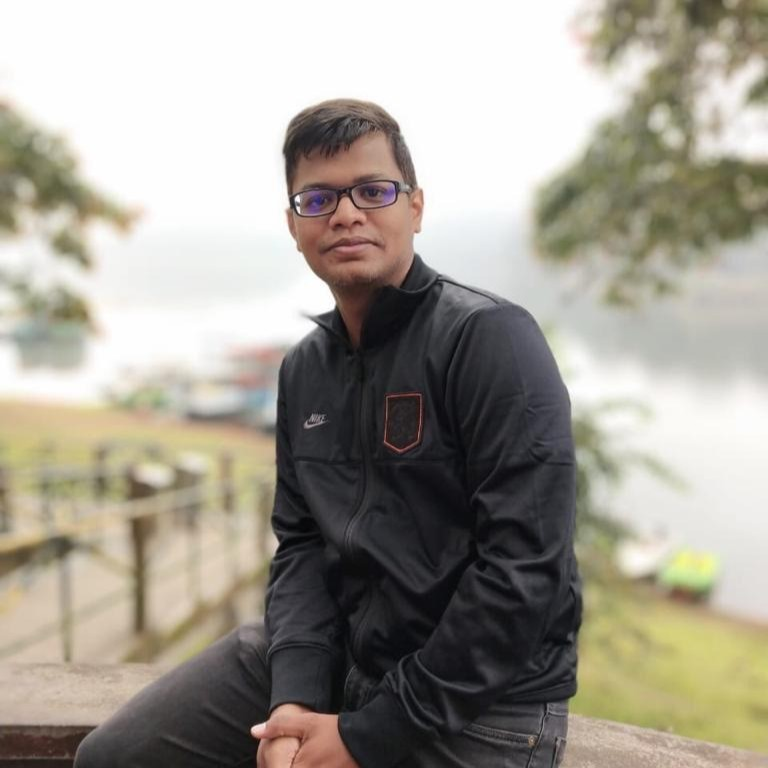 Karthik Ananthakrishnan
Senior Technical Architect, Beyond Square
Rated as a Leader by Customers & Experts

Straight from the Editor's Desk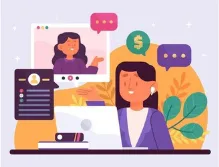 Comprehensive Guide to cater to all questions about pre-employment testing. Learn how you can implement it in your organization.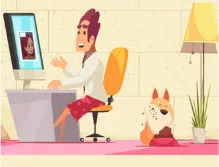 We break down the pros, cons validity issues & misconceptions about pre-Recorded Video Interviews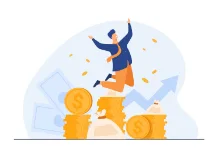 Early hires can make or break the momentum of a startup. Understand more about hiring skilled employees for your startup.
FAQs about Campus Recruitment Software
Can candidates resume & other details be retrieved by the campus recruitment software?
Yes, you can retrieve the candidate data using the option called custom fields. You can create multiple custom fields to retrieve different types of candidate data.
What is the benefit of using Xobin Campus Recruitment Software for campus hiring?
Xobin Campus Recruitment Software make it easier to look beyond a candidate's academic skills and hire based on knowledge of basic tools and techniques. You can also use the platforms to assess domain-specific knowledge, behavioral traits, communication skills, and more.
Will the proctoring feature work without a webcam ?
No, The test won't start if the webcam is not detected. Hence, If webcam proctoring feature is switched on its mandatory for the candidate to have a webcam. Browser monitoring is always switched on by default.
What types of tests can be conducted on xobin campus recruitment software?
You can conduct any type of assessments on xobin platform. You can customize domain-specific and other online aptitude tests for Campus Recruitment with multiple-choice questions, multiple answer questions, fill in the blanks, Coding questions, and more.