Why is Xobin the Preferred Pre-Employement Testing Software?
Revolutionize Your Hiring Process
Say goodbye to scheduling hassles and embrace seamless video interviews today!

AI based scoring
Video to text transcribing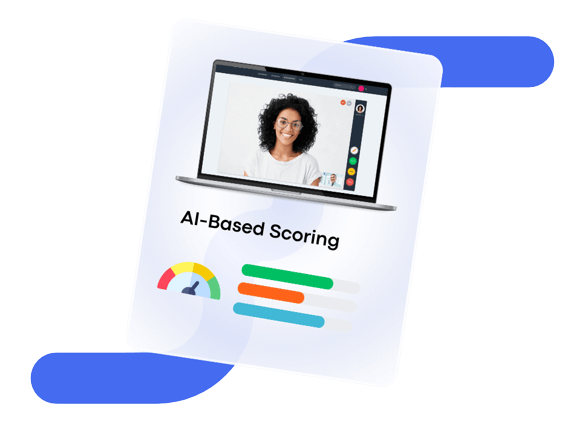 Experience Next-Gen Security with AI-Based Proctoring
Say Goodbye to Cheating: Empower Your Assessments with AI-Powered Proctoring

100% cheating detection with AI-based proctoring

No-tab activity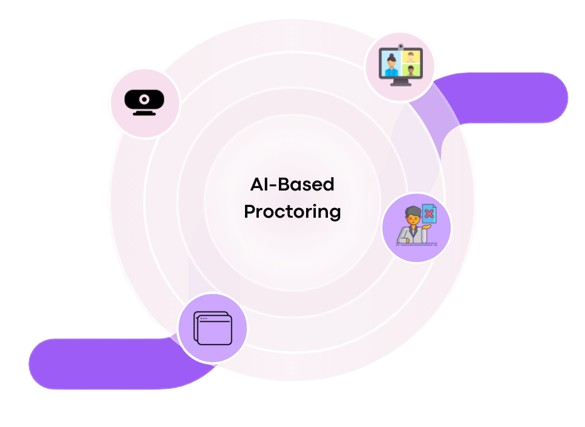 Harness the Power of Pre-Built Skill Tests
Uncover top talent effortlessly with our ready-to-use skills test!

1500+ Pre-built skill tests

Skill tests based on different skills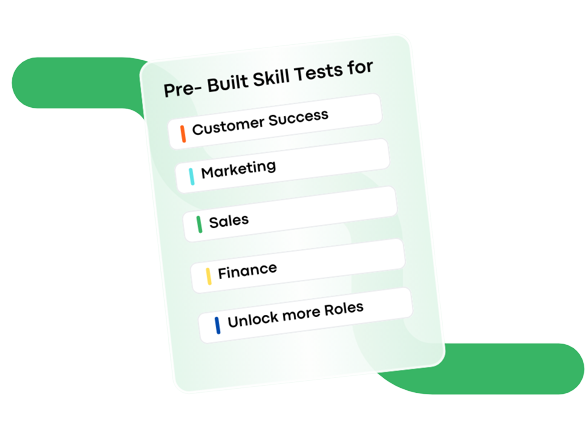 Unlock Limitless Possibilities with Extensive Question library
Dive into a vast pool of knowledge with our extensive question library

1,20,000+ Tech and Non Tech Questions

Questions which are right for the Job Role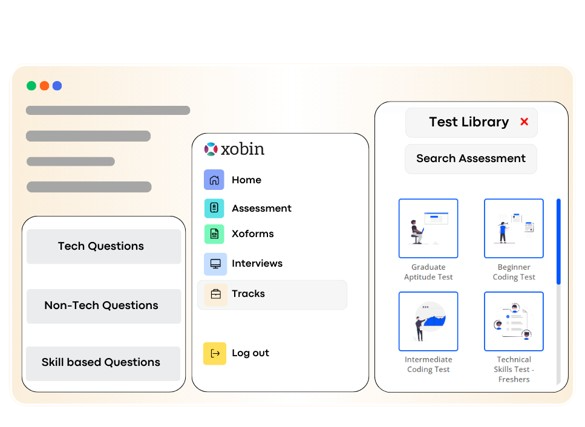 Get Access to high-quality assessments built by the best subject matter experts in the industry
✧ Applicant Tracking Systems
✲ Written Communications Skills
✧Verbal Communications Skills
❋ Online and Offline Sourcing
❋ Online Marketing & Advertising
❋ Creative and Analytical skills
❋ HTML and Web Development
✲ Customer Relationship Management
❋ Mobile Tools and Applications
✲ Transport Management Systems
✧ Inventory Management Software
✧ Supply Chain Management
✲ Budgeting and Reporting
❋ Budgeting and Reporting
❋ Key Performance Indicators
✧Laws, Regulations, and ISO
❋ Learning Management Systems
✧ Finance Statement Analysis
✲ Audtiting and attestation
Four Steps for Achieving Hiring Success
From Test Creation to Candidate Evaluation. The Xobin Platform facilitates Recruiters and Hiring Managers through the complete assessment process.

Select Test
Firstly, choose from our Library of job specific Pre-built tests. You can customize your own test too.

Invite Candidates
Secondly, Invite Candidates via Email, or Share the Url for the Pre-hire Assessment.

Testing Begins
Sit back while candidates take the online test. AI Proctoring features prevent cheating.

1-Click Shortlist
Lastly, use Auto-generated scores to Sort and Filter. Shortlist your top candidates with ease.
Additional Features To Make Your Hiring Experience Seamless
Choose from various Assessments for Pre-Employement Testing

Aptitude Test
It gauges a person's proficiency in verbal, numerical, and logical thinking. Problem-solving exercises and testing one's critical thinking in diverse circumstances can be used to assess competency.

Functional Skills Tests
Companies can assess candidates to check if they have the abilities they might need in working for the desired job role and professional lives by taking a functional skills assessment.

Coding Tests
Coding tests are evaluations created to assess a developer's aptitude and coding ability. They can be used in a variety of contexts, such as the hiring process for a new position, to assess a developer's current skill level, etc.

Technology Tests
Create test for technical roles by adding coding questions with a mix of code snippet based MCQ's. Create subjective question to evaluate candidate's understanding about a technology and evaluate them with the power of AI.
Building trust with the most stringent data security measures in place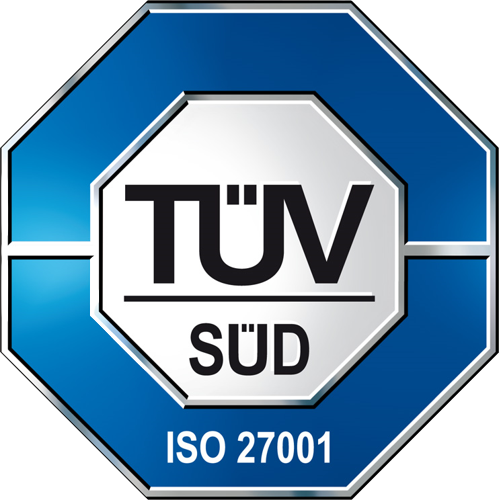 Building trust with the most stringent data security measures in place
The Best Pre-employement Testing Software
Leading review platforms have recognised Xobin's Pre-employement Testing Software as the best Pre-employement Testing software.

" "Set up is easy and fast"
" We have a common aptitude and psychometric test for the whole company and we use ad hoc skill test depending on the role we hire for. "
"Great product, great price and the usability is TOP."
"The setup is really easy for my company and the features are really well designed."
"Overall a very satisfactory experience with the Xobin and the team"
" The software is scalable, robust and meets all the requirements for Pre-screening job applicants."
"The tests and software does exactly what it says."
" We have flawlessly executed over 500+ tests and onboarded 30 candidates."
"Overall we're really really happy with Xobin."
"It's a huge improvement to our last assessment software and will be critical in our next stage of growth across Product, Data and Tech roles."
We've been able to collaborate in innovative ways
"I run Amplify (AMP's festival) on a really tiny budget. (Viostream) has been a great partner for many years."
Dominating the Pre-employment assessment industry globally.

4000+ Customers
Across 55+ Countries

1500 + Premade Tests
1,50,000+ Questions

800+ Skills
Across 25+ Industries
What is pre-employment testing software?
Pre-employment testing software is a tool embedded with ready to use tests that enable recruiters to swiftly, effectively, and perfectly analyze the candidate's skills for the particular job role. Generally, candidates are called remotely to test and prepare a deep analytical report. Xobin's pre-employment testing software is systematically designed to test participants based on – aptitude, psychometric, and skills. Our software facilitates recruiters to make the vital hiring decision based on logistics. This software test covers all the recruitment tests, so no matter your company's needs are, we have unique tests for you.
Why is pre-employment testing important?
The pre-employment testing software is loaded with numerous benefits – from easing out the employee selection process to improving the business turnover. However, at Xobin, we advocate the use of pre-employment testing software for the four primary reasons – 1. Accelerate business productivity with good hire. 2. Employees' retention rate can be dramatically improved with the reduction in hiring and training costs. 3. The efficient hiring process can be generated with less time-consuming features. 4. Improved defensibility of the recruitment process through the use of objective and validated metrics.
How are the Pre-employment tests created ?
Xobin's pre-employment tests are created by Subject Matter Experts. The test for each job role is mapped to a competency matrix. Questions for the online assessment are chosen based on the following parameters : Knowledge – Functional, Domain or Industry knowledge needed for the job role. Skills – Competency in core concepts and tools. These are related to skills required in day-to-day work activities. Attributes – Behavioural and Personality Attributes needed to succeed in the job.
Are the Pre-employment tests reliable and validated ?
Yes. These tests are EEOC Compliant. The online tests provided by the pre-employment testing software are reliability and validated. Reliability referes to consistency, while Validity to the accuracy of the test. In other words, Xobin's test can correctly measure the efficiency of candidates. Moreover, you can depend upon the outcome generated by the software.
What are the different kinds of questions that may be asked in the Pre Employment Assessment ?
Questions for a specific online assessment depend on the industry and job role. The Question Type may include : Multiple Choice Questions (MCQ) Diagramatic Questions Subjective Questions Coding Questions Case Study based questions. Video Based Questions Assignment and Work Sample Questions.
Articles related to Pre-employement Testing Software