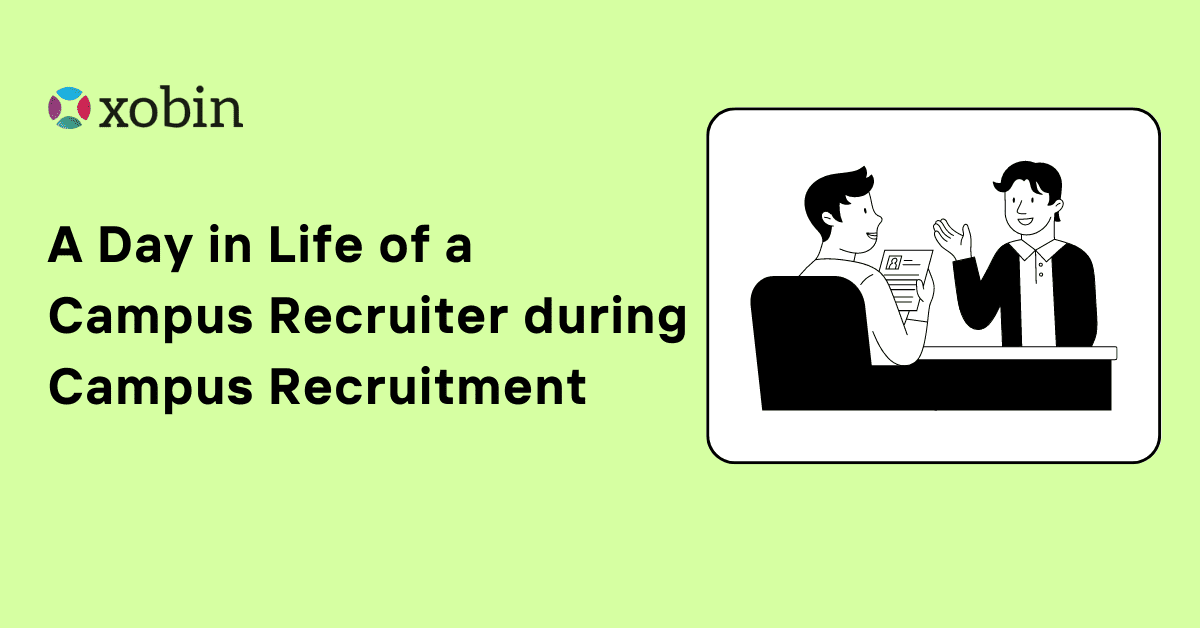 Campus Recruitment Season in India (July to Dec) is one of the most hectic periods for a recruiter. Sure, one does get a high when it works out well. On the other hand, if the right strategy and the Campus Recruitment Checklist aren't followed, it can turn into a badly organized event.
Over the past 4 months, I've visited over a dozen odd Engineering Campuses across South India. Since my team built Xobin, an #HRTech product focussed on skills assessment, I wanted to first-hand experience the life of a campus recruiter. (Also managed to get some gems. More on that later..)
   Looking for Recruitment Software? Check out the best recruitment software.
A Typical Day in the Campus Recruitment Process
6.00 AM – You wake up knowing that you need to be on campus by 9.00 AM.
You open Google Maps to check the location for the campus visit. The campus location of most of the top 100 engineering colleges is on the outskirts of the city. It's going to be a 2-hour journey. You wonder why your company couldn't contact the dozen-odd engineering colleges inside the city.
7.00 AM – Uber to the rescue. You get charged double rate but are confident of getting to the location on time, barring all the traffic.
9.00 AM – You reach the campus and are invited for a cup of tea/coffee by the Placement coordinator. The placement team treats you with the highest level of hospitality. Then after beating around the bush with casual topics of discussion around Coffee, Tea and biscuits, they slide in their moot question – "How many students does your esteemed company plan to recruit ?"
You smile and bring your diplomatic game on. "You see, we are expanding rapidly. We'd like to take all TALENTED and DESERVING students!" , stressing on the word deserving.
9.30 AM – To start off the formal Recruitment Drive, the institute invites you to an Auditorium/Seminar Hall to give a pre-placement talk. Your team smirk that the front 2 rows are empty. Students are fighting to sit behind in the last row.
Ah, so much for enthusiasm.
Pre-placement talks begin and you walk students through your company's mission and vision, your clients, your team, your off-site visits and on-site opportunities. As a result of these, sincere students start taking notes of your company.
10.00 AM – Halfway through the talk you ask – "Any Questions ?" Awkward silence across the room. You receive a blank look.
You unleash your last move. Your Brahmastra. The Money Shot. The Fresher Compensation slide.
It reads out 5 Lakh CTC.
Students sit up and take notice. At this time, your company is judged on the basis of CTC. Why? Kyunki na baap bada na bhaiyya, Sabse bada rupaiyya.
10:30 AM – You requested placement coordinators to put students in different labs and classrooms for a pen-paper test or online fresher aptitude test. After that, by going through your Campus Recruitment Checklist, you want it to be systematic, branch wise and simultaneous for all students.
You sense reluctance from the college management. The college authorities give excuses of lack of space, busy classrooms, non-functioning labs.
The widely advertised college infrastructure is on full display.
11:00 AM – You conduct an online aptitude and general programming test to screen out candidates with technical proficiency. Your team has been time in carefully selecting and handpicking the questions.
After Aptitude Test:
1:00 PM – Not a moment of respite. Students trying all forms of malpractice keeps you on your toes. From googling the answers to speaking out the answers aloud or even hand signals, you've seen it all. In the end, you gather your recruitment team to collect the answer sheets from students.
3:00 PM – If invigilation duty was difficult, analysis of answer papers is a level higher. After that, you go through each report of the aptitude test while your engineers view the pseudocode written by students in the Coding Test. You spend time to compile and consolidate their scores.
Considering the number of students you plan to hire, you decide to shortlist the top 15% of the college students for interviews.
4:00 PM – Technical and HR Interviews kick off. While the engineers conduct the Technical Interview, you settle down to conduct the HR Interviews to check for cultural fitment.
After Campus Recruitment Process:
The HR interview seems to be the easiest part of the day. As I have noted, early stage employees are trainable. As a result, you focus on testing the students on their situational judgements and their communication skills. You mentally make a note of which team they would be suitable for.
8:00 PM – You call for a team meeting to take a call on candidates who showed some spark and promise. After that, at the end of the day, you regroup at the college placement cell for the much-awaited interview results. You wrap up the proceedings by announcing the list of selected candidates to whom you would be rolling out offer letters and distribute some cool company swag.
While you are certain that you have rolled out offers to talented students, your mind is peppering with multiple doubts and uncertainties.
Are these prospective employees a cultural fit?
How quickly can these freshers be trained in newer technologies?
How to manage the high drop-off rates in campus recruitment?
Can the campus recruitment process be optimized completely?
Hit Refresh!! Campus Recruitment Simplified
Campus Recruitment in 2018 is a tough job. As a matter of fact, these young graduates bring in an abundant amount of energy and fresh ideas, according to a recent report by Society for Human Resource Management (SHRM), the cost of a wrong hire may go up to 5 times the annual salary.
The traditional Campus Recruitment events have 2 broad categories :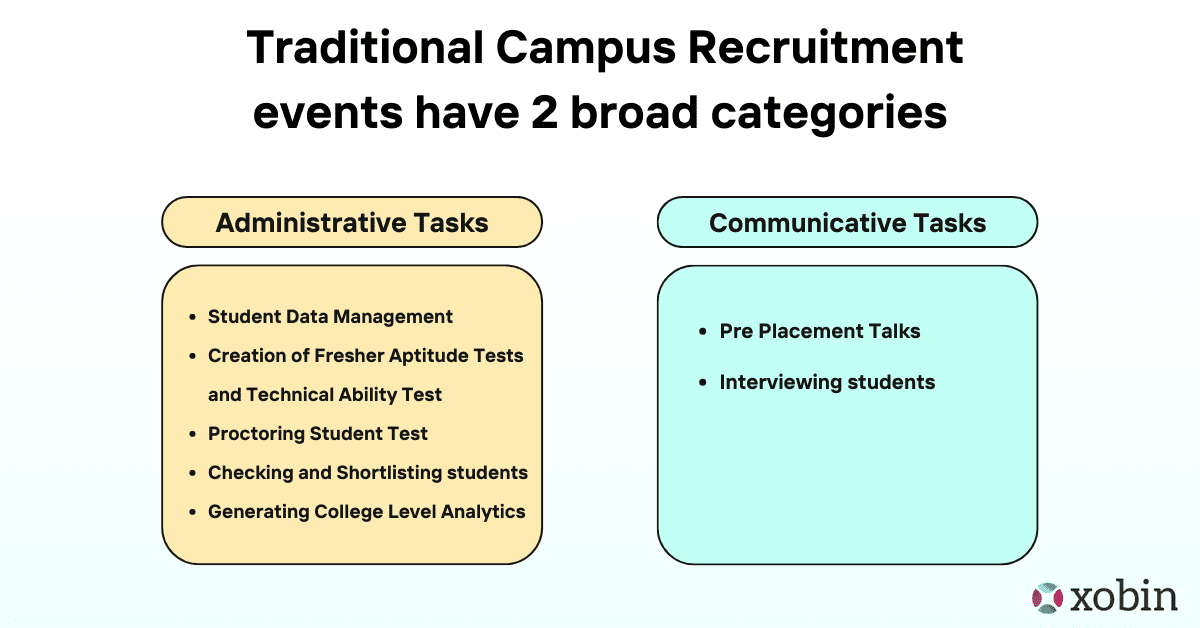 Administrative Tasks :
Student Data Management
Creation of Fresher Aptitude Tests and Technical Ability Test
Proctoring Student Test Taking Activity
Checking and Shortlisting students
Generating College Level Analytics for future Learning and Development
Communicative Tasks :
Pre Placement Talks
Interviewing students.
INSIGHT #1
With organizations moving towards digital transformation, innovative #HRTech products have ensured that the entire administrative tasks can be automated while retaining the human touch of communicative tasks.
Candidate's technical skills and soft skills need to be measured to get a good idea of their job fit. Data points from psychometric tests would help determine and measure the long-term suitability of a fresher for a particular job role.
INSIGHT#2
Crisp and Concise Data points from Psychometric tests would help determine and measure long term suitability of a fresher for a particular job role.
Adhere to this checklist and maximize your campus hiring strategy.
Software you need for all your recruitment process
1 Million +
Test takers per year
Customary Note :
Xobin cloud-based campus recruitment software addresses the key pain points faced by hiring teams. Interestingly, this cloud-based skills assessment platform stores student data, captures cohort wise analytics and generates detailed reports. Moreover, to improve efficiency, understand candidates better and make quick decisions during a Recruitment Drive, organizations have cited the need for a full-fledged Campus Recruitment Software.
With the benefit of combining psychometric assessments with technical assessments, startups or growing enterprises can identify the right fresher for the right role. Checkout sample reports!
So, this Campus Recruitment season, sit back and sip coffee while Xobin improves and automates screening, pre-employment assessment, shortlisting and candidate test management.