Campus Recruitment has always been a great opportunity for organizations to engage with young talent. So these young talents implement new ideas and energy into the company's culture. Yet, in a recent study by HBR, 92% organization acknowledged their 'brand problem' when it came to campus recruitment and university hiring.
On the other hand, more than three out of four final year students remained unsatisfied with their experience during Campus placement. Also, the lack of clarity on job descriptions as well as vague criteria stops students from coming for campus recruitment.
In order to delve deep and understand this expectation mismatch in Campus Recruitment, Xobin polled over 1500+ final year students across various universities and cities of India.
   Looking for Campus Hiring Software? Check out the best campus hiring software.
Here are the results and suggestions on improving your Campus recruitment process
Pre-Placement Talks during Campus Placement
Let's face it. Nobody wants to sit for hours and listen about past performance, awards, and the comfortable work environment of the organization.
Its important to excite the students about the work profile/job role being offering during campus placement. And most importantly the criteria of shortlisting during the campus recruitment process.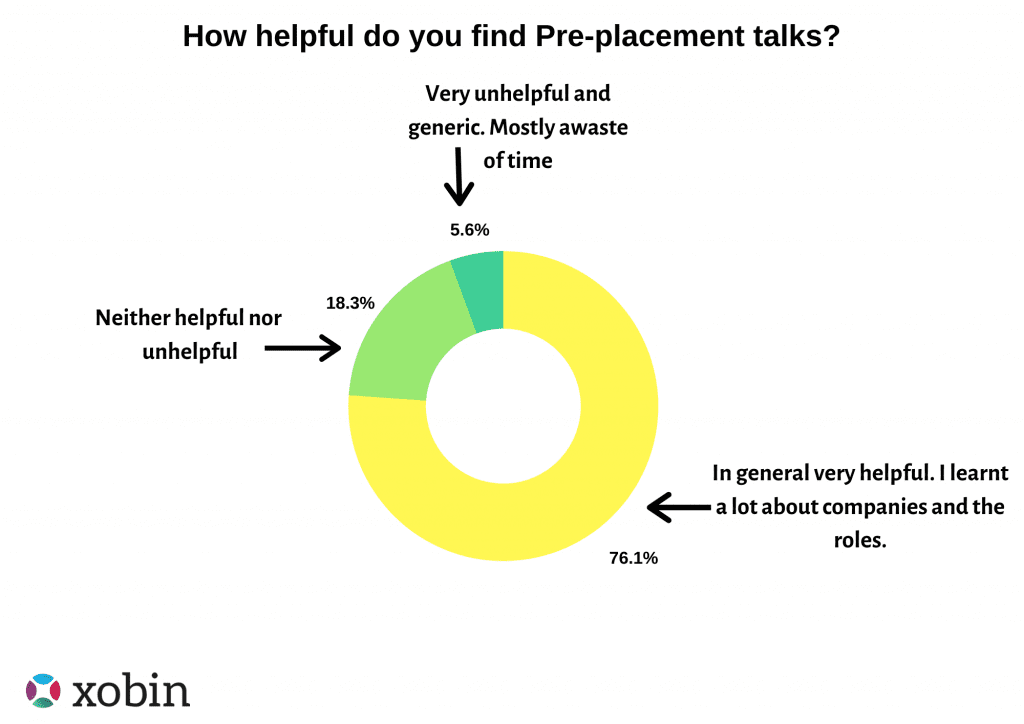 The result from the survey asserted this fact was more than 76% of them said that Pre-Placement talks during the hiring process are worth attending only if the engagement is about job roles, skills required and laying out a roadmap for their growth in that role.
PPT's during the campus hiring process is the best way for the organization, recruiters and candidates to come on the same platform and get to know about each other's expectations. It shouldn't be a bragging event where they try to lure the candidates with their brand, size, and money. So, the real focus should be:
Give Value, to Get Value!
Higher Education Vs Campus Placement
This surprised us the most!
People always talk about the fact that "Study all that you want, then earn all that you can". Well, this norm is changing, as the highest number of students in the survey said that they would prefer to learn on the job by participating in campus recruitment rather than spending money on Higher education.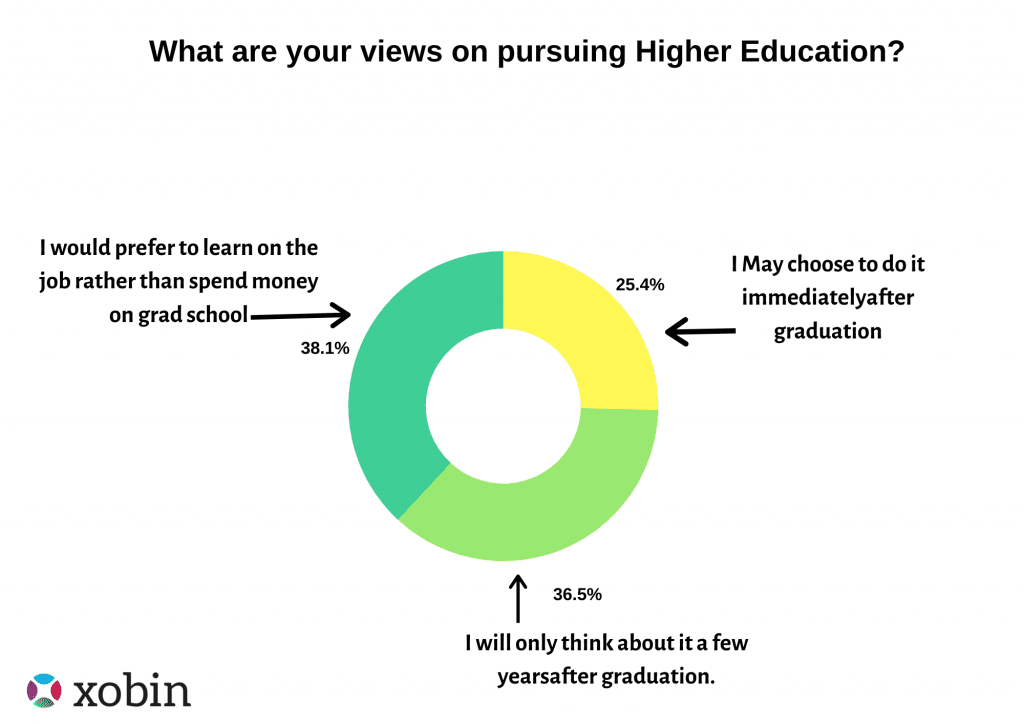 Experience is given more credit than Education and rightly so.
These millennials actually want to work, they want to add value and they take their campus placement very seriously. The problem comes when they don't get the same response from the hiring managers and their organizations. They don't get the opportunity to even showcase their potential during the campus recruitment because their GPAs are low, and hence they're not even considered.
From those who do get a job during campus recruitment, many of them are not getting value for their work and recognition. This becomes one of the prominent reasons as to why they quit and having experienced this, higher Education becomes a more lucrative option.
A big loss indeed!
Best HR Software Solutions
Campus Recruitment Software
With our online campus recruitment software screen, hire top talents hassle-free. Everything is under one platform, from test creation to the candidate's evaluation. from test creation to the candidate's evaluation.
Rating 5.0
Based on 321 user ratings
API Integration by Xobin
Get integrated and harness the strength of robust assessments with Xobin APIs. Save sweat and time and focus on your core offering, not building your assessment stack. from test creation to
Rating 5.0
Based on 321 user ratings
Coding Skill Assessment Software
With our 100+ coding assessments on various languages such as Java, Python, JavaScript, React, Angular, etc., evaluate and hire the best-talented developers. from test creation to the candidate's evaluation. to the candidate's evaluation.
Rating 5.0
Based on 321 user ratings
Pre-Employment Testing Software:
Get access to the vast library of validated tests to screen candidates using online assessments. Simplify your recruitment process with our cloud-based Pre-employment Testing Software. from test creation to the candidate's evaluation.
Rating 5.0
Based on 321 user ratings
Pre-recorded Video Interview Platform:
Pre-recorded Video Interview Platform allows candidates to fully express themselves to a pre-recorded question. So that you can get more insight into candidates in far less time than a traditional phone interview. from test creation to the candidate's evaluation.
Rating 5.0
Based on 321 user ratings
Expectations from Enterprises during Campus recruitment
More than 50% of students chose the option of getting a comfortable work-life balance as their primary reason for working in an enterprise during campus placement.
This result brings us to the question, Does a great job means a fat salary, great office, a big canteen, gym, etc. or is it more about the "Balance" that we can create between our office and our personal life?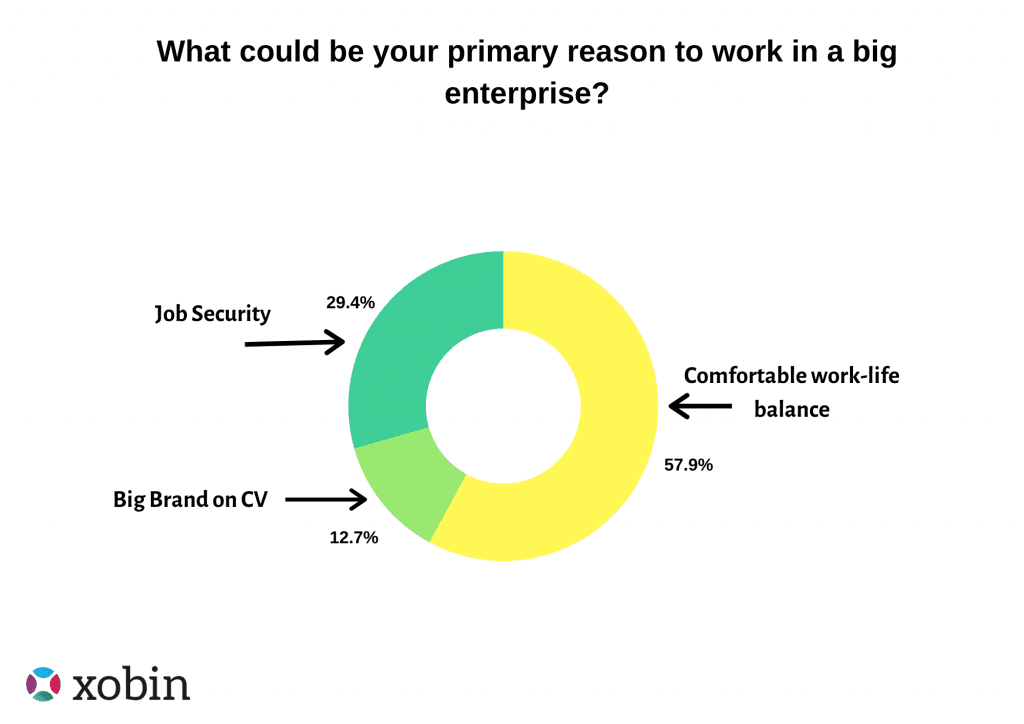 This survey proves that it's the latter option that really connects an employee with its employer, and he/she performs way better in an environment where their time and personal life are also valued along with the organization's goals and objective.
Creating an atmosphere of certainty and understanding is what drives results and a huge emphasis on it should be given by the hiring teams during their campus placement process.
The companies who understand people and their emotions are the ones who keep growing.
What makes start-ups preferable during campus recruitment
Out of all our survey questions, the result of this question was a complete winner with more than 75%, and what's that?
You guessed it right!
The opportunity to learn. Of course, why else would a fresher be willing to take the risk of uncertainty and unpredictability during his/her campus placement if it wasn't for the immense learning that he/she could possibly get out of it?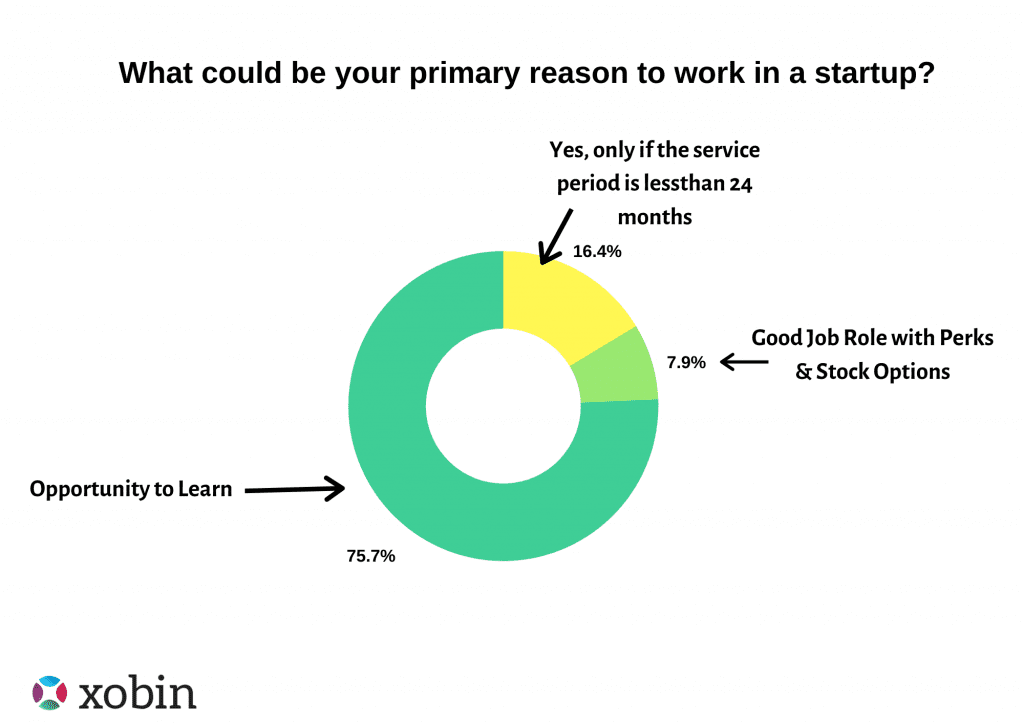 Think about it for a second. A student, just out of college could work alongside a CEO! Isn't that amazing?
Start-ups should definitely focus on the learning and development they can provide to these freshmen during their campus recruitments. They expect very high-intensity from start-ups coming to hire freshmen, a good office, and an ergonomic chair. Also, the canteen won't get their attention and would result in a failed campus recruitment process.
High Risk, High Reward!
Primary factor while choosing a job during campus placement
There are few students during college placements who have the luxury to worry about which job to choose out of the many that they have bagged.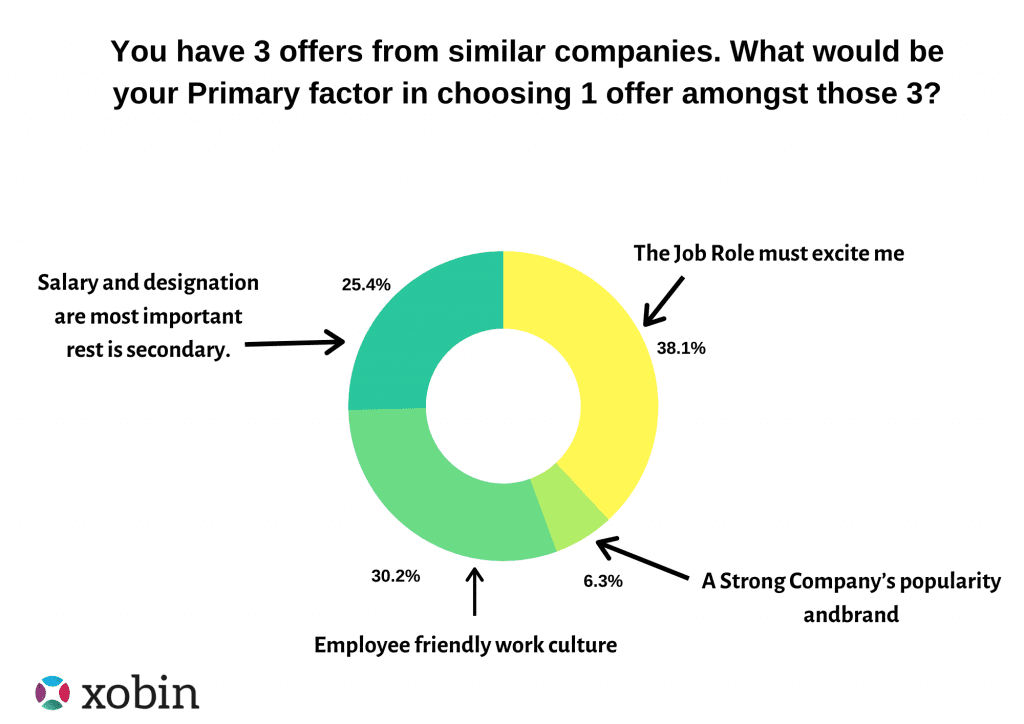 Job role, this was the option which was chosen by more than 38% of candidates. This comes as a surprise because it was chosen over the company's brand and popularity, Work culture and salary!
All the more of a reason as to why organizations and recruiters should try to create value. However, recruiters are rather just luring away students during their campus recruitment campaigns.
Give them a growth trajectory and they will follow the leads!
What role does a service bond play during campus placement
They indeed play a significantly huge role during the campus placement process.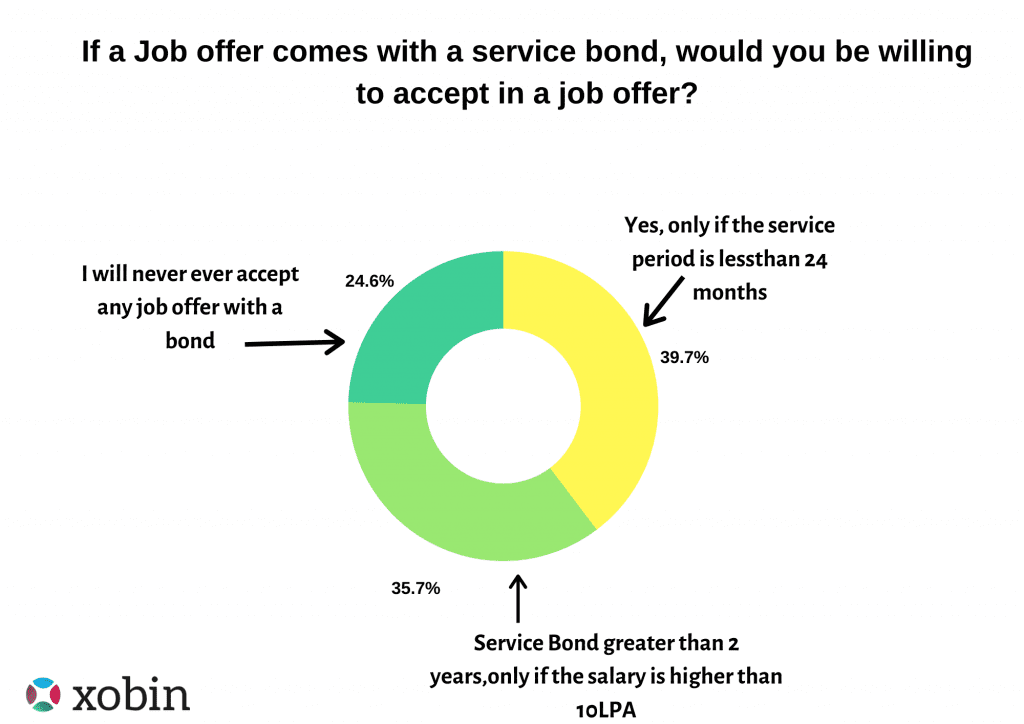 Students are unwilling to accept a long service agreements/bonds during the campus recruitment process. Moreover, they see such offers as a loss of freedom.
Organizations are not offering higher salaries and as a result students don't accept such offers.
The better option for companies during their campus recruitment season is to keep such agreements short. Instead, try to add value to your employee's work rather than tying him/her down.
Bonds are Burdens!
Conclusion
Campus Recruitment is sometimes termed an inefficient process. Because there's a difference in the expectations of the students and their employers. This survey and the suggestions are an attempt at understanding student psych and reducing the expectation mismatch.
Happy Hiring!