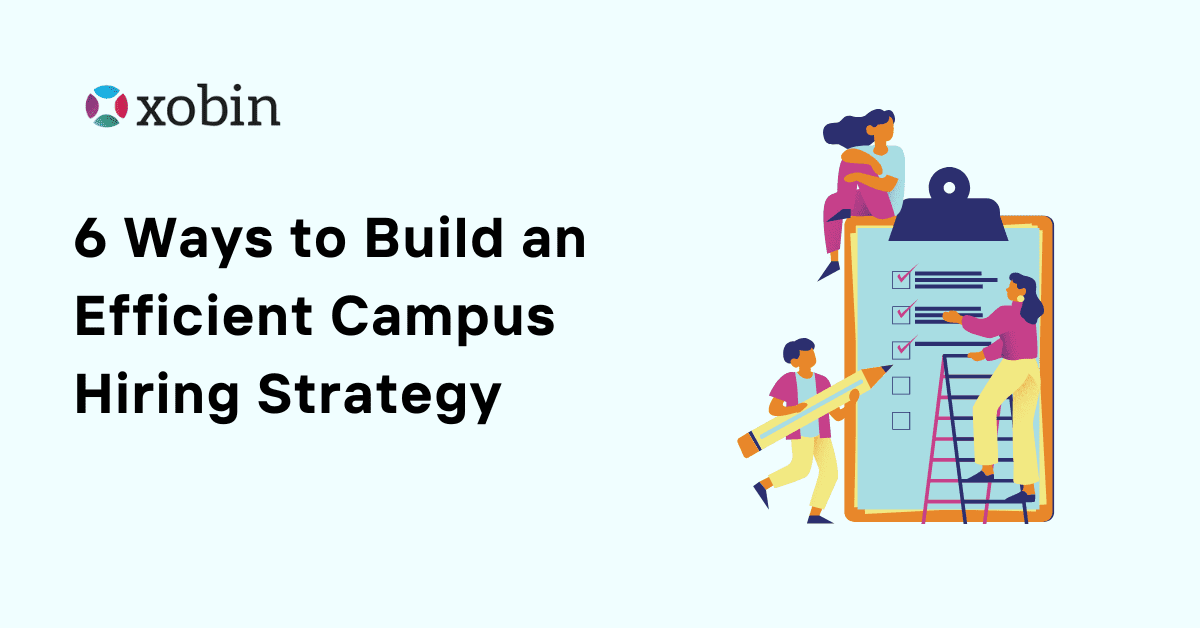 Campus Hiring season between July and December is critical for HR Teams. In this war for talent, organizations are fighting to find the right fit for their organization. But hiring and managing millennials is a different ball game. Moreover, with over 5 million students graduating every year, hiring managers need to be on top of their game. So what are the best campus hiring strategy to adopt this recruitment season? How do the best recruiters chalk out their strategy?
Let's take a look.
1. Identifying hiring needs before venturing out for Campus Recruitment
Firstly, Start with the end goal in mind!
Analyze whether you really need to hire freshers. It's imperative to understand if hiring fresh talent from the campus can really add real value to their organization. Before the hiring managers hunt for the right candidate during the campus hiring process, they should have a clear-cut estimate and idea of manpower requirements for their organization.
   Looking for Campus Hiring Software? Check out the best campus hiring software.
For this, the hiring managers should brainstorm with the employees of various verticals and horizontals to understand the requirement of roles, responsibilities, and skills required.
Secondly – check the amount of training that needs to be given to bring the fresh hires up to date. Quite often, recruiting teams undermine the level of training that may be needed before onboarding a fresher into a project.
Lastly, keep a list of technologies and a rough estimate of total hires across various roles and tracks. The more granular the estimate is, the better.
2. Choosing the Right Campus
A college isn't just a building. Each campus has its own culture and preference for certain skill sets. While a few colleges emphasize Design Thinking, others emphasize Product and App Development.
Certain colleges are known to produce solid technical talent while others are known to have highly creative students.
Recruitment Dilemma #1 – So where should you hunt for the right candidate? Which campuses should you hire from?
When it comes to deciding which colleges to target for university recruitment, first focus on determining the type of skills you're looking for. Next, look into which colleges have expertise in academic programs that match those functional needs.
Recruitment Dilemma #2 – Am I missing out on a pool of exceptional candidates from Tier II colleges?
This fear is not unwarranted. Organizations of all sizes have tacked this by organizing Hackathons to attract a large pool of candidates.
Don't fret about the logistics hassles of an Offline Hackathon. Choose an appropriate platform to Conduct Online Hackathon.
3. Innovative Job Description for Campus Hiring Strategy
When was the last time you read an advertisement in a newspaper?
Organizations have often erred by reusing and recycling old Job descriptions.
A key reason why companies are unable to hire well during campus recruitment is their Job description. So, Is there something like a perfect Job Description. ?
Sure there is! A creative and thought-provoking job description is a secret to winning the heart of students. Moreover, you can make an ever-lasting impression. A well-written job description can set the right expectations and help you connect better with the candidates.
Best HR Software Solutions
Campus Recruitment Software
With our online campus recruitment software screen, hire top talents hassle-free. Everything is under one platform, from test creation to the candidate's evaluation. from test creation to the candidate's evaluation.
Rating 5.0
Based on 321 user ratings
API Integration by Xobin
Get integrated and harness the strength of robust assessments with Xobin APIs. Save sweat and time and focus on your core offering, not building your assessment stack. from test creation to
Rating 5.0
Based on 321 user ratings
Coding Skill Assessment Software
With our 100+ coding assessments on various languages such as Java, Python, JavaScript, React, Angular, etc., evaluate and hire the best-talented developers. from test creation to the candidate's evaluation. to the candidate's evaluation.
Rating 5.0
Based on 321 user ratings
Pre-Employment Testing Software:
Get access to the vast library of validated tests to screen candidates using online assessments. Simplify your recruitment process with our cloud-based Pre-employment Testing Software. from test creation to the candidate's evaluation.
Rating 5.0
Based on 321 user ratings
Pre-recorded Video Interview Platform:
Pre-recorded Video Interview Platform allows candidates to fully express themselves to a pre-recorded question. So that you can get more insight into candidates in far less time than a traditional phone interview. from test creation to the candidate's evaluation.
Rating 5.0
Based on 321 user ratings
The next time you draft a JD, ask these questions –
Is it written to attract an individual?
Does it describe the culture of your organization?
Does this excite the applicants?
Try being a little creative. Let the job description be crisp and eye-catching.
PRO-TIP: For Inspiration from the most innovative job description.
4. Interactive Pre-placement Talk during Campus Recruitment
It takes an average human 400 seconds to go to sleep!
You wouldn't want to brand your organization as a boring one. For the exact same reason, Pre- Placement Talks are critical.
They are more of a Marketing Event rather than a recruiting one.
A Best practice is to take the help of the College Alumni. The Alumni can express a better connection with the students emotionally. Moreover, happy alumni, narrating their stories are more likely to resonate with young college students.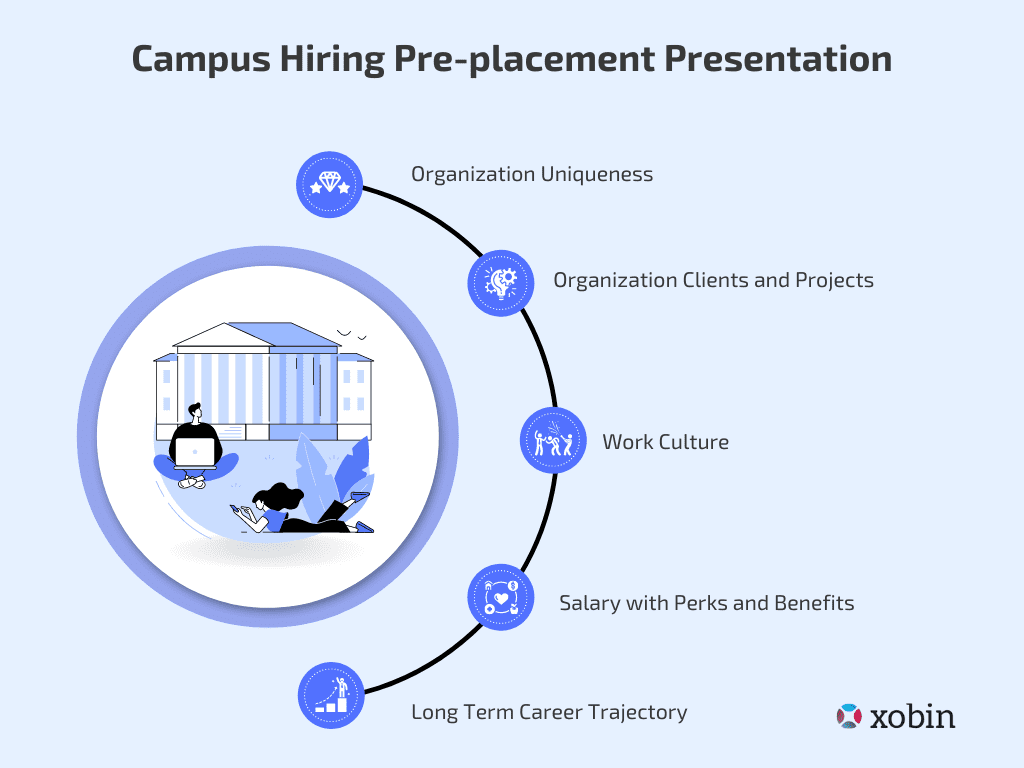 An ideal pre-placement talk should emphasize the following:
About your organization – What makes it unique?
The kind of projects and clients your organization deals with
Work culture
Salary along with perks and benefits
Long term career trajectory of employees
Want to go one step further? Therefore, take inspiration from organizations like Proctor and Gamble. Recently P & G made use of Chatbots to interact with students during campus hiring. As a result, students freely asked questions ranging from salary to company's products and even CSR activities.
That's one way to rock the first impression!
5. Automated Screening Tests for Campus Hiring
Let's be fair to students. In fact, grades are not the only metric to judge them by. It's often seen that students with comparatively lower grades can outperform others.
So how does an organization objectively review each candidate on a large scale?
Hence, to ensure a fair and square selection of students during campus hiring, it is important to assess the candidates on various skill-sets in an objective manner.
Logical and analytical ability tests:
Problem-solving is of utmost importance in today's business world. Campus Recruitment has often emphasized Aptitude tests. As a primer, companies use the basic aptitude assessment to understand the general thinking ability of candidates.
Psychometric tests:
Companies have a culture. The best performers are those who align with the company culture and have the right personality for the job role. The psychometric tests help find the right person for the right job.
Technical assessment tests:
Technical Assessment tests help the campus recruiters to understand the technical skillset of candidates during campus hiring. This helps recruiters analyze if the students have the technical competency for the specific job role.

6. Managing the offer-to-joining ratio in Campus Hiring
Did you know?
40 % of Freshers leave the organization within 6 months. The Cost of Losing a new hire is 3X the Salary
HR Industry thought leader, Dr. John Sullivan, mentions these as part of his latest research.
Talented students are often at the receiving end of multiple job offers. The best companies are aware of this. They continuously track 2 Metrics, Drop Offs and Offer to Join Ratio.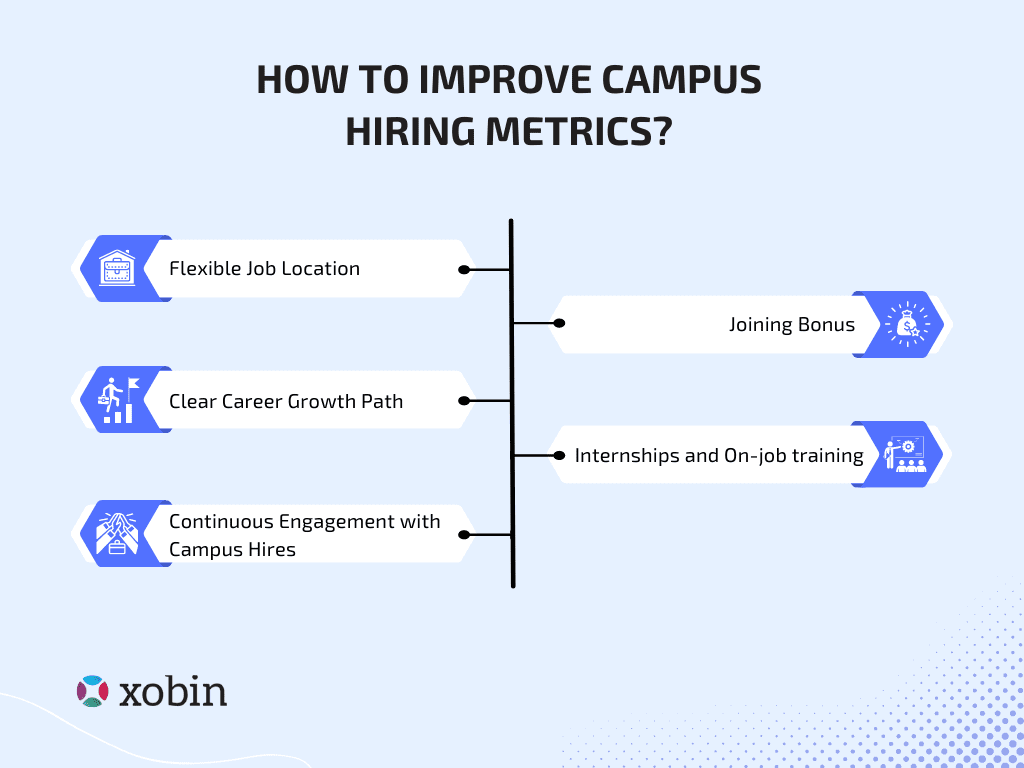 Multiple ways to improve metrics:
1. Flexible Job Location
2. Joining Bonus
3. Clear Career Growth Path
4. Internships and On-job training
5. Continuous Engagement with Campus Hires
Campus Freshers today are more aware of the options they have. Firstly, they look for jobs that align with their career goals and values. It's important for organizations to understand the applicants. This means understanding the personality and the values. Not just the skills.
Organizations today are big users of Psychometric and Personality Tests.
Firstly, these Job Specific Psychometric tests help to understand the personality and values of an individual. Moreover, Situational Judgment Tests help understand the behavioral traits of students.
This data is a goldmine for recruiters. This helps to select students who align with the company's culture. In contrast to forcing a role on a candidate, this method helps to hire managers to choose the right individual for the right role. A win-win situation for all.
In 2015, only 2 out of 10 offers that Airtel made converted into jobs. 80% of Candidates rejected the offer. Airtel brought it down to 50% in 2016 and further down to 26 % in 2017.
Today, 7 out of 10 candidates accept Airtel's Job Offer.
Here is a concise strategy used by Airtel.
We crashed the hiring process to 3-4 days. We also changed some of the ways in which we were hired. Hackathons and coding tests were introduced.
Developers wanted different designations such as Product Engineer or Senior Developer. So we decided to talk about the language they understood and created those designations.
Srikanth Balachandran, Global CHRO of Bharti Airtel
Conclusion
Campus Hiring can be fun.
Moreover, it is a great way to attract fresh talent to the company. Hence, successful companies use campus recruitment to bring in fresh ideas to solve business problems.
Therefore, a robust and reliable campus recruitment software is clearly a friendly companion. As a result, this allows recruiters to automate screening efforts and focus on interviews. Check out how Hakuna Matata, a Mid-Size IT Firm successfully concluded its campus hiring season.
It's your turn now!
Use the 6 Step Framework to crystallize your Campus Hiring Strategy. Also, try Xobin – A leader in Cloud-Based Campus Recruitment Software.
In case, your focus is on building your company's brand image. In this case, campus Recruiters do not need to analyze thousands of students. Therefore, let Xobin manage the screening, assessments, and student data. What you get is a data-driven Campus Hiring Process.