Colleges/universities are the pool of fresh talent. For companies looking for fresher recruitment, campus placements are the answer. Companies are actively going for virtual hiring when they are having campus hiring recruitment challenges during the Covid-19 pandemic. Companies that dominate campus hiring began exploring remote hiring to reach a bigger talent sourcing even before the pandemic hit. 
TCS, Infosys, and Wipro are said to hire more than 1 lakh freshers for FY22. Infosys planning to hire 35,000 college graduates for FY22 globally. And TCS will be hiring over 40,000 freshers in FY 2021-22. Wipro has said, the company will roll out over 30,000 offer letters this year for freshers to join in FY23.
College placement committees believe that the process of hiring remotely has become much more efficient. These are a few campus hiring recruitment challenges.
   Looking for Campus Hiring Software? Check out the best campus hiring software.
1. Limited time and staff 
The traditional on-campus recruiting campaigns have a fixed pattern. In which the companies visit universities with a small team that carries on the whole recruitment process.
The number of employees is very low compared to the applicants, which creates a lot of problems managing the drive. Sometimes it also causes communication issues between the candidates and the recruitment.
These problems add up and make the whole drive extremely slow, and complicated.

2. Higher volume of the talent pool 
Screening thousands of candidates in a few days when the hiring team is outnumbered by candidates brings a big challenge too. But, the screening process must be carried out properly to find the best talent. 
3. Candidate experience 
The lack of a positive candidate experience has a much greater impact in the digital age than ever before. Students and candidates are quick to express their opinions when their expectations are not met. On the other hand, social media gives its voice to a significantly larger audience. It is just as important today to pay close attention to how and whom you are recruiting.
Best HR Software Solutions
Campus Recruitment Software
With our online campus recruitment software screen, hire top talents hassle-free. Everything is under one platform, from test creation to the candidate's evaluation. from test creation to the candidate's evaluation.
Rating 5.0
Based on 321 user ratings
API Integration by Xobin
Get integrated and harness the strength of robust assessments with Xobin APIs. Save sweat and time and focus on your core offering, not building your assessment stack. from test creation to
Rating 5.0
Based on 321 user ratings
Coding Skill Assessment Software
With our 100+ coding assessments on various languages such as Java, Python, JavaScript, React, Angular, etc., evaluate and hire the best-talented developers. from test creation to the candidate's evaluation. to the candidate's evaluation.
Rating 5.0
Based on 321 user ratings
Pre-Employment Testing Software:
Get access to the vast library of validated tests to screen candidates using online assessments. Simplify your recruitment process with our cloud-based Pre-employment Testing Software. from test creation to the candidate's evaluation.
Rating 5.0
Based on 321 user ratings
Pre-recorded Video Interview Platform:
Pre-recorded Video Interview Platform allows candidates to fully express themselves to a pre-recorded question. So that you can get more insight into candidates in far less time than a traditional phone interview. from test creation to the candidate's evaluation.
Rating 5.0
Based on 321 user ratings
4. Diversity in campus hiring
According to a Deloitte report, 83% of millennials are more engaged at work in an organization that actively nurtures a sense of inclusiveness.
A lot of times companies face the struggle to attract and hire diverse candidates and unconscious biases are often the reason. In addition to the legal obligations of ensuring equal opportunities, it also allows you to hire the best person for the job without stereotypes getting in the way.  
The best way is to establish a campus recruitment process that is completely unbiased and objective and which enables you to engage with the right audiences, no matter where they are located. 
5. Resumes getting all the attention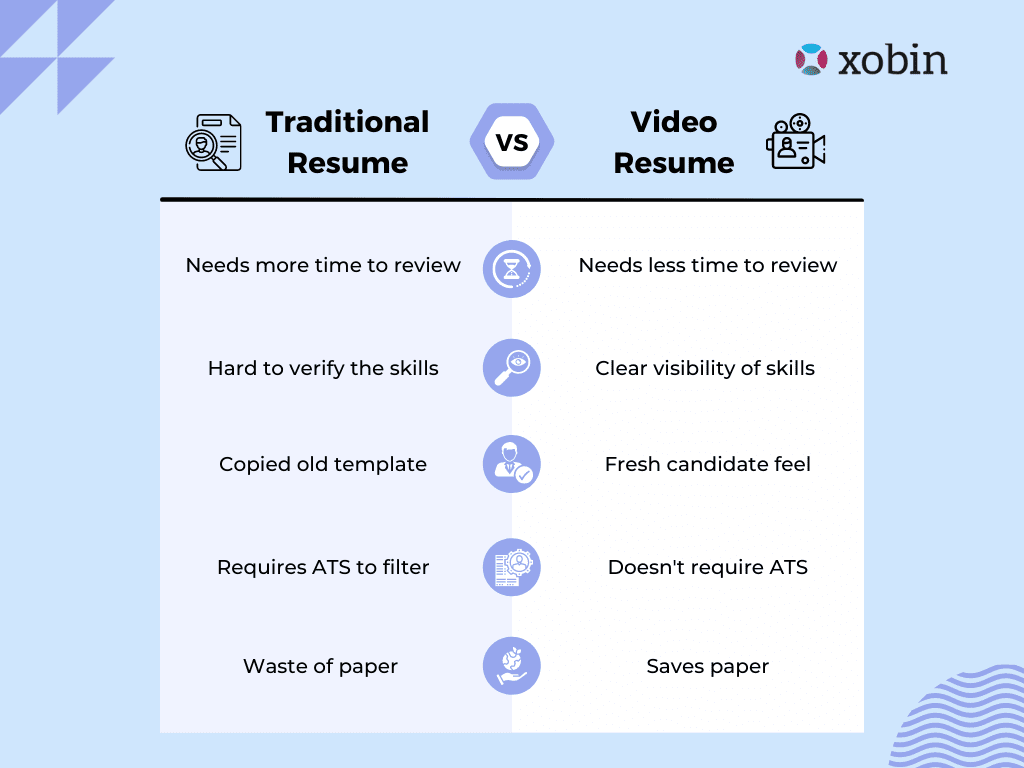 It is very easy to lie on a CV. On the other hand, companies that deal with high volumes don't have the time to process them completely. By using modern hiring technology, you can give students the opportunity to showcase themselves in a video resume or one-way video interviews.
The toughest truth to swallow about resumes is maybe that they are not make-or-break documents they are often considered by many. They are an important part of the recruitment process. Hence are critical to finding good jobs, but they are just words on paper. 
The truth is that candidates are much more complex and diverse and there are certain crucial elements to a good hire that recruiters simply can't get from a resume.
Here at Xobin, we provide Campus Recruitment Software which reduces your hiring time from 30 days to 5 days. With Xobin's unlimited assessment invitations, you can broaden the top of your recruitment funnel to increase the quality of talent on your shortlist. It helps in making the whole process a whole lot easier.