Your company is in the growth stage. New deals, large projects, and massive expansion plans are on the cards. Your recruitment team spends time analyzing the requirements of all functions. Evidently, they realize that the company would need hundreds of new employees to cater to this new demand. Moreover, the team has strict timelines to onboard new employees. The only solution is bulk hiring.
As the world is headed towards normalcy, companies are going all-in with bulk recruitment drives. Latest studies show that firms worldwide spent over $400 billion on HR services last year.
But first, let's make sure you understand Bulk hiring.
What is Bulk Hiring?
Bulk hiring refers to the practice of sourcing, screening, and onboarding applicants in large volumes at the same time. In other words, it is the practice of recruiting a large volume of applicants simultaneously.
   Looking for Hiring Software? Check out the best hiring software.
Hiring in bulk typically involves rapid screening, group interviews, and quick turnaround times. From application to offer letter within. The primary focus of bulk hiring is to build a vast talent pool matching the skill requirements of an organization.
What are the advantages of Bulk Hiring?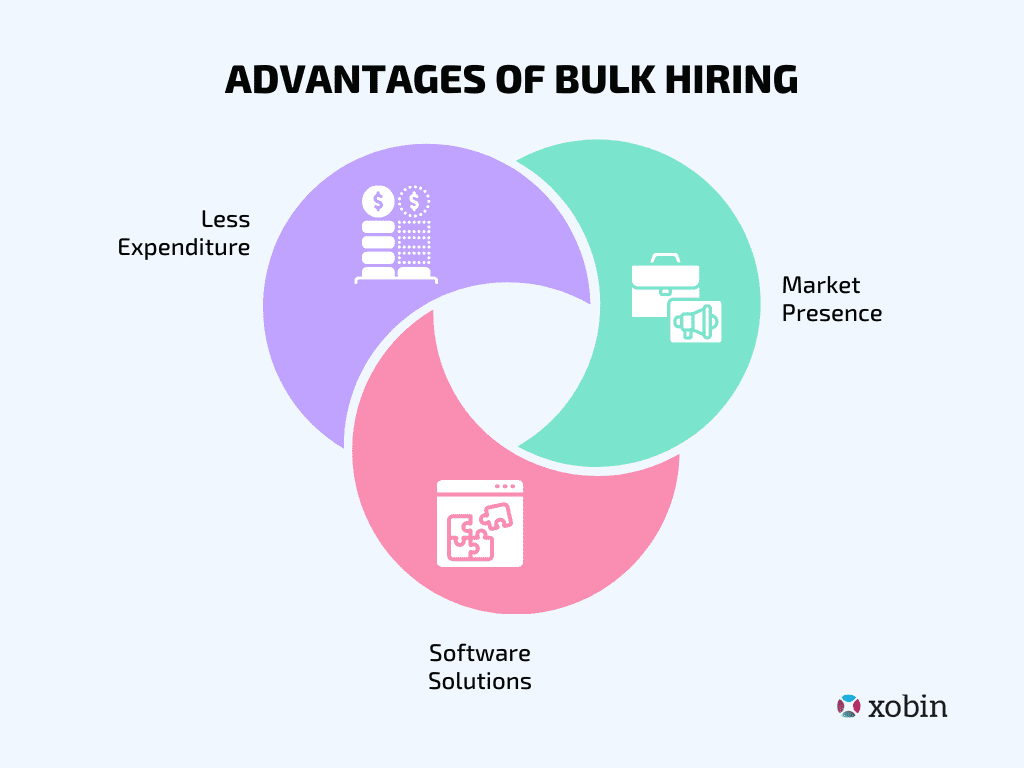 Less Expenditure:
Bulk recruitment process has helped the companies cut down their expenses vastly. For example, it helps cut expenses on excessive promotion, management costs, applicants, employees, etc. Eventually, this helps companies save a lot of money in bulk hiring.
In the Growing market presence of the company:
As a company starts to go for bulk hiring, it automatically does the job of indirect marketing the company. With the higher number of job seekers these days, they tend to enroll and create an image of their brand. The company benefits hugely from brand showcasing in this process between candidates and recruiters.
Use of Software Solutions:
When an organization chooses to go for bulk hiring, it opens up the gates for them to use software solutions in the hiring. These software solutions will help a lot in bulk hiring, such as interview scheduling and shortlisting the candidates using screening tests. Different tests can be created for different roles and keep track of it. This solution will save recruiters time and cost in the process.
How is Bulk Recruitment different from Traditional Recruitment?
Many changes make bulk hiring different from traditional hiring. I have shortlisted a few differences below and how companies can tackle them for an efficient hiring process. Let me walk you through them.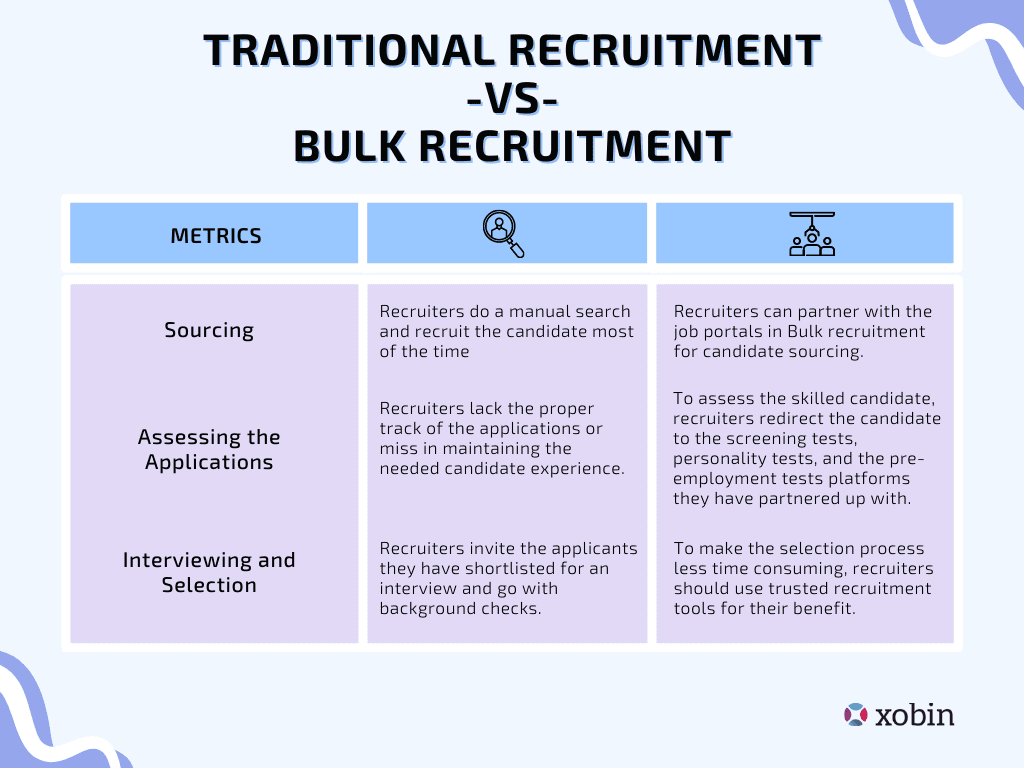 1. Sourcing
Traditional Recruitment: In traditional hiring, hiring managers announce the job positions themselves. Creating job promotions for the available jobs to catch the attention of the right candidate. Then, they do a manual search and recruit the candidate most of the time.
Bulk Recruitment: Recruiters can partner with the job portals in Bulk recruitment for candidate sourcing. To make the sourcing more efficient, companies can take more actions such as,
Ask the employees for referrals.
Making use of previous applicant's pool
By conducting campus hiring drives
Keeping track of the matrices using software solutions for better benefits
Use of screening tools to fasten the process.
In conclusion, with proper use of job portals and other methods, volume recruitment can succeed. In addition, data-driven candidate sourcing is beneficial in sourcing.
Best HR Software Solutions
Campus Recruitment Software
With our online campus recruitment software screen, hire top talents hassle-free. Everything is under one platform, from test creation to the candidate's evaluation. from test creation to the candidate's evaluation.
Rating 5.0
Based on 321 user ratings
API Integration by Xobin
Get integrated and harness the strength of robust assessments with Xobin APIs. Save sweat and time and focus on your core offering, not building your assessment stack. from test creation to
Rating 5.0
Based on 321 user ratings
Coding Skill Assessment Software
With our 100+ coding assessments on various languages such as Java, Python, JavaScript, React, Angular, etc., evaluate and hire the best-talented developers. from test creation to the candidate's evaluation. to the candidate's evaluation.
Rating 5.0
Based on 321 user ratings
Pre-Employment Testing Software:
Get access to the vast library of validated tests to screen candidates using online assessments. Simplify your recruitment process with our cloud-based Pre-employment Testing Software. from test creation to the candidate's evaluation.
Rating 5.0
Based on 321 user ratings
Pre-recorded Video Interview Platform:
Pre-recorded Video Interview Platform allows candidates to fully express themselves to a pre-recorded question. So that you can get more insight into candidates in far less time than a traditional phone interview. from test creation to the candidate's evaluation.
Rating 5.0
Based on 321 user ratings
2. Assessing the applications:
Traditional Recruitment: In traditional hiring, the depth in detail is missed in applications. Recruiters lack the proper track of the applications or miss in maintaining the needed candidate experience.
Though a candidate who matches the job description gets the chance to have an interview, recruiters conduct initial screenings based on technical questions and candidate resumes. Recruiters will then use whatever data they have and go with instinct without testing them for the skill they need for the position.
Bulk Recruitment: In Bulk recruitment, you need to get a higher number of applications to find the skilled talent you need. To attract this pool of applications, recruiters can use their employer branding and benefits for the employees. In addition, recruiters maintain a better candidate experience using software solutions.
To assess the skilled candidate, recruiters redirect the candidate to the screening tests, personality tests, and the pre-employment tests platforms they have partnered up with. This assessment will give them data-based results of the candidate's insights and skills. You can also use bulk emailing software like GetResponse to quickly respond to candidates regarding their results. Tools like GetResponse let you create segments for candidates according to their status, so you can send different bulk emails to those who made it to the next round and those who didn't.
In conclusion, the candidate goes through a faster and fair process, and recruiters need to be involved in the selected candidate's other process.
3. Interviewing and Selection
Traditional Recruitment: After the initial screening, recruiters and hiring managers shortlist applicants. These shortlisted applicants are invited for an interview. This could be an in-person or video interview. Most hiring managers today opt for a structured interview. Thereafter, the applicant is taken to multiple rounds of interviews. Each round tests the technical acumen and behavioural traits of the applicant. All interviewers de-brief the hiring manager along with their recommendations in their interview scorecard.
Lastly, before making the final selection, companies carry out background checks.
Bulk Recruitment: In bulk hiring, recruiters don't have time to interview each applicant. A group interview and panel discussions are used to screen a large volume of applicants. Some companies also use a 1 way recorded interviews to let applicants express their skills and passion. Hiring managers need to involve in the interview process for positive input.
To make the selection process less time-consuming, recruiters should use trusted recruitment tools for their benefit. For example, such tools can help create all the reports to make selection faster.
How to Plan for Bulk Hiring?
Planning for Bulk hiring also comes with challenges, same as challenges in mass hiring. To confront all those challenges, companies need to have a strategic plan to tackle all the problems.
Few of the strategies to use when planning for high volume bulk recruitment are listed below.
Assess the goal of type and the number of talent you need to achieve it.
Examine the current situation of the job market and budget accordingly.
Plan to partner up with agencies and make use of software solutions.
Form the needed skills and experience and

job descriptions

for the same
Creating a timeline and mass hiring plan.
Strategies to successfully execute Bulk Hiring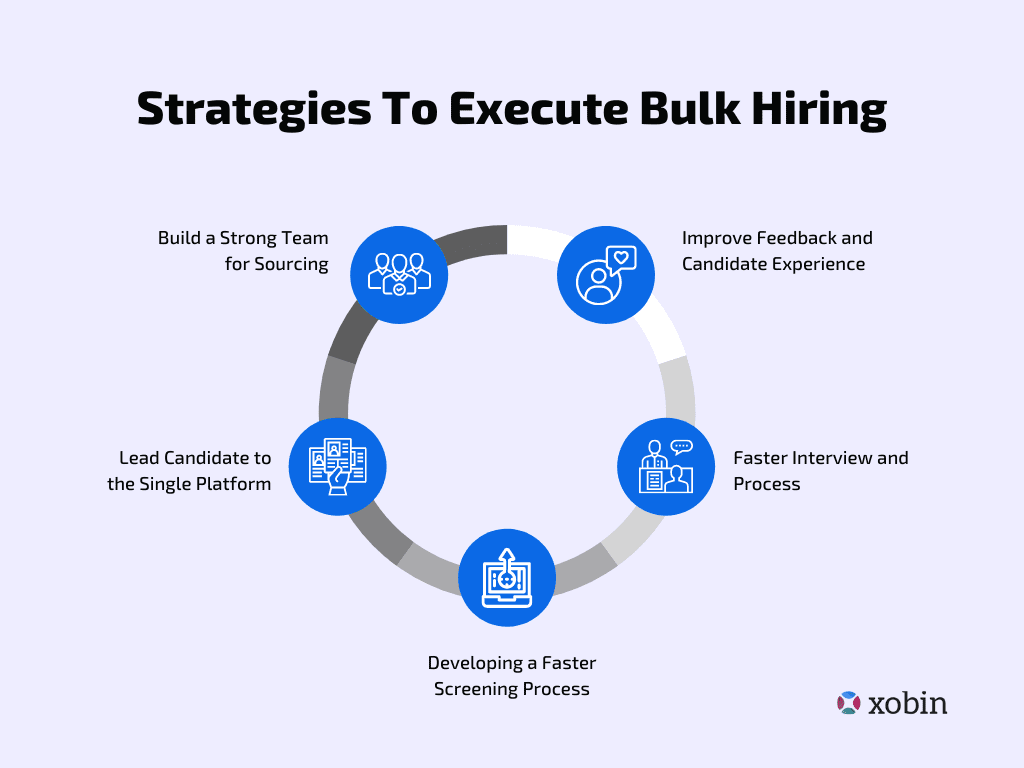 1. Build a Strong Team for Sourcing:
By partnering up with a team that can help recruiters access the larger pool of candidates. This team will help enhance the company's market presence and build needed connections.
2. Lead Candidate to the Single Platform:
After spreading the word about recruitment on all the platforms, companies should keep track of the applications flowing towards them. Integrating this application flow with your existing ATS helps you select the right candidate.
3. Developing a Faster Screening Process:
Companies should develop a faster screening process to avoid missing out on suitable candidates. The best way to make it faster is by using AI or screening platforms.
The use of these AI technologies will help analyze and skill-sets to rank candidates accordingly. Companies should partner up with Online assessments tools and leverage AI to bring out the best candidates.
4. Faster Interview and Process:
There is a fine line between screening candidates in Bulk hiring and keeping their interests in it for long. On the other hand, long applications may slow the hiring process. So, ask only the most critical, fundamental questions that determine success, and avoid fluff.
5. Improve Feedback and Candidate Experience:
To maintain a positive employer brand, give your candidates the best impression of your business. Therefore, handle all communication assertively and on point with correct feedback and care. At every stage of the hiring process, candidates will be keen to know any next steps or gain feedback following an assessment interview.
Let's partner up in your recruitment.
An employer can boost its branding with suitable assessment tools and the best hiring experience. Using the correct way will help you find the right people in the fastest time and enable growth, and ultimately support your future success.