With the effects of the pandemic slowly tapering, a lot of companies are looking to bounce back all guns blazing. Such companies are using mass hiring to re-strengthen their workforce.
While mass hiring is done by many large employers, the objective and goals may differ by industry. Technology and Analytics companies typically undertake mass recruitment drives to hire permanent employees like software developers, business analysts, and voice support.
On the other hand, retail and manufacturing industries use mass recruitment to hire temporary workers for seasonal work. This is typically due to a spike in work during the tax season or holiday season. For example the retail giant Amazon, that mass hired over 1,50,000 worker last holiday season.
What is Mass Hiring?
Mass hiring is the practice of screening, shortlisting, and onboarding new employees at scale in a short time frame. While traditional recruitment focuses on filling a few vacancies, mass recruitment involves attracting, qualifying, and onboarding a high volume of employees at once.
   Looking for Hiring Software? Check out the best hiring software.
The key metric, in other words, the KPI that organizations track while executing mass hiring is time to fill and time to hire. While the time to fill in traditional recruitment is above 40 days, this number is typically less than 10 days for mass recruitment.
What are the challenges in Mass Hiring?
The mass hiring process brings out unique sets of problems. These problems can make the process slower and may cause problems in tracking the right candidate or suitability of talent.
Some of the challenges companies face this day in mass hiring are as below,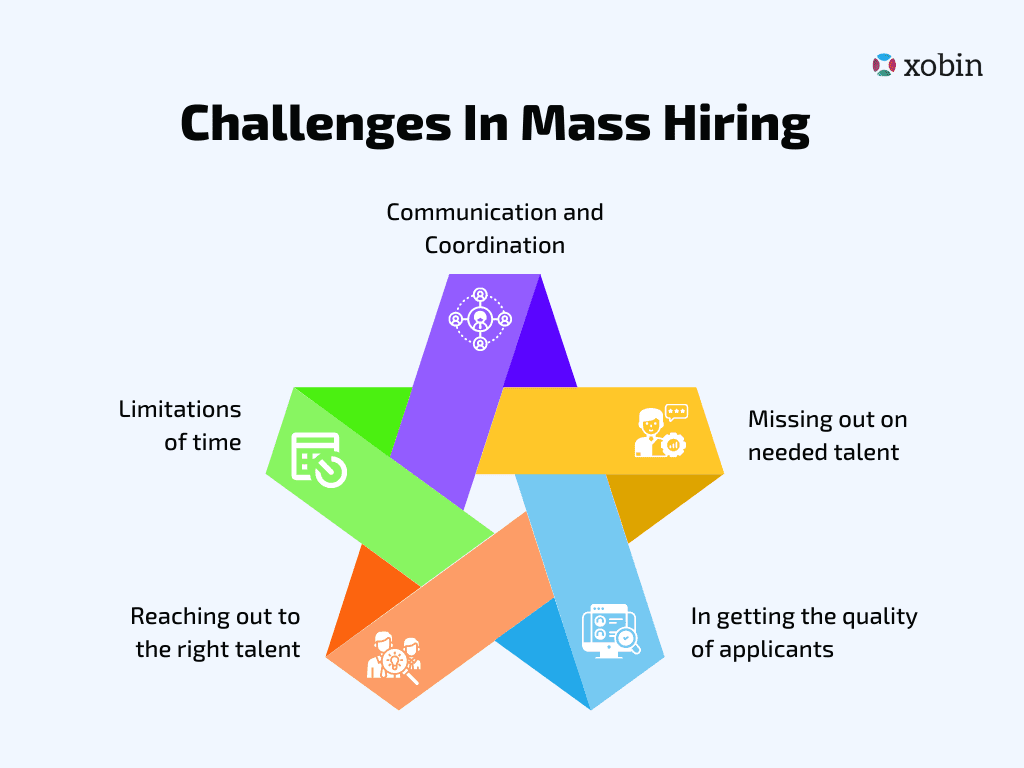 Limitations of time:
Mass recruitment at once takes a lot of time for processes like talent sourcing, and applicant screening which leads to piling up significant pressure on your time and resources.
Reaching out to the right talent:
In mass hiring, recruiters who lack the proper skills to conduct mass recruitment will face challenges. Challenges in creating and executing a clear strategy and in promoting job openings.
In getting the quality of applicants:
If the job listings are not promoted on the right platform, they will not attract the needed candidates. Wrong platforms will lead to more minor qualified candidates, which delays the hiring process.
Missing out on needed talent:
With the delay in attracting the right talent, companies may miss out on attracting the right talent.
Communication and Coordination:
In the mass hiring process, how you treat your candidate will help the candidate keep up interest in the job position. Because of the delay and all the strained challenges above, there is a chance that improper communication may happen during the mass recruitment process. This improper communication may result in missing out on a quality candidate in bulk hiring.
Best HR Software Solutions
Campus Recruitment Software
With our online campus recruitment software screen, hire top talents hassle-free. Everything is under one platform, from test creation to the candidate's evaluation. from test creation to the candidate's evaluation.
Rating 5.0
Based on 321 user ratings
API Integration by Xobin
Get integrated and harness the strength of robust assessments with Xobin APIs. Save sweat and time and focus on your core offering, not building your assessment stack. from test creation to
Rating 5.0
Based on 321 user ratings
Coding Skill Assessment Software
With our 100+ coding assessments on various languages such as Java, Python, JavaScript, React, Angular, etc., evaluate and hire the best-talented developers. from test creation to the candidate's evaluation. to the candidate's evaluation.
Rating 5.0
Based on 321 user ratings
Pre-Employment Testing Software:
Get access to the vast library of validated tests to screen candidates using online assessments. Simplify your recruitment process with our cloud-based Pre-employment Testing Software. from test creation to the candidate's evaluation.
Rating 5.0
Based on 321 user ratings
Pre-recorded Video Interview Platform:
Pre-recorded Video Interview Platform allows candidates to fully express themselves to a pre-recorded question. So that you can get more insight into candidates in far less time than a traditional phone interview. from test creation to the candidate's evaluation.
Rating 5.0
Based on 321 user ratings
How to plan for Mass Hiring?
Mass hiring is all about planning. When an organization is planning for mass hiring, they need to consider some parameters to follow in mass hiring as,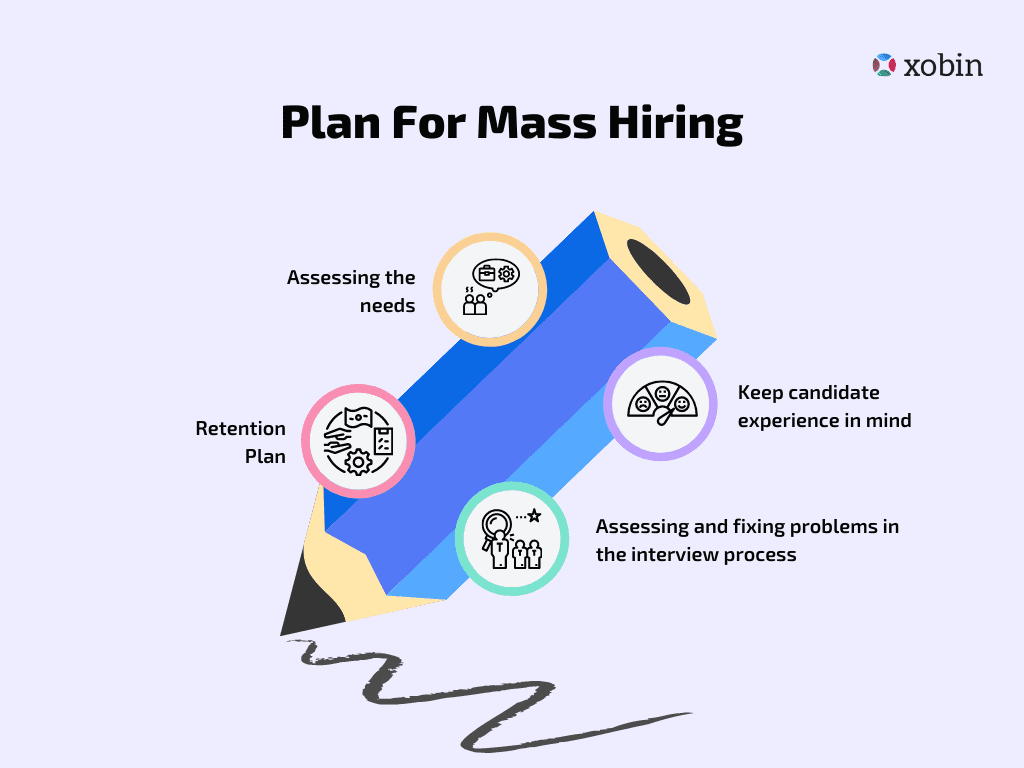 Assessing the needs:
Before going ahead with mass hiring, companies should assess their current situation. Analyzing will help them with whether they need to conduct the mass recruitment or not?
An employer should discuss the talents they need for the department with the head of the department. Also, an employer should think about the available infrastructure.
Retention Plan:
Before executing mass hiring, an employer should look for internal growth by assessing the needed skills of current employees and promoting them. It will help an employer in employee engagement and build the inner growth of the company.
Assessing and fixing problems in the interview process:
In higher volume recruitment, making a mistake while interviewing the candidate is common. The employer can assess the questions hiring managers used to ask and instruct them on the questions they need to ask. With the right set of questions, the interview process will save time and money.
An employer can set clear expectations for interviewers in submitting feedback on the candidate. It will help in minimizing the bias in the process.
Keep candidate experience in mind:
Companies can not ignore how candidates feel about the company throughout the hiring process. How hiring managers treat the candidate in the interview process will show how they will be treated as employees. So hiring managers must guard both quality hire and candidate experience.
How to effectively implement Mass Hiring?
The key metric in implementing mass hiring is Time-to-fill ( TTF)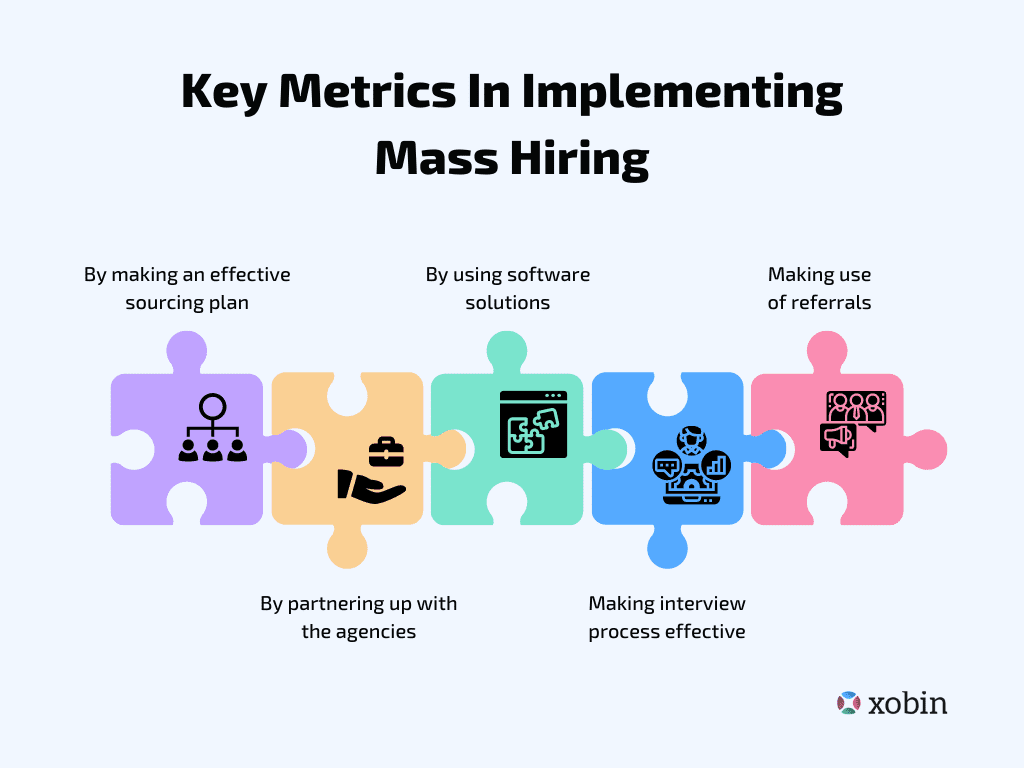 By making an effective sourcing plan:
To have access to a large pool of candidates, companies should develop a plan for good awareness about mass recruitment. Hiring managers can use some plans such as,
Using social media platforms and Job Promotion Portals.
By offering referrals to the current employees.
Creating Ads on the website
Hosting a virtual or walk-in hiring event for diverse audiences.
By Partnering up with the agencies:
In mass recruitment processes, employers need expert help with their hiring plans in many cases. An employer can partner up with the right recruitment agency to successfully source and attract suitable candidates. Such agencies will help identify and attract talent and reduce pressure on hiring managers.
By using Software solutions in Mass Hiring:
These days, hiring managers are using software solutions to make their hiring process much more manageable and efficient.
Partnering with a firm that can offer solutions to keep track of mass hiring can help. This software solution will also help store resumes and keep track of the process. And reduce the pressure and time on the hiring managers. Pre-employment solutions in the hiring process will help scan and rank the skilled candidates.
Making Interview Process Effective:
After the screening tests, hiring managers can evaluate and interview skilled and suitable candidates. It will save a lot of time and energy for hiring managers. It will also help them improve the candidate's experience and reduce missing out on suitable candidates.
Making use of Referrals for Mass Hiring:
In mass recruitment, the main problem is finding suitable candidates. With the help of referrals and their benefits inside the organization, employers can find needed candidates with the help of current employees.
Conclusion:
In conclusion, quite similar to bulk hiring, mass hiring can be challenging for recruiters and candidates alike.
Nevertheless, you can overcome these challenges by having a well-planned strategy to conduct mass recruitment. The key is to be methodical. Hiring managers should use the software solution to keep track of the processes and achieve the goals.
Lastly, if you are looking at software to help with mass recruitment, look no further. Xobin helps over 600+ organizations with bulk recruitment and high volume hiring.