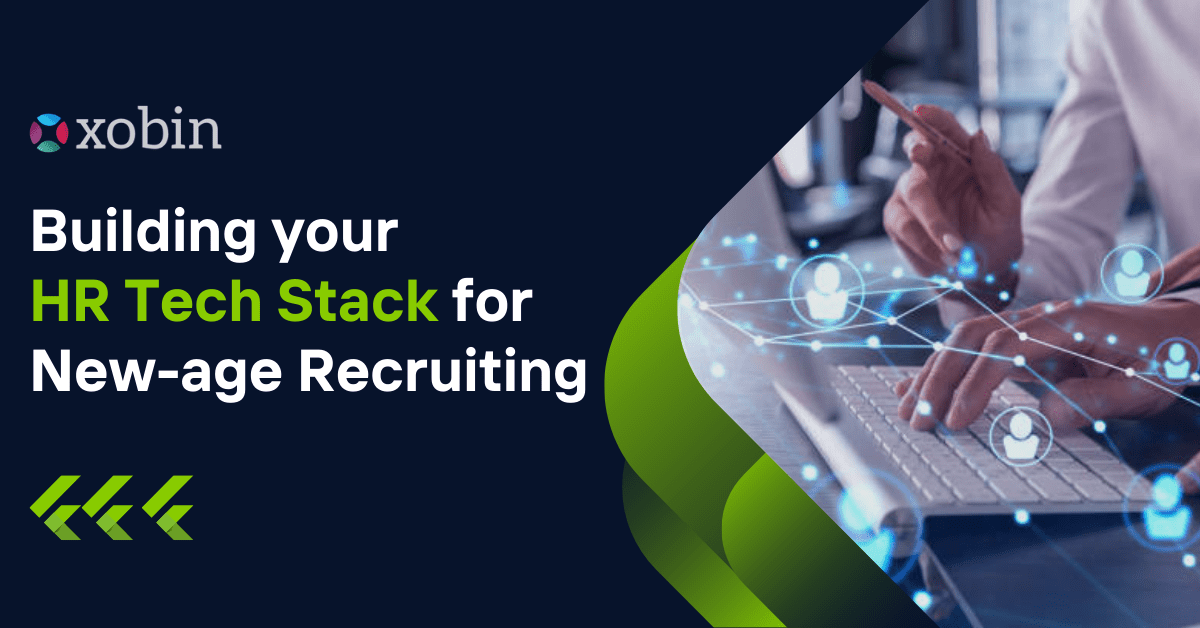 In today's increasingly competitive labor market, a company's ability to recruit and retain top talent is essential to its success. In order to enhance the candidate experience, speed up the hiring process, and increase hiring success, organizations are increasingly turning to technology. Herein lies the function of creating an HR tech stack.
Want to learn how to build your strategy in 2023? Check out our latest blog.
Hence, with the help of this article I will define an HR tech stack, discuss its importance for modern recruiting. Also, show you how to build a solid HR tech solution to progress your hiring tactics.
What does "HR Tech Stack" mean?
An HR tech stack is a group of programs and technologies that businesses employ to manage their HR operations, especially during the hiring process. It can include fundamental tools like applicant tracking systems (ATS) and more sophisticated software like chatbots with AI, platforms for video interviews, and tools for candidate evaluation.
On the other hand, traditional techniques of hiring are insufficient to find and attract the top talent. Hence, modern recruiting requires a more planned and technologically advanced approach. So, that it can keep businesses one step ahead of their rivals. Hence, in modern recruiting, an HR tech solution is essential because it improves applicant experience, increases speed and accuracy, and keeps businesses competitive.
Significance of HR Tech Stack for companies
As we have read above, you must have understood the importance of HR Tech Stack for companies. For companies, from automating the monotonous operations to offering real-time feedback, HR Tech software's is helpful. Also, it enables candidates to interact with the organization in a variety of ways with the use of HR technologies. This enhances both the candidate experience and the employer brand of the firm. Additionally, the recruitment process is automated and streamlined to lower error rates and increase hiring decision precision.
Building an HR tech stack can help firms improve their recruitment efforts by giving them the resources and knowledge they require to find, evaluate, and keep top talent in a job market that is changing quickly.
Traditional recruitment techniques are no longer effective in attracting and retaining top talent due to the rapid changes in the labor market. Modern recruiting necessitates a more planned and technologically advanced approach that can keep businesses one step ahead of their rivals. For modern recruiting, an HR tech tool is crucial for a number of reasons, some of which are listed below: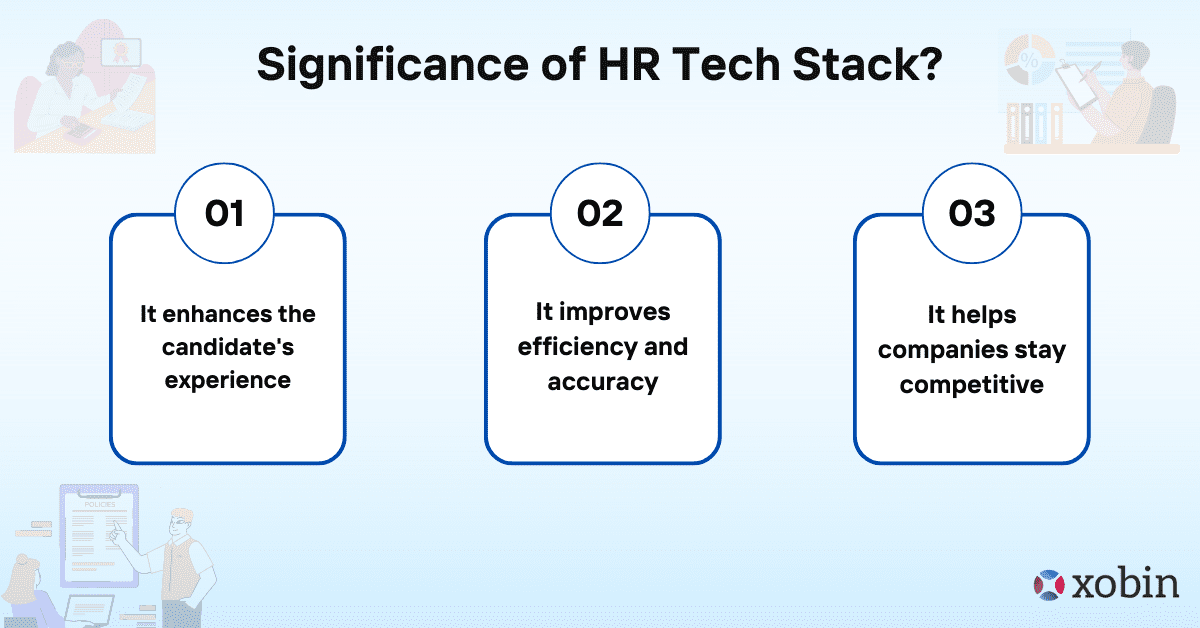 It enhances the candidate's experience:
Candidates now expect a seamless and customized recruitment process in the digital age. By automating monotonous activities, offering real-time feedback, and enabling applicants to interact with the organization in a variety of ways, an HR tech stack may help businesses do just that. This can help firms create a strong employer brand in addition to enhancing the candidate experience.
It improves efficiency and accuracy:
The process of recruiting can be time-consuming, and complex, and involve many stakeholders and data sources. By automating many of the repetitive procedures associated with hiring, lowering the possibility of mistakes, and increasing the precision of hiring decisions, an HR Software tech stack can aid in streamlining this procedure.
It helps companies stay competitive:
In today's hyper-competitive job market, companies that fail to leverage technology are at a distinct disadvantage. Recruiting GenZ talents are a huge task as no one prefers an in-person interview, with the advancement of technology they prefer to not only attend the interviews from their own place they are also shifting their work culture to either remote or hybrid working models. An HR tech stack can help companies stay competitive by providing them with the tools and insights they need to attract, assess, and retain top talent.
How to build HR Tech Tools for new-age recruiting?
Building an HR tech stack can seem like a daunting task, but it does not have to be. Here are some steps you can take to build a powerful tech stack that can help you take your recruitment efforts to the next level: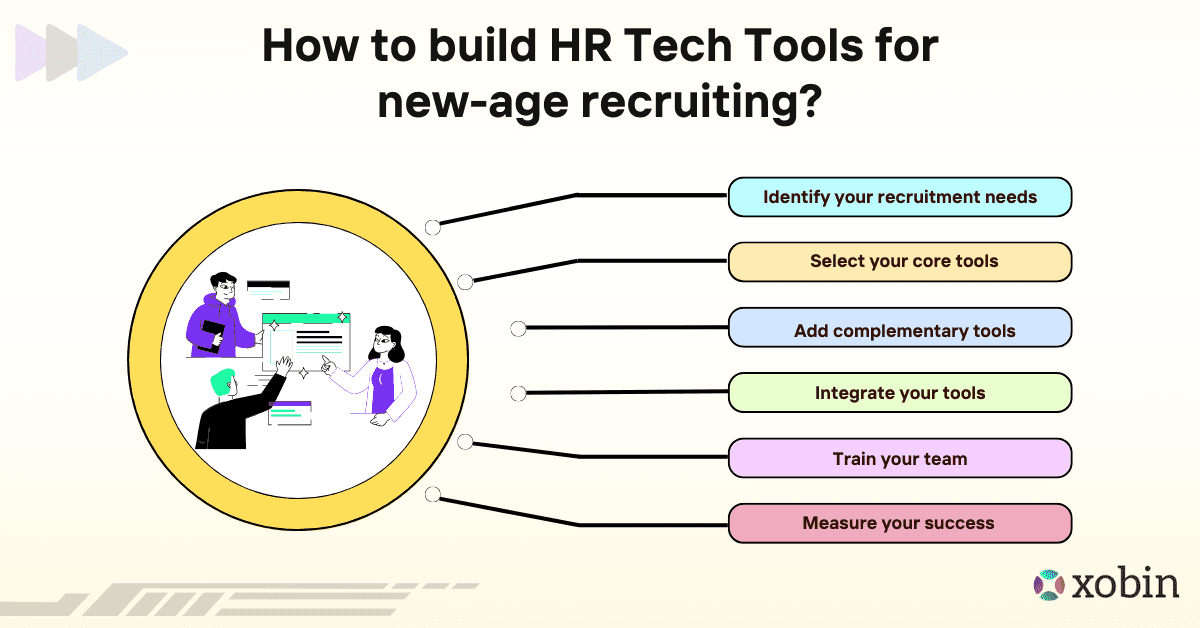 Step 1: Identify your recruitment needs
Identifying your recruitment needs is the first step in creating an HR tech stack. Understanding your recruiting process' major pain points, the talents and attributes you seek in candidates, and the metrics you'll employ to gauge recruitment success are all necessary for this. You may begin your search for the tools that best meet your needs after you have a clear idea of what they are.
Step 2: Select your core tools
An applicant tracking system (ATS), a candidate assessment tool, and a video interviewing platform will likely be the primary elements of your HR tech solutions. You can organize applications, screen applicants, and hold interviews more effectively and precisely with the aid of these tools.
Best HR Software Solutions
Campus Recruitment Software
With our online campus recruitment software screen, hire top talents hassle-free. Everything is under one platform, from test creation to the candidate's evaluation. from test creation to the candidate's evaluation.
Rating 5.0
Based on 321 user ratings
API Integration by Xobin
Get integrated and harness the strength of robust assessments with Xobin APIs. Save sweat and time and focus on your core offering, not building your assessment stack. from test creation to
Rating 5.0
Based on 321 user ratings
Coding Skill Assessment Software
With our 100+ coding assessments on various languages such as Java, Python, JavaScript, React, Angular, etc., evaluate and hire the best-talented developers. from test creation to the candidate's evaluation. to the candidate's evaluation.
Rating 5.0
Based on 321 user ratings
Pre-Employment Testing Software:
Get access to the vast library of validated tests to screen candidates using online assessments. Simplify your recruitment process with our cloud-based Pre-employment Testing Software. from test creation to the candidate's evaluation.
Rating 5.0
Based on 321 user ratings
Pre-recorded Video Interview Platform:
Pre-recorded Video Interview Platform allows candidates to fully express themselves to a pre-recorded question. So that you can get more insight into candidates in far less time than a traditional phone interview. from test creation to the candidate's evaluation.
Rating 5.0
Based on 321 user ratings
Make sure you take customer service, tool integration, and convenience of use into account while choosing these tools.
Step 3: Add complementary tools
You can begin expanding your HR tech stack once you have your foundational technologies in place. For example, your HR stack may be consist of following:
AI-powered chatbots: They can assist you in interacting in real-time with candidates and provide specialized support throughout the hiring process.
Social media: With the use of social media recruiting tools, you can expand your reach and establish a powerful employer brand on sites like Facebook, Twitter, and LinkedIn.
Tools for employee referrals: These might assist you in finding top talent by utilizing your current employee network.
Step 4: Integrate your tools:
Integrate your technologies so they operate seamlessly together to get the most out of your HR IT stack. This will simplify your hiring process, lower the likelihood of errors, and help you avoid double data entering. Make sure your tools are interoperable with one another and offer APIs or integration choices when choosing them.
Step 5: Train your team:
It's crucial to train your employees on the use of HR tools if you want it to be successful. They will be better able to utilize the new technology, comprehend its advantages, and troubleshoot any problems that might occur as a result. Provide your employees access to training materials like user manuals, webinars, and one-on-one coaching sessions to help them become proficient rapidly.
Step 6: Measure your success:
You must identify the main metrics you want to monitor in order to assess the effectiveness of your HR IT stack. Time to hire, candidate experience scores, retention rates, and cost per hire are a few examples. You can pinpoint places where your recruitment process needs to be optimized by consistently monitoring these indicators.
Summary:
To summarize it all, the Modern recruiting tactics must include the HR Tech Stack. In order to remain relevant in the talent market, HR teams must continually assess and update their tools. Whereas, HR Tech Stack enables businesses to automate their processes as well as streamline recruitment procedures. On the other hand, it helps in concentrating on building relationships with top talent.
Therefore, HR teams can save time and money while enhancing the applicant experience by utilizing the most recent technology. You may create a strong HR technology that supports you in boosting your recruitment efforts by following the above-mentioned stages.