With the placement season in full swing, it is time for every company to start working on its campus drive efforts. On the other hand, pandemics is making the world choose alternate options for the usual processes. Hence, in a tech-savvy world, it becomes important you go for technically advanced options in university recruiting drives.
According to the recent data, approximately 99% of Fortune 500 companies use one recruitment software. Hence the planning and implementation of launching a virtual campus recruitment strategy is something every company looking to hire freshers should start working on. 
   Looking for Campus Hiring Software? Check out the best campus hiring software.
In this article, we will help you understand ways you can launch a campus drive strategy.
1. Choose & shortlist universities carefully
If you are an organization that regularly recruits freshers. Then you might have an engagement with some colleges/ universities. Also, there might be some colleges/ universities which you would like to recruit from. To plan "how to recruit", you first must be clear with "where to recruit".
You can plan and categorize the campuses based on the following categories:
Must visit: The colleges which you definitely want to visit, because of their ranking among top institutions or other benefits can be classified under this category.
Safe Schools: Here are the colleges/universities in which you have the highest acceptance rate can be listed.
Backup: The colleges/universities where the company has been recruiting for a long period of time can be listed here.

2. Plan your university recruiting process
To plan the recruitment process, you first need to check with all the internal teams. After this, decide on the total number of roles and positions you need to hire for based on the discussions and requirements. 
Check your historical acceptance rate in campus recruitment and hire to the accept ratio. Let's take a hypothetical situation if you have an acceptance rate of 25% and you need to hire 50 freshers for an entry-level job you need to make offers to at least 200 students for the same.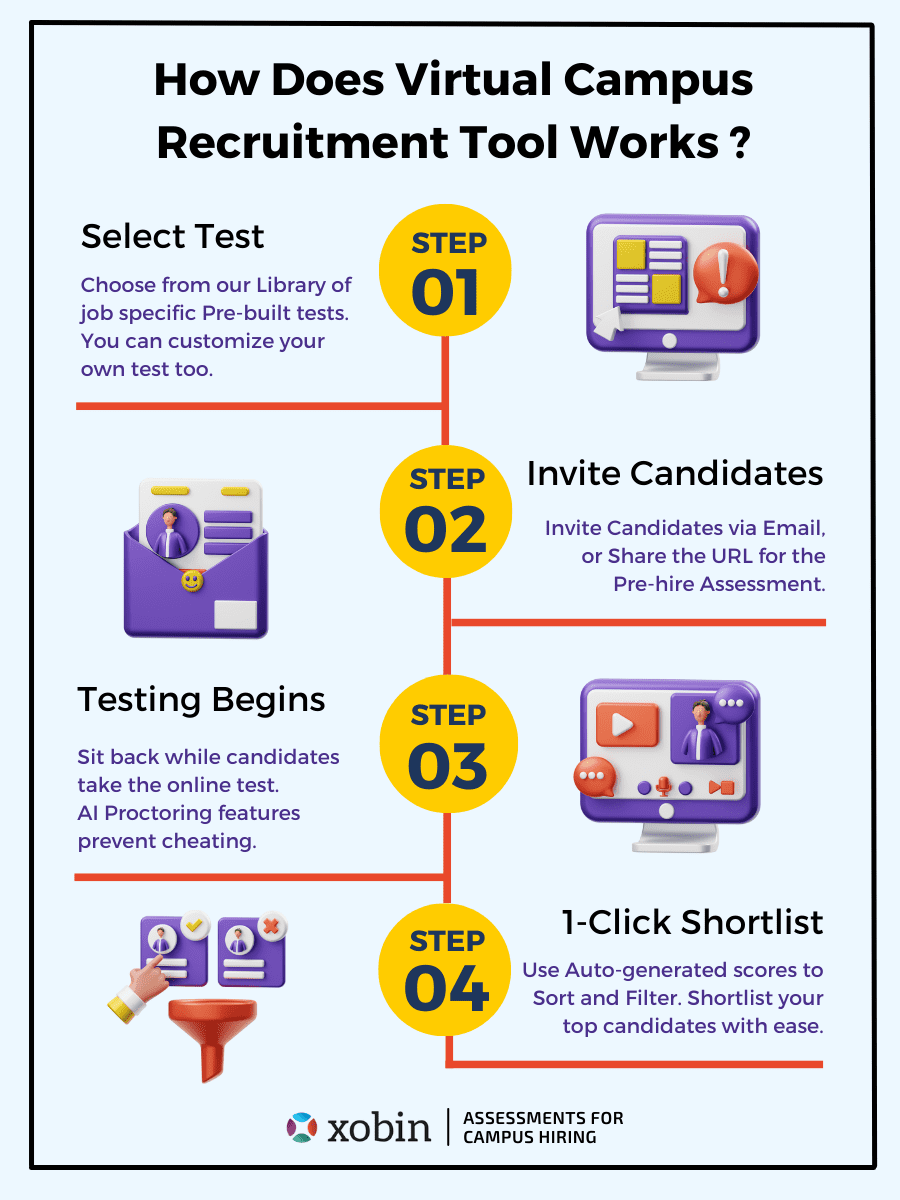 Therefore, based on the requirements, plan the number of offers to be rolled out in the recruitment process. Also, make sure to diversify the hired candidates too.
3. Build a strong university recruiting team 
Building a university recruiting team and specifically, for a campus drive requires several full-time recruiters. If an organization has a dedicated team of recruiters, then it will make sure their attention is not split.
Hence to build a strong recruitment team, follow the given below step: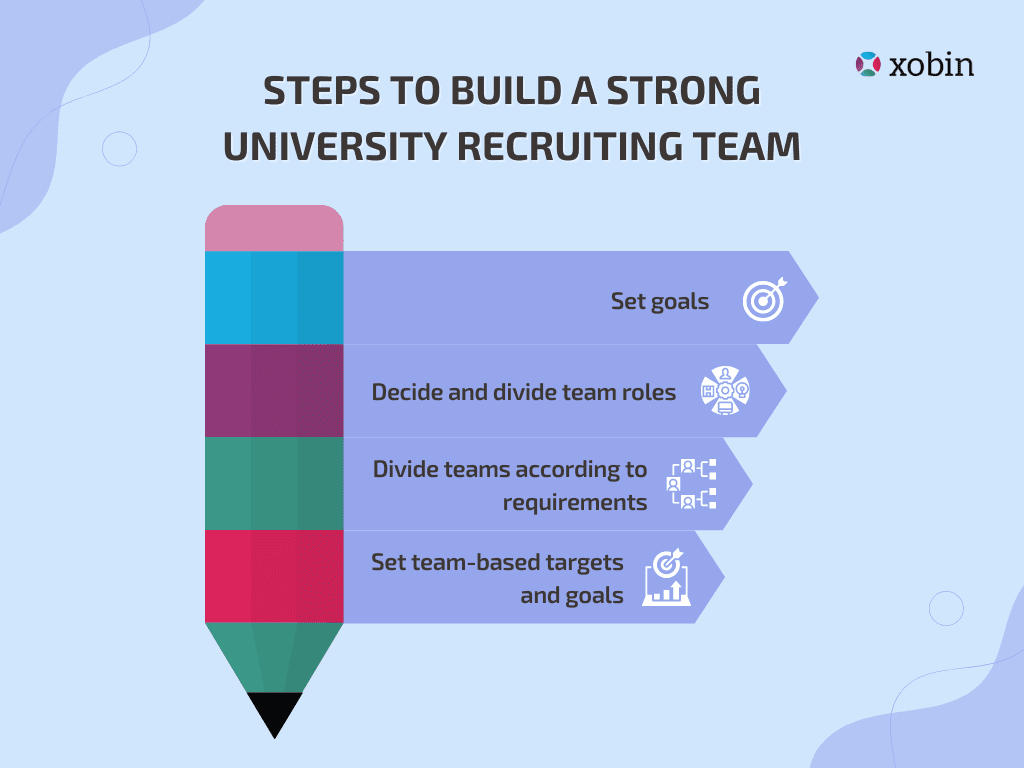 Set goals
Decide and divide team roles
Divide teams according to requirements
Set team-based targets and goals
Best HR Software Solutions
Campus Recruitment Software
With our online campus recruitment software screen, hire top talents hassle-free. Everything is under one platform, from test creation to the candidate's evaluation. from test creation to the candidate's evaluation.
Rating 5.0
Based on 321 user ratings
API Integration by Xobin
Get integrated and harness the strength of robust assessments with Xobin APIs. Save sweat and time and focus on your core offering, not building your assessment stack. from test creation to
Rating 5.0
Based on 321 user ratings
Coding Skill Assessment Software
With our 100+ coding assessments on various languages such as Java, Python, JavaScript, React, Angular, etc., evaluate and hire the best-talented developers. from test creation to the candidate's evaluation. to the candidate's evaluation.
Rating 5.0
Based on 321 user ratings
Pre-Employment Testing Software:
Get access to the vast library of validated tests to screen candidates using online assessments. Simplify your recruitment process with our cloud-based Pre-employment Testing Software. from test creation to the candidate's evaluation.
Rating 5.0
Based on 321 user ratings
Pre-recorded Video Interview Platform:
Pre-recorded Video Interview Platform allows candidates to fully express themselves to a pre-recorded question. So that you can get more insight into candidates in far less time than a traditional phone interview. from test creation to the candidate's evaluation.
Rating 5.0
Based on 321 user ratings
4. Have a consistent campus presence
Campus Drive is built on strong relationships so getting to know the colleges/universities at your key schools is extremely important. After this, establishing a relationship, it's important to stay connected.
So keep in touch with the team at regular intervals. This can be a great way to build a long-lasting relationship and to let the institutions know about the organizations changing recruitment needs.
With an ongoing presence on campus, you can build a strong employer brand, and it can help in attracting the right talent. Attending campus events is a good way to establish this kind of presence.
By having a constant presence you can make sure the students of the particular university are aware of the company's recruiting process. This helps during the actual process of virtual campus recruitment and campus drive in general.
5. Student referral/ambassador program
Use the available resources to the best of your efforts. By asking your employees to give referrals you can increase the chance of hiring a trustworthy new employee. According to CareerBuilder, 82% of employers rate employee referrals above all other sources for generating the best return on investment (ROI).
Referrals can also help in reducing the time spent on different processes in the virtual campus recruitment process, and the budget can be saved too by this.
To build an effective campus ambassador program you require the proper organization to ensure that your efforts are well channeled and that referrals are done properly.
If you invest in a campus ambassador program it will help in gaining some quality interns and recent graduate hires. Regularly update and grow your program every year to improve brand recognition and attract eager students and top-notch entry-level employees.
Here at Xobin, we provide University Recruitment Software that reduces your hiring time from 30 days to 5 days. With Xobin's unlimited assessment invitations, you can broaden the top of your recruitment funnel to increase the quality of talent on your shortlist. It helps in making the whole process a whole lot easier.