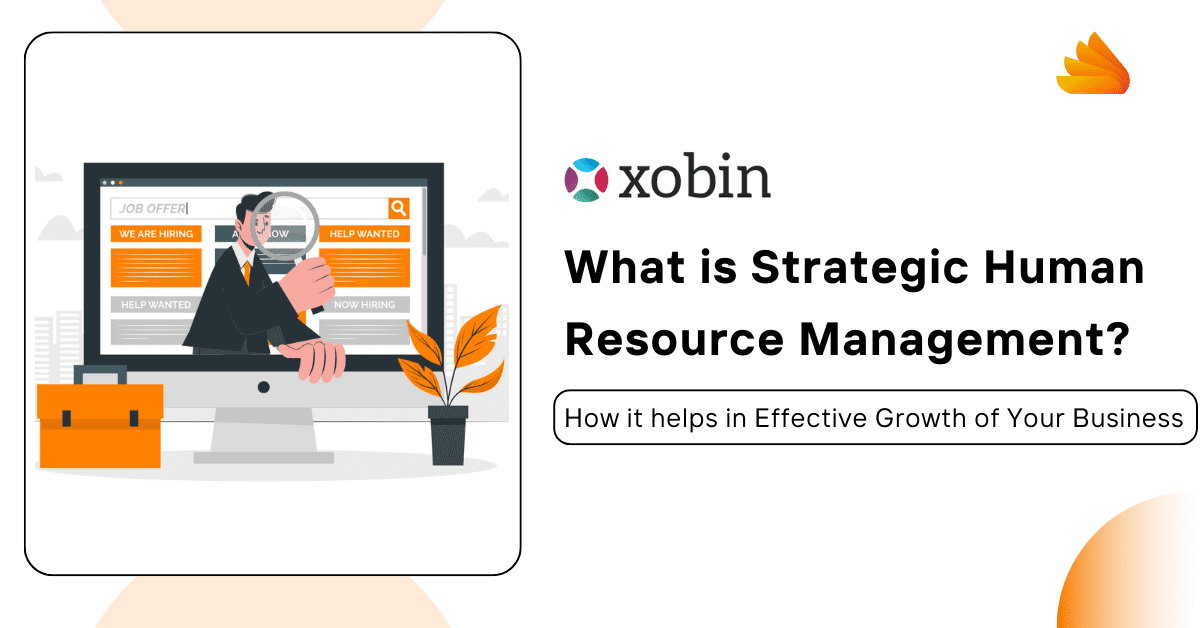 Recently, HR executives have focused on playing a significant role in boosting workplace efficiency to assist businesses in obtaining an advantage in the market.

The HR department helps employees reach their full potential using strategic human resource management, which includes long-term planning, talent acquisition, organizational design, and performance appraisal.
   Looking for Hiring Software? Check out the best Hiring Software solutions.
Strategic human resource management is a modern approach to enhancing workplace productivity and the organization's overall performance.
This article defines the meaning of strategic human resource management. It explains its importance and provides steps for creating a strategic hrm plan to help your organization achieve its objectives and goals.
What is strategic human resource management?
Strategic human resource management is a method of managing human resources that connects an organization's workforce to its objectives, strategies, and goals.
It focuses on the following aspects:-
Creating an organizational structure that is aligned with the goals.
Boost efficiency and productivity.
Creating a culture fit for the organization.
Enhancing performance and having the edge over the competition.

Strategic HR Management used to be an administrative function, but in today's time, it is much more as HRM functions plays a crucial role in ensuring the organization has the right people that will enhance business performance and achieve the set goals.
Hiring, training, and rewarding the personnel for their success are just a few of the many tasks that may be combined with strategic HR management. The strategic hrm method identifies opportunities for HR staff to directly and positively contribute to the expansion of the business. Strategic human resource planning should ensure every employee's growth and retention, aligning with the company's long-term objectives.
A few examples of Strategic HR Management programs are:
Training & Development:
Employee development needs proper training as it will benefit the organization in achieving goals and objectives. Also, it helps the employee to grow as an individual.
Performance Management:
Employee performance is one of the main metrics an organization focuses on, as it directly impacts its success. There should be a proper system that tracks and improve the performance of employees.
Employee Relations:
There should be a strategic fit between employees and the organization that aids motivation and employee retention. There should be a positive workplace for employees to have higher productivity.
Compensation & Benefits:
Organizations should create proper compensation and benefits plans for employees to feel motivated. Also, the organisation should encourage these programs to attract and retain employees.
Manpower planning
It entails having the right people in the right position to carry out the desired objectives set by the organization.
There are a lot of policies and programs that can vary depending on the organization. These were a few strategic HR management programs that the majority of the organization could use to benefit and enhance its performance to have a competitive edge over the competition.
Best HR Software Solutions
Campus Recruitment Software
With our online campus recruitment software screen, hire top talents hassle-free. Everything is under one platform, from test creation to the candidate's evaluation. from test creation to the candidate's evaluation.
Rating 5.0
Based on 321 user ratings
API Integration by Xobin
Get integrated and harness the strength of robust assessments with Xobin APIs. Save sweat and time and focus on your core offering, not building your assessment stack. from test creation to
Rating 5.0
Based on 321 user ratings
Coding Skill Assessment Software
With our 100+ coding assessments on various languages such as Java, Python, JavaScript, React, Angular, etc., evaluate and hire the best-talented developers. from test creation to the candidate's evaluation. to the candidate's evaluation.
Rating 5.0
Based on 321 user ratings
Pre-Employment Testing Software:
Get access to the vast library of validated tests to screen candidates using online assessments. Simplify your recruitment process with our cloud-based Pre-employment Testing Software. from test creation to the candidate's evaluation.
Rating 5.0
Based on 321 user ratings
Pre-recorded Video Interview Platform:
Pre-recorded Video Interview Platform allows candidates to fully express themselves to a pre-recorded question. So that you can get more insight into candidates in far less time than a traditional phone interview. from test creation to the candidate's evaluation.
Rating 5.0
Based on 321 user ratings
What is the importance of strategic human resource management?
Strategic HR Management is important as it helps organizations achieve their set goals and objectives. Through establishing policies and programs, businesses can help develop their workforce, improve employee performance, and create a positive work environment.
With constant team collaboration and working towards common goals, businesses can ensure a faster growth rate. The organization's human resource strategy and action will lead to value addition.
Here are some benefits of applying strategic hr management correctly as follows: –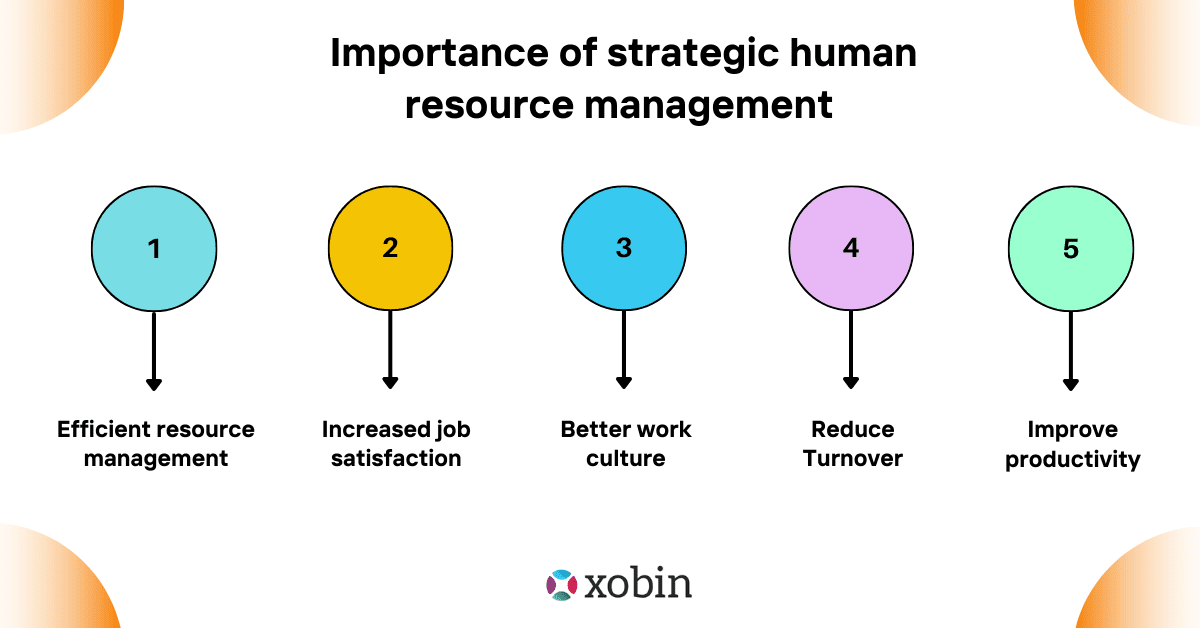 Efficient resource management
Efficiency and effective use of resources available entails achieving the desired results. Creative ideas and simple processes help to achieve results quickly.
Increased job satisfaction
A metric that plays a huge role in retaining employees, which is described as a pleasurable visceral outpouring when executing your job or being in the office.

It ensures that employees are happy at the workplace. With employee satisfaction surveys becoming more popular in most offices, significant companies increasingly strive to measure similar experiences.
Better work culture
The basic definition of work culture is the attitudes and behaviours of employees inside an organization, and to have a great work culture organization needs to include diversity, proper disciplinary procedures, great facilities, proper rules & regulations and a great workplace environment.
Reduce Turnover
By providing monetary benefits and other programs, employees feel motivated, which helps to attract and retain one of the company's greatest assets, its employees.
Improve productivity
Strategic HR Management helps to increase the efficiency and effectiveness of employee performance, improving and boosting the business's productivity.
Steps to create a Strategic HRM plan?
We understand if you are wondering how to start now. what strategic human resource management is and why it is vital?
Don't worry we got you! Here are the steps to create a strategic hrm plan: –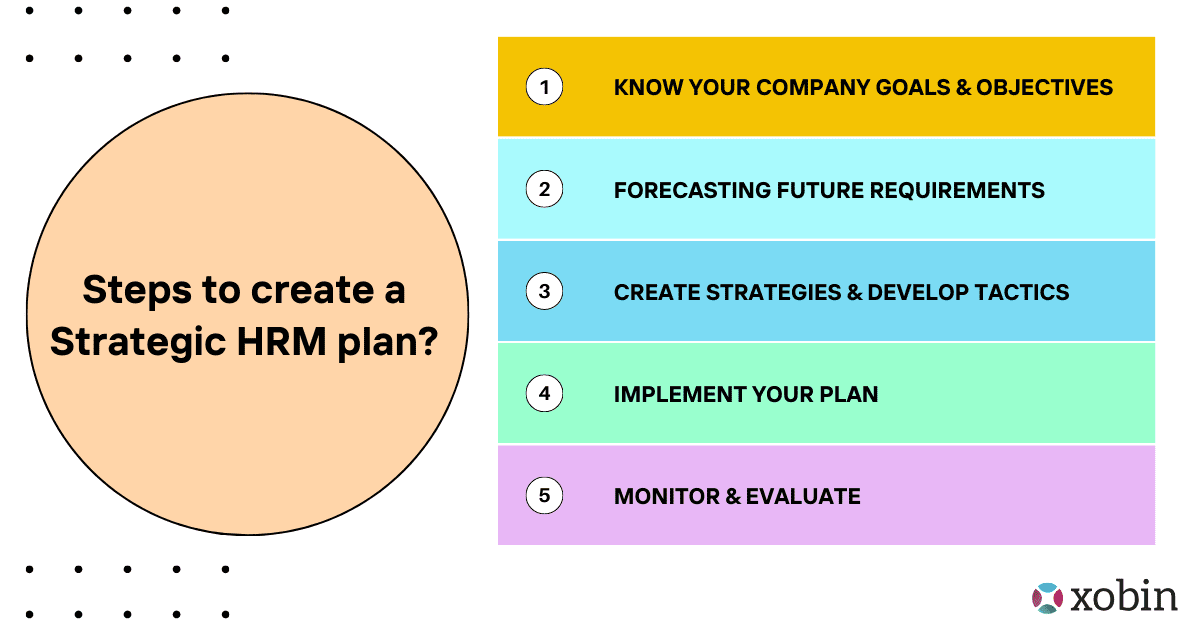 Know your company goals & objectives
The first step is to understand your goals and objectives as they provide a framework for measuring success. It would be best if you had SMART goals to be more effective.
When identifying your strategic HRM goals, it is also critical to do a SWOT analysis. The SWOT analysis assists in identifying possible risks or hurdles to organizational performance.
Consider the following question:
What are your strengths and weaknesses?
What are your long-term goals?
What skill set does your current workforce possess?
What resources are available?
What are the opportunities & threats?
Answering these questions will help you determine your company's goals and improve your business.
Forecasting future requirements
As you now have your goals and objectives determined, you need to forecast your future requirements for recruitment, i.e. you need to predict how many employees with the relevant skills will be required and compare this to your company's present staff.
This step will assist you in determining the talents your organization will require in the future and how to cultivate such abilities in your employees.
Create strategies & develop tactics
Strategic hr management is all about the strategies you as an organization want to implement to achieve your goals. Businesses can use innovation strategy to implement new processes & ideas or reinforcement strategy to go with existing processes.
Also, while determining the tactics, businesses should decide what resources to use. Also, how much cost is involved, how much time is required, etc.
Implement your plan
Once you know your goals, future requirements, and the strategies you need and importance of HRM, it's time to implement them. Many organizations start by hiring the right candidates, providing training, and then evaluating performance. It differs from one organization to another.
But it would be beneficial to cultivate your current employee's skill sets as it will save you a lot of time and money because the employee is familiar with the organization's culture. Then you can go for new hires and have a proper onboarding process. After that, focus on their training & development as it will help them have an opportunity to grow.
Finally, set clear expectations, provide feedback and conduct reviews. As a result, this will make sure your workforce is in the right direction.
Monitor & Evaluate
The focus is on achieving the set benchmarks. In terms of monitoring, you will find out what is working & what is not. Through surveys, observation, and interviews, you can monitor your employees.
Evaluation is done by comparison of the set goals and the actual results. So, if there are desired results, then you can continue with the same. If not, then you need to change your strategies & tactics.
Conclusion
In conclusion, developing a strategic HR guide or management plan will yield great results for organizations because they achieve their hiring goals and retain the right candidates. So, it's important to remember that as the company grows, your plans will also change.

Therefore, It is better to update your strategic hrm plans regularly to be effective. It can be time-consuming, but once executed, it will be fruitful for the organizations as it will generate high value and create a positive work environment for the employees.