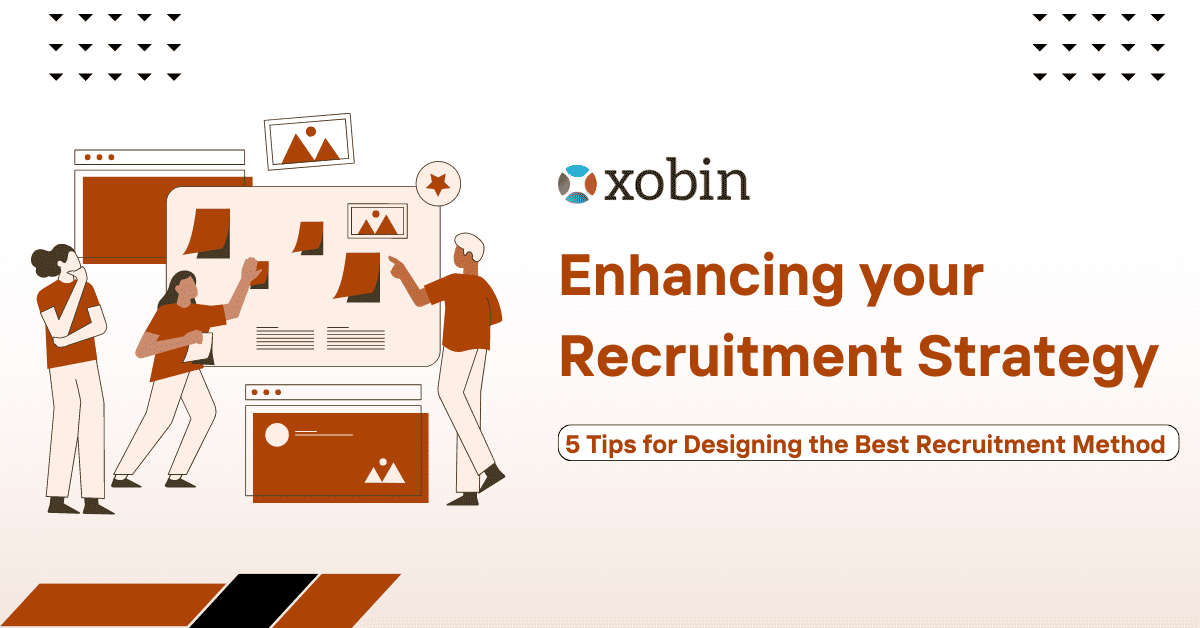 Running a business effectively is all about having the right strategies in place. The same applies to hiring new employees. With the best recruitment method working for you, it becomes much simpler to hire the right people for the job.
Part of the best recruitment method is essentially a plan for how you are going to attract and sort through candidates. With a proper recruitment method, you'll know exactly what kind of talent you're looking for. You'll also know what skills and experience to flag when sorting through a pile of candidates.
Steps to design the best recruitment method?
While designing a best recruitment method, your strategy should outline your company values. You also want to know how you want your employees to connect with them. It's not just about the skills and a good resume. You also want to get people with an attitude that reflects how you operate.
So, let's look at how you go about designing the best recruitment method so that you can optimize your process: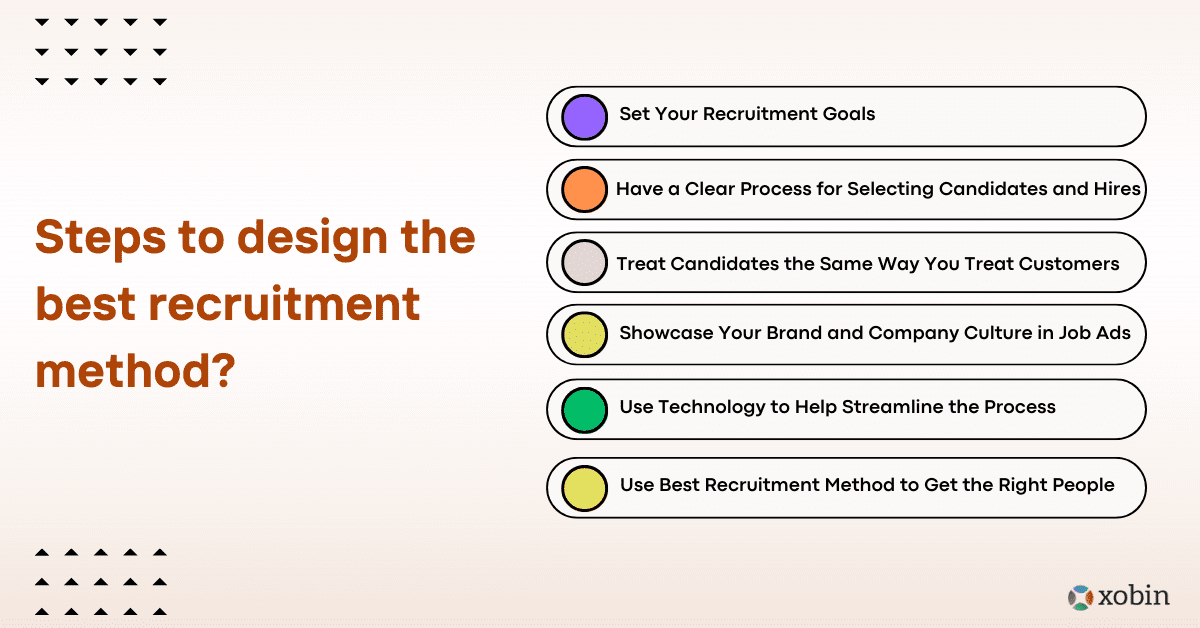 Set Your Recruitment Goals:
There are simple goals such as how many jobs need filling, what level of skill and experience those jobs require, and how much you are able to pay in remuneration for each position. Then, you can get into the high-level goals. These can include better diversity within your company, using fewer external contractors, or growing your business.
Additionally, you might want to include goals such as streamlining your entire recruitment process or building a pipeline of new talent for your business. These goals are not always necessary in a top recruitment strategy. However, they can help you to measure your success and assess the whole system of recruitment in your business. If you spot any flaws or bottlenecks, you can then make changes accordingly.
   Looking for Top Recruitment Software? Check out the best recruitment software.
Plan a Clear Process for Selecting Candidates:
It's important to have this process in place before you start interviewing candidates. You need to know what you're looking for, and not just in terms of ticking the right skills boxes on a checklist. Of course, that is a good starting point for the process.
Start with deciding on the skills that are completely necessary, as well as those that would be a bonus. Using this checklist can help you to weed out candidates that are completely unsuitable. Then you can start focusing on more detail. Now, you want to start focusing on the high-level goals. Look at whether or not candidates will help you to meet your diversity goals. Alternatively, look at how well they might match your company culture.
Having this process in place from the very start will ensure that you treat each candidate fairly. It will also ensure that the process of making a hire is going to best serve your business.
Treat Candidates the Same Way You Treat Customers:
If you want to bring in the best possible candidates, you need to woo them in much the same way that you'd woo customers. This means that you need to start with the best recruitment method or a social recruiting strategy to promote your jobs. Thereafter, you need to build yourself an ideal employee persona, just as you would build an ideal customer persona.
With this information, you'll be able to easily see which candidate will work well within your business structure and alongside other employees. You'll also be able to personalize and target how you reach these candidates.
Another point to consider is that you need to be respectful of each candidate's time and effort that they put into applying. You don't want customers sitting and waiting for meetings if they've come to place a large order. In the same vein, you want to avoid candidates sitting and waiting for an interview. They're going to bring value to your company and you need to show that you value them, too.
Best HR Software Solutions
Campus Recruitment Software
With our online campus recruitment software screen, hire top talents hassle-free. Everything is under one platform, from test creation to the candidate's evaluation. from test creation to the candidate's evaluation.
Rating 5.0
Based on 321 user ratings
API Integration by Xobin
Get integrated and harness the strength of robust assessments with Xobin APIs. Save sweat and time and focus on your core offering, not building your assessment stack. from test creation to
Rating 5.0
Based on 321 user ratings
Coding Skill Assessment Software
With our 100+ coding assessments on various languages such as Java, Python, JavaScript, React, Angular, etc., evaluate and hire the best-talented developers. from test creation to the candidate's evaluation. to the candidate's evaluation.
Rating 5.0
Based on 321 user ratings
Pre-Employment Testing Software:
Get access to the vast library of validated tests to screen candidates using online assessments. Simplify your recruitment process with our cloud-based Pre-employment Testing Software. from test creation to the candidate's evaluation.
Rating 5.0
Based on 321 user ratings
Pre-recorded Video Interview Platform:
Pre-recorded Video Interview Platform allows candidates to fully express themselves to a pre-recorded question. So that you can get more insight into candidates in far less time than a traditional phone interview. from test creation to the candidate's evaluation.
Rating 5.0
Based on 321 user ratings
Showcase Your Brand and Company Culture in Job Ads:
In much the same way that you would create an ideal employee persona, you need to create the perfect job advert to attract those people. One of the best ways to do this is to highlight your brand in the adverts just like you do in your marketing to your customers.
This means using a tone and wording that reflects the way you do business. A light-hearted job description and fun advert will attract people who don't take themselves too seriously. A to-the-point advert with no frills will attract candidates who are more inclined to be serious at work.
If your adverts are automatically attracting the kind of candidates who will fit in with your company culture, a large part of that initial screening process is already done. You'll already know that the people replying to the advert have a similar work ethic or sense of humor to the way your business operates. It's win-win for both your business and the candidates who are looking for employment.
Use Technology to Help Streamline the Process:
There are plenty of technological as well as AI solutions that can help to make the process of recruiting employees a lot simpler. Applicant tracking systems can take care of the whole process, from automatically posting job ads to all the right places, filtering applications to identify the best candidates and even making contact to set up the first interview.
If you're regularly recruiting new staff for whatever reason, this can be a great addition to your arsenal. The entire process of recruitment can become far more streamlined. You can also end up paying less per hire as the software reduces the time spent on each job advert.
Use the Best Recruitment Method to Get the Right People:
It's essential to get recruitment right. You want people who are going to fit in with your business culture and who will contribute positively to your bottom line. If you know how to calculate profit margin, you'll know that the more time spent in the recruitment process or replacing employees who aren't right for your business, the more money you'll waste.
A well-planned best recruitment method guarantees that you have a strategy in place to attract, evaluate, and choose individuals. So, based on their abilities, experience, and alignment with your company's values. As a result, it will help you in tracking progress and discover areas of improvement and make the needed changes. On the other hand, use of technology in screening process will expedite the hiring process. Also, automate jobs, and save time and money per employee. It gives enough time for the efficient publishing of employment ads, the screening of applicants, and the scheduling of interviews, eventually saving time and resources.
Putting time and effort into developing and implementing a streamlined recruitment plan will pay dividends in the long run. It ensures that you hire the right people who will have a positive impact on the bottom line of your company and contribute to its development. You can reduce costs and increase productivity by minimising the need to replace personnel who are not a good fit.
Conclusion:
Finally, developing an effective and best recruitment method is critical for hiring the right people and optimising the overall hiring process. You can expedite your recruitment efforts and attract the right talent for your firm. So, having clear recruitment goals, a candidate selection process, treating candidates with respect. Also, exhibiting your brand and corporate culture in job adverts, and leveraging technology.
By treating prospects in positive way will highlight your employer brand and corporate culture in job advertisements. Also, you can attract candidates who align with your organization's values and work ethic. This helps in pre-screening candidates who are likely to fit well within your business structure and contribute positively to your company's success.
Hence, Use these tips to ensure that your recruitment method ticks the right boxes and attracts the best hires for your business.