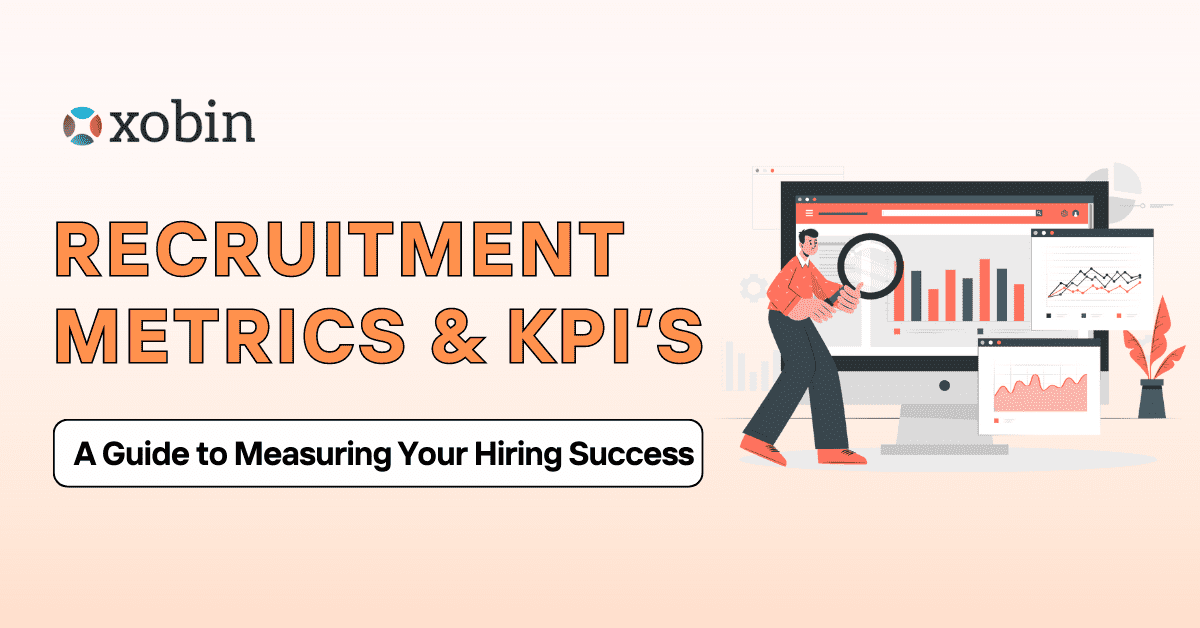 A company's success depends on finding the right employees to hire. With the aid of qualified personnel, businesses may grow, become more productive, and achieve their goals. Determining the success of recruitment efforts can be challenging for many businesses. The use of recruiting metrics and key performance indicators (KPIs) is essential for evaluating the effectiveness of recruitment. This article offers an introduction to recruitment metrics, KPIs, and the use of measuring tools.
Recruitment Metrics:
Recruitment metrics are numerical measurements which assess the success of a company's recruitment activities. Organizations can use these indicators to gauge the success of their hiring procedures and pinpoint areas for development. Typical recruitment metrics consist of:
Time to Hire:
Time to hire is the time to fill a job position, from the job posting to the day the when candidate accepts the offer. On the other hand, a prolong hiring process or a shortage in capable candidates is a lengthier hiring time. Hence, to streamline the campus drives and hiring process and cut down on the amount of time it takes to fill open positions, it is critical to monitor this measure.
Cost per Hire:
In detail, the cost per hire is the sum of money spent by an organization from the time a job posting is made to the time a candidate accepts an offer. Cost per hiring is the total cost incurred by the company to hire a new employee. This indicator accounts for employee referral bonuses, the cost of hiring agencies, and the price of advertising. A high cost per hire could indicate inefficient hiring practice's or a shortage of qualified candidates.
Source of Hire:
The origin of successful candidates is tracked by the source of hire metric. This statistic aids businesses in determining the best channels for hiring new employees and tailoring their hiring practices accordingly. Job boards, social media, and employee recommendations are common places to find new employees.
   Looking for AI for your Recruitment Software? Check out AI for hiring top performers.
Applicant Tracking:
Application monitoring metrics keep track of how many people apply for a job and how many of them are chosen for it. This indicator aids businesses in determining where, to better attract the best personnel, job descriptions or the hiring plans may need to be improved.
Key Performance Indicators (KPIs):
KPIs are precise, quantifiable, and useful measurements that assist organizations in monitoring their progress toward their objectives. An organization's recruitment process can be evaluated using recruitment KPIs, which can offer suggestions for how to make it more effective. Here are a few typical recruitment KPIs: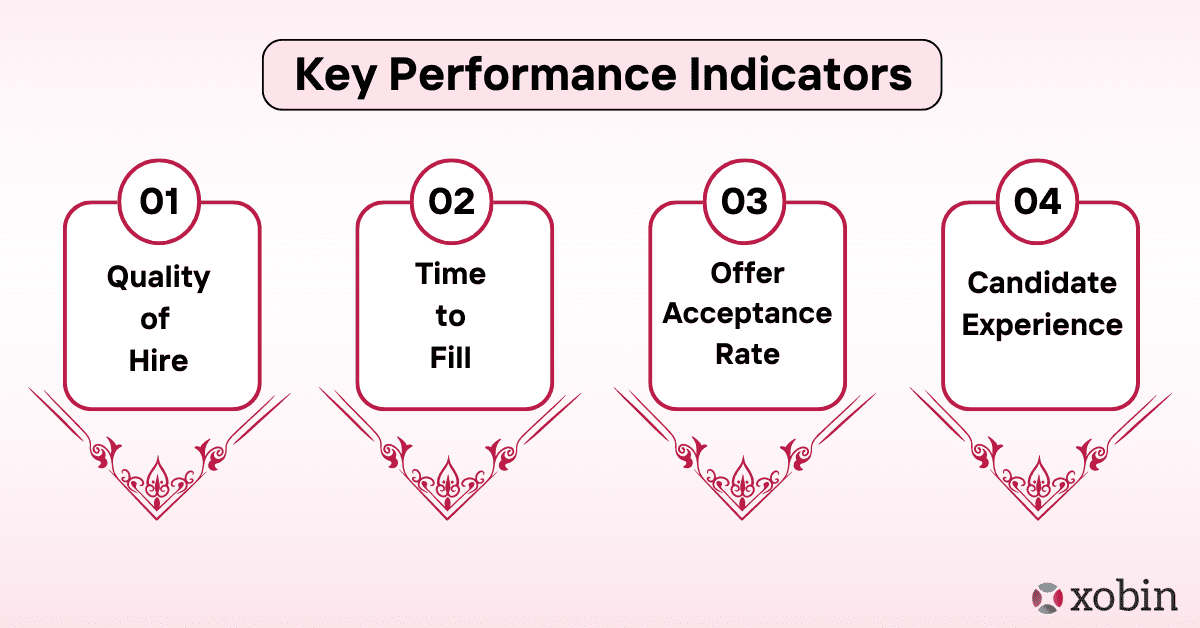 Quality of Hire:
Quality of hire is basically the candidate who has been outstanding throughout the hiring process. After hiring what they bring to the table with their inputs and results is how we decide the quality of the hiring process. Therefore, the effectiveness of recruitment efforts has to be with statistic. For example, statistics which analyses performance, engagement, and retention rates. High volume hiring or high quality of hire KPI shows that a company is filling the correct roles with the right skills.
Best HR Software Solutions
Campus Recruitment Software
With our online campus recruitment software screen, hire top talents hassle-free. Everything is under one platform, from test creation to the candidate's evaluation. from test creation to the candidate's evaluation.
Rating 5.0
Based on 321 user ratings
API Integration by Xobin
Get integrated and harness the strength of robust assessments with Xobin APIs. Save sweat and time and focus on your core offering, not building your assessment stack. from test creation to
Rating 5.0
Based on 321 user ratings
Coding Skill Assessment Software
With our 100+ coding assessments on various languages such as Java, Python, JavaScript, React, Angular, etc., evaluate and hire the best-talented developers. from test creation to the candidate's evaluation. to the candidate's evaluation.
Rating 5.0
Based on 321 user ratings
Pre-Employment Testing Software:
Get access to the vast library of validated tests to screen candidates using online assessments. Simplify your recruitment process with our cloud-based Pre-employment Testing Software. from test creation to the candidate's evaluation.
Rating 5.0
Based on 321 user ratings
Pre-recorded Video Interview Platform:
Pre-recorded Video Interview Platform allows candidates to fully express themselves to a pre-recorded question. So that you can get more insight into candidates in far less time than a traditional phone interview. from test creation to the candidate's evaluation.
Rating 5.0
Based on 321 user ratings
Time to Fill:
A KPI called "time to fill" tracks how long it takes to fill a vacancy. A lower time to fill KPI shows that a company is proficient in finding and hiring qualified candidates.
Offer Acceptance Rate:
The percentage of applicants that accept job offers is known as the offer acceptance rate. A high offer acceptance rate shows that a company is successfully luring top individuals and providing them with desirable employment.
Candidate Experience :
The happiness and openness of candidates will define your candidate experience. As a result, companies will be able to know how satisfied candidates are with their hiring strategies. For the employer brand to remain good and to draw in top people, this KPI is crucial.
   Looking for Talent Sourcing Software? Check out the best Talent Sourcing Software solutions.
Measuring Recruitment Metrics and KPIs:
Accurate data collection and analysis are necessary for measuring recruitment metrics and KPIs. Companies should take the following actions to successfully measure these indicators and KPIs: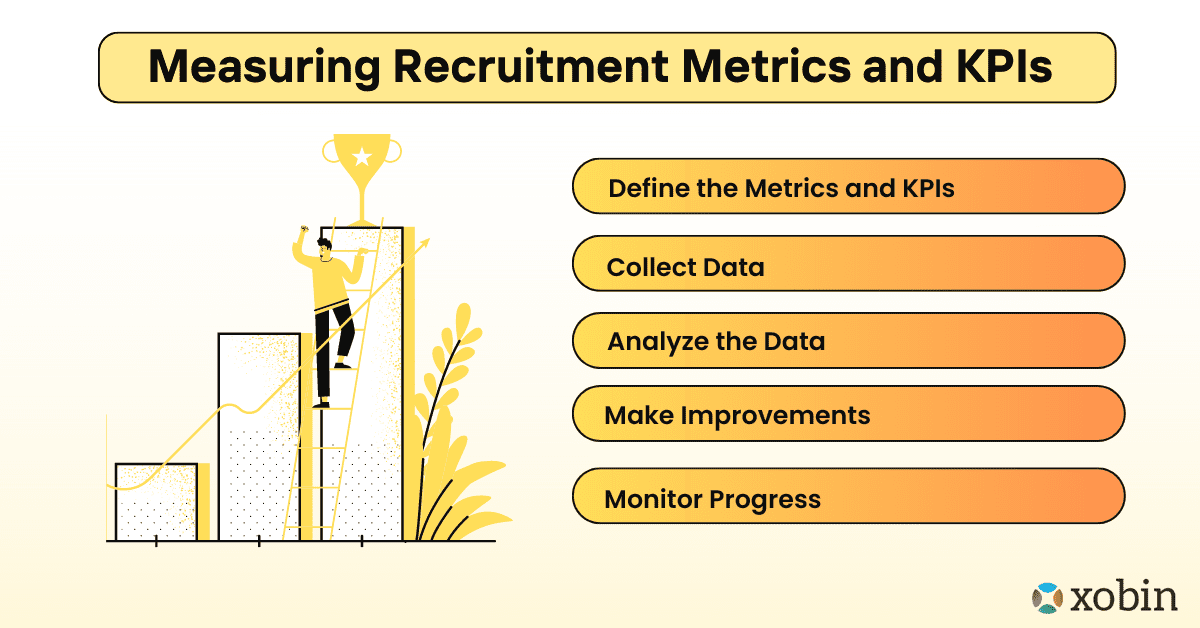 Define the Metrics and KPIs:
In the beginning of it all, companies chiefs as well as hiring managers should assess the hiring goals. After the assessment of the goals they should define their recruitment metrics and KPIs to track their goals. At the end, with this metrics and KPIs match is your main goal in hiring process.
Collect Data:
To gather information on recruitment metrics and KPIs, organizations should employ a software system. This information ought to be reliable, consistent, and frequently updated.
Analyze the Data:
Employers should examine recruitment KPIs and metrics using data analytics technologies. Hence, this investigation ought to shed light on potential areas for recruitment procedures to be improved.
Make Improvements:
As a result of above steps, the data insights and analytics should improve in coming process. On the other hand, the overall research and steps will help you in enhancing the hiring strategies. So, this can entail altering the recruitment process, revising the job description, or enhancing the candidate experience.
Monitor Progress:
Companies should frequently track their KPIs and recruitment metrics to gauge their progress as well as modify their strategy as necessary. Therefore, setting recruitment metrics and KPIs goals for the quarter or the year and monitoring your progress towards them are possible.
Benefits of Measuring Recruitment Metrics and KPIs:
Measuring recruitment metrics and KPIs can provide numerous benefits for organizations, including:
Improved Recruitment Process:
Before starting the recruitment process managers and chiefs should assess the process. As a result, they will assess the areas where they can improve the recruitment process. Hence, recruitment metrics and KPIs are essential part of it to access. In result of this process, it will boost candidate experience, expediting the hiring procedure, or upgrading job descriptions.
Enhanced Employer Brand:
The enhanced employer brand helps in attracting the best candidates. Similarly, the employer brand grows by good candidate experience. Therefore, to achieve this companies should improve the applicant experience. Such as from the start of the application to the making a job offer or candidates rejection. As a result of this firms will be in touch with quality candidates as well as will attract the best talent.
Better Hiring Decisions:
Recruiting metrics and KPIs can aid companies in making better recruiting choices. So, this can entail evaluating the quality of the employee, establishing effective recruitment channels, and streamlining the hiring procedure.
Cost Savings:
Organizations can find areas where they can cut recruitment expenditures by measuring recruitment indicators and KPIs. So, this might entail finding the hiring processes that are the most affordable, shortening the hiring process, and increasing the offer acceptance rate.
Conclusion:
In conclusion, for an organization's recruitment process to be effective, measuring recruitment metrics and KPIs is crucial. So, it enables businesses to pinpoint areas for development, make data-driven recruiting choices, and enhance recruitment tactics. Therefore, by routinely reviewing recruitment metrics and KPIs the recruiting process improves. Also, it strengthens the employer brand as well as attracts and hire top talent towards businesses .