Even as the worst of the pandemic appears to be behind us, it's clear that remote work in some capacity is here to stay.
It's currently having an effect on every part of our lives, from how we communicate at work, how we relate to the office, and even how we recruit.
Here are some of the most likely ways that remote work will change the world of recruitment. 
   Looking for Recruitment Software? Check out the best recruitment software.
It could make recruitment processes a lot easier and faster
Remote working, by virtue of the fact that it can be carried out in any place at any time, means that recruiters won't be limited by location when it comes to physically running recruitment campaigns and working to fill job roles. Potentially, this means that recruitment processes could be streamlined, made a lot easier to manage, and become more efficient as a result.
Remote recruitment, not limited by location, could also make it a lot easier to find the candidates you need with the perfect skills for your role – a useful benefit if your role is particularly unique or calls for a specific set of abilities in candidates that you're having trouble finding in your local area.
Remote interviews, carried out on video conferencing platforms, can enable recruitment teams to save time and hassle arranging physical space to conduct meetings – who in recruitment hasn't suffered the pain of trying to find a free meeting room for an interview?
With remote recruiting, you really do have a whole world at your fingertips.
It will change the skills employers are looking for
The skills needed for remote work are inherently different from those needed in traditional, office-based roles.
Now that it's clear a significant number of employers have adopted remote working in some capacity – whether that's moving entire teams to remote work or implementing hybrid working models that combine office-based study – it's essential that we adapt our hiring practices to meet the new demands of a changing world.
Whilst traditional, office-based work called for predominantly interpersonal-focused skills, remote work skill-sets will generally focus more on time management, personal motivation, and hybrid communication. Employers now have new candidate profiles that need to be targeted.
This means that the approaches we currently use, geared towards attracting candidates who have traditional office-focused skills and abilities, could soon become obsolete.
Changing employer needs mean that we need to change our recruitment tactics and the skills that we are on the lookout for, implementing processes that will help us find the right candidates for a new world of work.
Remote work calls for skills like: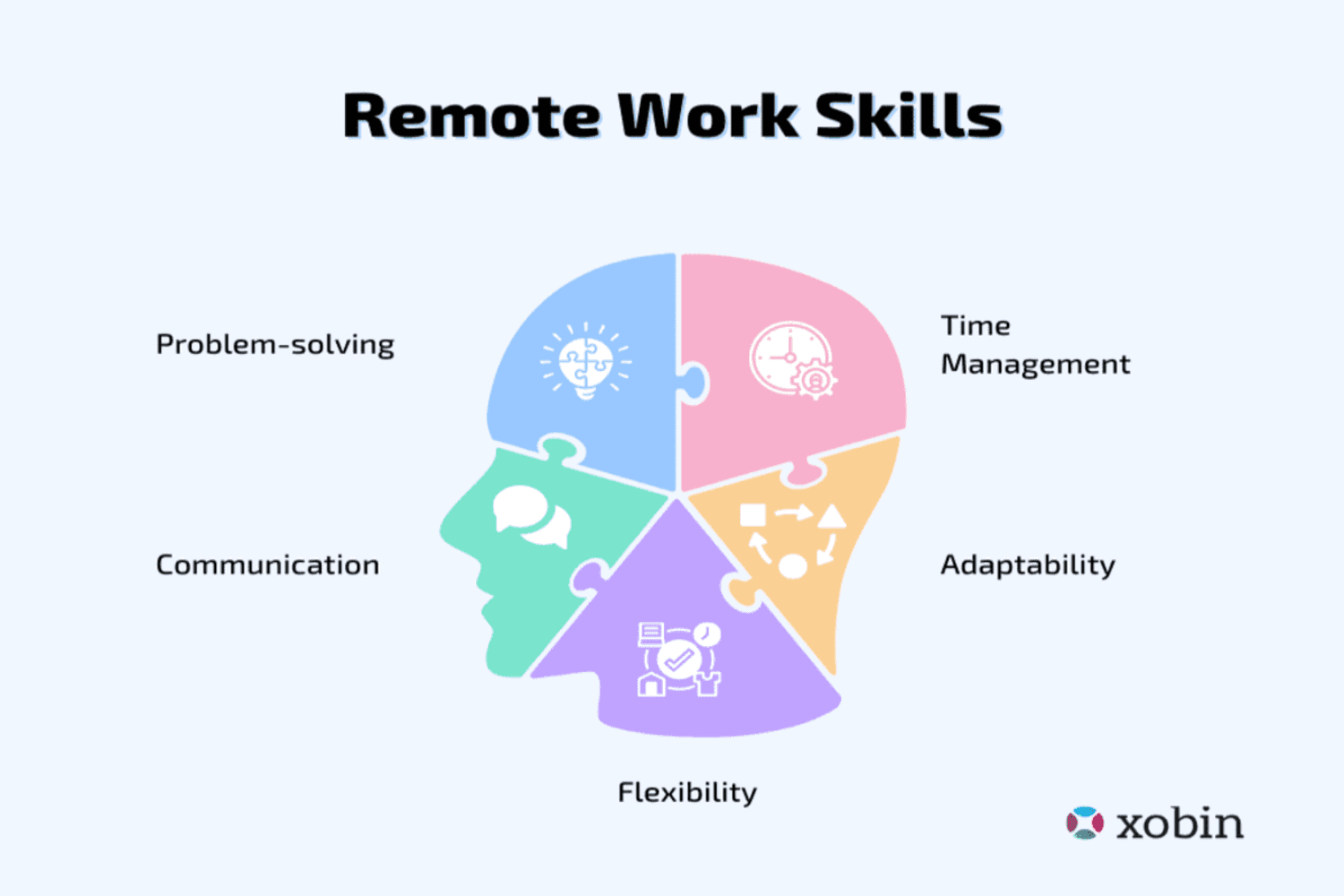 Time management
Flexibility
Communication
Problem-solving
Adaptability
There is a range of tactics and strategies that you can use to help you find the right remote skills for your specific organization. Carry out a short desktop survey to identify the skills that you're looking for and the kind of recruitment tactics that might be successful when trying to attract candidates with those skills.
Best HR Software Solutions
Campus Recruitment Software
With our online campus recruitment software screen, hire top talents hassle-free. Everything is under one platform, from test creation to the candidate's evaluation. from test creation to the candidate's evaluation.
Rating 5.0
Based on 321 user ratings
API Integration by Xobin
Get integrated and harness the strength of robust assessments with Xobin APIs. Save sweat and time and focus on your core offering, not building your assessment stack. from test creation to
Rating 5.0
Based on 321 user ratings
Coding Skill Assessment Software
With our 100+ coding assessments on various languages such as Java, Python, JavaScript, React, Angular, etc., evaluate and hire the best-talented developers. from test creation to the candidate's evaluation. to the candidate's evaluation.
Rating 5.0
Based on 321 user ratings
Pre-Employment Testing Software:
Get access to the vast library of validated tests to screen candidates using online assessments. Simplify your recruitment process with our cloud-based Pre-employment Testing Software. from test creation to the candidate's evaluation.
Rating 5.0
Based on 321 user ratings
Pre-recorded Video Interview Platform:
Pre-recorded Video Interview Platform allows candidates to fully express themselves to a pre-recorded question. So that you can get more insight into candidates in far less time than a traditional phone interview. from test creation to the candidate's evaluation.
Rating 5.0
Based on 321 user ratings
It could also change the expectations of candidates
The widespread adoption of remote work has fundamentally changed the workplace. Many employers assumed that any changes would be temporary and easily reversible at the start of the pandemic.
They're now coming up against the reality that the pandemic, and remote working, have irreversibly changed the priorities and expectations of employees when it comes to finding new roles. 
Before COVID-19 hit, remote working was generally considered a curious novelty – something that was interesting to speculate about, but not something that seemed to be threatening the dominance of office-based work any time soon. Fast forward a few short years and remote work in some capacity is now a permanent part of the employment landscape.
In general, studies have shown that most employees enjoy the extra autonomy, flexibility, and better work-life balance that remote work gives them compared to office work. In fact, there are strong suggestions that the ability to work remotely is becoming a key demand of job seekers.
This fact is borne out in phenomena like 'The Great Resignation', where employees are leaving positions en-masse in search of ones that better align with their expectations – namely, being able to work remotely in some capacity.  
When it comes to filling positions, HR staff and recruiters should bear in mind the fact that employees now have different desires for roles and should adjust what they're offering accordingly.
Internal hiring could surge in popularity
With a particularly challenging recruitment environment that's been exacerbated by the switch to remote work, it's likely that some employers will redirect their recruitment strategies towards internal hiring rather than external recruitment.
Employers are finding it harder than ever to find the right candidates for positions and to hire within budget. Internal recruitment and promotion of current employees represent a possible solution.
Ongoing learning and development of existing teams rather than spending money trying to build entirely new ones looks set to be a key strategy for many businesses going forward.
It could help to improve diversity and inclusion when recruiting
By its very nature, remote recruitment can help to address many of the fundamental diversity and inclusion issues that plague job candidates from marginalized backgrounds, thereby reducing unconscious bias in the workplace.
It could even represent a powerful tool in terms of combating some of the key diversity and inclusion issues that are currently affecting workplaces across the world and getting more diverse candidates into roles.
Remote interviews can take into account the flexibility needed by groups such as people with caring commitments, people with disabilities, and those who have mental health issues and make a job interview a much more comfortable environment.
For example, job candidates with disabilities may struggle physically attending an office environment and commuting to the interview, or they might struggle with accessibility in the office itself. By carrying out a remote interview, you're able to fully engage groups like this that have suffered too long from being unconsciously excluded from recruitment processes.
Software you need for all your recruitment process
1 Million +
Test takers per year
About the Author:
Christopher Fear is a writer at Acacia Learn, a leading provider of HR and L&D professional qualifications.