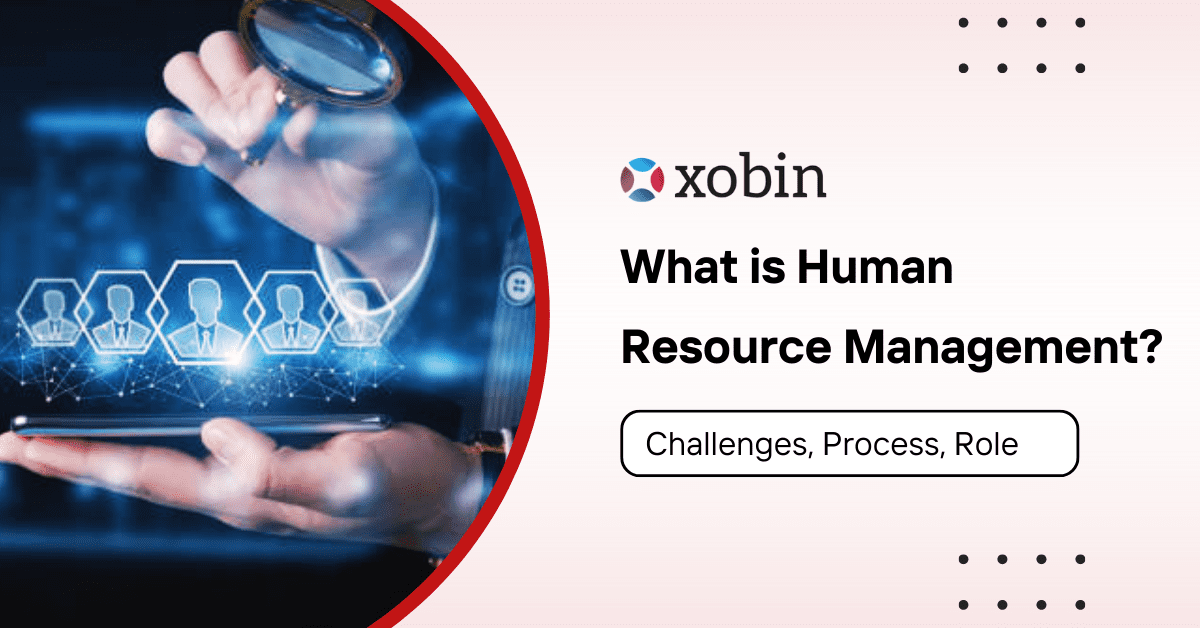 The crucial task of managing and maximizing an organization's human capital its workforce or employees is called human resource management (HRM), and it is performed by organizations. Recruitment and selection, performance management, employee engagement, pay and benefits, employee relations, training and development. Also, organizational development are just a few of the many operations that fall under the umbrella of HRM. By coordinating the workforce with the strategic aims as well as objectives of the organization and fostering a pleasant work environment that encourages productivity, innovation, and employee satisfaction, HRM plays a critical role in the success of an organization.
Challenges in Human Resource Management:
HRM faces numerous challenges in today's dynamic business environment. Some of the major challenges for recruiters are: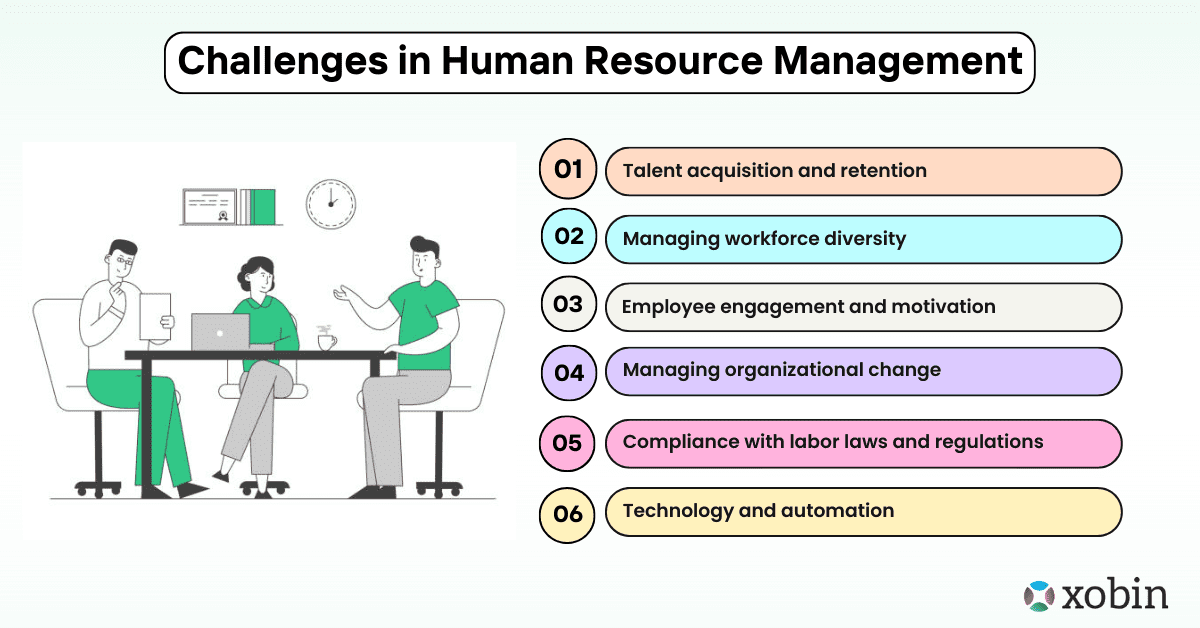 1. Talent acquisition and retention
Getting and keeping excellent talent is one of HRM's biggest difficulties. To entice qualified and seasoned workers, businesses must compete in a fiercely competitive labor market. Equally crucial is staff retention because it can lead to higher hiring expenses, decreased productivity, and knowledge loss. To attract and keep the greatest talent, HRM must design efficient recruiting and selection procedures, provide competitive pay and benefits, offer chances for growth and development, and foster a positive work environment.
2. Managing workforce diversity:
As organizations become more varied in terms of age, gender, ethnicity, religion, and nationality, workforce diversity has emerged as a significant concern for HRM. HRM must encourage diversity and inclusion, develop fair and impartial policies and practices, and cultivate an inclusive workplace where all employees feel valued, respected, and included to manage a diverse workforce successfully.
3. Employee engagement and motivation:
Enhancing workforce performance and productivity requires employee engagement and motivation. HRM needs to work on keeping workers motivated and engaged. So, by providing opportunities for growth and development, rewards and recognition, work-life balance, and meaningful work, organizations can foster employee engagement. Hence, to increase employee morale and job satisfaction, HRM must create and implement successful employee engagement and motivation programs.
4. Managing organizational change:
To remain competitive, organizations are continually changing and evolving. As it entails overcoming opposition to change, controlling employee emotions, expectations as well as ensuring a seamless transition. Also, adoption of new procedures, systems, and strategies, managing organizational change can be a considerable issue for HRM. Therefore, by clearly explaining the need for change, including employees in the change process, offering training and assistance as well as resolving employee worries and concerns. As a result, HRM must play a crucial part in managing organizational change.
5. Compliance with labor laws and regulations:
HRM must oversee adherence to several labor rules and regulations, including those governing, among other things, labor unions, employment contracts, working hours, salaries, and workplace safety. Since non-compliance can lead to legal issues, fines, and reputational harm to the company, keeping up with the evolving legal landscape and ensuring compliance can be challenging for HRM. HRM must be fully aware of all applicable labor laws and regulations to establish policies and practices that comply with them.
6. Technology and automation:
   Looking for Hiring Software? Check out the best Hiring Software solutions.
The workplace is being rapidly transformed by technology and automation, and HRM must keep up with this change. On the other hand, HRM is increasingly dependent on managing HR data, automating HR procedures, and using analytics for decision-making. However, given that it necessitates a sizable financial investment, training, and change management, incorporating technology into HRM practices can be difficult. Hence, organization's HRM needs to stay current with new HR technologies. Hence, evaluate how they will affect HRM practices, and embrace technological solutions that are consistent with its HRM strategy and objectives.
The Process of Human Resource Management:
The process of HRM typically involves several interconnected stages or steps that are carried out by HR professionals in organizations.The key stages in the HRM process are: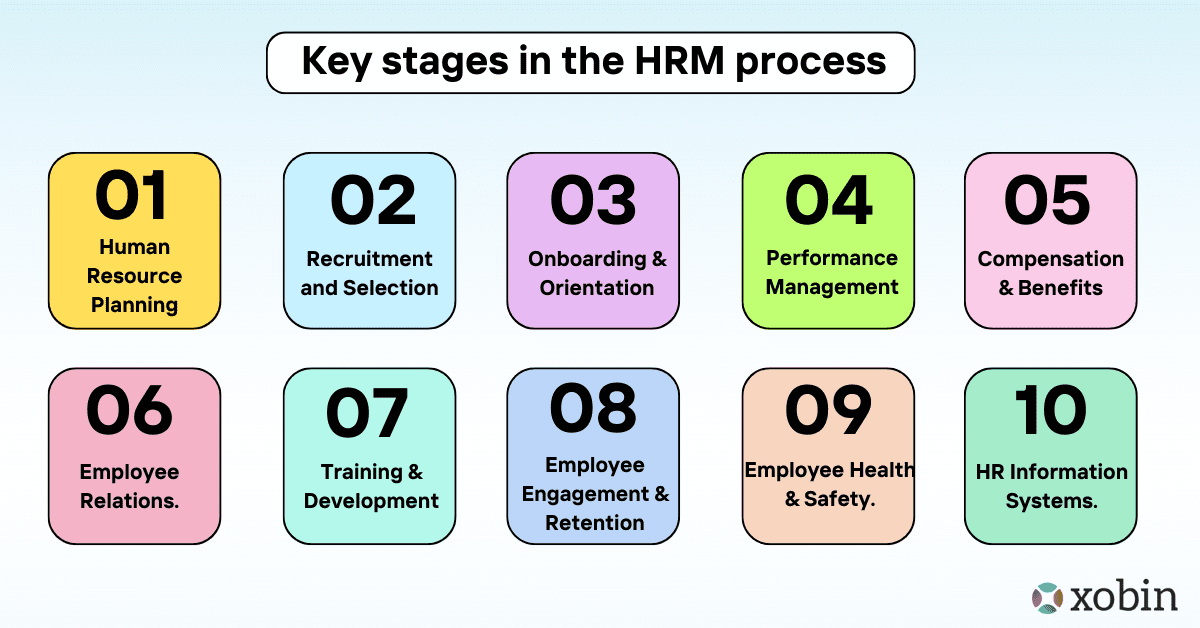 1. Human Resource Planning:
The process of human resource management begins with human resource planning. It entails assessing the organization's present and future of work needs and human resources and creating plans to address those needs. HRM specialists must comprehend the organization's strategic objectives, evaluate the workforce needs, and pinpoint skill, talent, and knowledge shortages. To make sure that the company has the right people with the right capabilities at the right time, HRM develops workforce plans, recruitment strategies, and succession plans based on this research.
2. Recruitment and Selection:
The HRM process includes the phases of recruitment and selection, which involve recruiting and choosing the people who are most suitable for the organization. HRM experts employ a variety of strategies to draw in prospective employees, including job listings, marketing, career fairs, and online job boards. To choose the best candidates for the company, they screen and evaluate the candidates according to their credentials, abilities, and experience, and then they interview, test, and do background checks on them. The objective is to make certain that the company only hires workers who can contribute to its success and who share its culture and values.
Best HR Software Solutions
Campus Recruitment Software
With our online campus recruitment software screen, hire top talents hassle-free. Everything is under one platform, from test creation to the candidate's evaluation. from test creation to the candidate's evaluation.
Rating 5.0
Based on 321 user ratings
API Integration by Xobin
Get integrated and harness the strength of robust assessments with Xobin APIs. Save sweat and time and focus on your core offering, not building your assessment stack. from test creation to
Rating 5.0
Based on 321 user ratings
Coding Skill Assessment Software
With our 100+ coding assessments on various languages such as Java, Python, JavaScript, React, Angular, etc., evaluate and hire the best-talented developers. from test creation to the candidate's evaluation. to the candidate's evaluation.
Rating 5.0
Based on 321 user ratings
Pre-Employment Testing Software:
Get access to the vast library of validated tests to screen candidates using online assessments. Simplify your recruitment process with our cloud-based Pre-employment Testing Software. from test creation to the candidate's evaluation.
Rating 5.0
Based on 321 user ratings
Pre-recorded Video Interview Platform:
Pre-recorded Video Interview Platform allows candidates to fully express themselves to a pre-recorded question. So that you can get more insight into candidates in far less time than a traditional phone interview. from test creation to the candidate's evaluation.
Rating 5.0
Based on 321 user ratings
3. Onboarding and Orientation:
After the candidates are chosen, HRM specialists make sure the new hires are successfully onboarded and orientated to the company. Onboarding includes exposing new hires to the organization's policies, practices, culture as well as equipping them with the knowledge and tools they need to begin working. Orientation programs aid new hires in integrating into the workplace, comprehending their tasks, as well as building relationships with coworkers and superiors. Effective orientation and onboarding can increase new hires' engagement, happiness, and productivity.
4. Performance Management:
Setting performance expectations, monitoring employee performance, giving feedback, and assessing performance about those goals are all important aspects of HRM. HRM specialists collaborate with managers and staff to set specific performance objectives, offer regular performance feedback, and carry out performance reviews. Performance management is useful for pinpointing areas for development, honoring and praising top performers, and resolving performance problems. Recognizing training and development needs and presenting chances for skill development, also helps employee development and career growth.
5. Compensation and Benefits:
Designing and implementing compensation and benefit plans that entice, retain as well as encourage employees is the responsibility of HRM specialists. This entails deciding on the proper pay scale, creating benefit plans for employees, such as paid time off and retirement plans, and maintaining compliance with rules and laws governing pay and benefits. To establish variable pay plans, benchmark compensation against industry norms, and make sure that pay is equitable and fair throughout the organization, HRM must do market research.
6. Employee Relations:
By creating and executing policies and practices that support a pleasant work environment, HRM plays a critical role in managing employee relations. Employee complaints, disagreements, and disciplinary matters are handled by HRM professionals, who also make sure that the organization's policies and procedures are followed. Additionally, they manage employee morale and motivation and promote employee engagement. They help improve communication between staff and management. A healthy and productive work environment and a positive employer brand depend on establishing and sustaining good employee interactions.
7. Training and Development:
To improve employees' skills, knowledge, and capacities, HRM must determine the training and development needs of the workforce plan as well as implement training programs to meet those needs. In other case, professionals in HRM carry out training needs analysis, create training programs, and deliver them using a variety of techniques, including workshops, mentoring, e-learning, and classroom instruction. Employees benefit from training and development programs by gaining new skills, staying current on industry trends, and improving their performance, all of which contribute to the success of the organization as a whole.
8. Employee Engagement and Retention:
The development and implementation of employee engagement programs that promote a pleasant work environment, increase employee morale, and increase job satisfaction are the responsibility of HRM specialists. This entails conducting staff surveys, planning employee appreciation events, advocating for work-life balance, and offering chances for professional advancement. By implementing retention initiatives like employee recognition programs, competitive pay and benefits, and career development opportunities, HRM also plays a crucial role in keeping top talent within the company. For organizations to maintain a highly qualified and motivated workforce and lower turnover costs, employee engagement and retention are essential.
9. Employee Health and Safety:
Ensuring that workers work in a secure and healthy workplace is the responsibility of HRM. Hence, risk assessments are carried out, policies and procedures for occupational health and safety are developed and implemented. Also, local laws and regulations are complied with by HRM specialists. Creating evacuation plans and offering training on emergency procedures are just two of the critical roles that HRM plays in catastrophe readiness and response. Hence, to safeguard employees' well-being and reduce workplace accidents and incidents, it is crucial to prioritize employee health and safety.
10. HR Information Systems:
HRM manages employee data, tracks employee information as well as automates HR procedures with the help of efficient HR information systems (HRIS). Also, HRM experts may streamline HR procedures including hiring, onboarding.
Also, performance management, and benefits administration with the aid of HRIS. Therefore, HRIS also makes it easier to make decisions based on data by giving users access to pertinent HR data and analytics. HRM experts must have a thorough understanding of HRIS to make sure that the system is current, secure, and in compliance with data protection laws.
Conclusion:
As a result of its responsibility for managing and maximizing an organization's human resources, human resource management (HRM) is a crucial component of every business. Hence, to accomplish the goals of the organization, the correct people must be attracted, chosen, trained, developed, and retained. So, HRM fosters a supportive workplace culture and raises worker productivity by defining performance measurements, offering feedback, and managing compensation and benefits plans. Additionally, HRM supports organizations in navigating change and guarantees they have the leadership and technical skills required for long-term success. In general, HRM is essential to an organization's success and ability to compete in the market.