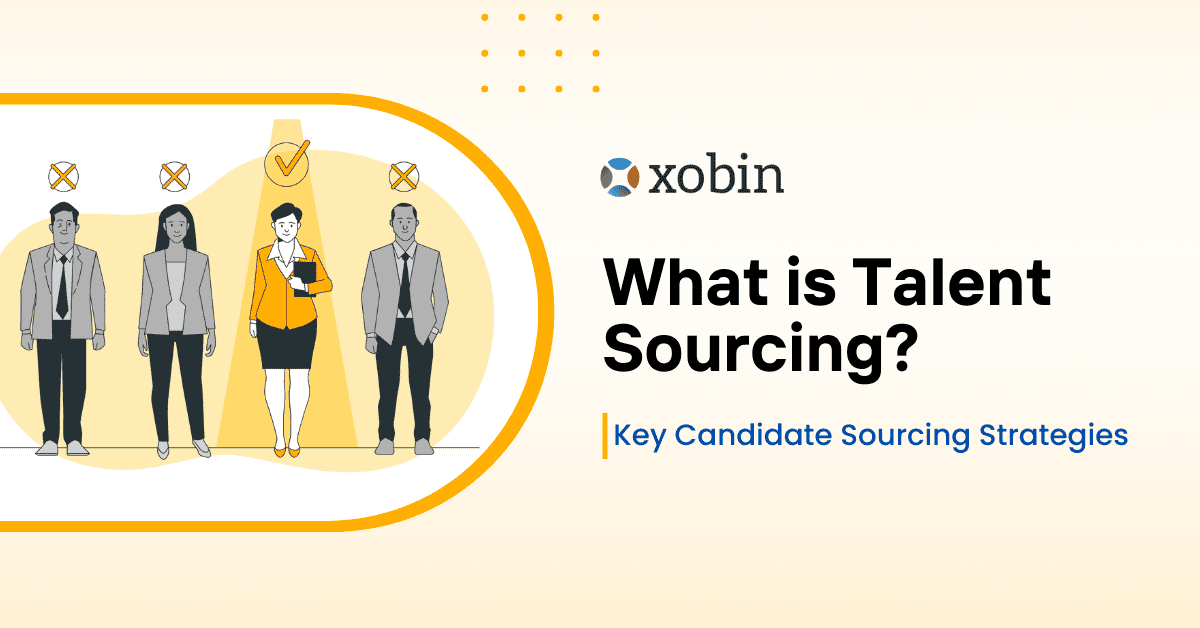 Workers are the foundation of any business. Although some business owners believe that consumers are the main VIPs, a customer experience without excellent workers would be inadequate, and they forget about talent sourcing. The difficult process of finding the best employees for your business starts long before you see any resumes or conduct any interviews.
   Looking for Talent Sourcing Software? Check out the best Talent Sourcing Software solutions.
Talent sourcing comes first. The hiring process is launched by a wide range of tasks, including identifying the talent pool for any specific position or skill set.
Moreover, you can use website-building tools that can help you create landing pages and webpages that seamlessly connect you with interested candidates online. Avail unbounce coupons to get discounted service on one of your organization's top platforms to ease hiring. So, understanding what talent sourcing for your company entails, how it works, and how to use it effectively will help you find the best individuals for your available roles.
What is Talent Sourcing?
Finding talent is a lot like finding leads for sales. Recruiters aggressively look for people who would be a good fit for their firm using a range of techniques, including web research, networking, referrals, etc. In an ideal world, this process would take place even in the absence of open positions, creating a pool of capable candidates for use whenever a vacancy or new post would arise.
The method that recruiters and hiring managers use to find potential applicants is known as talent sourcing.
Talent Sourcing Goals
What exactly is the purpose of talent sourcing? Obviously qualified candidates! Technically speaking, sourcers are searching for the gems in the muck. The best candidates are to be converted into applicants.
These might be highly competent people who aren't looking or aren't aware of the available opportunities. They might also be prospective employees who are a strong cultural match, possess some or all of the necessary skills, yet come from an unexpected place or background. In highly technological fields requiring specialized talents, such as nursing, IT and programming, or other industries, talent sourcing is particularly crucial.
The objective is to have a consistent talent pipeline that is active all year long. The goal of job sourcing is to introduce top people early in the process. They seek them out, qualify them, and either begin the interview process or forward them to a recruiter. (Which we'll discuss next.)
An organization can be confident they'll have an advantage over any hiring challenge by maintaining a steady flow of highly skilled workers. When they need the appropriate individuals, they can find them.
Talent Sourcing Process
This starts even before a position becomes available. In this manner, by the time the job is listed, you will already have a list of candidates to contact. There won't be a need for you to rush. Although sourcing can differ from location to location, this broad overview of talent sourcing and its milestones can help.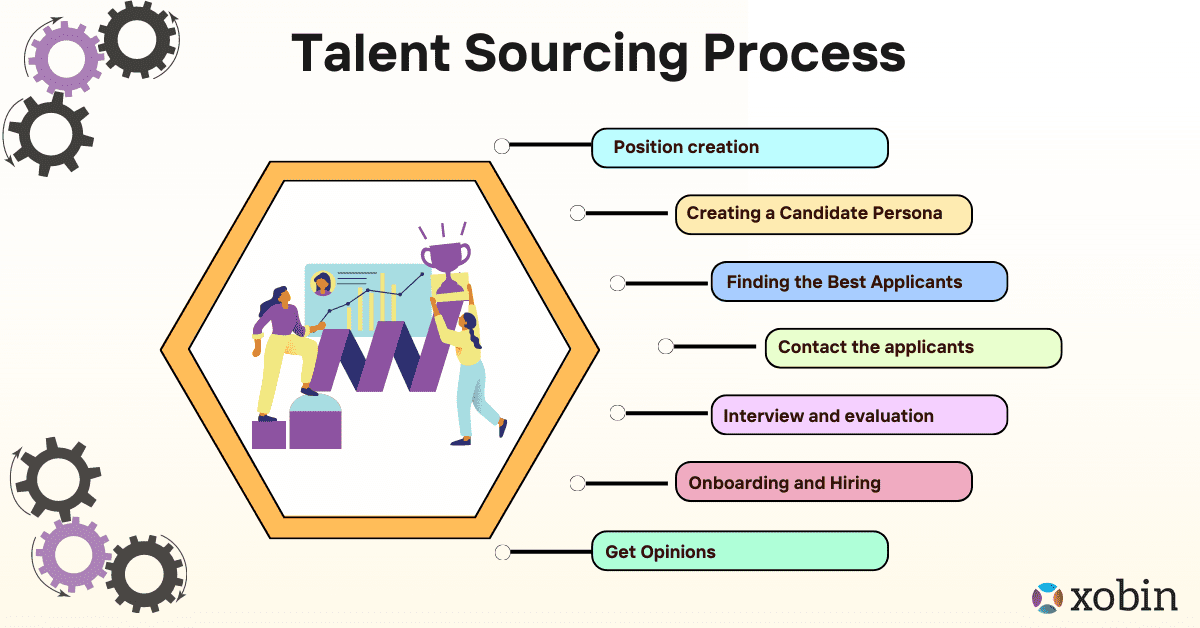 Position creation is the first step:
Establishing a job description is the first step of candidate sourcing. It must be thoroughly understood by you if you want to find a candidate. What are they supposed to do? Do they need to possess any hard or soft talents prior to their first day of work? In addition, it's crucial to maintain regular contact with managers, department heads, and hiring representatives throughout this process. This should ultimately result in a thorough job description.
Creating a Candidate Persona:
When you have all the necessary information, it's time to envision your ideal hire. A candidate persona is a description of the ideal candidate for the job. What skills do they possess? How do they fit into the culture of the company? It serves as your guide to finding the ideal fit. Also, you should consider the platforms, places, websites, and channels that your ideal fit uses throughout this process.
Finding the Best Applicants:
It's time to go out and grab what you want now that you know what it is. To collect data and automate things, you'll need software like an ATS or CRM. Also, you should look through employment boards, social media, and other sources. In addition, see if anyone pops out among the candidates you did not interview the first time. Finally, you should always be gathering applicants. Speak to them and see what transpires.
Contact the applicants:
It's time to get in touch with your potential hires after you've looked for them. Write a concise, unique message. Whilst it's a good idea to make templates for emails sent later in the hiring process, put some thought into making this one special. It's the first touch that matters the most. Don't get discouraged if you don't hear back. Send them a follow-up or two. Sometimes they might need some encouragement.
Keep in mind that you don't want to stifle their initial touch. Do not request that they complete an application. Don't subject them to a protracted exam or other demanding requirements. This is merely to affirm that everyone's time is well spent. Schedule a 20-minute phone call to confirm that the applicant is available, interested, and prepared to submit a formal application after that has been determined. Here, you can request that they complete forms or pass aptitude tests.
Interview and evaluation:
Depending on the business, a talent sourcer's work can finish here. Examine your notes, then select the top candidates for employment. After that, deliver them to the hiring manager, recruiter, or another business contact. To identify the best fit, they might interview you if you participate in the hiring process as well.
Onboarding and Hiring:
Once a decision has been made, it is time to mail the offer, finalize the details, and formally bring the ideal candidate on board. Again, an HR onboarding Specialist may very well be responsible for this. No matter what, the hiring and onboarding process ought to run without a hitch if you've done your job well.
Get Opinions:
Although it is simple to overlook, the final step is crucial. Get their feedback on the procedure. How well did you match them with a location that suited their skills? What can you improve or change? How did you portray the company? You can criticize, make changes, and continue.
What are the Key Talent Sourcing Strategies?
You can find candidates for your position through a variety of routes and pipelines, including those standing in front of you. But, knowing specific places to look in the real world to find answers to needs is frequently useful. Here are a few talent sourcing tactics for hiring that you ought to take into account.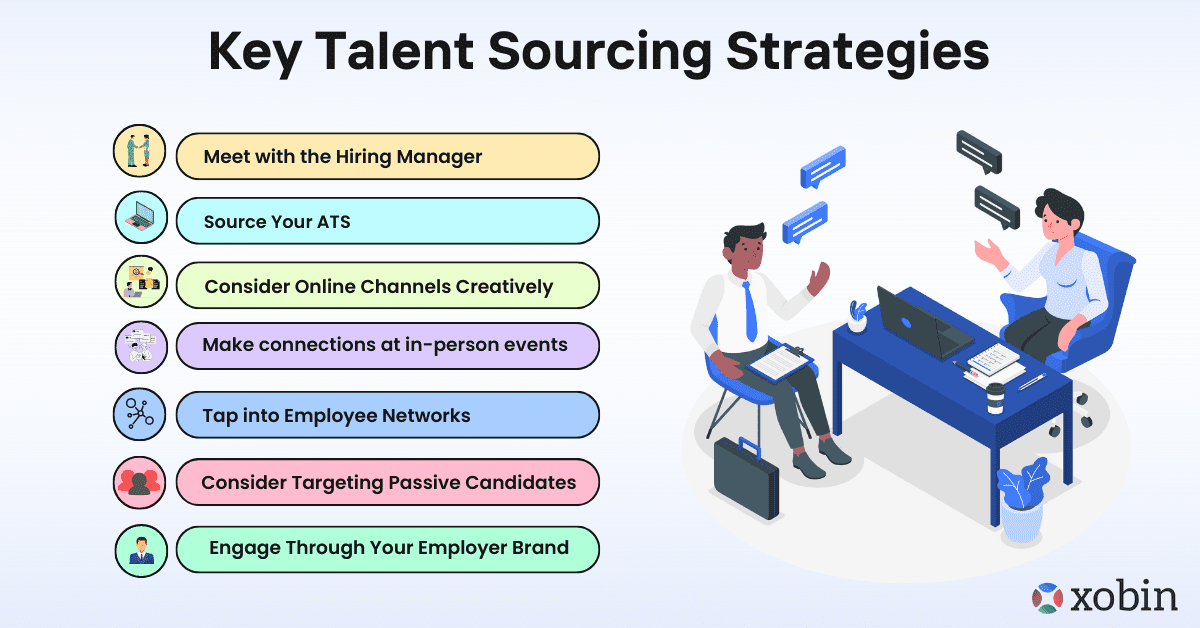 Meet with the Hiring Manager:
Have another appointment with the recruiting manager to ensure nothing has changed before you start the outreach process. It's important to check that everyone understands your manager's expectations. Utilize the original job description for the position as a guide and ask specific questions to determine whether anything has changed.
Source Your ATS:
It's time to log into your applicant tracking system after you feel certain about the knowledge and experience you must find. It's possible that you have found the ideal applicant for this position, but because it's been a while, you should brush up on your knowledge. You can use the keywords associated with the hiring manager's requirements and required competencies to search your applicant tracking system (ATS).
Consider Online Channels Creatively:
The next step for many recruiters is to look online for fresh potential applicants. Which websites are your favorites? But, don't imagine that visiting LinkedIn will be the end of your hunt. Don't restrict your candidate sourcing to just one or two online job platforms. Find websites with the talent you're looking for by doing further research.
Make connections at in-person events:
Finding top talent at live events is still a terrific idea. Networking can take place everywhere, from the bank queue to a particular business event, with people who have the talents you're looking for. To discover candidates with a particular level of experience for open positions, some recruiters use job fairs.
Best HR Software Solutions
Campus Recruitment Software
With our online campus recruitment software screen, hire top talents hassle-free. Everything is under one platform, from test creation to the candidate's evaluation. from test creation to the candidate's evaluation.
Rating 5.0
Based on 321 user ratings
API Integration by Xobin
Get integrated and harness the strength of robust assessments with Xobin APIs. Save sweat and time and focus on your core offering, not building your assessment stack. from test creation to
Rating 5.0
Based on 321 user ratings
Coding Skill Assessment Software
With our 100+ coding assessments on various languages such as Java, Python, JavaScript, React, Angular, etc., evaluate and hire the best-talented developers. from test creation to the candidate's evaluation. to the candidate's evaluation.
Rating 5.0
Based on 321 user ratings
Pre-Employment Testing Software:
Get access to the vast library of validated tests to screen candidates using online assessments. Simplify your recruitment process with our cloud-based Pre-employment Testing Software. from test creation to the candidate's evaluation.
Rating 5.0
Based on 321 user ratings
Pre-recorded Video Interview Platform:
Pre-recorded Video Interview Platform allows candidates to fully express themselves to a pre-recorded question. So that you can get more insight into candidates in far less time than a traditional phone interview. from test creation to the candidate's evaluation.
Rating 5.0
Based on 321 user ratings
Tap into Employee Networks:
A wonderful place to find new talent is among current employees. Since excellent individuals tend to refer to other good people, referral schemes have been effective for a very long time. Giving retention bonus to the recommended candidate who continues to work for the company after hiring is an essential part of talent sourcing.
Consider Targeting Passive Candidates:
Looking at passive candidates may be the ideal strategy for some situations. Some professionals are not looking for a job, but if properly addressed and given a reason to shift jobs, they might take the chance into consideration.
Engage Through Your Employer Brand:
Also, pay attention to your employer brand, which can help you attract excellent employees. With your employer brand, you may demonstrate what it's like to work for your company. Building your positive reputation and engaging with others on social media can help you gain Potential talent.
Conclusion
Talent sourcing is a process of finding and vetting candidates that would be a suitable, cultural and skill fit for a company. Their duties closely resemble those of recruiters and the broader talent acquisition process, which a company uses to entice the best of the best. But the goal of talent sourcing is to proactively identify the ideal candidate even when they're not looking.
Hiring is difficult. It's a terrific idea to develop a candidate persona to help you identify the qualities you need. In addition, you can look for potential employers and compile a list of candidates using social media and job sites. You gain access through job fairs and employee referrals, which are intimate interactions.
The software also assists through automation. It's simple to post, pull, and analyze information for numerous systems to find excellent workers with talent management software. In the end, you want to create passive leads that you could buy if the price is right. If purchasing software is the logical next step for you, you should gather your requirements before beginning the decision process.
In general, talent sourcing can result in workplaces with happier, more productive employees who enjoy what they do. not simply put up with them. And that is a lovely thing.