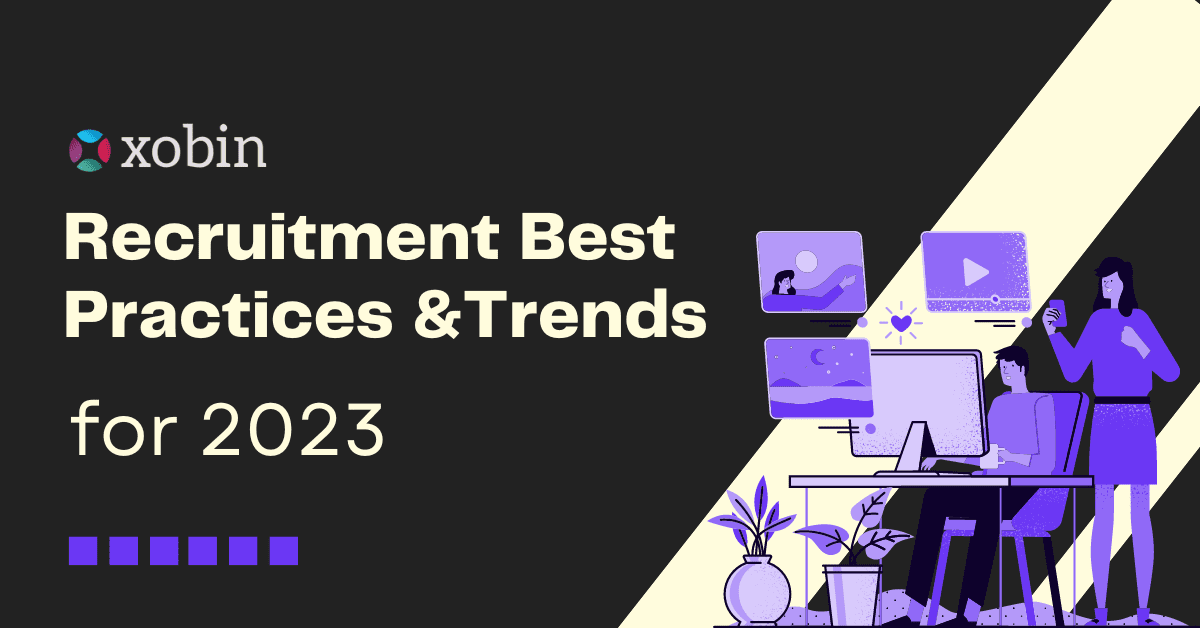 The development and success of every organization depend heavily on their recruitment processes. Finding the right people is crucial because each company's employees have a direct impact on its success. In this day and age, it is more crucial than ever for businesses to stay current with the recruitment best practices and trends to attract the best applicants.
So, welcome to the recruiting world of 2023! with the help of our top HR influencers of 2023. We have compiled the best recruitment practices and trends for 2023 in this blog. There are also points on candidate sourcing and screening, developing an inclusive hiring process, as well as employing technology and automation. Also, the trends for creating a strong employer brand. So, these effective recruitment practices will help your business locate and keep the top people for your team by optimizing the recruitment process.
Recruitment Best Practices for 2023:
Best practices and trends are continually changing in the field of recruitment. So let's go through some of the trends and best practices in hiring that businesses should pay attention to in 2023.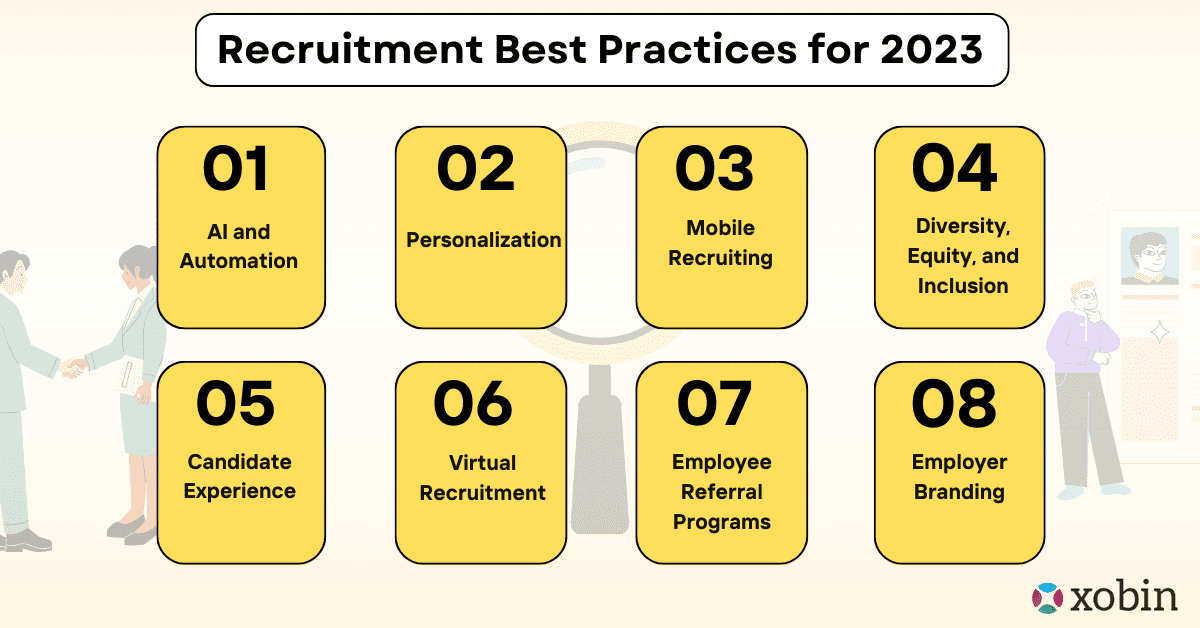 AI and Automation:
Since a few years ago, AI has positively improved recruitment. On the other hand, is getting more popular in the hiring process, and in 2023, this trend will only grow. Employers may improve candidate experiences, lessen prejudice in recruiting decisions. Also, streamline the hiring process with the use of AI and automation solutions.
One of the benefits of AI, that it can assist in the screening of resumes and the identification of top applicants based on particular standards, such as abilities and experience. Automation can help in scheduling interviews and contacting prospects thereafter. Recruiters may concentrate on higher-value activities like candidate engagement and relationship-building by automating these routine duties.
   Looking for AI for your Recruitment Software? Check out AI for hiring top performers.
Personalization:
Personalization is becoming increasingly important in the recruitment process. Candidates expect a personalized experience, just like they would in any other area of their lives. This means that rather than taking a general approach, recruiters will need to customize it to each specific candidate. Customization can be achieved through focused messaging, tailored job landing pages, and customized email marketing.
Mobile Recruiting:
Candidates are applying for employment and conducting job searches on their mobile devices at an increasing rate. So, employers must make sure that their hiring procedures are mobile-friendly. Mobile-friendly application procedures, mobile-optimized job postings, and the availability of mobile interview scheduling are all ways to do this.
Best HR Software Solutions
Campus Recruitment Software
With our online campus recruitment software screen, hire top talents hassle-free. Everything is under one platform, from test creation to the candidate's evaluation. from test creation to the candidate's evaluation.
Rating 5.0
Based on 321 user ratings
API Integration by Xobin
Get integrated and harness the strength of robust assessments with Xobin APIs. Save sweat and time and focus on your core offering, not building your assessment stack. from test creation to
Rating 5.0
Based on 321 user ratings
Coding Skill Assessment Software
With our 100+ coding assessments on various languages such as Java, Python, JavaScript, React, Angular, etc., evaluate and hire the best-talented developers. from test creation to the candidate's evaluation. to the candidate's evaluation.
Rating 5.0
Based on 321 user ratings
Pre-Employment Testing Software:
Get access to the vast library of validated tests to screen candidates using online assessments. Simplify your recruitment process with our cloud-based Pre-employment Testing Software. from test creation to the candidate's evaluation.
Rating 5.0
Based on 321 user ratings
Pre-recorded Video Interview Platform:
Pre-recorded Video Interview Platform allows candidates to fully express themselves to a pre-recorded question. So that you can get more insight into candidates in far less time than a traditional phone interview. from test creation to the candidate's evaluation.
Rating 5.0
Based on 321 user ratings
Diversity, Equity, and Inclusion (DEI):
In recent years, the subject of diversity, equity, and inclusion (DEI) has gained a lot of attention; in 2023, this tendency will only intensify. Businesses now understand how crucial it is to create diverse teams, so recruiters must make sure they are actively looking for applicants from a variety of backgrounds. By adopting techniques like blind resume screening or broadening the interview panel, you can decrease bias in the hiring process.
 Looking for Talent Sourcing Software? Check out the Best Talent Sourcing Software Solutions.
Candidate Experience:
The hiring process is giving more and more weight to the candidate experience. From the minute they apply for a job until they receive an offer, candidates anticipate a satisfying and enjoyable experience (or rejection). The hiring process must be open, prompt, and tailored, according to recruiters. This entails giving candidates regular updates, swiftly addressing their inquiries and worries, and providing feedback following the interview process.
Virtual Recruitment:
The popularity of virtual hiring has grown in recent years, and it will only grow in 2023. Video interviews, virtual job fairs, and virtual onboarding are all examples of virtual recruitment. By making the process more comfortable and accessible, virtual recruitment can reduce time and costs, boost the number of candidates, and enhance the candidate experience.
Employee Referral Programs:
Programs that encourage employee referrals are a good approach to uncovering excellent talent. Workers can assist find and recommend top applicants because they are frequently a company's best advocates. Employee ownership and commitment in the hiring process are other ways that employee referral programs can increase employee engagement and retention.
Employer Branding:
Employer branding is playing a bigger role in the hiring process. Applicants are more inclined to submit applications to jobs with organizations with good employer brands. Businesses must make sure their employer brand, which incorporates the organization's values, culture, and mission, is distinct and compelling. Targeted messaging, staff endorsements, and social media presence can all help with this.
Conclusion:
In conclusion, any organization's success and expansion depend on finding the right talent. Also, staying current with recruitment trends and best practices is essential to doing this. Companies should put more effort into implementing AI and automation tools, personalizing the recruitment process, embracing mobile recruiting, prioritizing equity, diversity and inclusion, offering a positive candidate experience, utilizing virtual recruitment, putting employee referral programs in place, and enhancing employer branding in 2023.
Therefore by recruitment best practices above businesses may entice top talent, lessen bias in the hiring process, enhance the candidate experience, and create diverse teams that contribute fresh viewpoints and ideas. Hence, companies must remain flexible and adaptable as the recruitment market changes, constantly seeking out new strategies to draw in and keep the best individuals. Companies can set themselves up for success in the upcoming years by staying ahead of the curve.