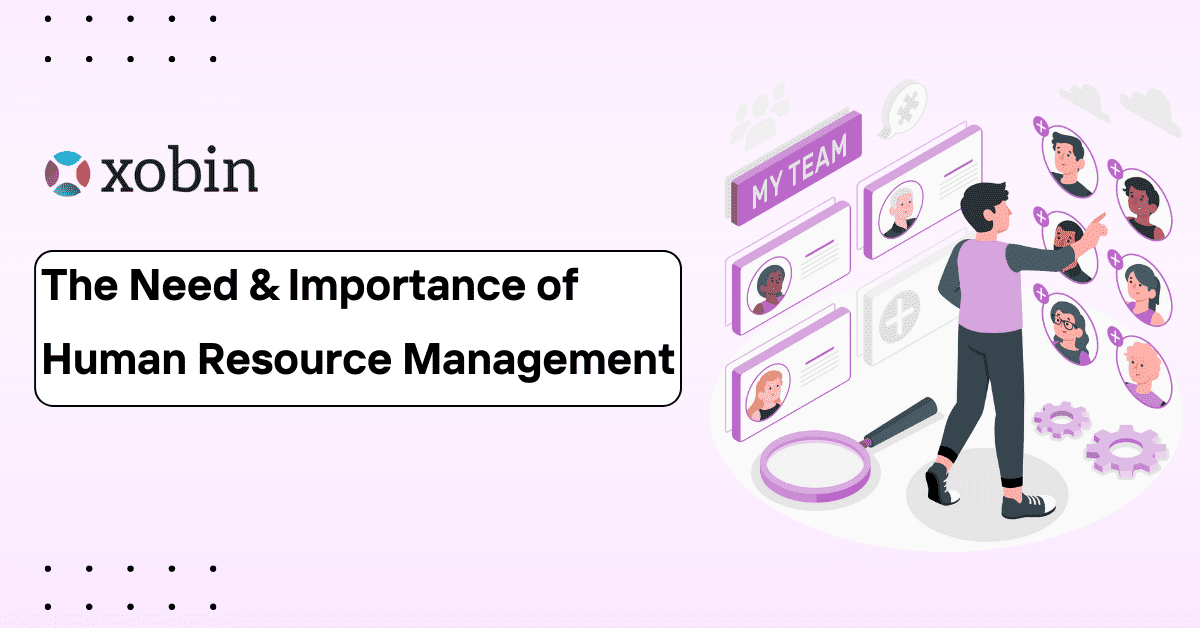 Employees are the most important asset of an organization; we all agree, right? On the other hand, human resource management (HRM) plays a vital role in building an organization. So the importance of HRM carries a higher value in the organizations.
The HR department is in charge of making sure employees feel safe, respected, and supported. Great human resource management ensures that the HR department operates effectively and efficiently. It also grows and evolves over time with constant upgrades. In this article, we will deep dive into what is human resource management, the need for it, and the importance of HRM.
What is human resource management?
Human resources is the department in charge of scouting, screening, recruiting, onboarding new employees, and executing employee benefit programs. HR managers play an important role in recruitment process, sourcing, training, handling payroll. Also in social strategizing and building a positive work environment to have a great employee experience and increase productivity.
   Looking for Hiring Software? Check out the best Hiring Software solutions.
Human Resource Management Software is helping HRs operate at their best. However, Human Resource Management (HRM) is a development-oriented way to behave toward people at work that focuses on talent acquisition, engagement, and development. It is essential for managers at all levels and gives opportunities for employee engagement, performance, and individual advancement in terms of growth and development of organization.
More businesses across the world are shifting from personnel management to human resource management (HRM) since it is a more advanced and effective means of managing people in the workplace. It is expressly focused on maximizing employee performance while keeping employers' strategic objectives in mind.
To understand what is human resource management in detail. Click Here!
The need for human resource management:
Human resource management is needed to cut out any issues related to employees, and the overall diverse workforce in order to have a streamlined process and make the right hiring decisions.
According to several statistics, people typically quit their employment as a result of a bad work-life balance, compensation worries, professional progression challenges, or job instability. These scenarios make human resource management a necessary part of the organization.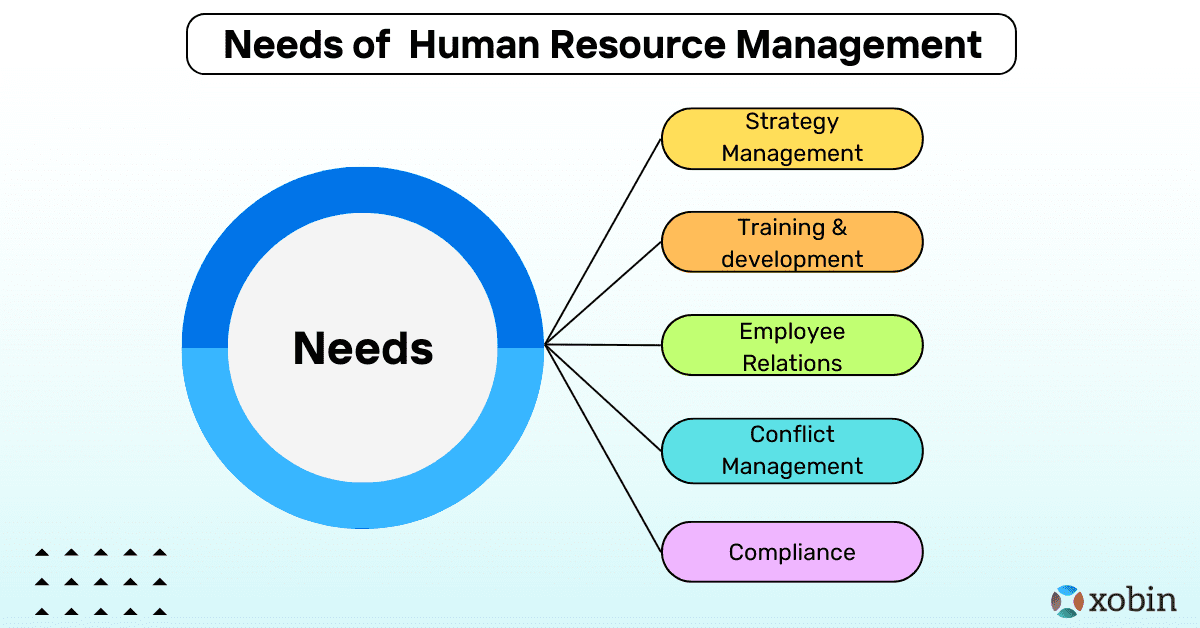 This is a critical part of every company and plays a significant role in human resource management. HR managers oversee strategies to ensure the company meets its business objectives while also making major contributions to corporate decision-making to hire the right people. It helps to strategise goals better to achieve greater heights and an organizations success.
Training & development:
Employee development needs proper training and upskilling as it will benefit the organization in achieving goals and objectives.Training in soft-skills that are indirectly related to the position can be beneficial for the organization as well. For instance, training employees in cybersecurity awareness can also have myriad benefits for both the organization and the individual employee, no matter the industry
On the other hand, you can create tons of blogs, guides, and training material to help develop your employees. Also, it helps the employee to contribute and grow as an individual.
Employee Relations:
One of the needs is to develop a great relationship between the employees and the employer, which hrm takes care of. Also providing a positive work environment aids motivation and higher productivity.
Best HR Software Solutions
Campus Recruitment Software
With our online campus recruitment software screen, hire top talents hassle-free. Everything is under one platform, from test creation to the candidate's evaluation. from test creation to the candidate's evaluation.
Rating 5.0
Based on 321 user ratings
API Integration by Xobin
Get integrated and harness the strength of robust assessments with Xobin APIs. Save sweat and time and focus on your core offering, not building your assessment stack. from test creation to
Rating 5.0
Based on 321 user ratings
Coding Skill Assessment Software
With our 100+ coding assessments on various languages such as Java, Python, JavaScript, React, Angular, etc., evaluate and hire the best-talented developers. from test creation to the candidate's evaluation. to the candidate's evaluation.
Rating 5.0
Based on 321 user ratings
Pre-Employment Testing Software:
Get access to the vast library of validated tests to screen candidates using online assessments. Simplify your recruitment process with our cloud-based Pre-employment Testing Software. from test creation to the candidate's evaluation.
Rating 5.0
Based on 321 user ratings
Pre-recorded Video Interview Platform:
Pre-recorded Video Interview Platform allows candidates to fully express themselves to a pre-recorded question. So that you can get more insight into candidates in far less time than a traditional phone interview. from test creation to the candidate's evaluation.
Rating 5.0
Based on 321 user ratings
Conflict Management:
In any organization, it is very common to have conflicts and disputes, hrm plays a key role. Such as, to understand the issues and solve those effectively without any bias and deliver employee satisfaction. Also, effective communication needs to be practiced to solve these kinds of issues at a faster rate to reach a solution and establish a healthy work culture.
Compliance:
HR professionals ensure that the organization complies with all employment laws and regulations, which helps avoid legal issues.
Importance of HRM?
The importance of HRM (Human resource management) is concerned with more than just selecting the appropriate people for the right tasks. Also, it helps to foster a streamlined process and build team spirit, in which employees realize their aspirations by developing themselves and contributing to the achievement of organizational goals.
More businesses across the world are shifting from personnel management to human resource management (HRM) since it is a more advanced and effective means of managing people in the workplace. It focuses on improving employee performance while keeping set objectives in mind.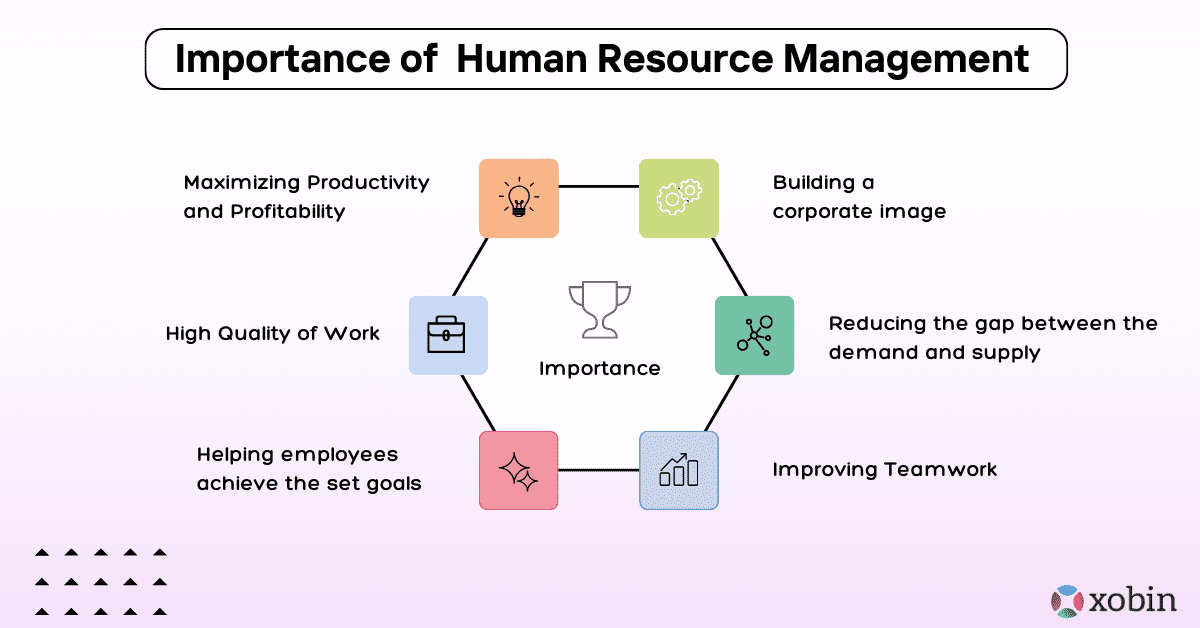 Here are some functions that describe the importance of hrm:
Maximizing Productivity and Profitability:
It really focuses on both the quality and quantity of employees, as it provides them with opportunities. Opportunities to grow in their respective domains. As a result of these opportunities, employees are highly motivated and meet the established goals. Hence, it allows the organization to capitalize, create a presence in the market, and enhance profitability.
High Quality of Work:
A positive work environment, employee recognition, and a sense of responsibility motivate employees to give their best, which makes sure to yield a high quality of work as it helps to achieve set goals. Also, hiring the right people and making sure to train them well is important for getting the best quality work. This is crucial, as it helps the employees learn and quickly adapt to the organization's working culture.
Helping employees achieve the set goals:
Human resource management is important in achieving the set goals, as companies provide compensation, benefits, and rewards to recognize their employees. These activities help motivate employees to give their best. It also improves employee morale and gives employees new energy to perform better.
Improving Teamwork:
HR managers need to make sure every employee feels important and worthy in every department. They emphasize the importance of HRM in teamwork and team spirit in the workplace. So, that it will make a great contributions to get the desired results. Moreover, AI tools with GPT-4 powers, like the ones featured at AI tools with GPT-4 powers, are revolutionizing the way businesses interact. Also, they automate tasks, further enhancing the teamwork.
Reducing the gap between demand and supply of Human resources:
The role of HR management in an organization extends beyond personnel management. So, to include determining the sufficiency of the pool of available human resources. HR manager organize hiring and selection campaigns to fill any employment gaps that may exist within the company. Similar to laying off ineffective employees, human resource management is responsible for this.
Building a corporate image:
For businesses, sustainability involves preserving their storied, ideal reputation in the marketplace. Everyone wants to be associated with a business that is well-known for its ethical behavior. Also, which offers commitment to the community and its employees.
Contrarily, businesses that treat their employees more like resources than as people are in danger of failing completely.
Conclusion:
In conclusion, human resources are critical for organizations of all sizes. So, they not only keep the best interests of the firm in mind but they also provide a suitable atmosphere for people to advance in their careers. On the other hand, HR professionals face a variety of unexpected challenges at work. Hence, with the importance of HRM they will persevere in order to ensure the well-being and happiness of their workers.