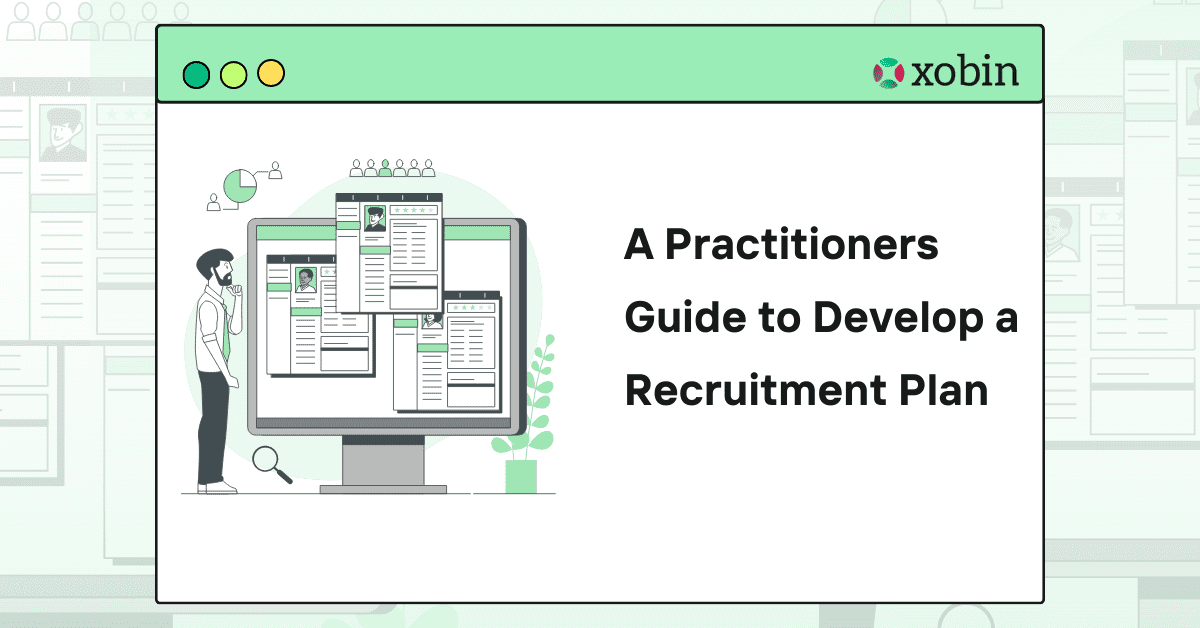 A recruitment strategy plan must be created in order to attract and hire the best personnel. On the other hand, recruitment is a key component of every organization's success. Organizations today must have a flexible, adaptable, and strategic recruitment plan to suit their changing demands in a world that is changing quickly.

What is a Recruitment Plan?

A hiring strategy plan is a comprehensive approach to attracting and selecting qualified candidates for a job position or a specific project. The recruitment strategy plan describes the steps, schedule, and materials needed to locate, entice, and hire the best candidates for a given position. A recruiting plan's mission is to make sure that the company has the talent needed to meet its corporate goals and compete in the market. Below is a list of points to know more about the recruitment strategy plan.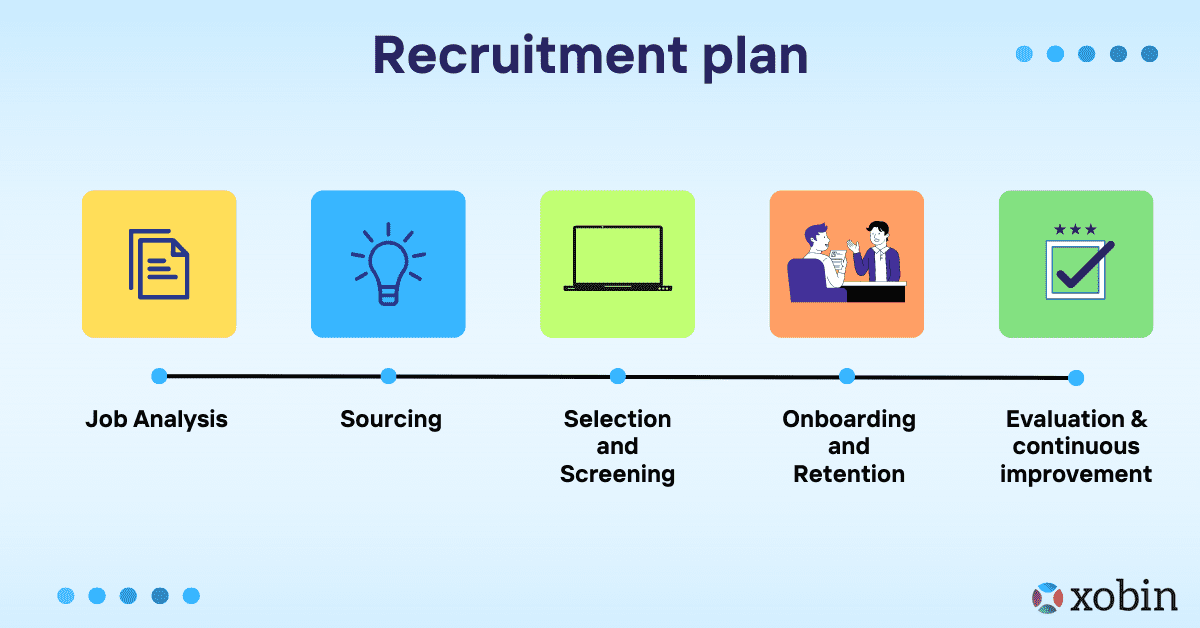 Job analysis:
The first phase in the hiring process is to describe the job position and list the crucial abilities, credentials, and work history needed for the position. Typically, a job analysis procedure that includes analyzing job descriptions, speaking with subject matter experts, and conducting surveys is used to acquire this data.
Looking for Recruitment Planning Software? Check out the best Recruitment Planning Software solutions.
Sourcing strategy:
Developing a sourcing strategy to draw possible candidates is the next stage after defining the job needs. A variety of channels, including job ads, social media, recommendations, business networks, and recruiting events, can be used in the sourcing strategy.
Selection and screening:
The hiring strategy plan also describes the selection and screening procedures. Also, including the standards used to assess applicants, the interviewing procedure, and any potential pre-employment tests or background investigations.
Onboarding and retention:
The recruitment strategy should include a plan for onboarding and retention once a candidate has been chosen. This can involve onboarding, training, and ongoing assistance to make sure the new recruit succeeds in their position and fits in well with the company.
Evaluation and continuous improvement:
The recruitment plan should outline a strategy for assessing the success of the hiring process and identifying areas that may be improved continuously. This may entail monitoring important indicators including the time to recruit, cost per hiring, and candidate satisfaction.
In general, a recruitment strategy plan is an essential tool for businesses to use to guarantee that they are able to draw in and keep top talent. Organizations may find and hire the finest individuals for their requirements by adopting a strategic and data-driven approach to recruitment. This can ultimately result in greater performance, increased employee engagement, and a competitive advantage in the market.
Steps to develop a Recruitment Plan?
This practitioner's guide will walk you through the process of creating a recruitment strategy plan. So, that it will assist you in luring, locating as well as selecting great applicants for your company. We will go over the key elements to think about when developing your strategy, such as evaluating your current recruitment strategy, defining your recruitment objectives, identifying your ideal candidate profile. Also, coming up with a thorough job description, planning your candidate sourcing, putting in place an applicant tracking system. As well as, tracking your recruitment metrics.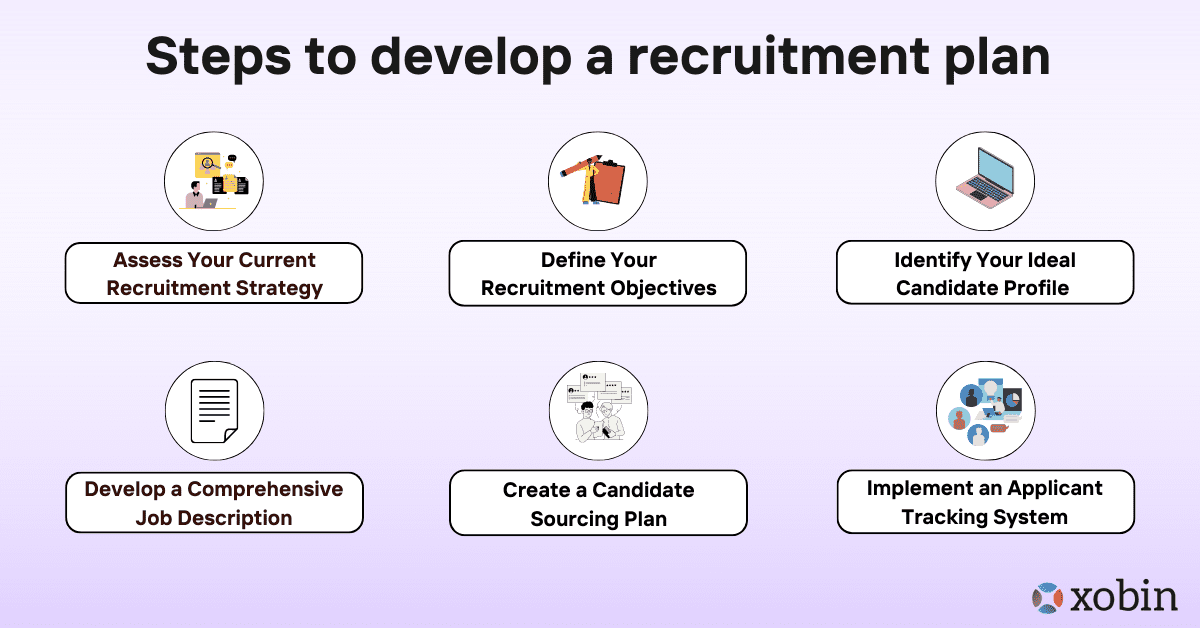 Assess Your Current Recruitment Strategy:
The evaluation of your present hiring strategy plan is the first step in creating a hiring strategy plan. Examine your current hiring procedure and note its advantages and disadvantages. So, find out what needs to change in order to improve your results. For instance, do you, struggle to locate the suitable applicants to hire? Do you need to enhance the way you do interviews? Do you experience a lot of turnover?
Your present recruitment strategy can be thoroughly reviewed to assist you pinpoint the areas that require improvement and figure out how to streamline the procedure to more effectively accomplish your hiring objectives.
Best HR Software Solutions
Campus Recruitment Software
With our online campus recruitment software screen, hire top talents hassle-free. Everything is under one platform, from test creation to the candidate's evaluation. from test creation to the candidate's evaluation.
Rating 5.0
Based on 321 user ratings
API Integration by Xobin
Get integrated and harness the strength of robust assessments with Xobin APIs. Save sweat and time and focus on your core offering, not building your assessment stack. from test creation to
Rating 5.0
Based on 321 user ratings
Coding Skill Assessment Software
With our 100+ coding assessments on various languages such as Java, Python, JavaScript, React, Angular, etc., evaluate and hire the best-talented developers. from test creation to the candidate's evaluation. to the candidate's evaluation.
Rating 5.0
Based on 321 user ratings
Pre-Employment Testing Software:
Get access to the vast library of validated tests to screen candidates using online assessments. Simplify your recruitment process with our cloud-based Pre-employment Testing Software. from test creation to the candidate's evaluation.
Rating 5.0
Based on 321 user ratings
Pre-recorded Video Interview Platform:
Pre-recorded Video Interview Platform allows candidates to fully express themselves to a pre-recorded question. So that you can get more insight into candidates in far less time than a traditional phone interview. from test creation to the candidate's evaluation.
Rating 5.0
Based on 321 user ratings
Define Your Recruitment Objectives
Define your recruitment objectives as the next step in creating a recruitment strategy plan. These goals must to be precise, quantifiable, and consistent with your company's aims. Reducing time to hire, diversifying your candidate pool, and raising retention rates are a few typical recruitment goals.
Your success metrics can be found by defining your recruitment targets and tracking them. You could want to keep track of the number of days it takes to fill open positions, for instance, if your goal is to shorten the time it takes to hire someone.
Identify Your Ideal Candidate Profile
The identification of your ideal candidate profile is one of the most important recruitment process. This profile lists the abilities, background, and personality traits required for success in the position you're hiring for. You may focus your job descriptions and adjust your recruitment strategies to attract the best people by creating an ideal candidate profile.
To create an ideal candidate profile, consider the following:
What skills and experience are necessary for the role?
Kind of personality traits are important for success in the role?
What are the core values of your organization, and how do they align with the role you're hiring for?
Develop a Comprehensive Job Description:
One of the most crucial resources you have for drawing in the right applicants is your job description. Therefore, a thorough job description should include a synopsis of the position's duties, a list of the education and experience necessary, the duties of the position, and any other requirements, such as licenses or certifications.
When developing your job description, consider the following:
Use clear and concise language that is easy to understand
Be specific about the qualifications and experience required
Highlight the benefits of working for your organization
Include information about your company culture and values
Create a Candidate Sourcing Plan:
The following step is to construct a candidate sourcing plan after you've clarified your recruitment objectives, determined your desired candidate profile, and created a thorough job description. This plan details the channels you will use to recruit applicants and the messaging you will use to engage them.
You can find applicants through a variety of sources, including job boards, social media, employee recommendations, and professional networks. While designing your candidate sourcing plan, consider the following:
Which channels are most effective for reaching your ideal candidate profile?
What messaging will resonate with your target audience?
How can you differentiate your organization from your competitors to attract the best talent?
Implement an Applicant Tracking System:
Recruiters can manage their hiring process with the aid of an applicant tracking system (ATS), which is a piece of software. An essential first step in creating a scalable recruitment strategy is to implement an applicant tracking system (ATS). It streamlines and automates the hiring procedure, making it simpler for recruiters to keep track of their employment funnel.
Conclusion:
In conclusion, to attract and hire the best employees in a changing world. So, any firm must design a scalable recruitment plan. Hence, it's critical to evaluate your present recruitment strategy, specify your recruitment objectives.
So, pinpoint your ideal candidate profile produce a thorough job description. Also, design a candidate sourcing strategy, and put in place an applicant monitoring system in order to construct a successful plan. Hence, organizations may expedite their hiring procedures and increase their chances of discovering the best candidates for their teams by adhering to five essential principles.