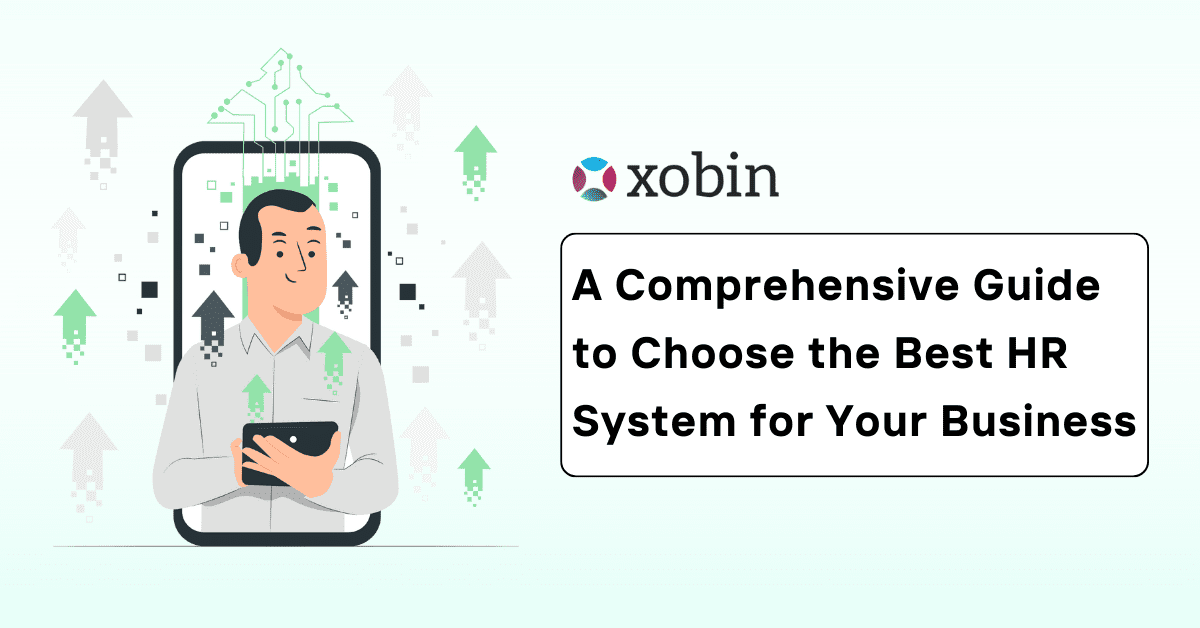 An effective HR system can greatly expedite HR procedures, boost productivity, and enhance employee happiness. Human resource management is a crucial job in any organization. Software which automates most of HR operations and offers a single platform to manage all HR-related activities. Hence, such software use by HR managers is a HR system. So it is crucial for you to pick the best HR solution software for your company. Hence,through this blog will take you through the comprehensive guide to pick the best HR system.
What is an HR System?
An HR system, also referred to as a human resource information system (HRIS) or human capital management (HCM) system, is a piece of software intended to manage and automate various HR functions, including hiring and recruiting, onboarding new employees, managing employee data, monitoring time and attendance, administering benefits, managing performance, and processing payroll. An HR system provides tools and functions that allow HR professionals to expedite their procedures and come to educated conclusions. It acts as a central repository for storing, managing, and retrieving employee-related data.
   Looking for Hiring Software? Check out the best Hiring Software solutions.
HR systems come in a variety of shapes and sizes, from straightforward systems with limited features to complex plans that offer complete HR management solutions. They can be set up locally or in the cloud, as standalone applications, or as parts of larger commercial software platforms like customer relationship management (CRM) or enterprise resource planning (ERP) systems. The scalability, customization possibilities, and price models of HR systems might also differ, therefore it's critical for organizations to carefully assess their HR demands and select a system that meets those needs.
Why is an HR System Important?
Having an efficient HR system in place is essential for modern organizations for several reasons: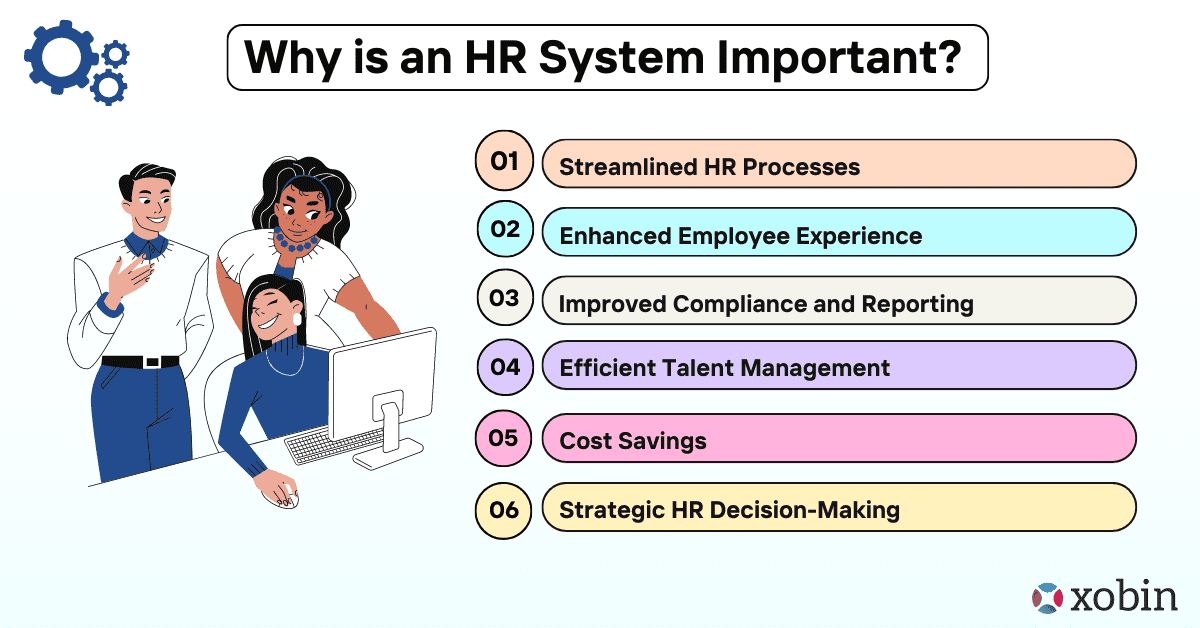 Streamlined HR Processes: Automated HR processes including payroll processing, benefits administration, and employee data management. This all eliminate the need for manual data entry and paperwork. In addition to saving time, this reduces the possibility of error and guarantees the accuracy of HR processes.
Enhanced Employee Experience: Employees can access their personal information, apply for leave, examine pay stubs, and change their benefits information via self-service portals offered by an HR system, among other things. Employees are given the authority to handle their own HR-related responsibilities, which enhances their overall experience and raises their happiness.
Improved Compliance and Reporting: By automating compliance checks and producing reports on various HR parameters, HR systems assist organizations in ensuring compliance with labor laws, regulations, and corporate policies. This aids businesses in remaining compliant with regulations, avoiding fines, and making data-driven choices based on HR analytics.
Efficient Talent Management: HR systems offer capabilities for recruiting and onboarding, performance management, succession planning, and recruitment and hiring, allowing businesses to efficiently manage their workforces and grow their talent pools. This aids businesses in luring top personnel, identifying high-potential workers, and aligning their staff with strategic objectives.
Best HR Software Solutions
Campus Recruitment Software
With our online campus recruitment software screen, hire top talents hassle-free. Everything is under one platform, from test creation to the candidate's evaluation. from test creation to the candidate's evaluation.
Rating 5.0
Based on 321 user ratings
API Integration by Xobin
Get integrated and harness the strength of robust assessments with Xobin APIs. Save sweat and time and focus on your core offering, not building your assessment stack. from test creation to
Rating 5.0
Based on 321 user ratings
Coding Skill Assessment Software
With our 100+ coding assessments on various languages such as Java, Python, JavaScript, React, Angular, etc., evaluate and hire the best-talented developers. from test creation to the candidate's evaluation. to the candidate's evaluation.
Rating 5.0
Based on 321 user ratings
Pre-Employment Testing Software:
Get access to the vast library of validated tests to screen candidates using online assessments. Simplify your recruitment process with our cloud-based Pre-employment Testing Software. from test creation to the candidate's evaluation.
Rating 5.0
Based on 321 user ratings
Pre-recorded Video Interview Platform:
Pre-recorded Video Interview Platform allows candidates to fully express themselves to a pre-recorded question. So that you can get more insight into candidates in far less time than a traditional phone interview. from test creation to the candidate's evaluation.
Rating 5.0
Based on 321 user ratings
Cost Savings: HR systems assist businesses in cutting costs connected with HR administration, such as printing and keeping paper documents, and lowering the likelihood of errors that could result in exorbitant fines or legal issues. As a result, HR process becomes automatic as well as reduces the paperwork costs
Strategic HR Decision-Making: HR professionals and company leaders may access employee data and analytics in real-time through HR systems. So, allowing them to make choices based on correct information. In result, businesses achieve their overall business objectives and match their HR strategies with those goals.
How to Choose the Best HR System?
Choosing the best HR system for your business is a tough task with the numerous options available in the market. Below are some key factors to consider when evaluating different HR systems. And a guide on selecting the one that best meets your organization's needs: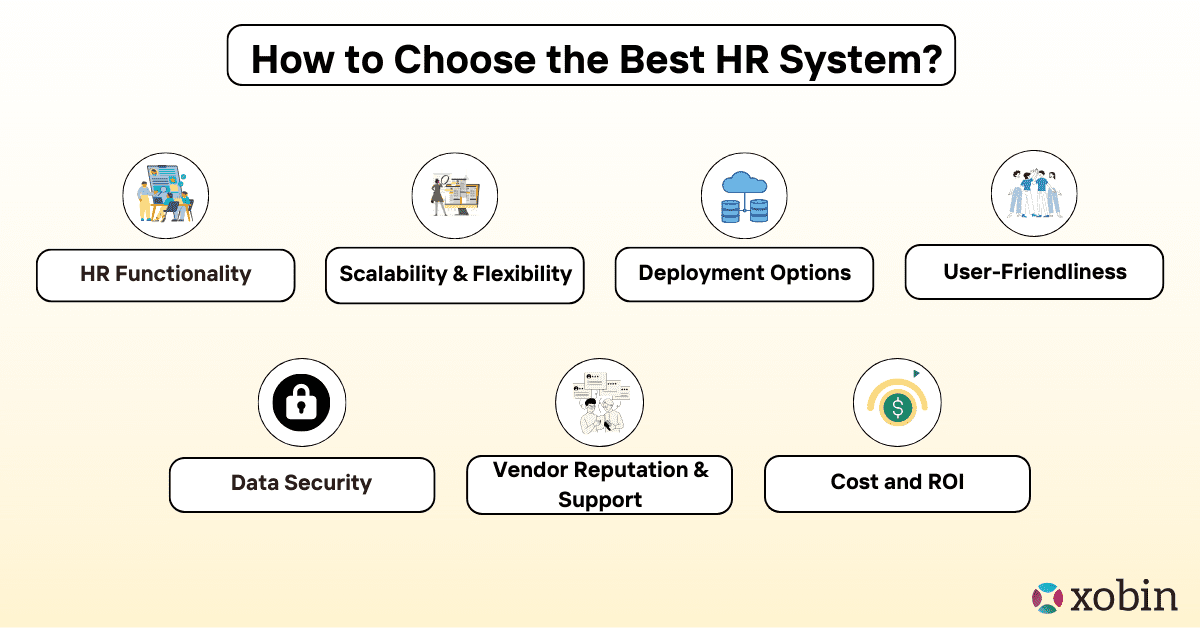 HR Functionality: Verify that the HR features provided by the HR system are in line with the needs of your organization. Take into account the particular HR operations you need to automate or enhance, such as hiring and onboarding, tracking time and attendance, benefits administration, performance management, and payroll processing. Look for a system that has all the functions you require to meet your HR demands and that also allows for customization based on the particular needs of your business.
Scalability and Flexibility: The HR system's scalability should be taken into account because your company can expand in the future and need more features or support for a larger employee base. Look for a system that can support the expansion of your firm and evolve to meet changing operational requirements. In addition, take into account how easily the system integrate with other corporate software or outside apps. As a result, your overall HR procedures will be smooth and in streamline. Also, made more efficient with a versatile system that integrates with other tools and systems with ease.
Deployment Options: There are two types of deployment options in use Cloud-based HR solutions and on premises solution. On one hand, cloud-based systems are hosted and managed by the vendor and accessed through the internet. On the other hand, on-premises systems are in house on the servers of your company and require internal IT infrastructure and management. Consider the benefits and drawbacks of each deployment option before deciding which one best suits the IT infrastructure, financial needs, and security requirements of your organization. On-premises systems give more control and customization choices while often being more expensive and more accessible than cloud-based systems.
User-Friendliness: Given that both HR professionals and employees will use the HR system on a daily basis, usability is essential. Choose a system that offers a clear user interface, simple navigation, and straightforward procedures. Employees should be able to access their information and conduct HR-related tasks through self-service portals with little to no training or assistance. Systems that are easy to use can enhance acceptance rates, shorten training periods, and boost overall productivity.
Data Security: HR systems collects all the sensitive employee data like personal data, payroll information and performance reviews. So, data security is therefore of the utmost significance. Analyze the HR system's security features, including data encryption, access restrictions, user authentication, and backup and disaster recovery capabilities. Depending on the region and industry of your organization, make sure the system complies with appropriate laws and industry requirements. So for data protection, including the General Data Protection Regulation (GDPR) or the Health Insurance Portability and Accountability Act (HIPAA).
Vendor Reputation and Support: Think about the HR system vendor's standing and track record. Choose vendors who have a track record of delivering trustworthy and robust HR solutions, and examine client comments and reviews to see how satisfied clients are with them. Examine the vendor's customer support offerings as well, paying attention to things like availability, response times, and help channels. So, when problems develop during the setup or use of the HR system, a vendor with top-notch customer service can respond quickly and solve them.
Cost and ROI: Different pricing methods, such as one-time licensing fees, subscription-based models, or per-user pricing are available for HR systems. So, analyze the HR system's total cost of ownership (TCO). Also, take into account the costs for setup, ongoing upkeep and support, and any additional charges for customization or integrations. In result, take into account the possible cost savings from HR automation to increased productivity and decreased risks of mistakes. Also, noncompliance when calculating the return on investment (ROI) of the HR system.
Conclusion:
Choosing the best HR system for your organization is a crucial decision. As a result, it greatly impacts your HR processes and overall business success. So, by considering factors such as HR functionality, scalability, flexibility, user-friendliness, data security. Also, the cost and select an HR system that aligns with your organization's needs and goals. Ultimately, a well-implemented HR system can save time and resources. Also, increases HR efficiency, boost employee satisfaction, and contribute to overall organizational success.
In conclusion, choosing the best HR system requires careful consideration of various factors. For example factors such as HR functionality, scalability, flexibility, user-friendliness, data security, vendor reputation, and cost. So, it's important to thoroughly evaluate different options, involves relevant stakeholders in the decision-making process. In result, select a system that aligns with your organization's needs and hiring goals. With the right HR system in place, you can streamline your HR processes, improve productivity, and achieve a more efficient and compliant HR operation.