Recruitment is clearly one of the most important functions of a company. However, it can become a really tedious process if not taken care of properly. Online assessment tools have gained a lot of popularity in recruitment, especially in the past few years.
Online pre-employment assessments help in easing up the whole recruitment process. AI in Recruitment is truly digitizing this entire space. Read this blog further to understand what are some benefits of using online assessment tools for recruitment.
What exactly are Online Assessment Tools?
Online assessment tools are built to help recruiters assess the true potential of the candidates. Such tools allow hiring teams to test the cognitive aptitude skills and job skills of the candidates.
   Looking for Online Assessment Software? Check out the best online assessment software.
The assessment software helps in finding out if a candidate is a right fit for your company. This is done by testing them on various job-related skills.
In short, online assessment platforms allow organizations to screen and filter candidates using a wide range of pre-hire tests. This helps in speeding up your overall recruitment process.
Benefits of Online Assessment Tools
Here is a stat for you. Over 80% of US Fortune 500 companies use some form of online tests in their recruitment.
After all, there must be some clear business benefits to continue using them. Let's list some of them for you.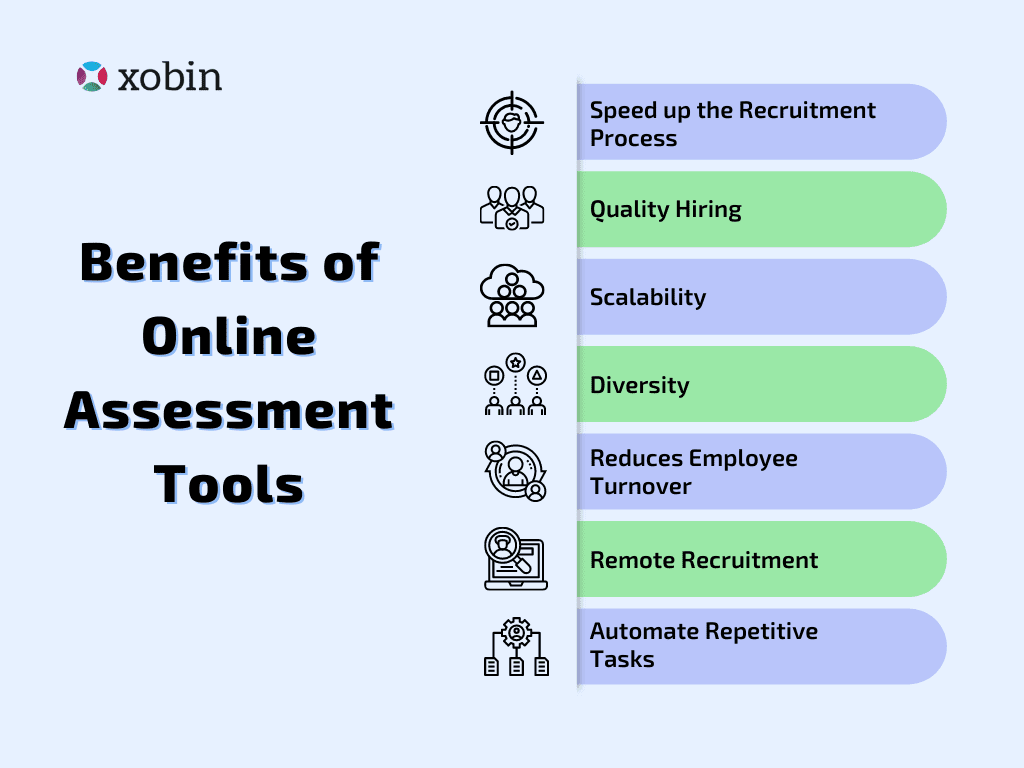 1. Online Assessment Tools speed up the recruitment process
One of the major benefits of online assessment tools is how it helps in speeding up the recruitment process.
It takes a recruiter two minutes to read a candidate's CV. Setting up a time for a telephonic screening of each candidate can put brakes on your recruitment. On the other hand, online pre-employment assessments allow recruiters features like 1-click invitations to test takers. Automatic emails and reminders ensure that recruiters don't need to follow up with test-takers.
Additionally, most assessment tests come with an auto evaluation. This allows the recruiters to automate the repetitive tasks and focus on more strategic aspects of the tasks. Thus, online assessment platforms help in speeding up the overall recruitment process.
2. Quality Hiring
Online assessment tools come pre-built with validated pre-employment tests. Experts from the industry help craft these tests. The tests are designed scientifically to measure the skills of the candidates in an efficient manner.
Online assessments closely track the skills needed on the job. It is only natural that candidates who pass the test possess the skills to succeed on the job. They are more likely to be top performers.
Best HR Software Solutions
Campus Recruitment Software
With our online campus recruitment software screen, hire top talents hassle-free. Everything is under one platform, from test creation to the candidate's evaluation. from test creation to the candidate's evaluation.
Rating 5.0
Based on 321 user ratings
API Integration by Xobin
Get integrated and harness the strength of robust assessments with Xobin APIs. Save sweat and time and focus on your core offering, not building your assessment stack. from test creation to
Rating 5.0
Based on 321 user ratings
Coding Skill Assessment Software
With our 100+ coding assessments on various languages such as Java, Python, JavaScript, React, Angular, etc., evaluate and hire the best-talented developers. from test creation to the candidate's evaluation. to the candidate's evaluation.
Rating 5.0
Based on 321 user ratings
Pre-Employment Testing Software:
Get access to the vast library of validated tests to screen candidates using online assessments. Simplify your recruitment process with our cloud-based Pre-employment Testing Software. from test creation to the candidate's evaluation.
Rating 5.0
Based on 321 user ratings
Pre-recorded Video Interview Platform:
Pre-recorded Video Interview Platform allows candidates to fully express themselves to a pre-recorded question. So that you can get more insight into candidates in far less time than a traditional phone interview. from test creation to the candidate's evaluation.
Rating 5.0
Based on 321 user ratings
3. Scalability
Online assessment tools help you scale up your recruitment process. There is a limit to the volume of candidates screened while doing physical interviews. Firstly, due to a lack of interview slots. Secondly, due to the lack of physical space for in-person interview slots. However, with online assessment platforms, a recruiter can probably screen 100+ candidates every day. In some cases, even more!

Such tools help in avoiding recruiter burnout.  Online assessment software can utilize creative assessment techniques to screen for a multitude of skills. A few popular ones are audio, video, or multiple-choice question types. 
4. Removes Bias and adds Diversity
Online assessment tools help in eliminating any personal biases for/against a candidate and bring everything down to the actual skills. It is really easy to fake skills on a resume, which may mislead recruiters. However, with online interview software, it is not exactly easy to fake skills and personalities. The usage of job tests helps in minimizing personal biases while hiring. The hiring process becomes data-driven. This eventually helps in improving diversity in the workplace.
5. Reduces employee turnover
The most common reason for an increased employee turnover rate is a lack of job satisfaction.
Over the last five years, the cost of turnover due to workplace culture has totaled $223 billion dollars.
However, online assessments play a major role in solving that issue. Online assessment tools help in making sure that the recruiters hire the best fit for the job.
Online assessment allows recruiters to find the best talent for the job by carefully analyzing them on all fronts. Since the hired candidates actually like what they do, the likelihood of them leaving their company is relatively less.
6. Supports Remote Recruitment
According to remote work statistics, online assessment platforms help recruiters go global. Recruiters can now screen applicants and recruit remotely. Online assessment helps in assessing people from anywhere in the world without any restrictions. In the offline recruitment process, recruiters had a lot of limitations. The key limitation was around trust. How can you trust the CV of a remote applicant? Moreover, how can recruiters validate their skills?
Lastly, most online assessment platforms also offer anti-cheating features. With webcam proctoring and browser monitoring, organizations can conduct remote assessments and trust candidate scores.
7. Online Assessment Tools Automate Repetitive Tasks
Online assessment helps in automating simple and repetitive tasks, thereby reducing the overall time and increasing transparency.
Candidates can be sent a test link for the job they applied for. For eg: If a person applies for the position of graphic designer, they are directed to the Designer skill tests.
A Complete Online Assessment Solution
In conclusion, recruitment teams can immensely benefit from the use of online assessment tools. Both, from a hiring standpoint, and from a training standpoint. Over 600+ teams conduct online assessments using Xobin.