Why is recruitment challenging?
The challenges that I noticed that recruiters face in 2022 are sourcing, screening, and onboarding the candidates that follow a funnel-down approach with sourcing as the first hurdle. Since there is a huge gap that has to be addressed in this article I will talk you through my thoughts on sourcing the right candidate and in upcoming posts, I will address the other challenges involved in shortlisting/screening and onboarding in recruiting.
Sourcing
Sourcing the candidates is the first hurdle that recruiters face, which involves numerous challenges like displaying the correct job title, fixing the correct job salary, giving a proper job description, making the company visible, and outreaching the applicants.
Sourcing the candidates involves a combination of three main constraints;
1. Positioning
2. Employer Branding
3. Employer Outreach
Best HR Software Solutions
Campus Recruitment Software
With our online campus recruitment software screen, hire top talents hassle-free. Everything is under one platform, from test creation to the candidate's evaluation. from test creation to the candidate's evaluation.
Rating 5.0
Based on 321 user ratings
API Integration by Xobin
Get integrated and harness the strength of robust assessments with Xobin APIs. Save sweat and time and focus on your core offering, not building your assessment stack. from test creation to
Rating 5.0
Based on 321 user ratings
Coding Skill Assessment Software
With our 100+ coding assessments on various languages such as Java, Python, JavaScript, React, Angular, etc., evaluate and hire the best-talented developers. from test creation to the candidate's evaluation. to the candidate's evaluation.
Rating 5.0
Based on 321 user ratings
Pre-Employment Testing Software:
Get access to the vast library of validated tests to screen candidates using online assessments. Simplify your recruitment process with our cloud-based Pre-employment Testing Software. from test creation to the candidate's evaluation.
Rating 5.0
Based on 321 user ratings
Pre-recorded Video Interview Platform:
Pre-recorded Video Interview Platform allows candidates to fully express themselves to a pre-recorded question. So that you can get more insight into candidates in far less time than a traditional phone interview. from test creation to the candidate's evaluation.
Rating 5.0
Based on 321 user ratings
1. Sourcing candidates by precise positioning
Positioning is one way you let the world know what candidates you are looking for, giving an accurate job description for the job title and laying out the correct salary for the job role.
All these have to be in sync for effective recruitment to take place where a fair number of candidates look forward to applying to the job.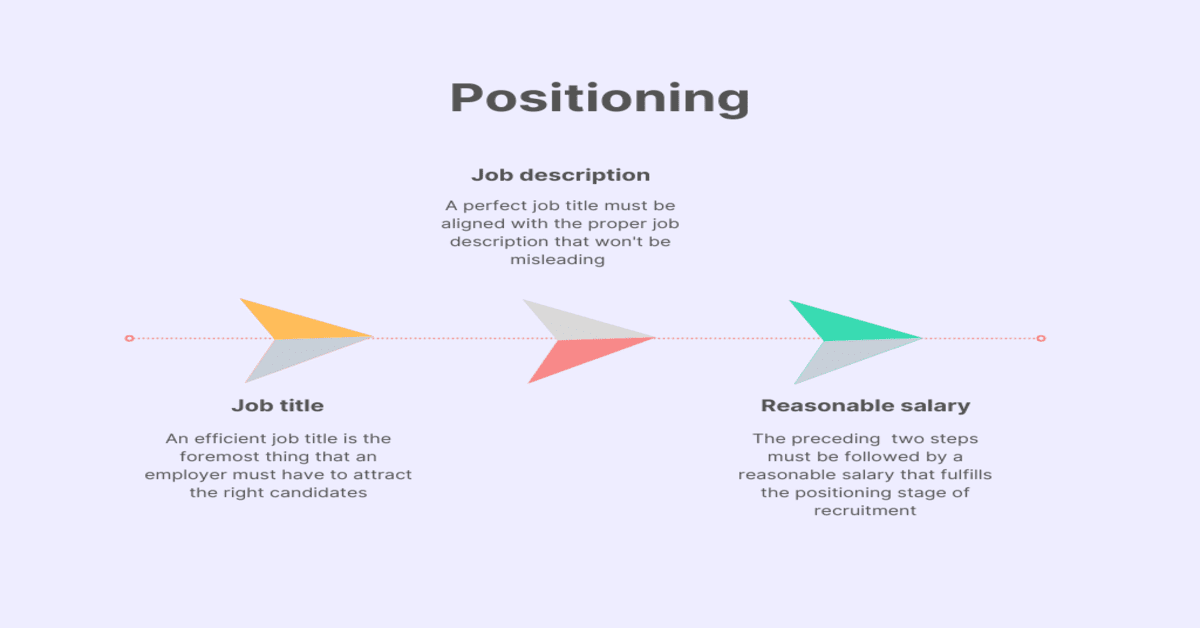 Job Title
A compelling job title is one that attracts the right candidates and clarifies job descriptions without the need for a detailed description.
Perfect job title must align with the expectations of the employer, which in turn aligns with the expectations of the candidate applying.
Misleading job title might attract irrelevant candidates, that may waste the finance and time of both the company and the candidate.
Job Description
An effective job title goes in hand with a reasonable job description. Sometimes I feel that job titles and JDs can be misleading.
The right job description not only helps attract the right talents and retain the most credible candidates but also helps the recruiter extend protection during terminations.
Though a recruiter might be cautious a wrong hire might find a way into the organization, if you have the right documentation outlining the correct JD it will be additional support when you lay off a wrong hire.
Reasonable Salary
A reasonable salary along with a solid job description is one final stretch in positioning the job, for sourcing the right fit candidates.
Most importantly, fix a salary range wherein you can accommodate many candidates depending on their skills and expertise rather than fixing a salary as it would be tough to negotiate.
Prior to publishing a salary range analyze the current market data of ongoing salary packages for similar job positions and most importantly avoid indirect discrimination through salary as it would project you as a noncredible employer.
2. Role of an Employer brand in sourcing the right candidates
Employer branding is a two-way process since with increasing market competition not only the candidate has to work hard to get a job, but an employer must also stand out from the rest in order to attract the sought-after candidates.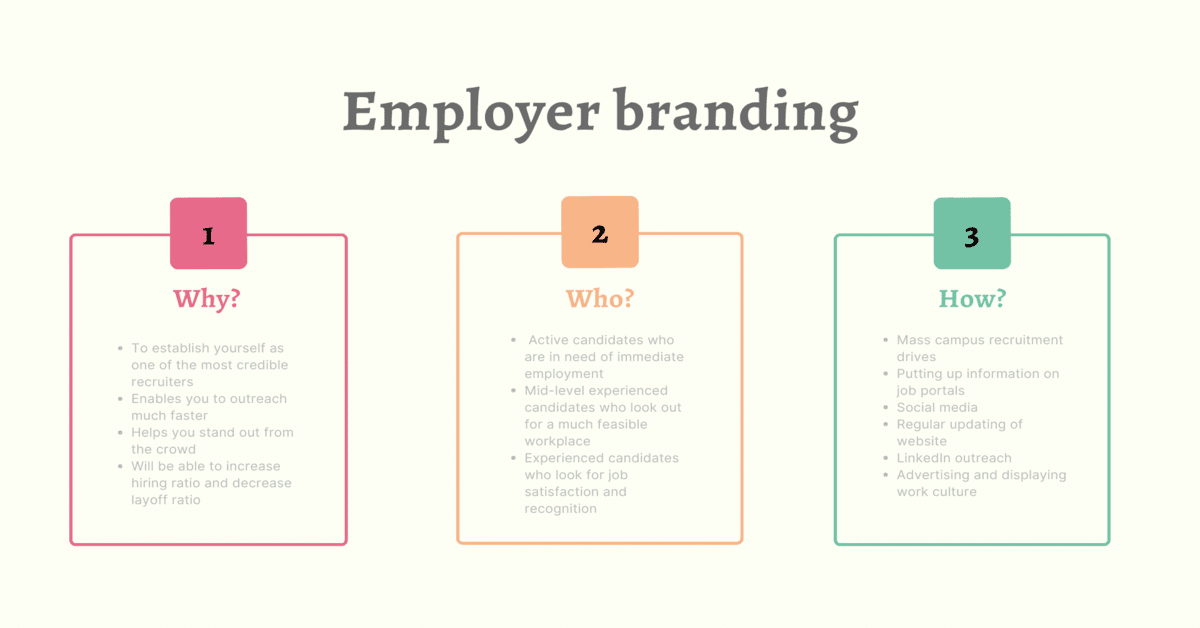 Reason
The number one obstacle that 75% of the candidates face while applying for a job is having no idea what the company would look like because without knowing about the company the candidate will be hesitant to apply for the job.
Candidates mostly look out for information either on the company's website or through other social media. So it is important to brand the employer properly on these platforms since the first place where the candidate will look are these palaces.
Effect of Employer Branding
Linkedin's talent solutions report that 72% of the recruiters agreed that employer branding had a positive impact on the recruitment since they were able to recruit twice the talents with a reduction in 50% of the recruiting costs, which enables the employer to hire talents 2X times faster.
A recent study also showed that companies who branded themselves effectively on various social media platforms reported having developed TBI (Talent Brand Index) 20% faster than similar companies who were negligent in employer branding.
How do You Brand Yourself?
Think beyond your circle, as HR Professionals are the first link of the candidate to the company, a pleasant experience would leave a long-lasting impression on the candidate.
Be open and visible and do not restrict yourself just to job-specific details but expand it to showcase work culture and team building.
Understand the requirements of each generation, as of present there are five generations that are working alongside each other from traditionalists to GenZ candidates.
The best way to brand yourself is by asking your present employees to be brand ambassadors, as this sends a positive message out to the public.
Be true to what you offer to the candidates.
3. Significance of Employer outreach in sourcing applicants
The first impression of the employer with the candidate through the outreach massage is the first step in recruiting. It is a widely accepted fact that first impressions may make or break an image, so outreaching in a proper and convincing fashion is a must for every employer since a candidate on average receives around 60 business emails in a single day.
The best outreach strategy happens in two phases 1. Initial outreach and 2. Phased outreach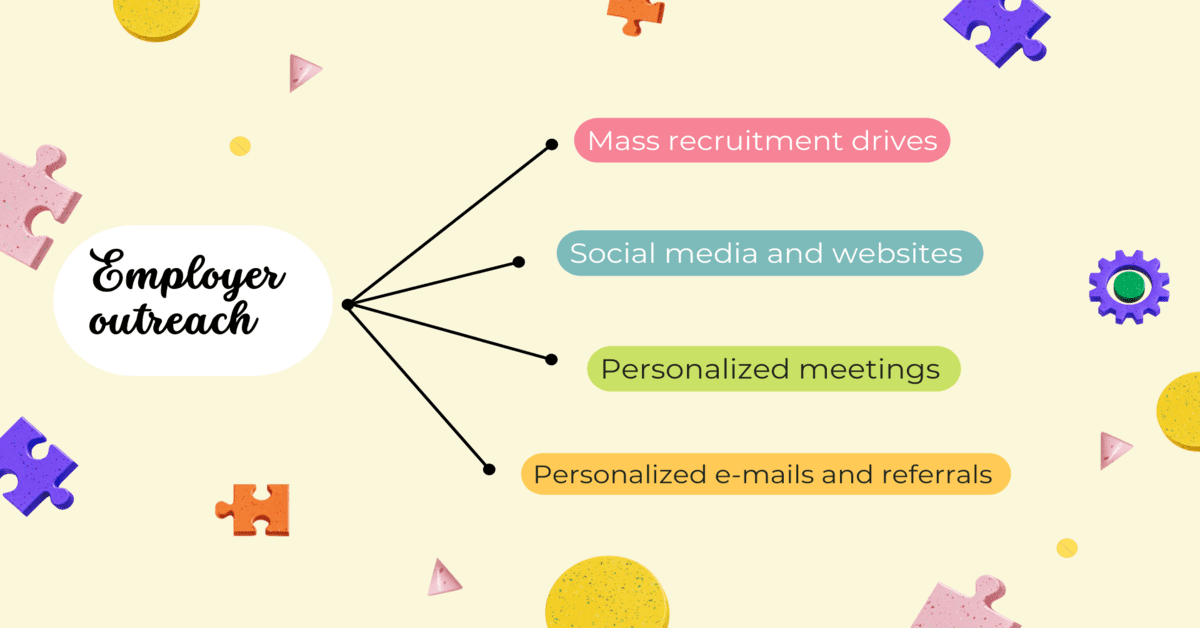 Initial outreach is where the employers reach numerous candidates on a whole, through websites, job portals, social media, etc.
Phased outreach is where an outreach plan is followed, it may either be a follow-up of the initial outreach or customized outreach plans that differ for every organization.
Social media plays an important role in outreaching out the candidates. Since the present generation spends almost close to 12 hrs a day on the net surfing various websites, there is a good chance to reach the candidate through these mediums.
Though the outreach happens through any of the mediums, the first place where the candidate looks out to know about the company is through the company's website. Regularly updating the website goes a long way in attracting numerous talents.
The next thing the candidate looks for is the work culture and job satisfaction, indirect outreach can be done on Glassdoor pertaining to the salary and work culture, employee links and the company's recent activities can be reached out through LinkedIn pages of the company, reviews of the company can be posted on ambition box and so on.
Outreaching through personalized connections
One prominent way to reach a potential candidate is avoiding bulk mail and sending personalized emails which positions you as a credible recruiter and a candidate has more chance of responding to you.
Another way of outreaching is by offering a job role, that can be discussed later on through personalized meetings. These kinds of outreaches tend to have a positive impact on the employer since you are not only being considerate of the candidate but you are also giving them space to think. This type of outreaching gets the most positive responses, either the candidate gets back to the recruiter or they refer another person who might be fit for the job, either way, you land with the right candidate.
Reaching out to the candidates, who are passive through a common network can be highly efficient in recruiting the best candidates that most companies look for. Since it has come through a known network they will have time to think over and look for the employer branding before making the next step. These kinds of emails though have a slow turn-up rate, it works best for experienced candidates who are looking for a change in the workplace.
Software you need for all your recruitment process
1 Million +
Test takers per year
Will catch up with you people on the next challenge of shortlisting/screening in recruiting.