The uphill task of screening volumes of candidates
The next immediate challenge that recruiters face in 2022 after sourcing candidates is screening the right candidates for the job role. Screening candidates is a process that has be to done based on statistical thinking rather than biased judgemental views. With succession to the previous task of sourcing candidates here I will walk you through the hurdles of screening candidates.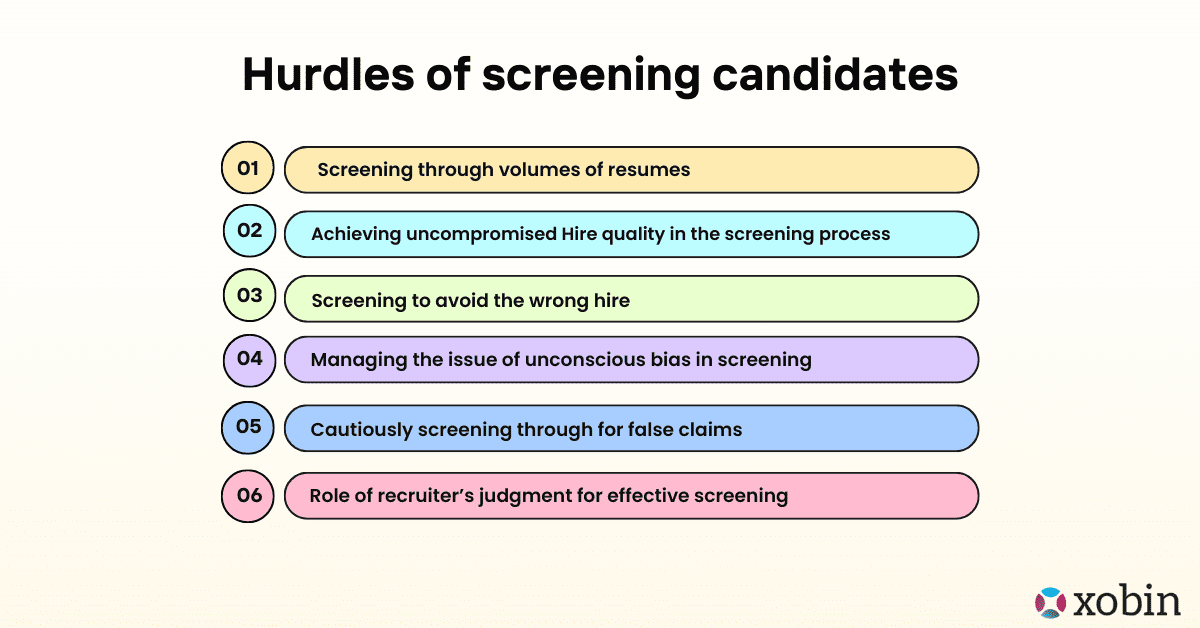 Screening through volumes of resumes
The first hurdle that evidently every recruiter has is screening through large volumes of resumes that hit the table.
Based on a recent study it was found that almost 80% of the resumes that come through scouring do not get through the screening process.
The recruiters really have a hard time finding 20% of the right candidates.
The task of achieving uncompromised Hire quality in the screening process
This is where the ATS comes into play.
But Application Tracking System may be handy in screening a large number of applicants but when coming to the quality of the hire it is where decisions have to be made depending on intuitions rather than just numbers.
Hiring quality candidates through ATS may have a significant increase in recent years with GenZ graduates and ongoing pandemic situations.
Best HR Software Solutions
Campus Recruitment Software
With our online campus recruitment software screen, hire top talents hassle-free. Everything is under one platform, from test creation to the candidate's evaluation. from test creation to the candidate's evaluation.
Rating 5.0
Based on 321 user ratings
API Integration by Xobin
Get integrated and harness the strength of robust assessments with Xobin APIs. Save sweat and time and focus on your core offering, not building your assessment stack. from test creation to
Rating 5.0
Based on 321 user ratings
Coding Skill Assessment Software
With our 100+ coding assessments on various languages such as Java, Python, JavaScript, React, Angular, etc., evaluate and hire the best-talented developers. from test creation to the candidate's evaluation. to the candidate's evaluation.
Rating 5.0
Based on 321 user ratings
Pre-Employment Testing Software:
Get access to the vast library of validated tests to screen candidates using online assessments. Simplify your recruitment process with our cloud-based Pre-employment Testing Software. from test creation to the candidate's evaluation.
Rating 5.0
Based on 321 user ratings
Pre-recorded Video Interview Platform:
Pre-recorded Video Interview Platform allows candidates to fully express themselves to a pre-recorded question. So that you can get more insight into candidates in far less time than a traditional phone interview. from test creation to the candidate's evaluation.
Rating 5.0
Based on 321 user ratings
Screening to avoid the wrong hire
But the quality of hire is not related just to the marks and statistics.
An ideal candidate is one who not only possesses sound technical knowledge but also good interpersonal skills.
All over the recruitment industry HR professionals look for psychometric skills other than technical knowledge.
Managing the issue of unconscious bias in screening
Unconscious bias is the next hurdle that a candidate has to face inevitably and a recruiter must avoid evidently.
In the absence of an ATS and automatic shortlisting system, numerous candidates face bias since the recruiter might favor certain candidates or a recruiter might not be open to Horne certain talents other than the talents that he/she considers fit for recruiting.
Cautiously screening through for false claims
Apart from these constraints, false claims by the candidates in the resumes are a major concern that recruiters face as it may increase the opportunity cost of the employer as well as consume the time and finance of the recruiting process.
Overcoming these is a big task, that is where assessment platforms for talking up skill-based assessments come into play.
With these testing platforms, identifying candidates who are technically sound is made a bit easier than before which greatly overcomes the problem of the wrong hire based on false claims.
Role of recruiter's judgment for effective screening
Finally, the recruiter's experience is one thing that has a major role in hiring candidates.
Even after going through all the ATS and other screening processes, an experienced recruiter would tell with one look at the resume and the candidate they can come to a conclusion about whether to recruit or not.
But an unbiased and fair judgment call is a big challenge in recruiting the right candidate for the job role.
Staytuned for the next challenge of onboarding in recruiting.