The internet has democratized access to skills and learning material. The best talent can be found anywhere in the world. But recruiters have had to struggle with targeting applicants from select geographies. But not anymore. Remote recruiting has made it possible to tap into talent anywhere in the globe.
Recruiters can connect with a person sitting on the other side of the globe. Recent remote work statistics show that over 60% of knowledge workers feel that the traditional office setting is redundant.
The vast opportunity of remote recruiting has been served on the silver platter to the recruiters. Today, recruiters can ripe the sweet nectar of remote recruiting to select talented employees without any physical boundaries.
With the intervention of this new virtual hiring system, recruiters have to make new recruitment strategies to reach global talent, screening, interviewing, and final recruitment of the candidates.
In this article, we have tried to cover the topic of remote recruiting from the beginning to the end. We have touched on all aspects. From the current state of remote recruitment to its challenges.
So, recruiters, buckle up your shoes, and be ready for the new style of recruitment now!
What is Remote Recruiting?
Remote Recruiting, also known as virtual recruiting, is the act of advertising the job, interviewing applicants, and onboarding them as employees without any physical interaction. In other words, the entire hiring process takes place virtually, using digital tools. Unlike the traditional form of recruitment that limits hiring to a particular city, remote hiring is used to hire workers globally.
Let's take an example to illustrate remote recruiting.

A startup in Toronto is looking to hire a digital marketing expert to remote work. Using Remote recruiting, the recruiters can look beyond Toronto. Recruiters can expand their talent pool by sourcing the best applicants irrespective of their location. They could come from Germany, Poland, or even Thailand.

The startup screens skills using a pre-employment testing. Thereafter, interviews the applicants via Video conference. Lastly, share offer letters that can be digitally signed.
On the other side, the professionals hired in this manner typically work remotely. In the U.S., 4.7 million employees (3.4% of the workforce) work from home at least half the week.
The remote hiring process starts with writing an interactive job description that can attract ideal candidates. The applicants are given an email address to share their cover letters and resumes. Then, the recruiters can call applicants for virtual screening where they can conduct telephonic or video discussions with the candidates. With the help of time-bound or screen-sharing methods, applicants can be tested easily.
Remote recruitment is just like your regular hiring, but it's just that recruiters and applicants are never in the same room physically. To ease down the remote hiring process, QR Codes are now of help in sharing job details that the applicant could conveniently save. Also, with a scan HR's are now able to share an assessment test. Interestingly, these secure and dynamic QR Codes can be easily generated using Uniqode's QR Code generator.
---
The Current State of Remote Recruiting
If we analyze the prevailing remote recruitment trends, there's an urgency that can be seen in the field. Due to the lockdown and social distancing norms, recruiters aren't able to physically connect with the applicants. Similarly, applicants can't reach a new location because of movement restrictions. Today, people can't even freely go from one state to another. Today, 74% of recruiters think that remote working is a new normal working method.
In all this, virtual hiring turns out to be an incredible option for recruiters and candidates as they can keep on working freely without the worry of getting infected. It is shared by 31% of people that Coronavirus (COVID-19) was the trigger to begin allowing remote work at their company. Now, recruiters can use virtual communication, screen sharing, testing, and other digital tools to recruit new employees. According to a report by Pragli, remote working in the cities will be going to be prominent for some time.
Interestingly, recruiters have realized the importance of online recruiting platforms like Xobin also. With the compact remote hiring system, recruiters can easily invite and interview candidates without any hassle. In a nutshell, the current state of remote recruitment is quite positive and demanding.
---
Advantages of Remote Recruiting
Mostly, people are currently hesitating to use the remote hiring method because they aren't familiar with the incredible benefits of virtual recruitment. Not only during the pandemic but overall, virtual hiring offers multiple benefits to recruiters and companies.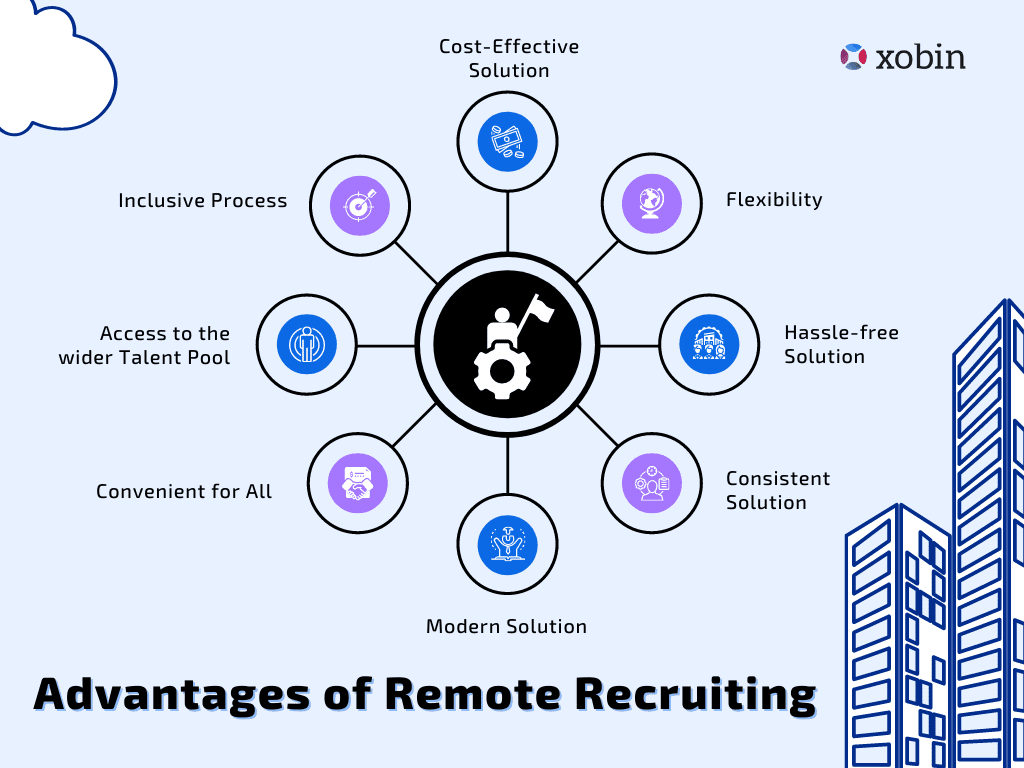 Cost-Effective Solution
When you call a candidate for an interview, you have to bear numerous different types of recruitment costs. From organizing an interview venue to providing refreshments to the candidates, you have to pay numerous expenses. But, when you are using virtual hiring methods, you don't have to pay any kind of additional recruitment costs. Moreover, nowadays, virtual communication tools like Xobin are available at very affordable rates.
You just have to fix an interview time, and the recruitment process can be completed without stepping a foot out of your home. This can save up lots of money for business organizations.
Flexibility
When you want to hire experienced professionals, you have to come up with flexible time schedule options. Professionals are already working; thus, it isn't feasible for them to take leave every time to appear for the different stages of recruitment. With remote recruiting, recruiters can virtually complete the process of recruitment so that candidates won't have to personally visit the recruiter's office. For campus recruitment, it is also a feasible solution as students can't bunk classes often. It is advocated by 90% of remote employees that remote recruitment is ideal for candidates with busy schedules.
Hassle-free Solution
When the company wants to include the top management level staff in the recruitment process, it's very hard for all the professionals to dedicate the same hours for shortlisting, screening, and interviewing the candidates. Thus, using remote recruiting methods like video interviews and online skill assessment tests, top management level recruiters can participate in the process, and the time to fill will be reduced. When a job position is empty for too long, it is a liability for the company. So, remote recruitment can be a perfect solution to increase the speed of the hiring process.
Consistent Solution
When recruiters have to analyze numerous applicants for the same job role, it is important to have consistency in the selection process so that unbiased decisions can be made. However, recruiters can forget some questions, or they involve their personal basis and deliberately ask easy questions from one candidate. This problem of inconsistency can be completely avoided when the same questions are asked from all the candidates. Moreover, testing and interviewing sections can be recorded for future reference.
Modern Solution
With the passage of time, it is important to change and grow. The recruitment industry has been following physical interviews and testing methods for ages now. But, now, with the change in the nature of jobs, it is pivotal for recruiters to adopt new and modern tools to effectively and quickly complete the recruitment process. Nowadays, a plethora of effective virtual recruitment tools exists to scientifically hire the right candidates.
Convenient for All
Remote recruiting is a highly convenient solution for both recruiters and candidates. Nobody has to travel anywhere, book a venue, or perform any sort of administrative duties. It is a very convenient way of hiring, especially during the present situation. Thus, when you want to create a convenient recruitment process to screen a large number of candidates, virtual hiring is the best mode.
Access to the Wider Talent Pool
Many talented candidates don't apply for the job because they don't want to move out of their city or country. This restriction of boundaries can be completely eliminated in remote recruitment and working because candidates don't have to step foot out of their homes to participate in the recruitment process or further start the job. Moreover, business organizations can get the benefit of hiring the best candidates out of global talent. It means you can use the services of highly experienced professionals.
Inclusive Process
It is an ideal solution for candidates because they are getting tested in a favorable environment; thus, they will feel less nervous. When candidates have to participate in an interview or test in a new environment, they will feel more nervous and can make silly mistakes. But, when employees are sitting in their living rooms in front of their trusted computers, they feel less nervous and can confidently participate in the recruitment process.
Best HR Software Solutions
Campus Recruitment Software
With our online campus recruitment software screen, hire top talents hassle-free. Everything is under one platform, from test creation to the candidate's evaluation. from test creation to the candidate's evaluation.
Rating 5.0
Based on 321 user ratings
API Integration by Xobin
Get integrated and harness the strength of robust assessments with Xobin APIs. Save sweat and time and focus on your core offering, not building your assessment stack. from test creation to
Rating 5.0
Based on 321 user ratings
Coding Skill Assessment Software
With our 100+ coding assessments on various languages such as Java, Python, JavaScript, React, Angular, etc., evaluate and hire the best-talented developers. from test creation to the candidate's evaluation. to the candidate's evaluation.
Rating 5.0
Based on 321 user ratings
Pre-Employment Testing Software:
Get access to the vast library of validated tests to screen candidates using online assessments. Simplify your recruitment process with our cloud-based Pre-employment Testing Software. from test creation to the candidate's evaluation.
Rating 5.0
Based on 321 user ratings
Pre-recorded Video Interview Platform:
Pre-recorded Video Interview Platform allows candidates to fully express themselves to a pre-recorded question. So that you can get more insight into candidates in far less time than a traditional phone interview. from test creation to the candidate's evaluation.
Rating 5.0
Based on 321 user ratings
---
Limitations of Remote Recruitment
Virtual recruitment might be a golden opportunity for recruiters to safely and effectively hire professionals across the globe, but still, virtual hiring has a few limitations. To make an effective remote recruitment process, you have to find a method to overcome the following limitations –
Speculating Costs
The cost of advertising jobs online can vary. When you want to advertise your job on the leading and popular job portals, you have to pay. Depending upon the payment system of the portal, you might have to either pay a fixed sum or a monthly subscription fee to gain access to all the features of a platform. Paying a small sum to reach talented professionals isn't much of a problem, but the real problem occurs when you don't receive the expected results, all your money will go to waste.
Effectiveness Barriers
Today, there are plenty of different job portals, social media groups, and private job boards present that you can't measure the effectiveness of each portal. It is a challenge for recruiters to find a responsive platform to hire remote employees. Now, it is a problem in offline hiring also as jobs are posted online there too. But, still, measuring effectiveness in the online hiring system is very difficult because you have to follow the online challenges. Thus, recruiters have to hop from one platform to another to find talented professionals, which can be quite confusing.
Sends the Wrong Message
When you advertise an executive-level job on social media platforms, it will convey the wrong message about your company. Candidates will think that you aren't a professional company, and they won't apply for the post. Thus, it is very important for recruiters to find the right job portals to advertise the job position where lots of people can reach it, but it won't send the wrong message. Conveying a professional message via online hiring methods can be difficult.
Attracts a Large Number of Candidates
When you are inviting candidates from all over the world to apply for the job, the screening and shortlisting process can become very intense. You might receive thousands of applications for a job position. The process of analyzing each application and sending personal messages to each shortlisted candidate for the next phase can be very time-consuming. Mostly, out of a thousand applications, only a handful of them are adequate, but screening those adequate ones became a challenge in the pool of so many inadequate ones.
Highly Competitive
Remote recruitment is a booming trend, and today every organization is following it to hire good candidates. Thus, when so many companies and recruiters are constantly posting jobs online, how will you make your post stand out among the vast pool of posts? On the top, if you post on social media platforms like Facebook or Linkedin, you are dependent on the mercy of their algorithms. And mostly, social media platforms algorithm won't trend your post for more than an hour or two – depending on the platform. Thus, you have to fight tooth and nail to find good candidates online.
Fraud Applications
Since the majority of big and small companies are today hiring online, so it has become the best pastime for hackers to create fake accounts on the recruitment portals and get details of the company. Some applications might be fake to get information about the company or hiring officers, which could be very dangerous for the company. However, spammers might use the information posted online to promote a service or product to your company, but still, fake applications are a threat to your company.
---
Key Steps of Remote Recruiting
The process of hiring remote employees virtually isn't hard. But, for companies that haven't done that before, it can be a pretty daunting process. With the simple step-by-step remote hiring guide, you can easily hire competent remote employees –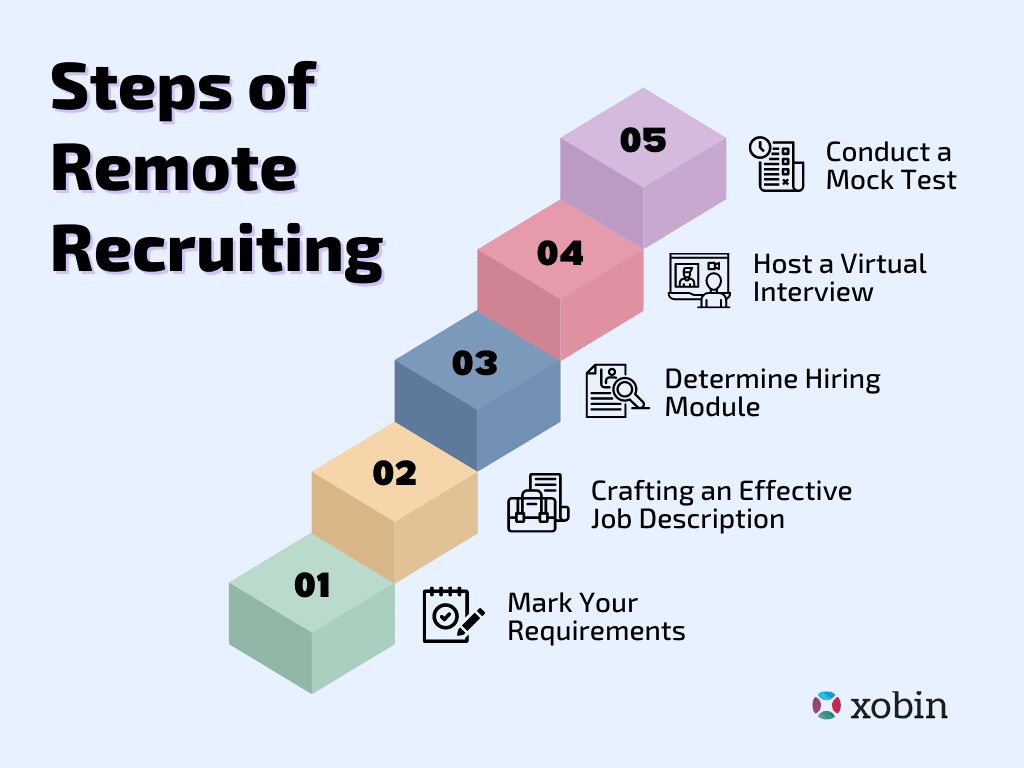 Step 1 – Mark your requirements
Foremost, you have to determine what you want from your remote employees. Do you want employees to handle customer services, accounts, or any other aspect of your business?
While determining the job criteria of remote workers, you need to make sure that the job can handle virtually. For instance, you can remotely perform accounting services, but for administrative or management responsibilities having an in-house person is ideal. Thus, you have to start remote recruitment by determining the job description.
Step 2 – Crafting an effective job description
If you want to invite a large number of talented professionals, you have to create a perfect and compelling job description. One ideal job description should have the following components –
Use the right words to describe the role.
Job responsibilities need to be clearly stated.
Information about the company must be shared.
Skill and experience required need to be mentioned boldly, etc.
Step 3 – Determine Hiring Module
Nowadays, remote recruitment can be conducted in numerous ways. Thus, you have to decide which method you want to adopt. Commonly, two methods of remote hiring are prominently preferred – direct hiring or agency.
In direct hiring, you have full control in your hands. From posting a job online to testing candidates – everything is in your hands, and to complete the process, you might have to appoint one or two people. On the contrary, if you don't have time or a task force for direct recruitment, you can hire a remote recruitment agency to find competent candidates. You don't have direct control over the mode used by the agency to find the candidates. As per your suitability, you can pick the recruitment module.
Step 4 – Host a Virtual Interview
Once you have shortlisted the right candidates for the job role, you should start conducting your online interviews. Every company uses a different medium for virtual interviews like telephonic, video calls, email, or some are even using instant messaging apps. But, out of all the methods, video calling is the best to analyze candidates based on their facial expressions and body language.
While conducting virtual interviews, you should remember the following key pointers –
Prepare a set of questions in advance.
Recruiters have the responsibility to create a comfortable and relaxing environment for the applicants.
Interview conductors should frequently take notes throughout the interview session.
Step 5 – Conduct a Mock Test
To test the skills and culture fit ability of the candidates, you should assign them a small mock test to submit under a given timeframe, which helps you in understanding the dedication, work ethics, and skills of the candidates.
For instance, if you are hiring a virtual telecommuter, you should ask him or her to make a sales call on behalf of your company that you should monitor closely. It will show how candidates can perform in real situations and how they present their sales pitches. Whether you are virtually or locally, you should always test your employees before hiring them.
---
How to Attract Remote Employees? (Step-by-Step)
The foundation of remote recruiting is attracting good remote employees to your company. Nowadays, if you want to hire competent remote professionals, they also want to work with professional and progressive companies. So, to attract good remote employees, you have to try the following tricks –
Employer Brand Building
By having a good employer reputation, you can attract good employees. Remotely, you have to trust digital platforms to portray your positive image among potential candidates. You have to illustrate a trustworthy, professional, and culturally driven image online. For this, you can ask your previous remote employees to leave positive remarks on your social media handles as today candidates always check recruiters' social media profiles.
Provide a Flexible Work Environment
The entire purpose of working remotely is that employees can work according to their own schedules. Thus, you should convey in the job description that you are giving full facility to employees' flexibility. You should clearly describe the level of flexibility that you can provide to them.
For instance, Buffer is a remote-first company, and its employees share how they organize their own schedules to achieve work-life balance. This flexibility reward can attract numerous remote employees.
Share Employee Testimonials
You should ask your current and previous employees to share their work experience with your company. They should talk about things like what makes you the ideal company to work with, why they stayed at your company, how they feel while working at your company, and so on.
The employees' testimonials have to be inspirational and motivating which encourages other people to work with your company. You can even ask your employees to record video testimonials as people react to visual content more. To attract good employees, the testimonials of your employees work as bait.
Show your Company's Events
If you host an annual meeting for employees or organize parties or events, you should promote it. You should capture the moments of those events and share them on social media or the company's website so that people can see that you are a proactive company that constantly works toward employees' welfare.
Share your Company's Value
If you want to attract candidates who share the same cultural values as you, then you need to boldly share your cultural and professional approach on your website or social media. When you have certain cultural values and goals, you should prominently share them. You can create a dedicated career page on your company's website to describe your cultural values in detail.
For instance, if you support the "black life matters" campaign, you have to express that openly so that people who agree with your thoughts only apply for the job.
Advertise your Remote Jobs on the Right Platforms
We have already shared how your selection of job posting platforms can impact your reputation. If you post your job requirements on unpopular websites, it is going to negatively influence the reputation of your company. Thus, when you want to portray a good reputation of your company, you should post job advertisements on reputed platforms, even if you have to pay for the advertisement.
---
How to Screen Remote Employees?
While recruiting remote employees, your old methods of screening candidates aren't going to work. With the new recruitment method, you have to use the new methods of screening also. To virtually screen remote employees, you have to implement the following methods.
Define Your Requirements
What qualities are you looking for in remote employees? Once you decide what characteristics you want your remote employees to possess, you can brainstorm with your managers and find the right spectrum to screen candidates. For every business organization, the requirements are different; thus, you have to fathom your list after consulting your entire team. According to a Cornell University study, one ideal remote employee has to be self-sufficient, result-driven, and a good communicator.
Use Different Methods
To properly screen remote employees, you should use multiple digital methods to evaluate their performance. While screening remotely, you should use a cocktail of different methods to screen remote employees. Each method will interpret a different shade of a candidate's personality. For example, psychometric tests help evaluate their personality and cultural values. Video resumes can help assess their motivation. Interviews can unearth their technical and domain skills.
Prepare a List of Relevant Questions
No matter how many times you have screened remote employees, there are particular sets of questions that you should ask each candidate for better understanding. Recruiters should prepare a list of questions that they need to ask candidates using different mediums. The variation in answers to some common questions can help you in finding a lie in the application.
Looking for interview questions? Check out this interview Guide for over 50+ roles
Some common questions to repetitively ask during the screening phase are
Why do you prefer to work remotely?
How do you schedule your day?
Can you handle urgent tasks?
What's your work turnaround time?
How many hours do you work daily?
Try Cyber Stacking
Today, if you want to know about someone, you don't need to do much, just dedicate a few hours to social media and you can pretty much know everything about a person. So, you can search for shortlisted candidates on different social media platforms like Facebook, Twitter, Linked In, and others. On social media, you can evaluate their past work experience, reviews, and feedback. You can easily know about the interest and beliefs of a candidate from social media to understand whether he or she is suitable for your company or not.
Assign a Pre-employment Test
The best way to screen your remote employees would be by assigning them pre-employment assessments. This would provide an easy way to evaluate skills and competency. For instance, if you are looking for a remote programmer for your company, you should give an online coding test to all your applicants. This way, you can see which candidate has completed the job in the given timeframe and which candidate has used the best approach. The assignment should be given to a couple of screened candidates so that you don't have to evaluate too many answers.
---
How to Interview Remote Employees?
Once you have shortlisted a handful of competent and suitable candidates after the intense screening process, you need to conduct virtual interviews with each candidate. Through the interview session, you can determine the cultural values, work ethics, and personality traits of the candidates. However, to derive adequate results from interviews, you have to follow a proper remote interview protocol, which includes –
Be Prepared
Just like candidates, even interviewers need before taking the interview. The interview is the final stage of the remote hiring process. Therefore you must make the best use of this last chance to evaluate the candidates. It is best to keep a structured interview. This ensures that you won't miss out on anything and keep the process consistent. You could also go for a panel interview for a collaborative hiring process.
Test your Technology
If you don't want to look unprepared and unprofessional during the live interview session, you should test the virtual tools before starting the process. That's because if your virtual tools fail while conducting an interview, it will only waste your and your candidates' time, 85% of remote employees are affected by failing technology. Thus, you should test the mic, headphones, camera, and computer system before starting the interview session. Especially when you are using third-party communication tools, you should run a mock trial with your team members before contacting the candidates. Importantly, ensure that you don't have a dodgy network connection because it can sabotage your entire interview session.
Stay Attentive
When you are conducting virtual interviews, you have to make sure that you look fully organized and professional. You should dress properly, especially above your waist. You need to follow the basic costumes of the interview, like introducing yourself, briefly explaining about your company, sharing pleasantries, and making a relaxing environment for the candidate. Virtually, your attentiveness can be shown from your tone, gestures, and choice of words.
Listen Carefully
Sometimes, due to miscommunication or signal miss, you might not be able to properly listen to another person. Around 60% of remote workers are influenced by miscommunication. Thus, you should constantly be recapping key points to their comments, nodding your head in case of video interviews, asking questions, avoiding talking over your candidate, and staying focused on your screen. When candidates know that you are following their points, it will keep them engaged and focused also.
---
Remote Recruiting Tips and Best Practices
If you are ready to start remote recruitment in your organization because of the prevailing situation, you need to be fully prepared before trying the new method. To properly implement remote recruitment strategies, you have to keep the following remote recruiting tips and best practices in your mind.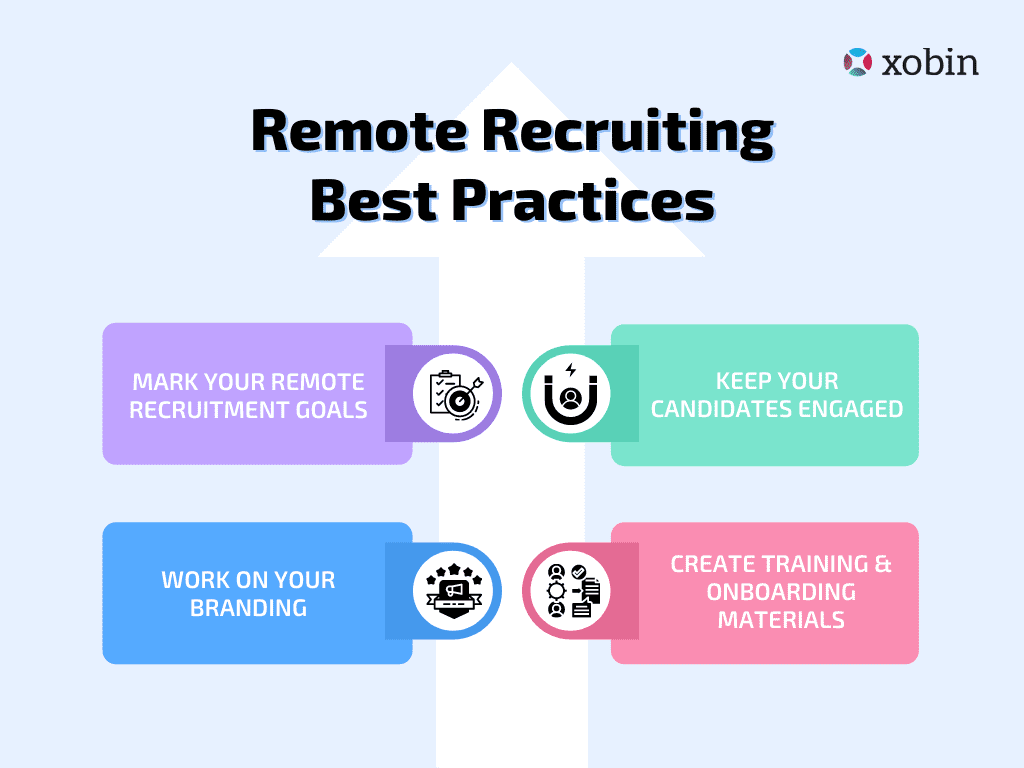 Mark your Remote Recruitment Goals
When your entire team is working remotely, you have to prepare a proper remote work schedule so that your team can stay productive and engaging. While defining your remote recruiting goals, you need to consult your entire team and create a transparent remote work policy. If your remote team isn't clear about the goals of recruiting, work conflicts, and productivity issues will often arise. Thus, to avoid creating a chaotic environment in your organization, you have to construct your remote recruiting goals around the following elements –
The platform of communication should be selected after discussing with your team like Skype, Zoom, Slack, etc.
Regular meetings should be set up so that your team can share their thoughts, and you can formulate the remote recruiting goals along with a method to implement them properly.
Apart from the formal work meetings, you should invite your remote employees to hang out together virtually and discuss their thoughts in an informal work environment.
You need to find a remote work platform that can keep your entire data under one roof.
Remote Recruiting requires strong branding
In the recruitment process, the branding of an employer plays a crucial role. Moreover, now when you are going to hire online, branding has become an even more prominent factor. Today, if potential candidates can't find your online branding satisfactory, they won't spare a second glance at your job post. Thus, you have to work on improving your online employer branding by using a few simple methods to invite talented remote employees –
Analyze your company's core cultural values and objectives. And, ensure that your company's website and social media accounts clearly exhibit your core values. If your company's goals aren't properly reflected through your online presence, you should immediately fix them.
You can use numerous creative methods like webinars, videos, and other virtual methods to convey your business branding to your core users. Once you have successfully created your online brand, you don't have to find good remote candidates because they will find you.
Keep your Candidates Engaged
The virtual hiring process could extend for a few weeks or even months; thus, you have to keep your remote candidates engaged in some way. If you don't keep your shortlisted candidates informed and engaged, they might look for employment opportunities somewhere else, and a good candidate might slip out of your hands. Thus, you have to engage your remote candidates in any way, for instance –
You can use social media platforms to keep your remote candidates aware of the recruitment process. You can generally create a post to share the status of remote hiring with the candidates, so they stay connected.
If you have a remote candidate's contact number, you should text or email them periodically. It hardly takes a few minutes to compile a text message and forward it to the concerned participants.
When you don't want to lose the interest of the screened and interviewed candidates, you can make phone calls to address their queries and inform them about the current status of their applications.
Create Training and Onboarding Materials
Once you have interviewed and finalized the remote employee, you should not waste any more time getting the person on board. Your structure and materials for remote training should be ready so that you can start training the employees right away. There are tools, like SendPulse or Lessonly, that allow you to create an online course or an onboarding program for your new employees. All the remote working tools and system needs to be aligned to keep the remote work rolling. You should introduce your remote employee to your team and start the prohibition period on the spot.
Challenges of Remote Recruiting
Remote hiring is a relatively new concept for numerous businesses. Thus, they have to cross various hurdles before successfully practicing the virtual recruiting process. Remote employers stated that they have to face 80% more challenges in implementing a remote work setup. Some of the common remote recruiting challenges are –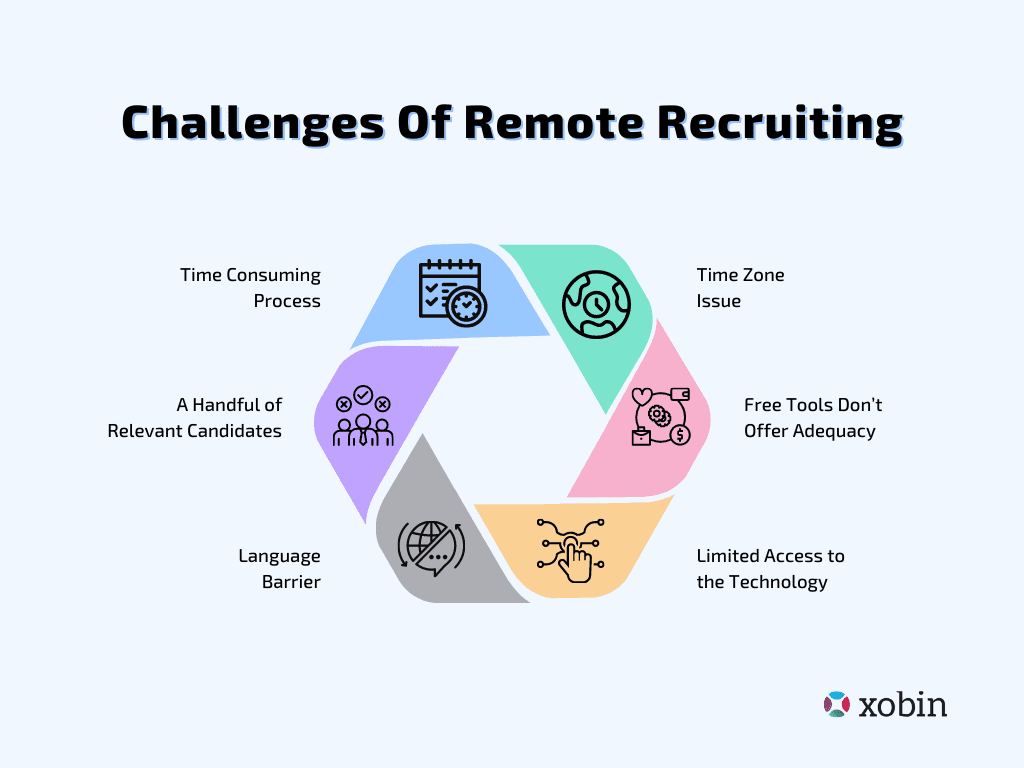 Remote Recruiting can be time-consuming Process
When you have invited applicants across the globe, the number of applicants will be going to be in the hundreds. Thus, the process of scanning, interviewing, and testing individual applicants is going to be tiresome and time-consuming. If you want to immediately hire a remote employee, that might not be possible in virtual hiring.
A Handful of Relevant Candidates
The number of applications can easily cross a few thousand in remote recruitment. But, out of all the applicants, only a handful of them possess the adequate skills required for the job position. From the large pool of irrelevant candidates, finding the relevant ones is a very difficult and challenging task for recruiters.
Language Barrier
In remote hiring, the language barrier becomes a great hindrance. Even if a person is speaking in English, still the accent variations can be difficult to handle. Thus, proficient language candidates are challenging to hire remotely who can understand your tone perfectly. Language restrictions can even create a chaotic communication problem in your organization.
Limited Access to the Technology
Technology is a prominent part of a remote hiring system. Without the proper internet connection or commuting devices, remote employees can't work effectively. However, nowadays, technology is accessible to everyone, but still, some parts of the globe aren't gifted with the latest technologies. Thus, when you have to interview a candidate where the internet connection is wobbly or the cellular network isn't stable, you won't be able to work with the candidate in spite of his or her skills remotely.
Free Tools Don't Offer Adequacy
Whether you are using a free video-conferencing tool or a hiring portal, you can't expect top-notch quality from them. Your free tools can anytime fail and delay your remote recruitment process. Moreover, you can't fully rely upon the security features of the third-party free tools also.
Remote Recruiting may lead to Time Zone Issue
Coordinating an interview schedule over the different remote locations can be problematic. Suppose you are hiring from the US while working from India, you have to beat twelve hours of time difference. That means when you are going to sleep, your candidate is going to start working. Thus, the time difference can delay the interview conducting process.
---
The Future of Remote Recruiting
The pandemic has made one thing very clear. Essential healthcare and supply chain jobs can't be performed remotely. But, there are a large number of administrative and desktop jobs that can be easily performed remotely. Organizations need to change their mindset toward hiring. Recent remote working statistics show that over 69% of young managers are comfortable with remote recruiting. Thus recruiters need to prepare to hire competent employees virtually.
The future of remote recruiting is very bright. From the makeshift in the work culture to the prevailing circumstances, it won't be wrong to say that remote recruitment is in the future. So, if you want to grow and flourish during the hard times, remote recruitment is your only source. We hope that after reading the complete guide on remote recruiting, you are fully ready to hire remotely.
Software you need for all your recruitment process
1 Million +
Test takers per year
---
Related Resources: