Ever since COVID-19 disrupted businesses and the work culture around the world, remote working, which remained mainly a luxury, became the norm throughout industries and sectors. Fast forward to the present, most employees who could work from home have settled into the routines of remote work and are pretty comfortable with the arrangement.
Now, as companies try to work out the best way forward, many have permitted their employees to work remotely throughout 2021, while others are calling back some of their staff in staggered groups to experiment with a "hybrid" work model.
   Looking for Recruitment Software? Check out the best recruitment software.
With the possibilities and advantages of having a part or whole of the workforce work remotely, it is unlikely that companies will work entirely from offices in the future.
Before delving into what model suits your company, it is essential to understand the benefits and drawbacks of each working model.
The good-old office work
People are well-acquainted with the traditional office work- the designated workspace with fully furnished offices. The interiors and the environment maintained in the office are conducive to concentration on the tasks at hand, and the employees have a chance to compartmentalize their work and home lives. The working environment must also be comfortable and secure for employees, which necessitates the use of high-quality office accessories such as desks and chairs, well-functioning HVAC systems, and security measures such as office access control systems.
The main features of the office are privacy and control. The office building is designed to act as a physical component of the intangible aspects of the organization.
At the traditional office, employees can socialize, build bonds with the team, and develop friendships that outlast their tenure at the organization. It is also a chance to make meaningful business relationships and maintain essential contact with clients.
The face-to-face interactions people have at offices help them understand each other better by catching the nuances of gestures, facial expressions, and body language.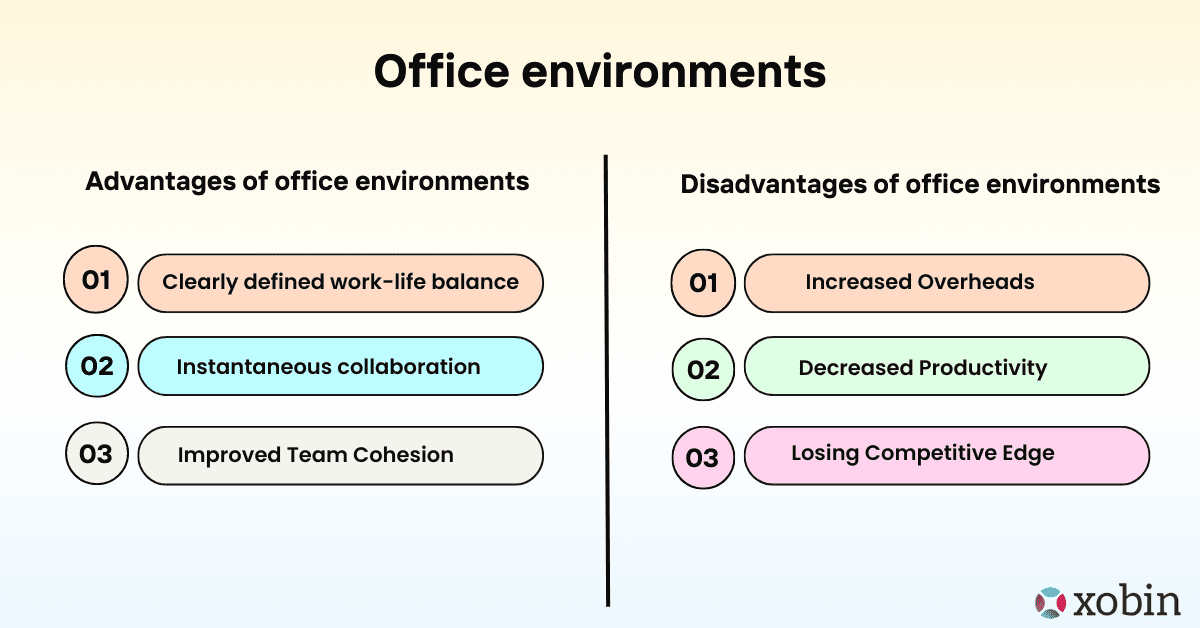 Advantages of office environments
Clearly defined work-life balance: Although the general impression is remote work improves work-life balance, the reality is that working from home blurs the line between office and home. The end result is that the serious working environment of an office, which promotes focus and instantaneous collaboration with coworkers on shared tasks, is replaced with the comfortable setting of a home.
Instantaneous collaboration: In an office setting, the face-to-face meetings and brainstorming sessions in the meeting rooms help focus on the task at hand. It is also possible to collaborate faster with a different team. Although this is possible through video conferencing, the impact is not the same as an in-person meeting.
Improved Team Cohesion: An office is a place where the physical presence and interaction of the employees build bonds that are stronger than any virtual meeting ever can. Employees bond better over lunch or the ping pong session at the end of the day rather than over phone conversations or text messages.
Disadvantages of office environments
Increased Overheads: Owning offices is expensive for all companies. One of the ways in which most organizations cut costs is to downsize the facilities. In the wake of the lockdowns, most organizations have been able to cut costs in the millions.
Decreased Productivity: While bonding is good, employee chatter has been a known cause that leads to a drop in productivity. Employees also feel that working under surveillance increases stress.
Losing Competitive Edge: Companies that stick to the traditional office work model lose to agile competitors who embrace remote working and cut costs in other areas to offer competitive rates.
Best HR Software Solutions
Campus Recruitment Software
With our online campus recruitment software screen, hire top talents hassle-free. Everything is under one platform, from test creation to the candidate's evaluation. from test creation to the candidate's evaluation.
Rating 5.0
Based on 321 user ratings
API Integration by Xobin
Get integrated and harness the strength of robust assessments with Xobin APIs. Save sweat and time and focus on your core offering, not building your assessment stack. from test creation to
Rating 5.0
Based on 321 user ratings
Coding Skill Assessment Software
With our 100+ coding assessments on various languages such as Java, Python, JavaScript, React, Angular, etc., evaluate and hire the best-talented developers. from test creation to the candidate's evaluation. to the candidate's evaluation.
Rating 5.0
Based on 321 user ratings
Pre-Employment Testing Software:
Get access to the vast library of validated tests to screen candidates using online assessments. Simplify your recruitment process with our cloud-based Pre-employment Testing Software. from test creation to the candidate's evaluation.
Rating 5.0
Based on 321 user ratings
Pre-recorded Video Interview Platform:
Pre-recorded Video Interview Platform allows candidates to fully express themselves to a pre-recorded question. So that you can get more insight into candidates in far less time than a traditional phone interview. from test creation to the candidate's evaluation.
Rating 5.0
Based on 321 user ratings
Remote work
Remote work is a flexible working arrangement where employees can work outside the traditional offices. It can be thought about as the opposite of office work. Most employees who work remotely need nothing more than a computer and a secure internet connection. Whether they choose to work from their home, a café, or a different part of the world is a choice they are free to make.
Employees have the flexibility to schedule their own work timings if their tasks are modularised or join in on the team meetings at scheduled times.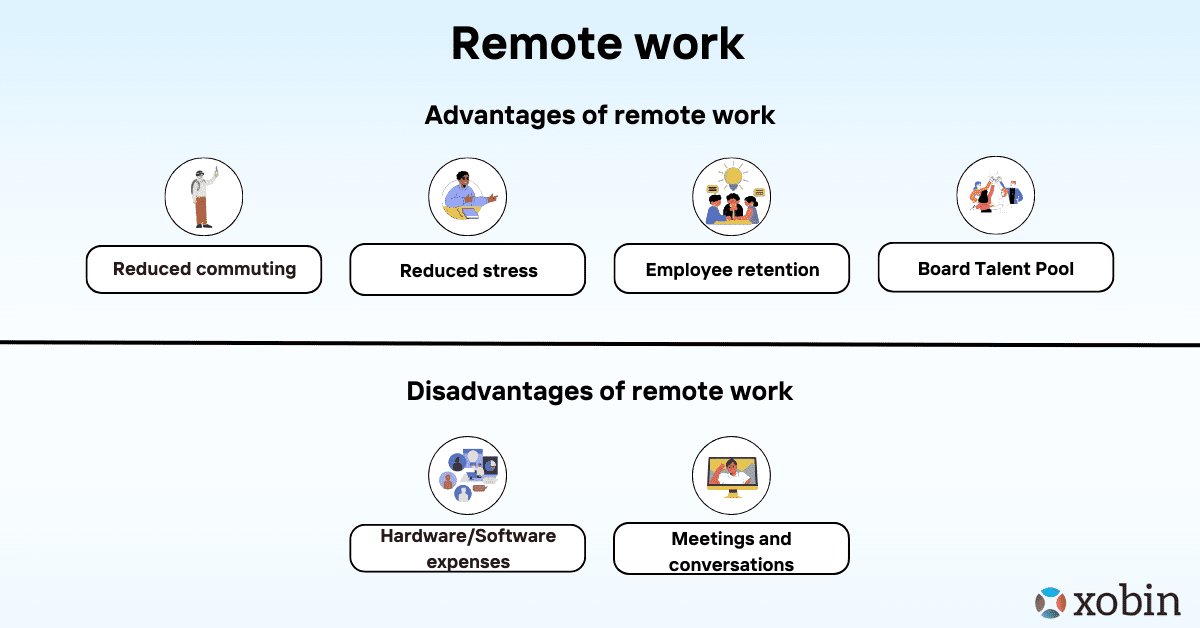 Advantages of remote work
Reduced commuting: Employees who travel to work often spend hours on commute. Less, or no, time spent on commuting eases some of the stress, lessens the financial burden of travel costs, and decreases absenteeism. An added advantage is that employees can work longer hours than they save on travel time.
Reduced stress: The time lost at work and the pressure of meeting deadlines add undue stress to most employees, which leads to burnout in the long run. In a survey by Owl Labs, 78% of remote workers reported lower stress levels when working from home, and 79% reported increased focus. 
Employee retention: The option to work remotely is one of the most sought-after benefits by most prospective employees in the market today. The lesser stress, money saved in commute, and more time to spend on family and leisure are the perks that make most employees happy about remote work. Companies are seen to offer remote work as an attempt to control employee attrition and acquire new talent.
Board Talent Pool: Remote working frees up organizations from recruiting from specific geographic locations and opens up a much wider pool to acquire the best talent from around the world. If time zones are not a constraint, companies have an infinite reach to choose highly skilled workers for the job.
Disadvantages of remote work
Hardware/Software expenses: Remote working is not cheap. Organizations need to invest in good laptops, mouse and supporting equipment. An app for employee performance management. Another for time tracking. Organizations soon find themselves buying different software to support remote work.
Meetings and conversations: Although team meetings can be set up via video conferencing, it is difficult to create any real employee engagement. Casual conversations between employees in the cafeteria or near the water cooler are missed. It is these casual conversations that foster collaborative work and solutions to vexing problems.
Is Hybrid the best of both worlds?
Having pulled off remote working successfully during the lockdowns, companies are starting to think long-term. A flexible hybrid work model which encompasses the best of both worlds is expected to become the future of work. The hybrid work option offers employees the flexibility to structure work around their personal lives instead of the other way around.
One way in which companies are implementing the hybrid system is to have office days for important meetings and collaborative events and remote work days for tasks that require more individual focus. This way, employees won't miss out on team-building activities that need physical presence or orientation to new projects in which they are required to participate.
Some companies also divide employee time between a set number of weeks to work from home and a few days of office work for essential tasks. Others prefer to keep their office spaces for more practical purposes, such as maintaining their physical records and key equipment.
Hybrid work has all of the advantages of remote work while eliminating some of its downsides. Extensive data from surveys conducted across multiple organizations indicate that most employees favour hybrid work options even without the pandemic.
However, this new working model opened up a different set of challenges that traditional workspaces had worked hard to eliminate. One of the main concerns is the inequality it might generate between those who work remotely and those who commute to work regularly.
There are possibilities that remote workers are more likely to miss out on career development opportunities and are treated as less than within the company. Remote workers who are comfortable with their arrangement may have to frequently justify their privilege over those who have no option but to commute to work.
Which is the right approach for you?
As noted in an analysis by McKinsey on the current state and what the future might hold for hybrid work- there is no one-size-fits-all solution for organizations. The potential for remote work depends on the business activities undertaken by your company and the extent to which it can be done remotely.
While the flexibility of work and the needs of employees is an important consideration, the question of productivity is what ultimately controls executive decisions. Most studies indicate that employee engagement, job satisfaction, productivity, and company profits have all gone up since the introduction of flexible working policies.
To approach a hybrid design that works for you, these are the steps you need to take:
Conduct anonymous surveys about the preferences of your employees. Probe into tasks that require an in-person vs virtual presence. Ask about your employees' desire to work remotely or to relocate.
Work out the principles that support the hybrid guidelines by analyzing the data from your survey. An example of a guiding principle is that office days are only specific to tasks, such as onboarding new hires, team activities that build cohesion between the members, and specific collaboration efforts, among others.
Implement the new guidelines on a trial and learning basis to learn what works well and what needs to be changed. The goal behind the task is to convey to the employees that the new work approach will be set over time.
Conclusion
The pandemic lockdowns brought about an abrupt shift to the work culture, which was previously thought to be unfeasible. As shown by numerous surveys, companies can adopt remote working successfully to improve the productivity and well-being of employees while still maintaining organizational profits or exceeding them.
What is certain is that the hybrid work model is here to stay, and all the companies equipped for it will hop on the bandwagon sooner or later.