You've made a job posting. As expected, you have started receiving a large number of applicants. It's now time to shortlist the most promising ones. But that's where things get a little messy. Didn't you wish there was a more efficient way? A way where you could directly screen and rank the best-fit applications? Well, that's precisely where pre-employment testing steps in.
Read on to learn more about pre-employment testing and the types of pre-hire tests deployed. Learn how to choose the right applicant screening software for your company.
What is Pre-employment Testing?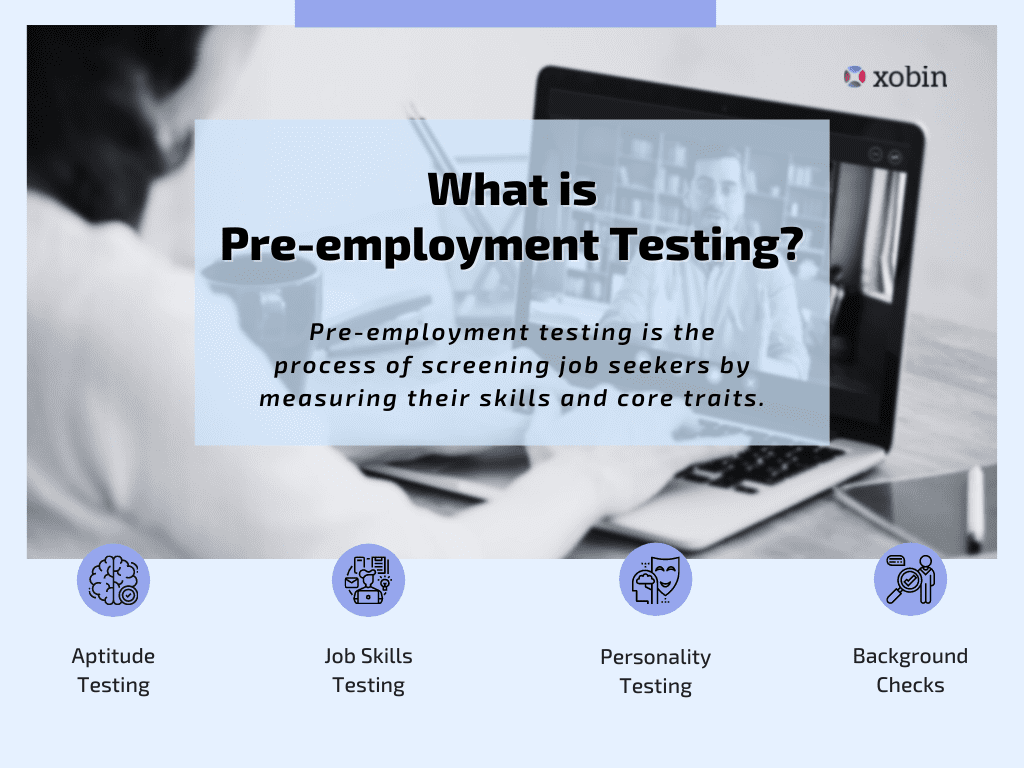 Pre-employment testing also known as pre-employment screening is the process of assessing job seekers by measuring their skills and core traits. The primary objective of pre-employment tests is to identify job-fit applicants.
   Looking for Pre-Employment Testing Software? Check out the best pre-employment testing software.
Primarily, these tests help employers make data-driven hiring decisions. In other words, these tests act like the due diligence system of the recruitment process.
The testing may consist of pre-hire tests, technical interviews, psychometric tests, and even a drug test. While the job skills test and personality tests are used in the pre-interview stage, the drug test and background checks are used for onboarding new employees.

Why is Pre-employment Testing necessary?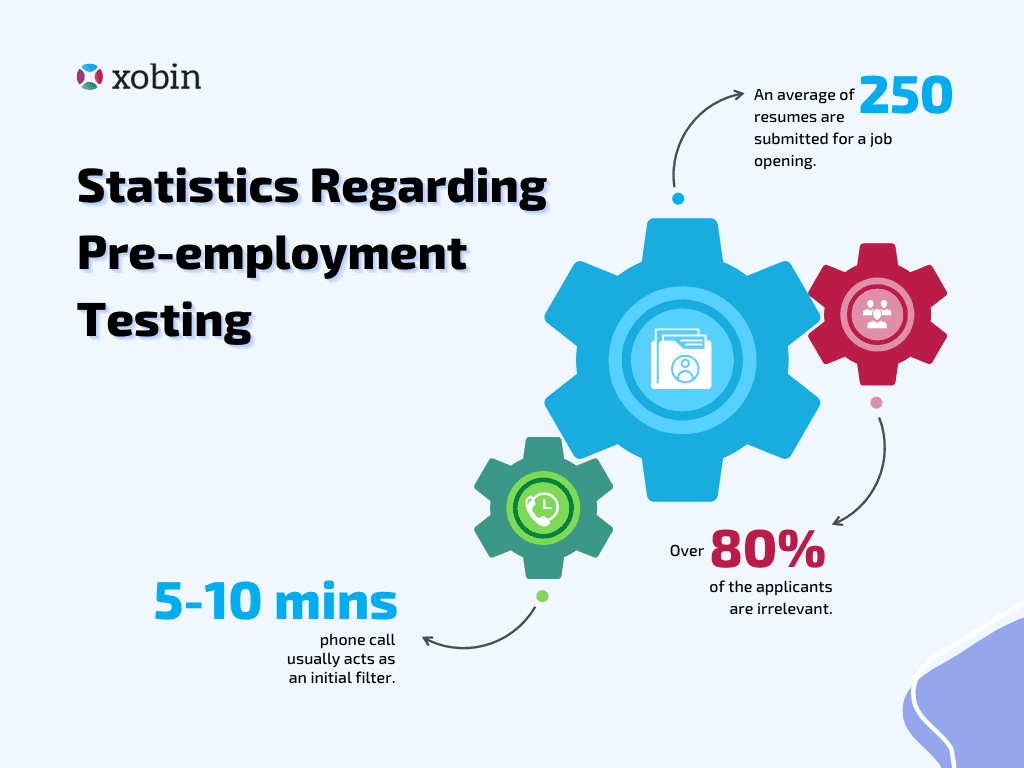 The internet has made life easy for job seekers. They can apply for jobs listed on various job sites with just a few clicks. Around 250 resumes are submitted for a job opening. However, over 80% of the applicants are irrelevant. On the other hand, the process of shortlisting candidates has just gotten harder for recruiters.
Traditionally, candidate screening is done by reviewing the CV. Post that, a 5-10min phone call usually acts as an initial filter. Unfortunately, such manual steps slow down the recruitment process. Often leading to bottlenecks at the top of the hiring funnel.
Evolution of Pre-Employment Testing
Let's dive into a bit of history. What if I told you that the first traces of a job test was seen in China in the 10th century? More specifically, it was the Song Dynasty that introduced employment testing. The applicants were assessed on their understanding of law and finance. Typically, the top scorers on these tests were selected for roles within the government. These tests slowly gained popularity across Indian and Chinese kingdoms and made their way to France in the early 19th century.
The first instance of a pre-employment test for high-volume recruitment was by the US Military. The Alpha Army Test was an Aptitude Test conducted on over 1.75 million military recruits during the first world war. The test measured verbal ability, numerical ability, and ability to follow directions.
Employment testing has evolved from pen-paper-based tests to online tests. Lately, companies have also included video-based responses in the hiring process.
Stages of Pre-Employment Testing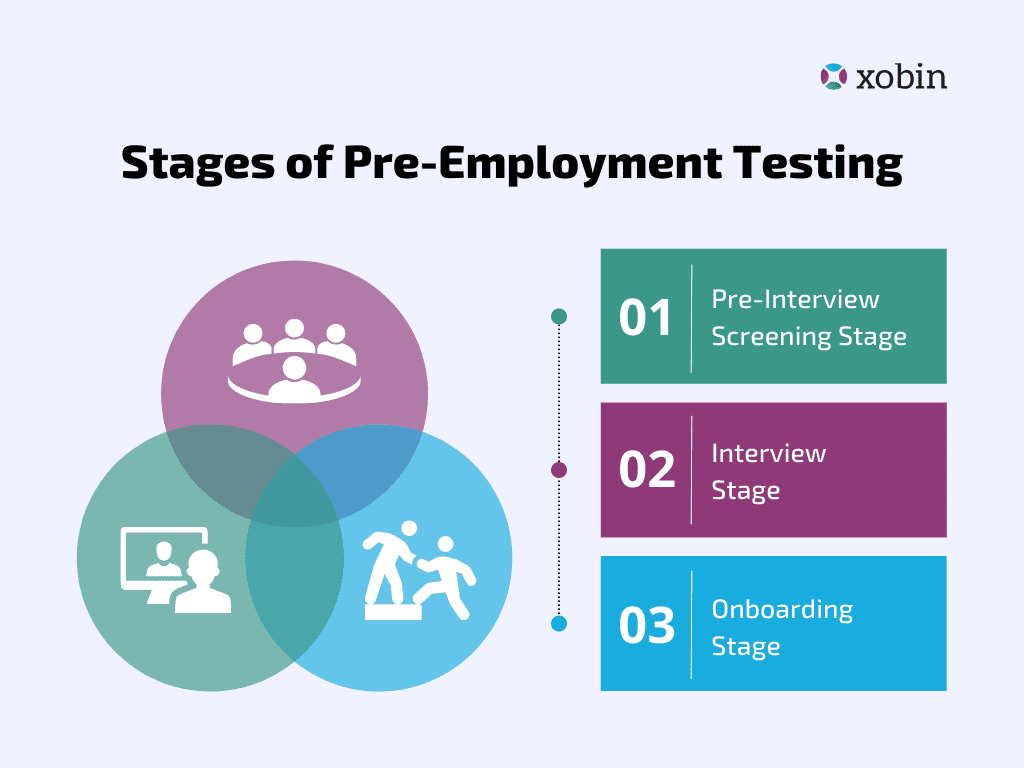 Let's view a typical hiring funnel. Pre-employment testing can provide valuable data at each stage of the funnel.
Pre-Interview Screening Stage
Testing is most effective at the top of the funnel. Naturally, skill testing has come to replace CV and phone screening. Moreover, a CV doesn't help to unearth the applicant's personality. As a result, video-based testing has also grown popular in recent times.
Best HR Software Solutions
Campus Recruitment Software
With our online campus recruitment software screen, hire top talents hassle-free. Everything is under one platform, from test creation to the candidate's evaluation. from test creation to the candidate's evaluation.
Rating 5.0
Based on 321 user ratings
API Integration by Xobin
Get integrated and harness the strength of robust assessments with Xobin APIs. Save sweat and time and focus on your core offering, not building your assessment stack. from test creation to
Rating 5.0
Based on 321 user ratings
Coding Skill Assessment Software
With our 100+ coding assessments on various languages such as Java, Python, JavaScript, React, Angular, etc., evaluate and hire the best-talented developers. from test creation to the candidate's evaluation. to the candidate's evaluation.
Rating 5.0
Based on 321 user ratings
Pre-Employment Testing Software:
Get access to the vast library of validated tests to screen candidates using online assessments. Simplify your recruitment process with our cloud-based Pre-employment Testing Software. from test creation to the candidate's evaluation.
Rating 5.0
Based on 321 user ratings
Pre-recorded Video Interview Platform:
Pre-recorded Video Interview Platform allows candidates to fully express themselves to a pre-recorded question. So that you can get more insight into candidates in far less time than a traditional phone interview. from test creation to the candidate's evaluation.
Rating 5.0
Based on 321 user ratings
Interview Stage
Interviews are a two-way process. They give the candidate facetime with the company. It allows companies to ask more profound and open-ended questions. Asking the right interview question will help you choose the best candidate. Cultural fit interviews identify if the candidates align with the company's values and beliefs. Interviews are a unique chance for you to evaluate if your candidate will be a good fit for your team and company culture.
Onboarding Stage
A lot of data is collected as part of the hiring process. While it is crucial to verify a candidate's skills, data such as past job records and college degrees need a thorough check. Every company wants to create a safe workplace for its employees. Above all, pre-employment testing in the form of drug tests and background checks helps find folks who keep the workplace safe and trustworthy.
Benefits of using Pre-Employment Testing
Pre-employment tests offer a wide range of benefits. Not only do they streamline the hiring process, but they also increase the productivity of recruiters.
Time Benefit
It's too much of an effort to read each CV. In fact, around 85% of candidates lie on their resumes. Pre-employment tests save time for the recruiter as well as the candidates.
These tests help weed out poor-fit applicants. As a result, recruiters need not face the tough task of reading each CV. Likewise, the hiring manager need not meet each candidate.

These pre-employment screening tests simplify the hiring process. Recruiters can simply send a test link to job seekers inviting them for a skills test. Job seekers can take up online tests at any time.
Cost-Benefit
It often takes companies 3-4 months to realize that they may have hired an incompetent employee. The cost of a bad hire can touch the figures of 30% of the employee's first year earnings. Some even mention that a bad hire can cost around $240,000 in expenses.
The best way to decrease employee turnover is to hire people who truly match the job. Pre-employment testing helps companies move ahead with skilled people. It is as simple as dropping unfit candidates from the talent pool.
Moreover, job tests are great at identifying job-fit employees. As a result, companies save on training-related costs.
Legal Benefits
Pre-employment tests give a fair shot to all candidates. Consider the case of an insurance giant that implemented pre-employment testing software. The company used customized job tests for entry-level applicants. These tests cover 3-4 skills required on the job. Each applicant takes up the same test. Using EEOC-compliant employment tests helps increase the legal defensibility of your hiring decisions.
How Companies Use Pre-employment Testing Solutions?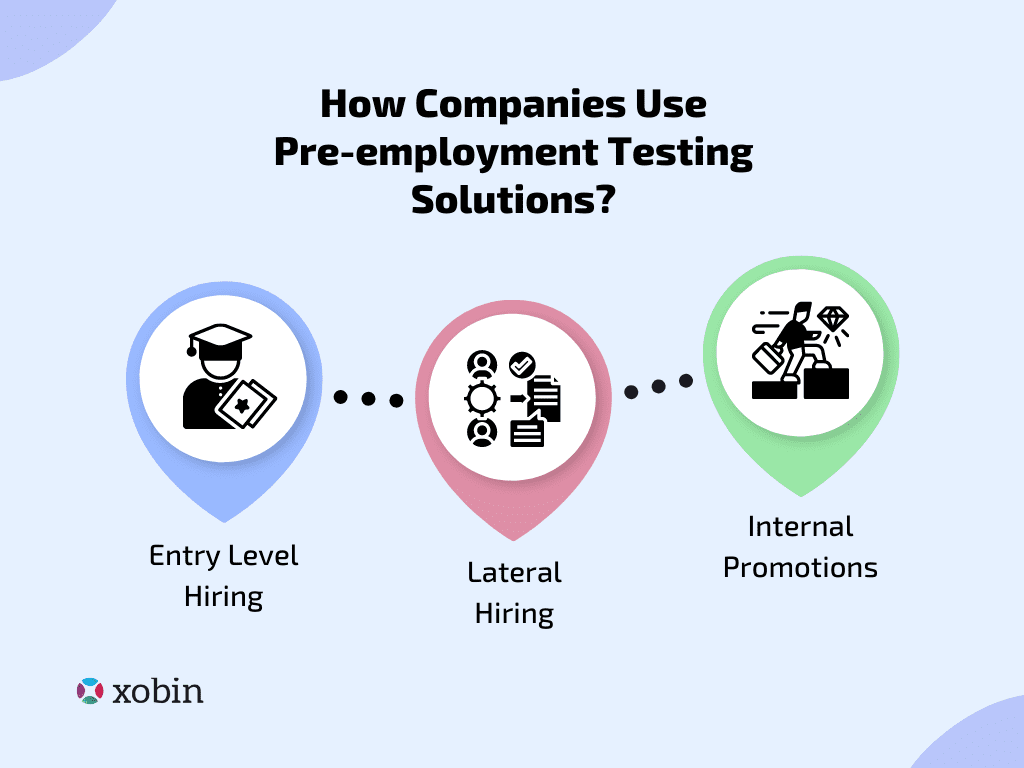 Companies can use pre-employment testing in multiple ways. According to a recent study, over 70% of employers in the US do some form of pre-employment skill testing. Not just the large Fortune 500 companies. Even small and mid-size companies make use of these tests. While the usage may vary, here are the most common ways to utilize job tests.
Entry Level Hiring
Companies love to hire students straight out of college. These entry-level hires bring in fresh ideas and energy. Campus recruitment programs also add to the employer brand. But grades in college may not truly reflect a student's potential. The most popular pre-employment tests at the entry level are aptitude tests and language proficiency tests.
Lateral Hiring
Employers use lateral hiring to bring in folks with experience. These individuals need less training. They can start executing right away.
While hiring such employees, employers look for functional skills or domain skills. Using pre-employment skill tests, companies can check whether the candidate has the core skills and traits for the job. Apart from aptitude, companies use job skills and culture fit tests to analyze applicants.
Internal Promotions
Not just hiring, but even the promotion and career advancement practices of an organization must be bias-free. Using tests as part of internal promotion signals the meritocratic nature of an employer.
Employees today want a variety of experiences. They not only move up the org chart. They move sideways and change their function within the same organization. Most organizations deploy custom situational judgment tests to understand the employee skill gap to determine training needs.
Get started with Pre-employment Testing
Pre-employment testing software has proven to be effective for companies. The right implementation of pre-employment testing has allowed hiring teams to transition from instinct-based hiring to evidence-based hiring decisions.
However, hiring managers must remember that these job tests are not crystal balls. The truth is that no AI or pre-employment testing software can replace recruiters. When aiming to hire the best talent, resume screening and interviews alone is not good enough. It's best to use pre-employment tests in conjunction with other assessment methods.
Software you need for all your recruitment process
1 Million +
Test takers per year
Related Resources