21st Century and Recruitment Strategy
When you're trying to find good people, it can be hard. It would be best if you found the right candidates, but you also have to keep them on board and happy. And even when you've found the perfect person for your job, getting them to commit to you is not always easy. If this sounds like you, then having an effective recruitment process is worth considering.
   Looking for Recruitment Software? Check out the best Recruitment Software solutions.
After 2020, the recruitment process is popularly segmented as pre-pandemic, between pandemic and post-pandemic. Pre pandemic saw a shift towards hybrid recruiting practices in addition to traditional recruiting practices. Between the pandemic from early 2020 to early 2022 months, organizations and companies were forced to shift their recruitment practices virtually and make working remote. Without personal interaction with the candidates, it became difficult to recruit an ideal candidate for the job and adapt to the new changes. On the other hand, post-pandemic organizations are slowly shifting back to the Hybrid Model. In the case of hybrid models, organizations must revamp their recruitment strategies to ease up this process and recruit an ideally fit candidate.
What is the Recruitment Process?
Recruitment is the process of finding the right person for a job and getting that person hired. There are many different strategies for recruiting, each with its advantages and disadvantages. A well-designed recruitment strategy can make this part of the hiring process easier and more efficient.
Usually, the recruitment process follows a flow chart pattern, with defined tasks for an effective recruitment process with strategic methods. It starts with introspecting the needed roles and skills afterwards, defining the job, defining the vacancy, procurement of tools for ATS, screening, scheduling the interview, final screening, and selection, and ends with proper onboarding.
Advantages of having a Recruitment Strategy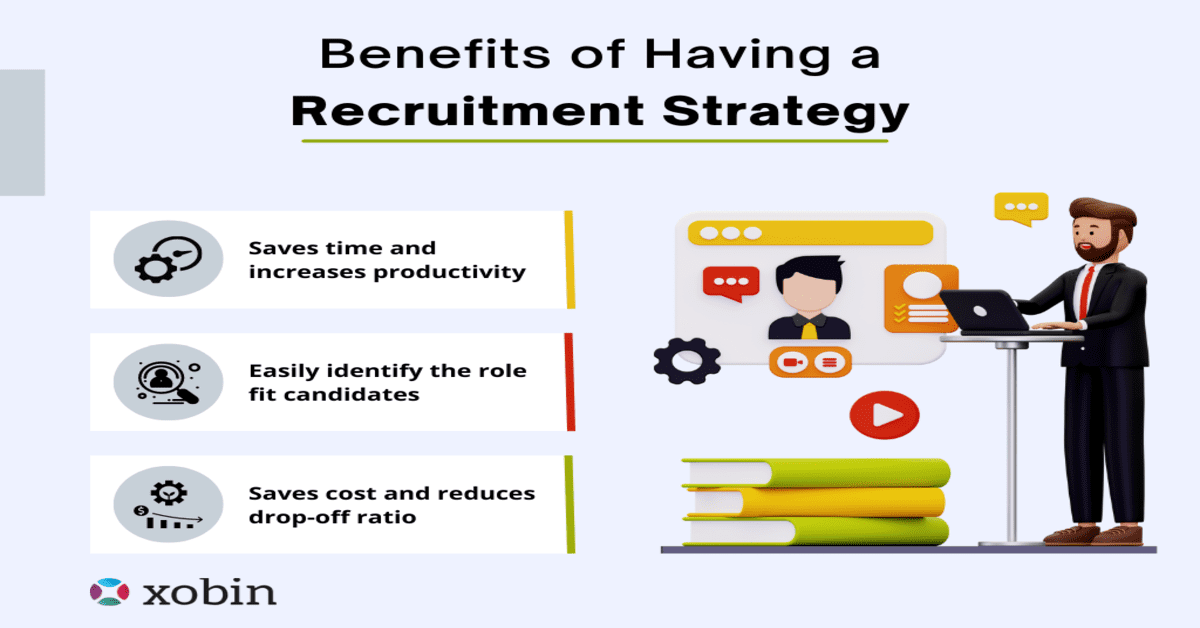 Saves time and increases productivity
According to research, regularly, a new hire costs about one and a half times the salary for the position. With the responsibility, the cost of the hire grows. With the right tools and partnering solutions, one can speed up productivity. As a result, it is very cost-effective as it opens companies to a big talent pool.
Therefore, an employer must spend more days creating the right recruitment strategy. Also, by sourcing solutions like Job portals where candidates usually go for job search, they will be able to shortlist the pool of candidates on such platforms. This way, companies save a lot of effort in advertising, sourcing, and screening candidates before the interviews. Therefore this saves cost and a lot of time in the process.
Easily identify the role fit candidates
Don't discount candidates because they don't have experience in your industry; this is exactly why they should be considered! They may make great hires if they have skills transferable to your requirement for the role.
Therefore, with proper search filters and a clear idea of the role-specific requirements, one should search for the candidates on these portals. Also, steps like referrals and benefits will help companies get candidates through the current workforce in the same domain.
Saves cost and reduces drop-off ratio
Companies build relations with institutes and candidates in recruitment drives like mass hiring. Companies that have good word in the market receive several applications for internships from students. In this way, companies provide students with pre-employment experience training. With such experiences, candidates get more emotionally attached to the first job and with the experience they have. Such ideas have proven very successful and beneficial in campus recruitment drives as, for most students, it will be their first job.
In hiring drives, companies build relations with candidates who have applied or by referral benefit programs. As a result, it helps spread the good word about the company in the market.

Therefore, this gives companies a vast and diversely talented pool of applicants. That gives companies more options and builds a strong pipeline for the present and future. Also, companies with a good word in the market receive several applications and reduce the candidate's drop-off ratio.
Steps Involved in an Effective Recruitment Process
Recruitment has become a critical part of the hiring process of your business. And it cannot be easy to get it right. I've put together some tips for getting started with a recruitment strategy and some pitfalls to avoid.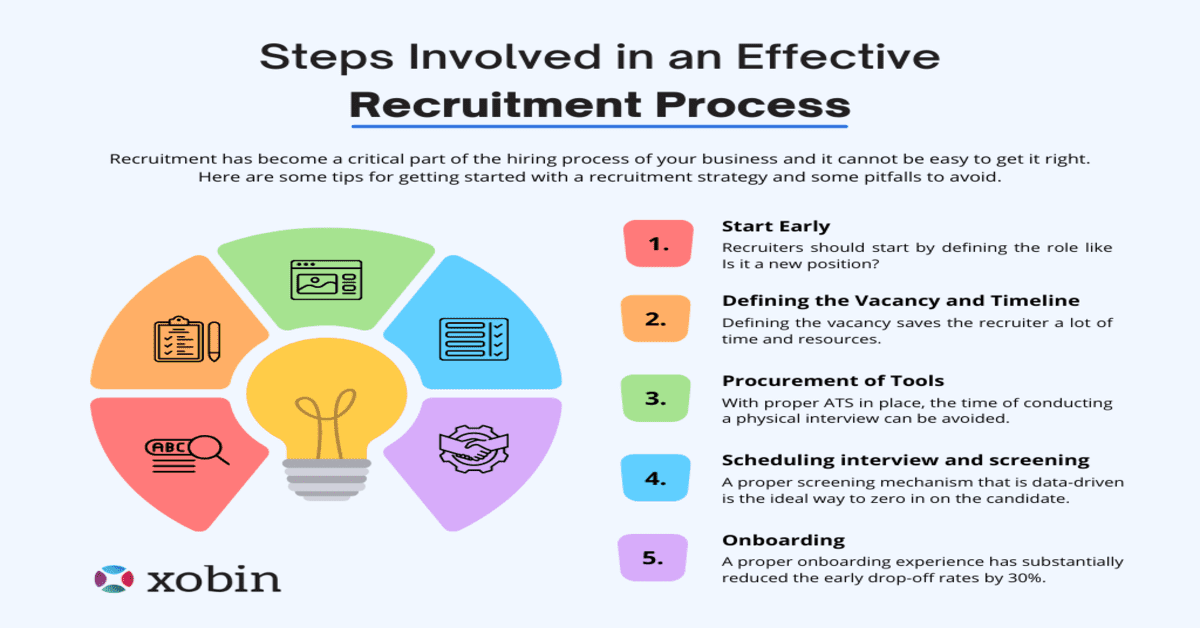 Start early with the recruitment process
Hiring is a long process, and there are only so many ways to speed it up. A recruitment strategy will help you identify and assess the needed job role and skill-specific requirements. Recruiters should start by defining the role like Is it a new position? A temporary one? Or is something permanent? If you just started a new business, you may want to hire someone who can help you get up and running quickly; if you're expanding your team, consider hiring someone who can fill multiple roles over time. As a result, recruiters and hiring managers will be able to screen the candidates and their skills in as short a time frame as possible.
Best HR Software Solutions
Campus Recruitment Software
With our online campus recruitment software screen, hire top talents hassle-free. Everything is under one platform, from test creation to the candidate's evaluation. from test creation to the candidate's evaluation.
Rating 5.0
Based on 321 user ratings
API Integration by Xobin
Get integrated and harness the strength of robust assessments with Xobin APIs. Save sweat and time and focus on your core offering, not building your assessment stack. from test creation to
Rating 5.0
Based on 321 user ratings
Coding Skill Assessment Software
With our 100+ coding assessments on various languages such as Java, Python, JavaScript, React, Angular, etc., evaluate and hire the best-talented developers. from test creation to the candidate's evaluation. to the candidate's evaluation.
Rating 5.0
Based on 321 user ratings
Pre-Employment Testing Software:
Get access to the vast library of validated tests to screen candidates using online assessments. Simplify your recruitment process with our cloud-based Pre-employment Testing Software. from test creation to the candidate's evaluation.
Rating 5.0
Based on 321 user ratings
Pre-recorded Video Interview Platform:
Pre-recorded Video Interview Platform allows candidates to fully express themselves to a pre-recorded question. So that you can get more insight into candidates in far less time than a traditional phone interview. from test creation to the candidate's evaluation.
Rating 5.0
Based on 321 user ratings
Defining the vacancy and timeline
Defining the job vacancy is the most important part of the recruitment process. After defining the job vacancy, in this stage, you explain the nature of the work, the kind of person you are looking for, and sometimes the CTC. Defining the vacancy saves the recruiter a lot of time and resources as it attracts only the right candidates and indirectly eliminates unnecessary candidates.
In other cases, choose your timeline carefully; you don't want to rush into hiring someone before they're ready. Transitioning from college student to recent grads into corporate life isn't easy, especially if there's no money on hand or other pressures around graduation day that make it difficult for employers to keep their promises (like paying back student loans).
Procurement of tools
Next is to procure the proper tools and HR tech system to help the organization make recruitment hassle-free. Procuring proper tools might save up a lot of time for the recruiters, also saving up their resources. With proper ATS in place, the time of conducting a physical interview can be avoided.
For example, one can partner with a candidate sourcing company to source the candidates. The internet is full of candidates looking for jobs like you are offering, but that doesn't mean you should settle for anyone who applies! So once you We can help you narrow down your search by taking into account things like location, industry, and experience level.
Scheduling interview and screening
Before you schedule an interview and screen the candidate, make sure they know what they're getting into. Every candidate deserves an honest assessment of their strengths and weaknesses before accepting an offer from a new company. Hence, that means ensuring they understand what they'll be signing up for when candidates consider joining your team!
Scheduling interviews and screening the necessary candidates, is the main objective of a complete recruitment process. A proper screening mechanism that is data-driven is the ideal way to zero in on the candidate. With many recent advancements in recruitment practices, a proper screening and interview scheduling platform, like Xobin, will help you lay the path for a proper recruitment strategy.
Onboarding experience with recruitment process
Onboarding a selected applicant is the final step in any recruitment process. According to hiring experts, a good onboarding experience will have a lasting impact on the organization's employees. A proper onboarding experience has substantially reduced the early drop-off rates by 30%.
How do Recruitment Tools help in the Recruitment Process?
A good recruitment platform helps screen candidates and couples with features like customizing the career page and sending out interview calls within a single platform. ATS has a dedicated question library that allows you to choose from a wide range of questions focused on various skills and job roles. Many platforms screen candidates based on their psychometric abilities, which would be beneficial in identifying candidates who are culturally and intellectually fit for the workplace.
Some tools eliminate the need for an in-person interview module by asking the candidates to record a structured short video of themselves. This new me greatly reduces the time for the recruiter and the candidate. One platform that offers a complete HR tech package is Xobin, which, along with its new product, XoForms, makes your recruitment process an outstanding experience. A few points are as follows,
In streamlining the recruitment strategy
The best way to streamline your recruitment strategy is to begin with, a process that works and then make adjustments as your business grows. When starting out, it's important to find people who are passionate about your company's mission. In order to find such people, you can screen the candidate using a proper assessment and HR tech software and tools. Therefore this will fasten up the process and help maintain clarity with the candidates. As a result, candidates are excited to join, and they will bring new ideas and perspectives that can help you grow. But once you've hired a few people like this, their enthusiasm can start to wear off.
You can keep the energy flowing by making sure that each new hire has an opportunity to shape their own career path by choosing which projects they want to take on. This prevents the problem of burnout from happening too quickly, because everyone has a chance at making their own decisions about what kind of work they'd like to do.
In avoiding recruitment biases
Recruitment biases are a problem in the job-finding process. They can lead to discriminatory hiring practices and unfair treatment of applicants.
By definition, a bias is a predisposition that makes you more likely to make certain decisions or take certain actions without having to do much work at all. That's why it's important to avoid recruitment biases of any kind when looking for a job: they can lead you down the wrong path. These biases include gender stereotypes, ageism and racism, and other forms of discrimination.
Avoiding these biases means being aware of how your own personal biases might influence your hiring decisions. For example, suppose you're biased against older workers (because your parents were older than you). In that case, you may not realize that this could lead you to discriminate against younger candidates who are more likely than older candidates to be available for hire at the time they're applying for jobs (because they're working part-time or have other commitments).
Getting insights into candidate's skills and personality
It's a fact that when you're hiring for a job, you need to know what kind of people you're bringing into your company. But sometimes, it's hard to figure out if someone is "the one" without knowing more about them.
Luckily, some tools available in the market can help you get insights into candidates' skills and personalities. Here are some ways that technology can help you find the perfect candidate:
1. Get to know your potential candidates better by asking questions like this: "If you could travel anywhere in the world, where would it be?" This question allows the interviewer to understand who the candidate is and where they want to go with their career.
2. Look at how candidates approach their work in other roles by looking at their LinkedIn profiles or social media accounts (if they have any). This will give you an idea of what type of person they are and whether or not they will fit into your company culture.
Only Software you need for all your recruitment process
1 Million +
Test takers per year
Wrapping Up with Recruitment Process
This study concludes that a recruitment process and strategy are essential for your company's success. A strong recruitment process will help you to find the best candidates for your job openings, while a strong strategy will help you manage the hiring process and keep everything on track.
If you want to attract top talent, you need to make sure you are using one of the best recruitment tools. The Xobin platform is an excellent way to manage your business and attract new employees.