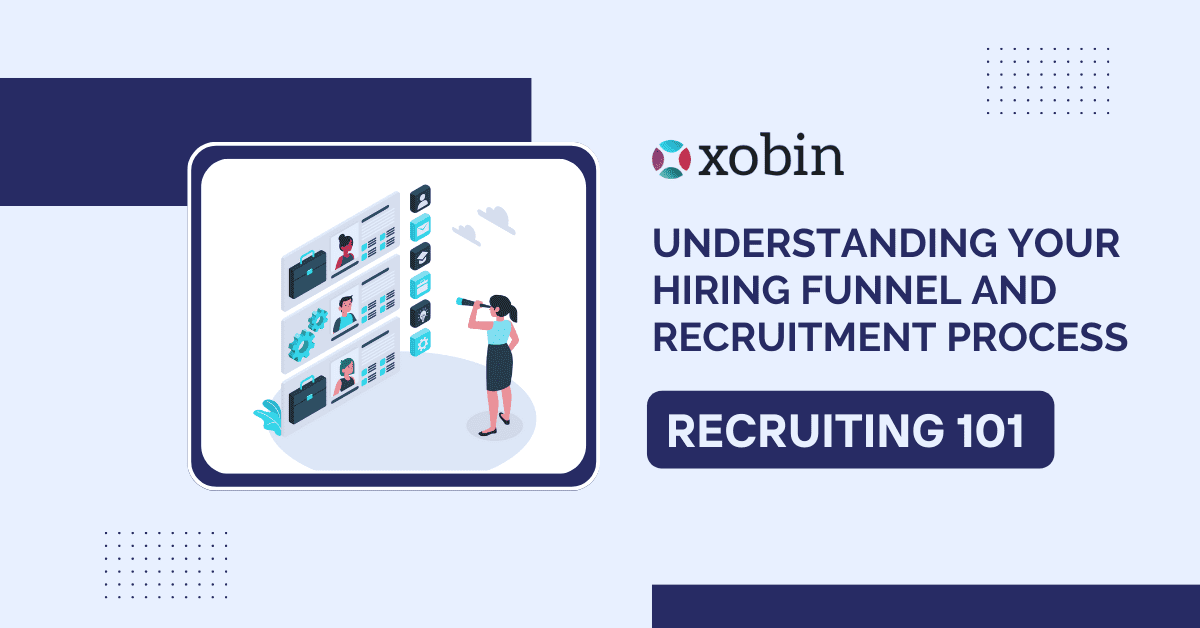 In this highly competitive market, any firm that wants to expand and flourish must have a strong recruiting department. On the other hand, finding the proper talent may be difficult and time-consuming for recruiters. So, understanding your employment procedure and how to maximize your recruitment efforts is critical. This post will provide a quick primer on recruiting 101 and explain how to streamline the hiring process to identify the most qualified applicants for your company.
Step 1: Establish Your Recruiting Process:
In this process, applicants walk from initial contact to a job offer in your hiring funnel. So, the four stages of the hiring process are sourcing, screening, interviewing, and hiring. Hence, you may discover the most promising applicants at each funnel stage. In the end, advance them closer to the job offer. Let me take you through these steps one by one.
Sourcing:
This phase involves attracting candidates to your business. To identify potential applicants, you can utilize various sourcing techniques. Also, it includes job advertisements, social media, and employee recommendations.
Screening:
After attracting candidates, the next step is to screen the candidates. So, check if they meet the qualifications for the position. The screening process often entails reviewing resumes. After this, screening the candidates on their respective skills as well as with psychometric tests. As a result, you will churn out the process and get role fit and job fit candidates.
Interviewing:
After screening candidates, the next step is the interviewing part. A candidate's skills, experience, and organizational fit are assessed during the interview stages. Therefore, you can employ various interviewing techniques to evaluate prospects. Starting from phone interviews, video interviews, and in-person meetings.
Hiring or recruiting:
The last step is making a job offer to the chosen candidates. As well as negotiating wages, benefits and other employment conditions usually take place at this point.
Step 2: Understand Your Recruitment Process.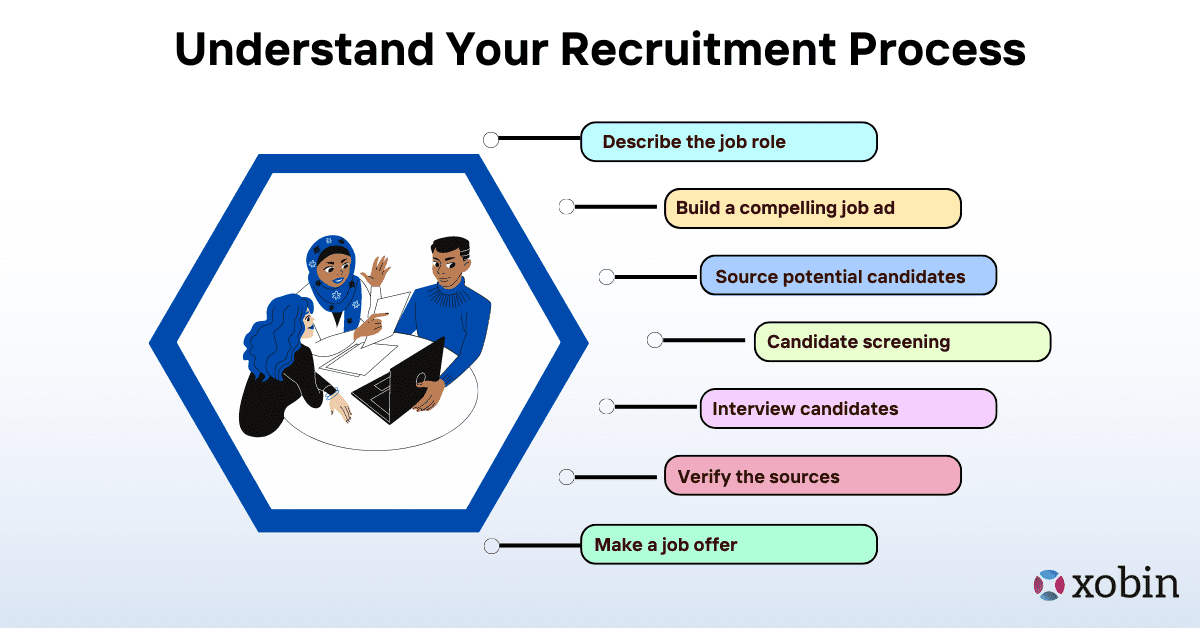 After setting up your recruitment process, the next important step is understanding it thoroughly. Hence, your recruitment process is the series of actions you take to guide candidates through the hiring funnel. So, your hiring funnel should be planned to enable you to find the best-qualified individuals and advance them toward a job offer.
Therefore, we have listed out the essential steps in hiring funnel. Stick with me I will take you through them
Describe the job role:
Drafting the duties and responsibilities of the required position is the first step in the hiring process. So to draft this job role expectations first analyse your needs from the role you are hiring from. Hence, this drafting involves essential duties, abilities, and credentials for the post.
Build a compelling hiring ad:
The next stage is to develop a captivating job ad after drafting the job role. The job posting should be concise and interesting, emphasizing the main advantages of working for your company.
Best HR Software Solutions
Campus Recruitment Software
With our online campus recruitment software screen, hire top talents hassle-free. Everything is under one platform, from test creation to the candidate's evaluation. from test creation to the candidate's evaluation.
Rating 5.0
Based on 321 user ratings
API Integration by Xobin
Get integrated and harness the strength of robust assessments with Xobin APIs. Save sweat and time and focus on your core offering, not building your assessment stack. from test creation to
Rating 5.0
Based on 321 user ratings
Coding Skill Assessment Software
With our 100+ coding assessments on various languages such as Java, Python, JavaScript, React, Angular, etc., evaluate and hire the best-talented developers. from test creation to the candidate's evaluation. to the candidate's evaluation.
Rating 5.0
Based on 321 user ratings
Pre-Employment Testing Software:
Get access to the vast library of validated tests to screen candidates using online assessments. Simplify your recruitment process with our cloud-based Pre-employment Testing Software. from test creation to the candidate's evaluation.
Rating 5.0
Based on 321 user ratings
Pre-recorded Video Interview Platform:
Pre-recorded Video Interview Platform allows candidates to fully express themselves to a pre-recorded question. So that you can get more insight into candidates in far less time than a traditional phone interview. from test creation to the candidate's evaluation.
Rating 5.0
Based on 321 user ratings
Source potential candidates:
You must employ the right sourcing strategies. This steps will help you in attracting talent to your company. Therefore you can apply various techniques to locate potential candidates, including job advertisements. As well as social media, and employee recommendations.
Candidate screening:
After sourcing and advertising, you will receive many job applications. to make your further process smoother you should partner with a recruitment tool. This tools will help you in screening the candidates. The insights will give you a clear idea if they meet the qualifications for the position. Hence the screening process will help you in fastening your recruiting funnel.
Interview candidates:
After screening, shortlist them and schedule the interview. As a result, interview will determine their qualifications, insights on their communication, and organizational fit. Currently, various types of interviews are being used in companies hiring funnel. So, you can employ various interviewing methods to evaluate prospects. Such as including video answering and virtual video interviews and in-person meetings.
Verify the sources:
The main part of recruiting in today's world is to verify references. So that before making a job offer, ensure the applicant is who they say they are and are eligible for the position.
Make a job offer:
The final stage of the recruitment process is to make a job offer to the successful candidate. This stage typically involves negotiating salary, benefits, and other terms of employment.
Step 3: Optimize Your Hiring Process.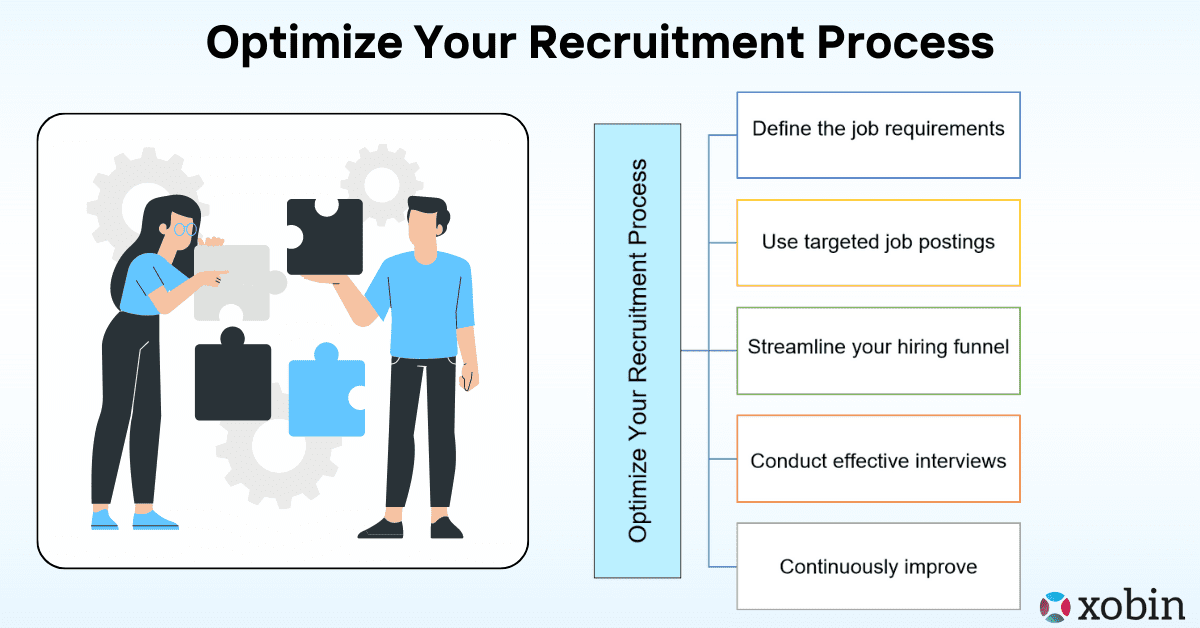 Optimizing your recruitment process is important to get the most out of your recruitment efforts. You can attract and hire the finest candidates more effectively by optimising your recruitment procedure. Here are five actions you can take to streamline your hiring funnel:
Define the job requirements:
It's crucial to have a clear grasp of the abilities, background, and credentials needed for the position before you start hiring. This will make it easier for you to find the ideal candidates and write a work description that is clear to understand.
Use targeted job postings:
To reach the correct audience, use targeted job postings. One way to achieve this is using job boards, social media sites, and other tools that your target candidates are likely to use. You can also use online job posting tools to expand your reach by having your position automatically posted to a number of job sites.
Streamline your recruiting funnel:
Your application procedure should be simplified; it should also be simple and user-friendly. This will ensure you attract the right applicants and help lower candidate drop-off rates. Automate some of the hiring process using an applicant tracking system (ATS), and think about using pre-screening questions to weed out unqualified applicants.
Conduct effective interviews:
Ensure that your interview procedure is quick and organised. This will enable you to honour candidates' time while obtaining the data you require from them. To obtain a more complete understanding of each applicant, think about using a set of questions that is the same for all candidates and including a variety of stakeholders in the interview process.
Continuously improve:
Examine and assess your hiring funnel regularly to spot potential improvements. Gather feedback from applicants, hiring managers, and other stakeholders, then use it to inform the changes you make to your process. You can attract and hire the best candidates more effectively over time by consistently improving your recruitment process.
Stakes In the Recruitment Process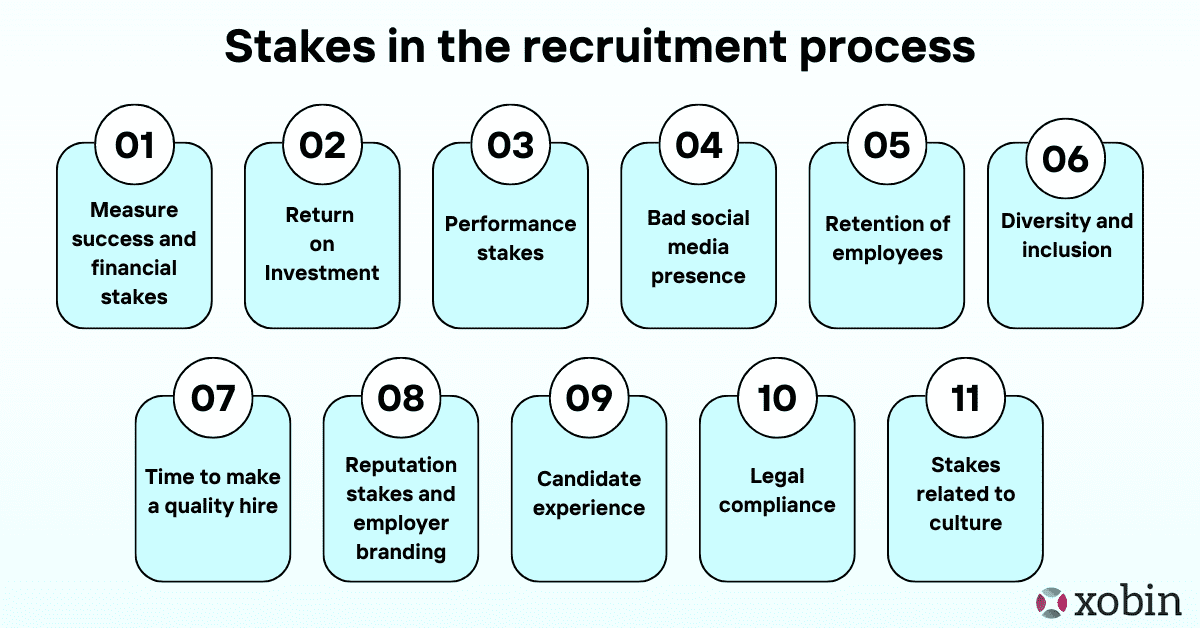 Any company's hiring procedure is crucial. Also, it would directly impact the organization's success. So, getting it wrong can have serious repercussions.
Here are potential recruiting stakes that businesses need to be mindful of:
Measure success and financial stakes:
Track recruitment metrics such as time-to-hire, cost-per-hire, and candidate experience to monitor the recruitment process's success and identify improvement areas. On the other hand, hiring the incorrect candidate might cost a lot of money. So, a poor hire can cost a company money through missed production and onboarding expenses. Also, wasted resources as well as the expense of finding and training a new employee.
In other cases, there may be additional expenses if a new employee leaves soon after starting a job. Expenses such as those associated with finding and training a replacement employee and any potential income and productivity losses.
Return on Investment:
Increased productivity, income, and staff retention are all examples of good returns on investment (ROI) that can result from a successful hiring process. On the other hand, a poorly run hiring procedure might have a negative return on investment due to high turnover rates, reduced productivity, and decreased income.
   Looking for Hiring Software? Check out the best Hiring Software solutions.
Performance stakes:
The caliber of new hires impacts the organization's effectiveness as a whole. Poor recruiting choices result in low production and lower efficiency.
Bad social media presence:
Social media has evolved into a crucial recruitment tool, and a company's social media reputation can have a big impact on it. On the other hand, bad comments or reviews on social media sites can hurt the business's reputation.
Retention of employees:
Employee turnover costs business money and causes chaos. High turnover rates can harm the company's culture, morale, and financial line if the recruitment process does not successfully identify the proper individuals. So to do this effectively train your current employees or retain those leaving because of basic concerns.
Diversity and inclusion:
Developing a diverse and inclusive workforce is crucial for the success of any firm. A broad candidate pool must be recruited to meet diversity and inclusion goals. Failing to do so could hurt the company's reputation and impede its ability to attract top talent.
Time to make a quality hire:
The amount of time it takes to fill a vacancy is important since the longer it takes, the more money, productivity, and growth prospects the organization loses.
Therefore, caliber of the candidates selected can strongly impact the business's success. Hence, hiring great individuals can enhance performance, productivity, and innovation.
Reputation stakes and employer branding:
The hiring procedure also impacts the organization's reputation. For example, potential candidates may have an negative image of a company after the recruitment process, which may hinder that organization's ability to top talent acquisition.
Candidate experience:
As we discussed above a candidate's experience in the hiring process is called candidate experience. So a negative experience might result in damaging comments and reviews. As a result, it damages the business's reputation and makes recruiting top talent harder.
Legal compliance of employment recruiting:
Recruiting procedures must abide by all applicable rules and regulations of employment. Any legal transgressions could result in repercussions and ruin the company's reputation. Therefore, while hiring, organizations must adhere to numerous legal restrictions. Legal repercussions, such as lawsuits, penalties, and fines, may result from breaking these laws.
Stakes related to culture:
A recruit who does not suit the organization's culture may have a detrimental effect on team morale and alter the dynamic of the team. Also, it may have an impact on staff retention and raise turnover rates.
Therefore, companies should prioritize an efficient, well-structured recruiting process to mitigate these stakes. This process should focus on attracting and hiring top talent while avoiding legal risks and protecting their brand reputation.
Best recruiting or hiring practices:
To know the best practices keep watch on the HR influencers of 2023 and the new trends in the HR community. So, that you will get something whatmany are aware of. Here is a list of key points our HR leaders will recommend you to consider for best recruitment practices.
Precise job description:
It's critical to have a thorough grasp of the duties, responsibilities, and qualifications required for the position before beginning the hiring process. This will support attracting the best candidates and guarantee that they are aware of the requirements for the position.
Use a variety of recruiting methods:
To attract a varied pool of candidates, use a variety of recruitment channels, including job boards, social media, employee recommendations, career fairs, and recruiting firms. Also, have a HR Tech Stack like Xobin for your help. You can request demo from Xobin by clicking on the button below.
Screen resumes effectively:
Create a resume screening procedure that enables you to swiftly and accurately determine which applicants are the most qualified. Using an applicant tracking system (ATS) to search resumes for relevant terms and experience is one way to do this.
Conduct thorough interviews:
Conduct in-depth interviews. Establish a structured interviewing procedure, including situational and behavioral inquiries. To compare answers and prevent bias, make sure that all candidates are asked identical questions.
Use evaluation tools:
Assess individuals' suitability for the position using evaluation techniques such as skills tests, personality assessments, and cognitive ability exams.
Verify the sources:
Verify a candidate's credentials, employment experience, and character by contacting references.
Communicate effectively:
Effective communication Inform job seekers on the hiring procedure, including the schedule, future steps, and any updates. Give rejected applicants feedback to increase their chances of moving forward.
Provide a competitive package:
Provide a competitive compensation and benefits package that considers the applicant's qualifications, experience, and market conditions.
Ensure easy onboarding:
Establish an efficient onboarding procedure once the applicant has been employed to guarantee a smooth transition and successful integration into the organization.
Conclusion
Developing a solid recruitment process is crucial for any firm to attract and hire the greatest personnel. Organizations may efficiently and successfully find eligible applicants by creating a clear hiring funnel and improving the recruitment process. So, to continuously hone and enhance the hiring process, it's crucial to establish job positions and requirements.
Therefore, create a sourcing strategy, expedite the screening procedure, conduct efficient interviews, leverage technology, gather feedback, and measure progress. Organizations may develop a competent team and foster company success with a carefully thought out and optimized recruitment strategy.