An online assessment is defined as the systematic evaluation of an individual or document against certain parameters. As humans, we formally and informally assess everything around us. It is this assessment that helps in data-driven appraisal or judgement. Traditionally, these assessments have taken place in a physical environment. otherwise called face-to-face invigilation. However, companies and educators are upgrading themselves to include online tests.
While companies use it to screen for applicants and internal employees with the right skills for the job, on the other hand, teachers use it to evaluate students' skills and abilities. Ultimately, these new-age solutions of online exams and online tests provide a major boost to their users. It provides data based results.
Let me walk you through all the details about the online assessment.
What is Online Assessment?
An online assessment is a systematic evaluation test to measure the candidate's understanding of a particular subject. An online assessment test is taken over the internet by using assessment tools. The main reasons for choosing online assessments may be as follows: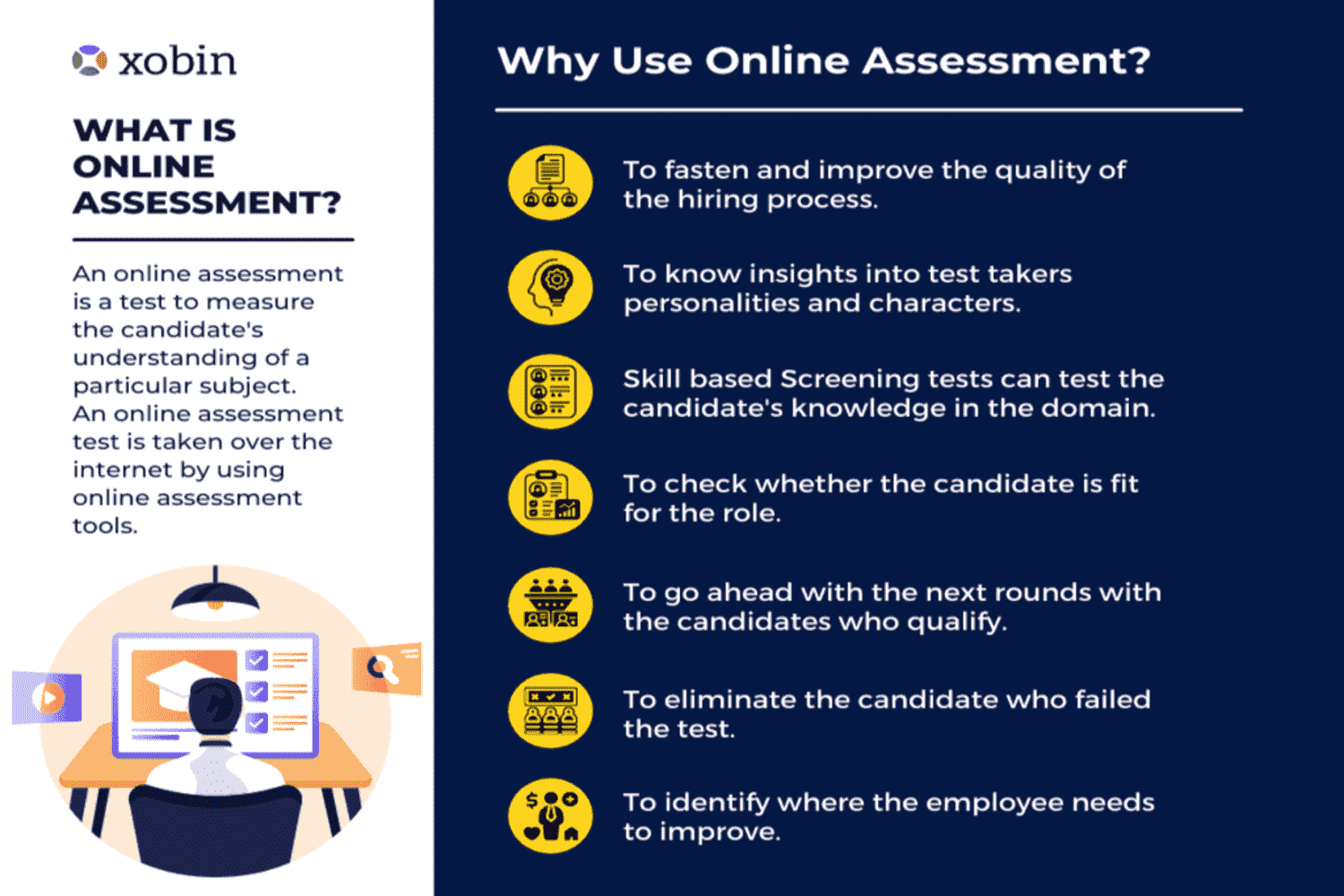 To fasten and improve the quality of the hiring process.
To know insights into test-takers personalities and characters.
Skill-based Screening tests can test the candidate's knowledge in the domain.
In order to check whether the candidate is fit for the role.
To go ahead with the next rounds with the candidates who qualify.
Eliminate the candidate who failed the test.
Identify

skill gaps

in employees or students.
As the bigger companies have started using screening tests in their hiring, it has set an example. As a result, smaller and medium-sized companies have also adopted the changes. Now it has become an integral part of the hiring process. Also, schools have started using this to test and get insight into the student's skills and abilities. Let's take a look at the types of these online tests.
   Looking for Online Assessment Software? Check out the best online assessment software.
What are the Types of Online Assessment Tests?
There are over twenty kinds of online assessment tests. Some of the most well-known tests include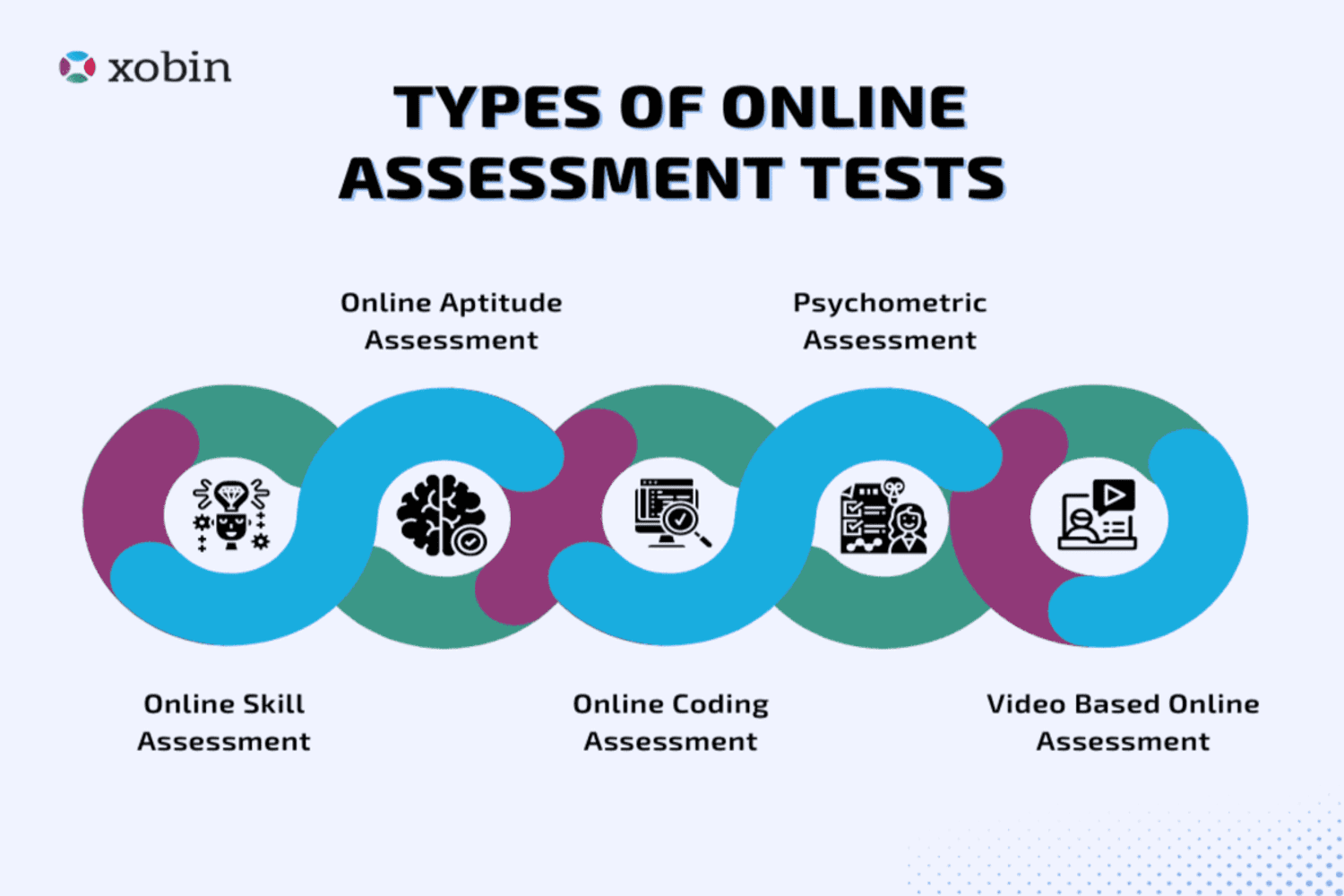 Online Skill Assessment:
To check a person's knowledge and the skill in a field institutes may conduct these online skill assessment tests. This test gives insight into his knowledge in the field.
Online Aptitude Assessment:
An aptitude test can help determine a person's IQ, reasoning ability, and problem-solving skills. With these screening tests, institutes may get a clear view of a person's ability to work under pressure. Also, by conducting such a test, they can determine the right fit for the position.
Online Coding Assessment:
We can test a person's coding capabilities in this type of test. These tests are there to test the developer's potential and technical competency.
Psychometric Assessment Test:
A psychometric assessment test consists of questions to measure the person's abilities. Ability to match the extent required for the role.
Video-Based Online Assessment:
In these video-based screening tests, candidates need to watch the videos with complete attention. Afterward, they have to answer the questions based on them. Most companies and institutes use these tests to know the candidates listening and attention skills.
What are the types of questions asked during the assessment?
For each type of screening test, the question structure is different. Let's see how what are the different types of questions to be asked in these tests;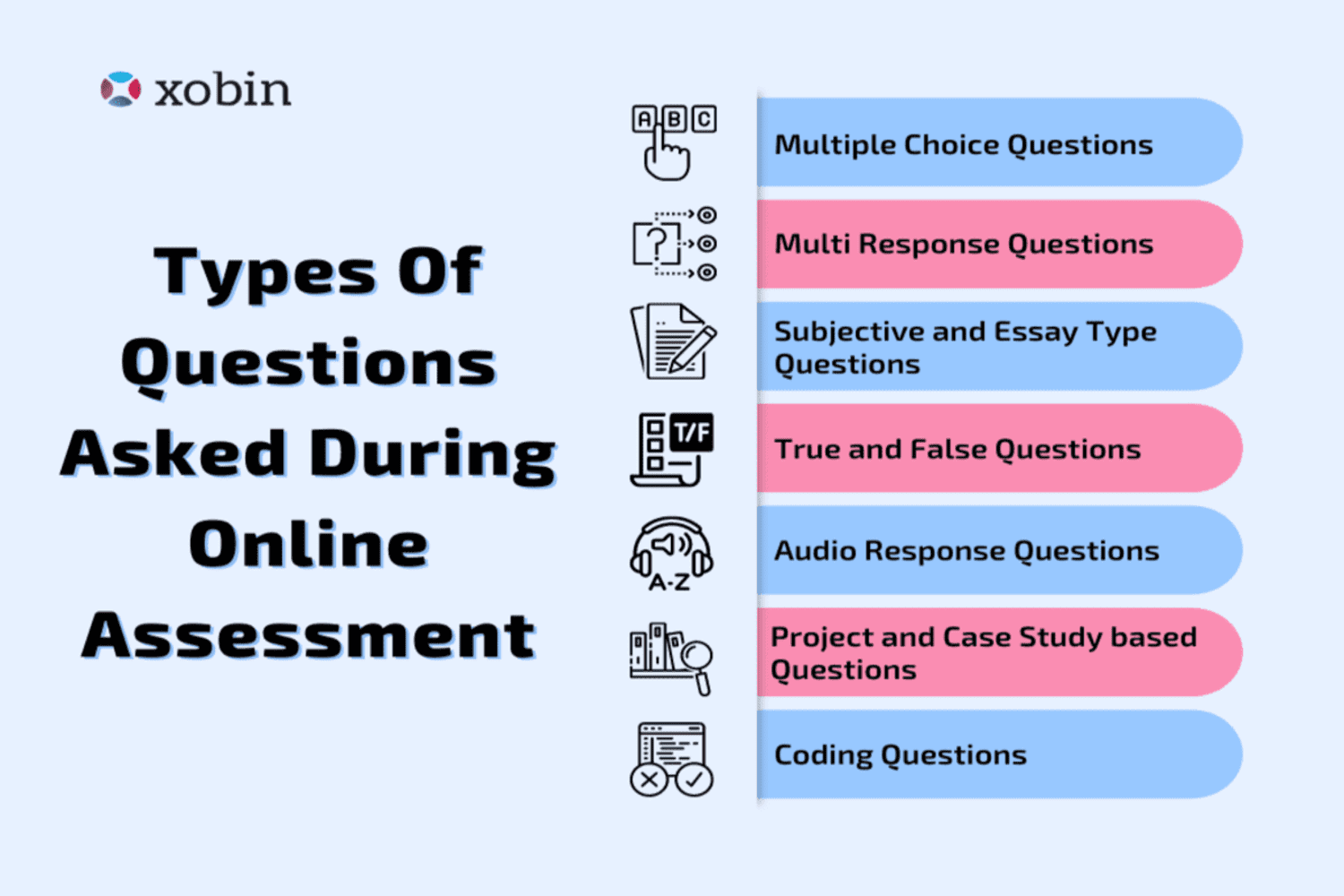 Multiple Choice Questions
In this type, candidate has to choose one option out of the options available.
Multi-Response Questions
Here a candidate can choose more than one option they feel is right.
Subjective and Essay Type Questions
In these types of questions, candidates can express their opinions with all freedom. These questions are very helpful in knowing the character and values of candidates.
True and False Questions
According to the statement in the question, candidates have to choose whether it is true or false.
Audio Response Questions:
The candidate will have to hear the sound clip in these questions first. Afterwards, they have to answer the questions based on it.
Project and Case Study based Questions:
Project and Case study-based questions are constructed in a way to get clarity about a candidate in the field. These questions can be about a topic, the company, or the project case study.
Coding Questions:
These questions are mostly asked to know a person's knowledge of coding languages. Coding languages such as Java, C++, Python, and SQL.
Uses of Online Assessment Tools
Online assessment tests are being used in varieties of fields. For every different field, the purpose of these tests is different. Let me walk you through how different fields can use these assessment tools.
Best HR Software Solutions
Campus Recruitment Software
With our online campus recruitment software screen, hire top talents hassle-free. Everything is under one platform, from test creation to the candidate's evaluation. from test creation to the candidate's evaluation.
Rating 5.0
Based on 321 user ratings
API Integration by Xobin
Get integrated and harness the strength of robust assessments with Xobin APIs. Save sweat and time and focus on your core offering, not building your assessment stack. from test creation to
Rating 5.0
Based on 321 user ratings
Coding Skill Assessment Software
With our 100+ coding assessments on various languages such as Java, Python, JavaScript, React, Angular, etc., evaluate and hire the best-talented developers. from test creation to the candidate's evaluation. to the candidate's evaluation.
Rating 5.0
Based on 321 user ratings
Pre-Employment Testing Software:
Get access to the vast library of validated tests to screen candidates using online assessments. Simplify your recruitment process with our cloud-based Pre-employment Testing Software. from test creation to the candidate's evaluation.
Rating 5.0
Based on 321 user ratings
Pre-recorded Video Interview Platform:
Pre-recorded Video Interview Platform allows candidates to fully express themselves to a pre-recorded question. So that you can get more insight into candidates in far less time than a traditional phone interview. from test creation to the candidate's evaluation.
Rating 5.0
Based on 321 user ratings
For Education Institutes:
With the epidemic, we have seen a big shift happening in the educational sector. Institutes are forced to adopt the new tools and available software solutions to test their students and educate them virtually. With the help of these tools, teachers will be able to create and conduct tests online. The main advantage of these tools for teachers is that they can test a higher number of students at once and get the result fast.
This way, teachers will understand students' learning and academic abilities and skills.
Institutes may use these tools to take the right step toward student learning and strategies to improve.
Learn more about top online assessment tools for teachers.
For Hiring Managers:
For hiring managers, the assessment tool helps them to improve the hiring process. These tools help find the right talent and increase the quality of the candidates that move through the hiring process.
The hiring process can measure aptitude, technical skills, and capabilities.
Learn more about top online assessment tools used in hiring.
For Learning and Development:
For an employer, hiring a candidate and training them costs a lot, which takes a lot of time. As a result, companies focus more on employee engagement and development and less on hiring new talent.
With this change in the company, they can understand where their employee needs training. The use of pre screening tests will help employers get insights into the skill gap of staff. After finding the skill gap, they can create a growth plan. Then after measuring the employee growth, the employer should conduct a post-training test to check the growth.
Why Choose Online Assessment?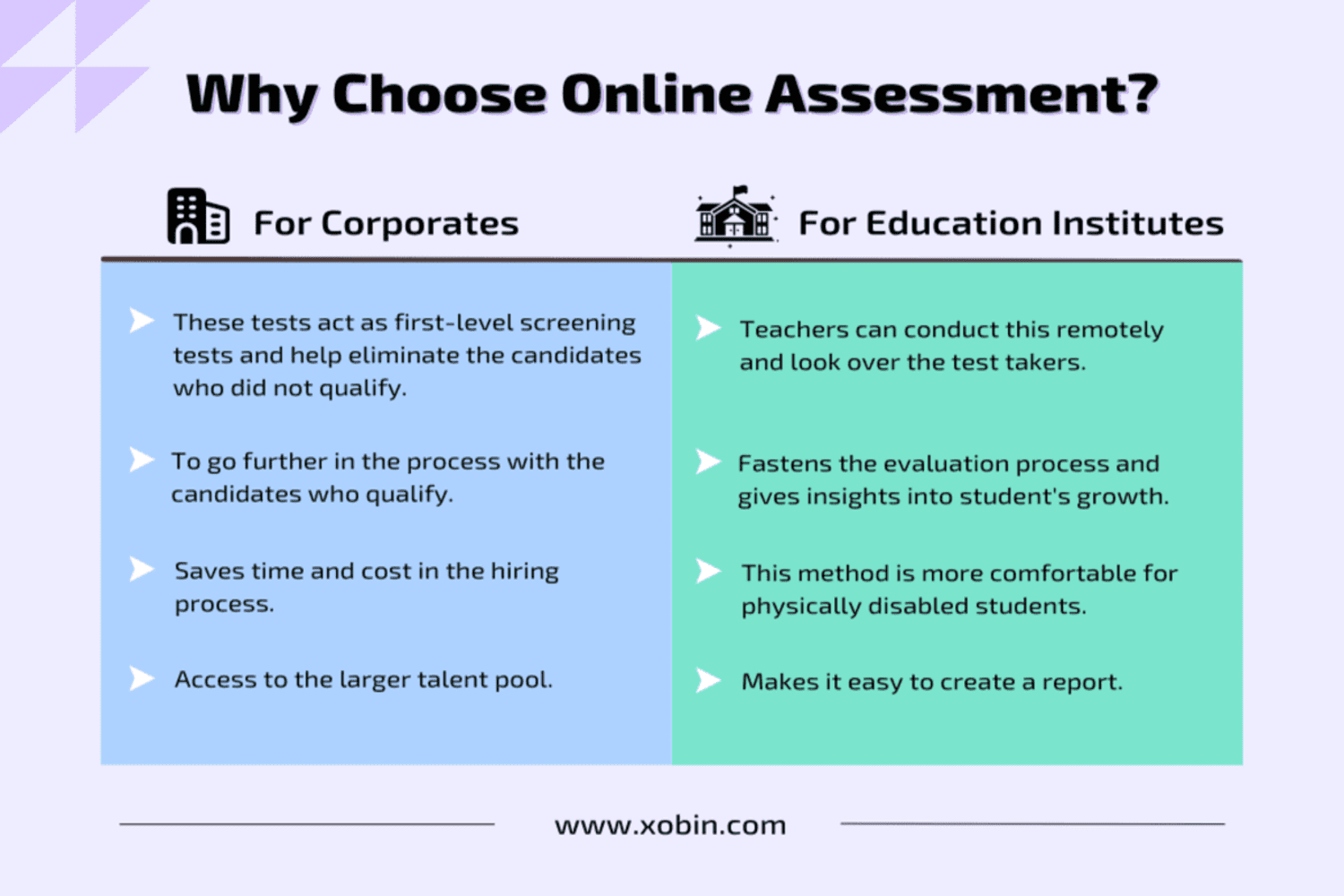 For Corporates:
The online assessment helps to hire managers more than any other way these days in the hiring process, such as;
These tests act as first-level screening tests and help eliminate the candidates who did not qualify.
To go further in the process with the candidates who qualify.
Saves time and cost in the hiring process.
Access to the larger talent pool.
For Education Institutes:
In institutes a time to time, the conduct virtual online assessments will help teachers and students in many ways as;
Teachers can conduct this remotely and look over the test takers.
Saves time and effort.
Fastens the evaluation process and gives insights into students' growth.
Makes it easy to create a report.
This method is more comfortable for physically disabled students.
Conclusion:
Therefore, with the fast changes in recruiting and the educational sector, online assessment has become more popular. These changes are being adopted quickly in the corporate and educational sectors. As a best practice, companies and the educational sector should use the available tools in the market. The bottom line is, that these tools and screening tests are more efficient in giving advanced results and save a lot of time in both sectors.