Artificial Intelligence (AI), an ability of a computer program to think and learn with the help of algorithms designed by mankind. This invention seems to be dominating the world for the past few years. Although there is a never-ending debate over 'AI will be stealing our jobs in the future, let's not deep-dive into this. Let me take you through how companies use AI in recruitment.
For now, we shall learn to embrace the ambiguity of the future, take advantage of AI to perform our repetitive tasks, and try to leave the office on time.
   Looking for Recruitment Software? Check out the best recruitment software.
Here is how AI is influencing the recruitment cycle.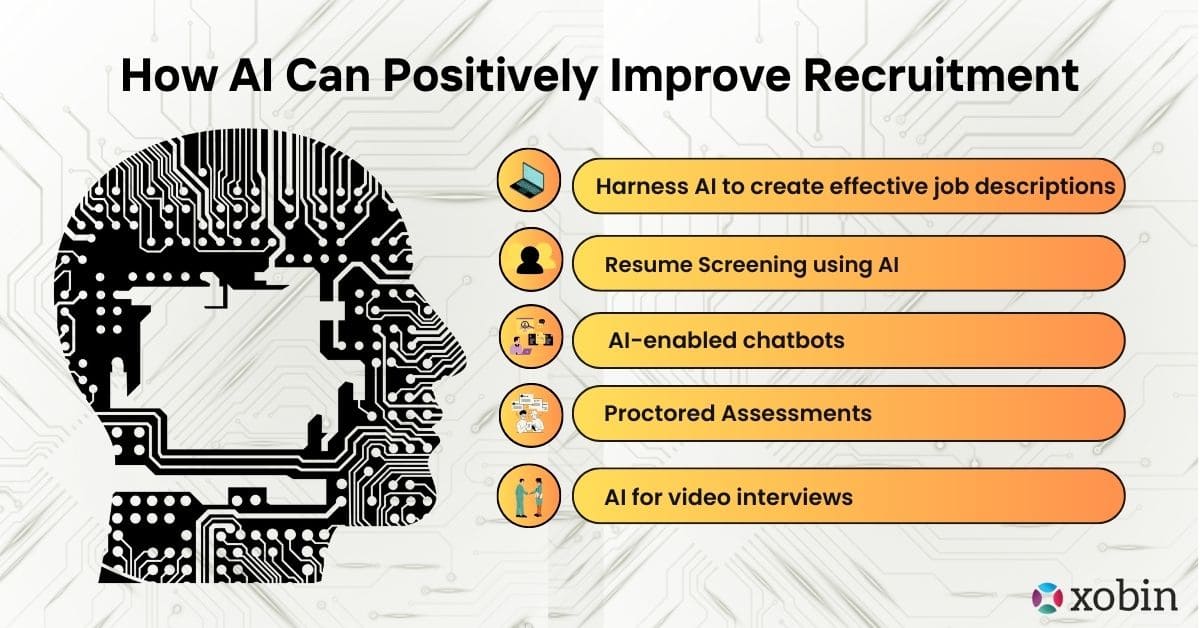 Harness AI to create effective job descriptions
A substantial amount of data is created in each cycle of the recruitment process. When organizations need new talent, they post a job, source candidates, and screen them. Eventually, pick the right ones.
But how to make an interesting job posting to attract a wide range of candidates?
Textio, an augmented writing platform uses an algorithm that ingests 10 million job openings a month. It looks for language patterns and uses them to generate scores that predict how quickly a job will fill and how prevalent gender-biased language is in the post. Companies now seek out Textio an AI content generator,to make gender-neutral job descriptions. revolutionizing the way they connect with a broader talent pool.
Proven research on how the tone of writing the job description influences the gender diversity of applicants.
Resume Screening using AI
Recruiters and hiring managers must be tired of the monotony of resume screening, which is a pivotal part of the recruitment process. According to Glassdoor, on average, a job posting attracts about 250 resumes. But, only 2% of the candidates are called for the interview.
Although recruiters and hiring managers to deploy recruitment software into their recruitment process, they may miss out on candidates whose resumes are not 'algorithm friendly'. A common way recruiters filter resumes in recruitment software is by searching for key skills and titles.
Best HR Software Solutions
Campus Recruitment Software
With our online campus recruitment software screen, hire top talents hassle-free. Everything is under one platform, from test creation to the candidate's evaluation. from test creation to the candidate's evaluation.
Rating 5.0
Based on 321 user ratings
API Integration by Xobin
Get integrated and harness the strength of robust assessments with Xobin APIs. Save sweat and time and focus on your core offering, not building your assessment stack. from test creation to
Rating 5.0
Based on 321 user ratings
Coding Skill Assessment Software
With our 100+ coding assessments on various languages such as Java, Python, JavaScript, React, Angular, etc., evaluate and hire the best-talented developers. from test creation to the candidate's evaluation. to the candidate's evaluation.
Rating 5.0
Based on 321 user ratings
Pre-Employment Testing Software:
Get access to the vast library of validated tests to screen candidates using online assessments. Simplify your recruitment process with our cloud-based Pre-employment Testing Software. from test creation to the candidate's evaluation.
Rating 5.0
Based on 321 user ratings
Pre-recorded Video Interview Platform:
Pre-recorded Video Interview Platform allows candidates to fully express themselves to a pre-recorded question. So that you can get more insight into candidates in far less time than a traditional phone interview. from test creation to the candidate's evaluation.
Rating 5.0
Based on 321 user ratings
Candidates who can predict the correct 'resume keywords' will have the greatest chance of being included in recruiter search results. They can stuff the resume with the right keywords and trick your recruitment software.
Ideal, a Canadian-based startup leverages AI to automate the tedious and time-consuming resume screening processes. Their software integrates with your recruitment software and tries to find more insights about an applicant beyond their resume. Virtual assistant is already trained on "millions of past hiring decisions". So it can quickly adapt to each new client's recruitment process. Thereby, the process can screen a wider set of applicants resulting in higher satisfaction for the recruiters.
AI-enabled chatbots
A chatbot is software that is designed to perform automated and repetitive tasks.
Although enhanced customer service is achieved by using Chatbots, they are now used for enhanced candidate experience for both the recruiters and the applicants. A chatbot is an application to interact with candidates.
They make the first impression on the candidates on behalf of the company. Chatbots create a positive impact on the recruitment system by keeping the candidates updated about the recruitment process. They answer the queries of the applicants about the organization.
Paradox is an Artificial Intelligence (AI) company aiming at enhancing the recruitment process to users through its AI-enabled virtual assistant called Olivia. Moreover, AI tools with GPT-4 powers, like the ones featured at AI tools with GPT-4 powers, are revolutionizing the way businesses interact and automate tasks, further enhancing recruitment processes.
Olivia engages with job applicants through the web, mobile platforms, and other social channels. She interacts with the candidate to know more about them and also takes care of the scheduling part of the recruitment process. she also updates the applicants about the status post-interview.
Proctored Assessments
Are you skeptical about your candidate's integrity and fairness while taking an online assessment?
Deter your candidates from cheating by conducted proctored assessments with Xobin.
AI-enabled proctored tests typically involve monitoring your candidates during an online assessment. This is possible with the help of a webcam, mic, and access to the screen of the candidate. Therefore, AI-enabled proctor observes the student's eye movements or other behaviors that amount to signs of cheating. AI can detect if the candidate opens another browser during a test. It generates a comprehensive report that explains students' activity during every minute of the examination.
This is how an ideal proctored test looks like.
And finally! AI for video interviews
Video interviews are the new trend!!
They are rapidly becoming a pivotal part of modern remote recruiting. Think twice before you lie in your next job interview. Yes, you read it right. AI watches your face's every move assessing the honesty of your answers and your emotions. They can detect facial expressions to capture their moods and further assess their personality traits.
The software, provided by a company called Xobin, helps you to interact with your candidate along with notes from the AI about what it has observed in each candidate. This is most beneficial for both the recruiters and the candidates. It greatly saves the time and cost associated with campus recruiters as they can design their own schedules while selecting a huge number of candidates. The candidates need not worry about the hassle of going for an on-site interview.
The icing on the cake… An unbiased recruitment process
Leave alone recruitment. We as human beings embrace and feel happy for any system that is straightforward and unbiased.
In some cases, we are convinced by our instincts and feelings unconsciously.
AI takes the privilege here. By taking feelings out of the hiring decision, AI can focus on the key skills needed and rank performance metrics to match better candidates for jobs, thereby making the process unbiased.
So, is AI going to take over the entire Recruitment Functional?
Thou shalt worry not!
AI may be great at dealing with processing and objectively evaluating data. But it cannot replace the human element. AI will only be lowering the complexity of the recruitment cycle by taking control of the repetitive tasks. The hiring managers can now enjoy more 'human time' with the candidates. The final decision of selecting a candidate still lies in the hands of hiring managers.
AI is going to makes our lives faster, easier, and way more comfortable than earlier!
To experience user-friendly and reliable AI-enabled assessment tests and interviews, signup with Xobin for a 14-day FREE trial.