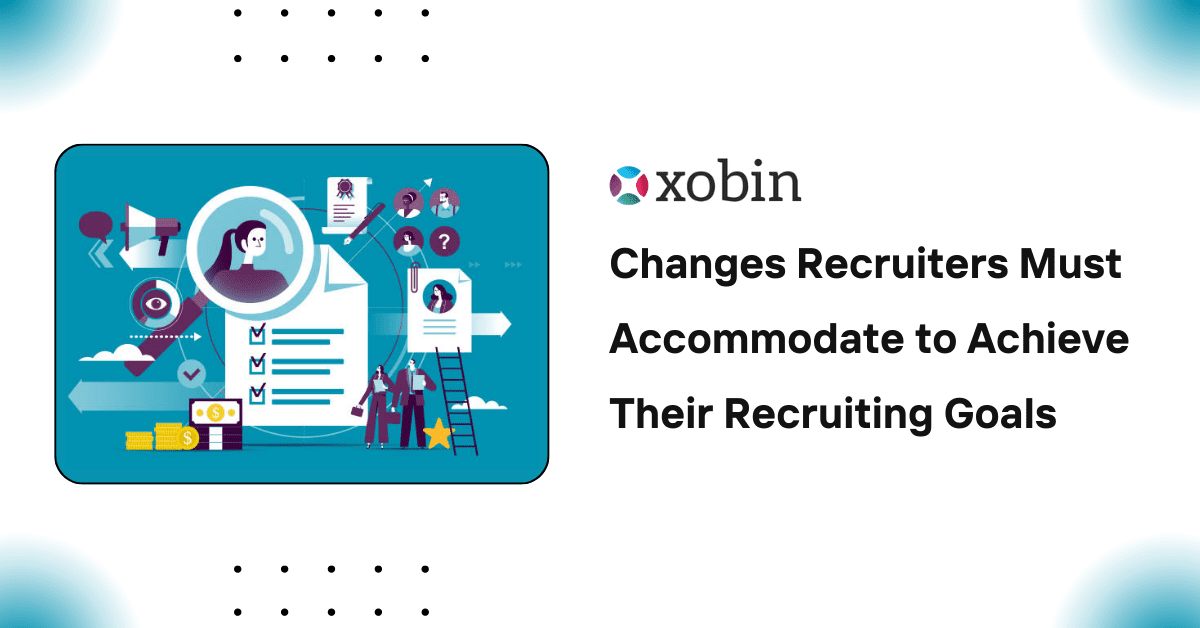 Recruitment remains among the most challenging recruiting tasks that most organizations have to deal with. This makes setting clear recruiting goals vital for recruitment success. However, setting these goals is one thing, and achieving them is another task entirely. Recruiters must put every effort to ensure that they achieve their recruitment goals and improve recruitment outcomes. This can mean evaluating their recruitment strategy carefully to identify areas that need improvement. Then making changes that can help them enhance the success of their recruitment.
Top 6 changes for HR's to consider
In this article, we look at some of the changes that recruiters can consider implementing for their recruitment strategy to continually get better recruitment outcomes.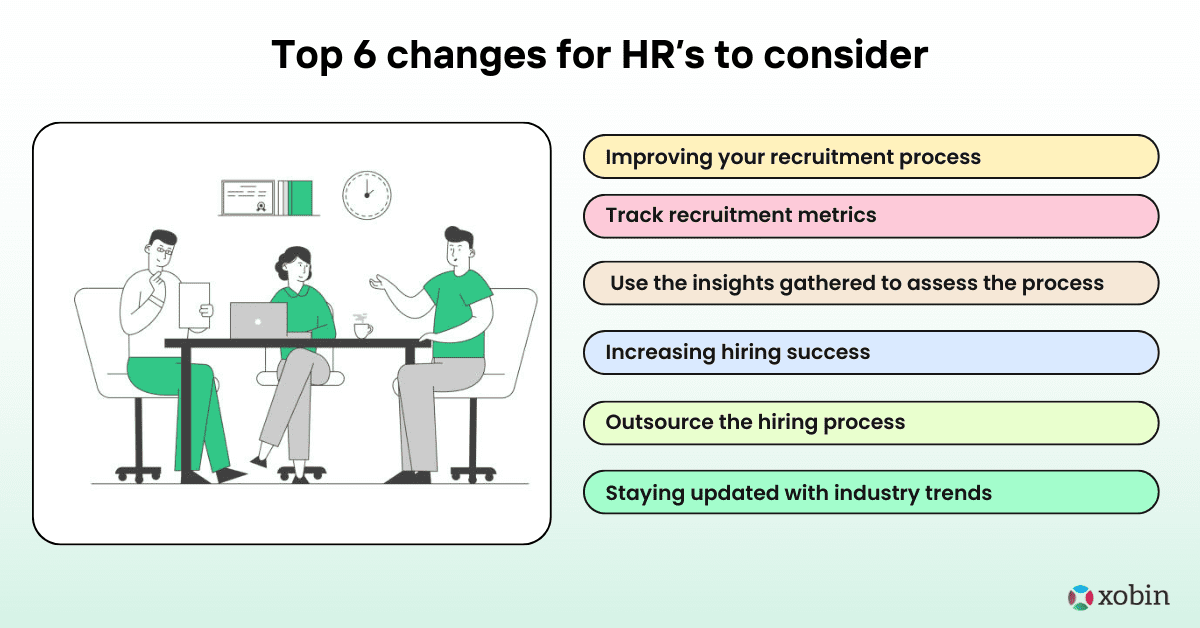 Improving your recruitment process:
To achieve your recruiting goals and see better recruitment outcomes, you need to start asking how you can improve your hiring strategy. What changes can you make to ensure increased hiring efficiency? Here are some KPI and insights on how you can identify changes that you need to make to improve your recruiting process for effective recruiting and increase your chances of realizing your recruiting goals:
   Looking for Recruitment Software? Check out the best recruitment software.
Track recruitment metrics:
Recruiters who adopt a data-driven approach in recruiting are more likely to see better recruiting outcomes and achieve their recruiting goals. Recruitment metrics give you an easy way to obtain essential data and information to help you make better hiring decisions. They allow you to measure the success of the recruitment process in every step from sourcing to onboarding. This helps you identify what's working and what's not so you can make changes accordingly for effective recruiting. However, you don't have to track every other metric that you come across on the web if you are to achieve your recruiting goals. It can get confusing and take your focus from what is important. What you need to do is consider your business objectives and your hiring goals when choosing the metrics to track. Some key metrics that can help you improve hiring outcomes include:
Time to hire – This metric measures the time taken from when a candidate sends in an application to when given the job offer
Quality of hire – This measures the quality of the new hires. This means hiring individuals who have the right qualifications for the position and fit into the company culture
Cost per hire – This metric lets you know the average cost spent in making a new hire
Source of hire – This metric shows you the candidates' sources where top applicants come from.
Sourcing channel effectiveness – It lets you in on the effectiveness of specific candidates' sources
Offer acceptance rate – This metric compares the number of people who accepted your offer to the number of people you extended your offer to
Satisfaction rate – This tells you about the candidates experience they are having with your hiring process
Use the insights gathered to assess the process:
Each recruitment metric that you track should give you insights into where you need to work to increase hiring efficiency and start seeing better recruitment outcomes. For instance, the time-to-hire metric shows you the speed at which candidates move from one hiring stage to another. If candidates take too long in one stage, then you need to find ways to improve the speed. Likewise, if the offer acceptance rate is low, you need to ask yourself the possible reasons many candidates are declining your offer. Could it be that your compensation is unattractive, or the company culture was a mismatch?
In addition, sourcing channel effectiveness shows you which sources have a high ROI. In sources where there are no good results, you can question the effectiveness of your strategies. For instance, are you targeting the right demographics? Are you tailoring the message to a particular source? Once you identify such areas, improve on them to reach your recruiting goals
Increasing hiring success:
Your hiring process should align with your recruiting goals if you are to attract and hire the right talents for your business. And, if you are yet to achieve your desired recruitment outcome, here are some considerations that you need to make:
Invest in the right software:
Technology can come in handy in ensuring hiring efficiency. It is vital in streamlining recruitment processes to ensure that you fill positions quickly. The right hiring software can help you review resumes quickly, schedule interviews effectively and automate mundane hiring tasks such as posting job ads on different job boards. A reliable recruitment system also helps improve communication with the candidates, enhancing the experience at every stage. Besides assisting you improve hiring efficiency, an ATS can also be valuable in gathering important recruitment data. For instance, you can be able to identify the sources where most applicants are coming from. This way, you know where to add more resources to increase your chances of achieving your recruiting goals.
Best HR Software Solutions
Campus Recruitment Software
With our online campus recruitment software screen, hire top talents hassle-free. Everything is under one platform, from test creation to the candidate's evaluation. from test creation to the candidate's evaluation.
Rating 5.0
Based on 321 user ratings
API Integration by Xobin
Get integrated and harness the strength of robust assessments with Xobin APIs. Save sweat and time and focus on your core offering, not building your assessment stack. from test creation to
Rating 5.0
Based on 321 user ratings
Coding Skill Assessment Software
With our 100+ coding assessments on various languages such as Java, Python, JavaScript, React, Angular, etc., evaluate and hire the best-talented developers. from test creation to the candidate's evaluation. to the candidate's evaluation.
Rating 5.0
Based on 321 user ratings
Pre-Employment Testing Software:
Get access to the vast library of validated tests to screen candidates using online assessments. Simplify your recruitment process with our cloud-based Pre-employment Testing Software. from test creation to the candidate's evaluation.
Rating 5.0
Based on 321 user ratings
Pre-recorded Video Interview Platform:
Pre-recorded Video Interview Platform allows candidates to fully express themselves to a pre-recorded question. So that you can get more insight into candidates in far less time than a traditional phone interview. from test creation to the candidate's evaluation.
Rating 5.0
Based on 321 user ratings
Outsource the hiring process:
Leveraging the expertise of a recruiting agency can be a good step toward effective recruiting. A hiring expert can help you improve the hiring process in so many ways to achieve your hiring goals. For starters, with the extensive network reach, a recruiting agency such as a PEO or EOR can help you find candidates quickly to improve the time for hire and reduce hiring costs. In addition, it can handle salary negotiations and facilitate onboarding, helping you enhance candidates' experience in various stages. However, it is important to compare a few providers to find one that suits your needs. Reading various reviews made by businesses that worked with such providers such as Papaya Global reviews can reveal important insights that can help you make the best decision.
Staying updated with industry trends:
Just like any other industry, recruitment trends keep evolving as new technology emerges and business dynamics change. If you are to achieve your recruiting goals, knowing what is happening in the industry is important. It helps in aligning your strategy to create a competitive advantage for yourself. You also identify trends that can help you in ensuring effective recruiting and achieving hiring goals. 
How is that possible?
Helps you make realistic recruiting goals – The key to achieving your hiring goals is to ensure that the goals you set are realistic and achievable. For instance, if you identify a shortage in certain skills, you can tailor your strategy to attain a competitive advantage. This can include offering attractive packages such as higher salaries and flexible schedules.
Helps you identify where to source candidates – How job seekers look for open positions change with the times. For instance, with the rise of social media, most individuals are using the platforms to search for potential employers. Understanding this trend can help you create a compelling employer brand on social media to attract such candidates and meet your recruiting goals.
Helps you identify new technologies – Technology plays an important role in ensuring hiring efficiency as said earlier. You need to keep track of emerging recruitment technologies to make sure that you are not left behind. New technologies such as AI, NLP, and RPA can come in handy in achieving your recruiting goals. For instance, AI is crucial in eliminating bias in candidate selection to help you achieve diversity and inclusion goals.
Enhancing candidate experience:
In a world of skills shortage and war for talent, making sure that candidates have exemplary experience can easily set you apart from the rest. And, this could be the major change that you need to make to achieve your recruiting goals. Some of the ways to improve candidate experience include:
Writing job descriptions that are clear and easy to comprehend
Making your application process easy and mobile-friendly
Ensuring effective
communication throughout the process
Following up with applicants early and often
Making
sure that interviews are organized
Giving candidates undivided attention during interviews
Allowing feedback from candidates
Addressing common recruitment goals and challenges:
Another important aspect of effective recruiting to achieve recruiting goals is to address recruitment challenges. What is that one thing that you are struggling with that is probably hindering you from achieving your hiring goals? Are you struggling in finding the right candidates, eliminating hiring biases, offering a good candidate experience, hiring faster, hiring for multiple positions at the same time, or engage passive candidates?
Identifying your challenges brings you closer to realizing your recruiting goals. Then find solutions to your challenge. For instance, if you are finding it hard to attract the right talents, writing clear job ads can help you with that. You can also try including knock-off questions in your application form to filter out unqualified candidates. Other recruitment practices that can help you address common challenges include training your hiring team, investing in ATS and the latest technology, building a talent pool, and diversifying your recruitment strategies among others.
Conclusion:
Setting hiring goals is important in ensuring that you are hiring the right talents quickly and cost-effectively. To realize the goals, however, you need a solid recruitment strategy in place. Now is the time to look at what you are currently doing and identify changes that you need to make to enhance your strategy.