Introduction
Hiring in 2022 has gone through a paradigm shift, where we revamped the strategies and practices to accommodate the needs and expectations of both the recruiter and the candidate. In 2022, we will introduce a new hiring process to serve you better. It's a streamlined, more efficient system that makes it easy to search and apply.
What is the hiring process?
The hiring process refers to a mechanism used in the recruitment of employees. The most important part of this process is how an organization finds talent through interviews and assessments or sourcing job descriptions that will inspire qualified candidates. In short, companies want to ensure their hiring process is efficient, effective, and well-managed to land the best possible talent for the position.
   Looking for Hiring Software? Check out the best Hiring Software solutions.
For example, if a company is looking for a machine learning expert, taking into consideration a machine learning engineer hiring guide would help make the right decisions right from the start".
Steps like applicants will undergo a thorough on-call interview, pre-screening test, skill tests with interviews and drug tests to come. If a candidate is hired, the process continues after the initial employee starts working on-site. After that, you'll need to fill in your employees paperwork, conduct exit interviews and maintain training records.
What does the hiring process involve?
A hiring process is a series of steps a company goes through to hire key workforce members. The steps can vary by industry but typically involve reviewing applications, interviewing applicants, shortlisting the candidates and making offers.
Typically in small and medium organization's the hiring process begins with a phone screening and an in-person interview. After reviewing each resume, an interview may be necessary to determine whether there's sufficient interest for that person to continue with the interview process. Then, the recruiting team conducts skill and behavioral tests, testing the candidate for their flexibility and reliability. After these tests, HR experts review all applications and shortlist the candidates. Managers and HR experts scale these candidates on a scale of one to five. The last step of an effective hiring process is an efficient onboarding process.
So hiring is the procedure that starts the moment the vacancy is created to the point when the vacancy gets filled to proper onboarding. Let me take you through each of these steps one by one.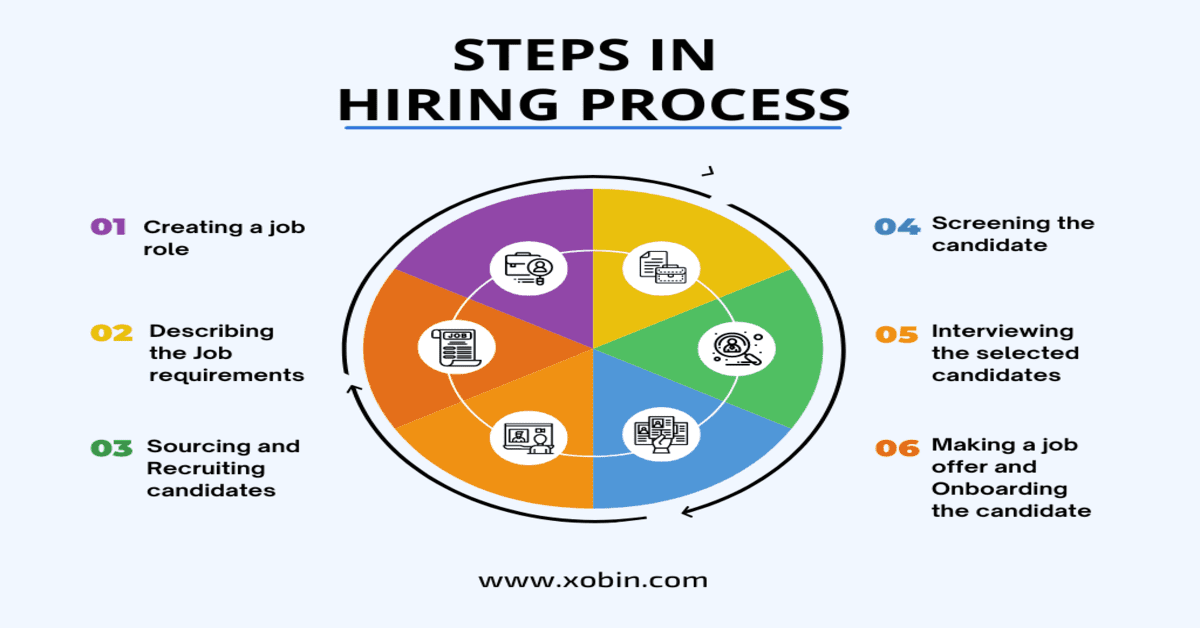 Creating a job role
Hiring a new employee can be a scary process. This step involves making sure you research, understand the company culture, and get someone who is a good fit for your team. On the other hand, hiring is based on the company's financial, operational and human resources (HR) needs. It involves weighing various factors such as the skills, experience, capabilities and motivation of candidates. All these against job requirements and expected performance. Before hiring, do a cost-benefit analysis to determine if the employee will produce enough revenue. In order to cover the costs of recruiting and employing them. On the other hand, you may be better off using a freelancer.
Describing the job requirements
A job description is a document that explains the duties and responsibilities of the job to both you and the hiring manager. It might include a list of skills needed to perform the tasks listed in the position. Also, typical hours worked and work environment details such as requirements for dress code and office equipment. This includes a set of criteria that we expect you to meet and deadlines for the proper completion of work.
Sourcing and recruiting candidates
To make a successful hiring organization needs to collaborate with reliable sourcing platforms. On the other hand, management should include referral programs for their current employees. This way there are high chances of making a fast sourcing of the candidates and successful recruitment of candidates.
Screening the candidate
To find the best candidates, first screen your applicants. Hence, you will get clear insights into their resume and personality traits. Afterward, review their original resume and any relevant work experience or education to ensure they are a good fit. These way you will know they have the skills needed to perform at our level.
Interviewing the selected candidates
Once you are finished with the screening, the candidates then select and shortlist the candidates then begin the interviewing process. The team will meet and coordinate interviews with each candidate to review their skills, backgrounds and motivation to work with you.
Making a job offer and Onboarding the candidate
Managing your talent pipeline and onboarding new team members is fundamental to success. Therefore, creating a job offer and Onboarding, the candidate are critical activities that can't be missed. When it comes time to make your offer, send a great job offer letter template explaining everything you're offering, including paid time off, any perks or allowances for equipment, etc. This communication between the job offer and Onboarding will ensure candidates experience what it's like to work for your company.
Best HR Software Solutions
Campus Recruitment Software
With our online campus recruitment software screen, hire top talents hassle-free. Everything is under one platform, from test creation to the candidate's evaluation. from test creation to the candidate's evaluation.
Rating 5.0
Based on 321 user ratings
API Integration by Xobin
Get integrated and harness the strength of robust assessments with Xobin APIs. Save sweat and time and focus on your core offering, not building your assessment stack. from test creation to
Rating 5.0
Based on 321 user ratings
Coding Skill Assessment Software
With our 100+ coding assessments on various languages such as Java, Python, JavaScript, React, Angular, etc., evaluate and hire the best-talented developers. from test creation to the candidate's evaluation. to the candidate's evaluation.
Rating 5.0
Based on 321 user ratings
Pre-Employment Testing Software:
Get access to the vast library of validated tests to screen candidates using online assessments. Simplify your recruitment process with our cloud-based Pre-employment Testing Software. from test creation to the candidate's evaluation.
Rating 5.0
Based on 321 user ratings
Pre-recorded Video Interview Platform:
Pre-recorded Video Interview Platform allows candidates to fully express themselves to a pre-recorded question. So that you can get more insight into candidates in far less time than a traditional phone interview. from test creation to the candidate's evaluation.
Rating 5.0
Based on 321 user ratings
What are the advantages of having a hiring strategy?
Having a properly planned hiring plan makes you stand out from the crowd as one of the credible recruiters. It, of course, saves time and it is indirect marketing for your organization. Having a hiring strategy is, in many ways, advantageous for both the recruiters and employees. It brings the A-game candidates to the organization who fit well with the needs and culture of your organization. Statistical research shows that it takes roughly around 20 business days to hire a right fit candidate. Hence, the proper hiring strategy can substantially reduce the time to 7 to 8 days.
On the other hand, an improper hiring process would cost the company in many ways, from wasting resources to wasting time. A proper recruitment plan benefits not only the organization but also the candidates by saving their time. Let me take you through the benefits of effective hiring practices that involve recruiting the right people and maintaining clear communication with the candidate.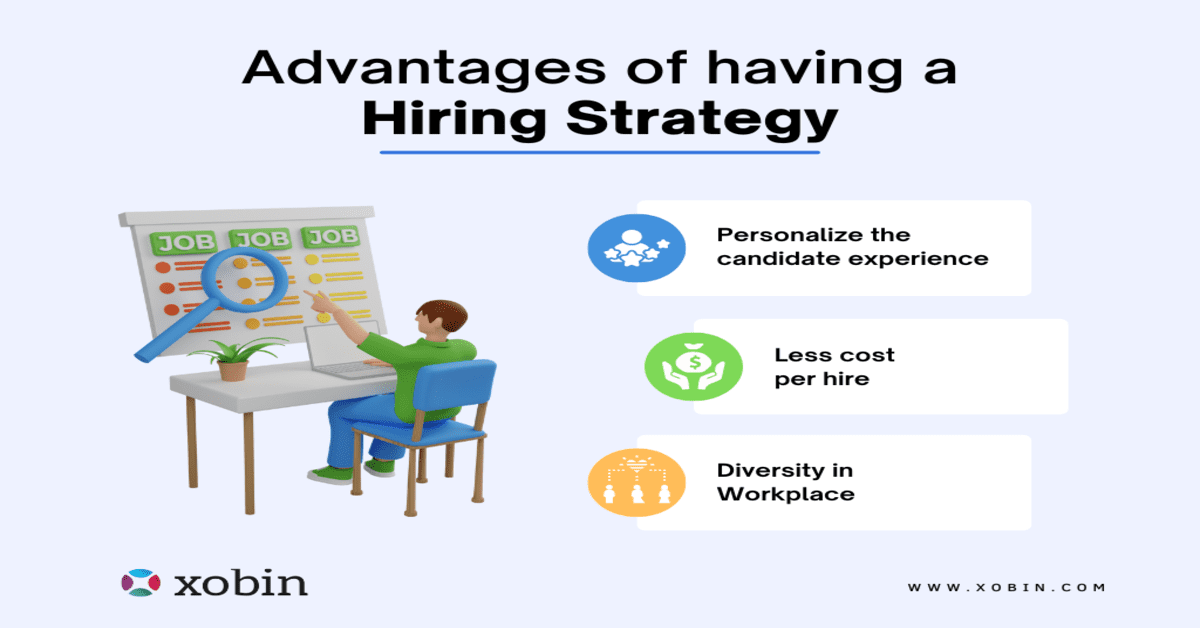 Quality of applicants
Quality of applicants is a critical factor in hiring, and we are committed to continually improving the quality of our applicants. Our hiring strategy begins when an employee estimates how many new employees will be needed in the next year. Also, what a project needs and evaluates candidate qualifications accordingly.
A proper hiring strategy will come in handy where mass recruitment is a need, i.e., hiring in colleges that involves handling numerous candidates in a short period of time. With the present requirements, following the old recruitment process would be a hectic process.
Less cost per hire
With the increased focus on hiring efficiency, companies have realized that the first step in a successful hiring process is identifying what needs to be hired. By creating a job description, hiring managers are able to clearly articulate all that is necessary for new employees to do, resulting in less cost per hire and fewer hires than other methods of hiring.
Diversity in Workplace
To increase diversity in the workplace, we suggest having creative and innovative ways for employees to share their thoughts. Thoughts on diversity as well as giving them the chance to learn from each other. This wasn't only through webinars or presentations done online, but also by creating an open-door policy. Also, for any member of the team interested in leading a discussion about anything and everything. Therefore, by making this process an interactive experience your employees will have to get a chance to see how similar they are. On the other hand, how much further apart they are from each other.
Best practices for hiring in 2022?
With hybrid working models as a choice of the present years recruitment is changing since the last decade. Recruitment methods are integral part of hybrid modes or fully remote roles. The best hiring process in 2022 would be screening the candidates with ATS for skill and psychological assessment, coupled with video interviewing, where the candidates or the recruits can do the job at their comfort. In the best bulk practices, this streamlined hiring process reduces the time and resources but increases productivity for the recruiters and candidates.
Personalize the candidate experience
Personalize the candidate experience by providing thorough information about your company and its values, so that the candidate can discover your strengths and potential to become a great fit. Every candidate should feel valued and appreciated throughout the entire hiring process.
Streamline hiring process and onboarding
Streamline your hiring process into a seamless experience that puts the focus on what matters most: finding great people, maintaining their value and building a team you can be proud of. With this strategy, you will discover and develop your best candidates, reduce turnover and hiring errors, and save on recruitment costs all while increasing your employee satisfaction and productivity.
Train your new hires
Adding a new hire to your company is a big challenge. At this point, it's critical to hire employees who can learn and adapt quickly. But it's also a tricky balance of making sure you're hiring qualified candidates and keeping your hiring process effective without feeling any stress. So train your new hire based on two core principles;
Train for effectiveness, not efficiency.
Train as an entrepreneur, not an administrator.
How Xobin Helps in your hiring process?
Xobin is one of the best assessment platforms that help in screening candidates, coupled with XoForms helps in hiring the best candidates for your organization. Xobin's platform has a dedicated question library for all job roles, where the questions are updated periodically to ensure quality. Just choose from the list of questions, give out the test and find the right candidate.
Xobin's platform also helps in testing the candidates on their psychometric ability, which finds you the right and culture fit candidate. We have a new feature called the video interview, where you can allow the candidate to record a short video that might be a self-introduction of the candidate, which cuts down the necessity of meeting the candidate in person. This greatly reduces the time for the recruiter and the candidate.
Hiring is made much more simplified with Xobins new product XoForms. XoForms is the platform where you can create a job form or create a job listing and get candidate's information without stuffing between tabs. With XoFroms, you can also customize your career page.