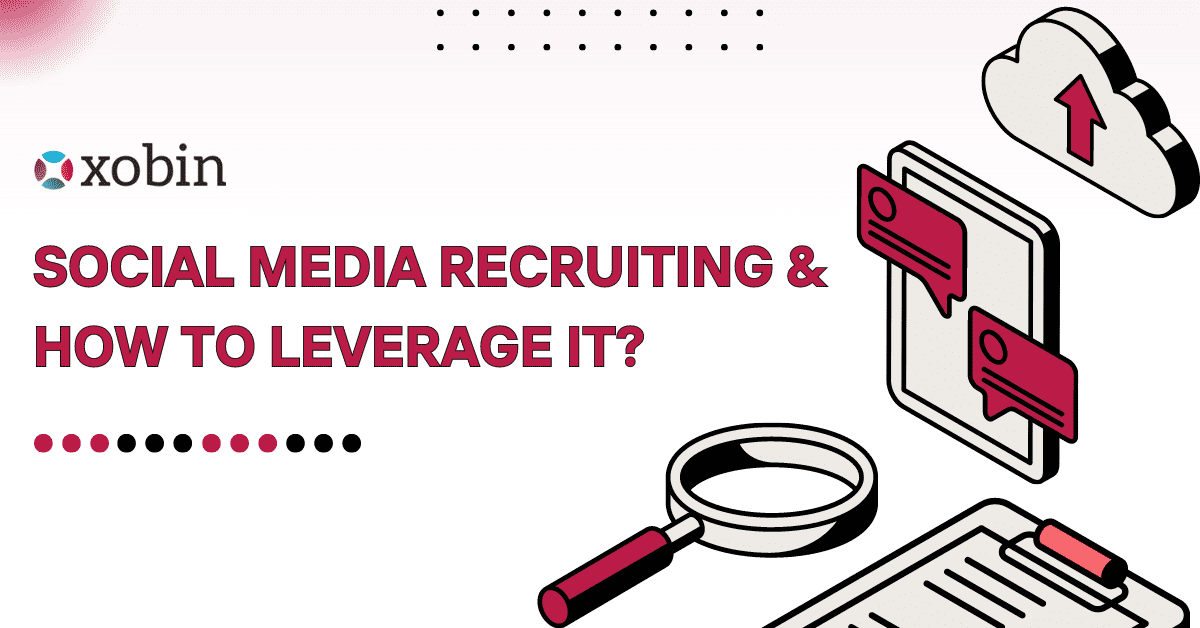 Social media has completely changed how we engage and communicate with one another in the modern digital world. Using social media channels to discover, attract, and hire new employees is known as social recruitment. It's not surprising that social recruiting has grown in popularity. As a result, as for businesses to locate and attract top talent. On the other hand, there are currently over 3.96 billion active social media users worldwide. Using social media channels to locate, entice, and interact with potential candidates is known as social recruitment. We'll talk about social recruiting in this blog and how businesses can use it to identify the finest people for their workforce.
What is Social Media Recruiting?
Using social media sites like LinkedIn, Twitter, Facebook, and Instagram to find and hire new employees is known as social media recruiting. It serves as an alternative to conventional hiring practices like job boards, personal recommendations, and recruiting firms. With the help of social recruitment, businesses may establish connections with potential hires before they even apply for a position.
Corporations also embed social media feeds on websites. In result, it helps them to provide dynamic and authentic views of the company's culture, values, and day-to-day activities. So, this helps potential candidates understand if they align with the organization's ethics and makes the decision-making process simpler for the employees.
Benefits of Social Media Recruiting: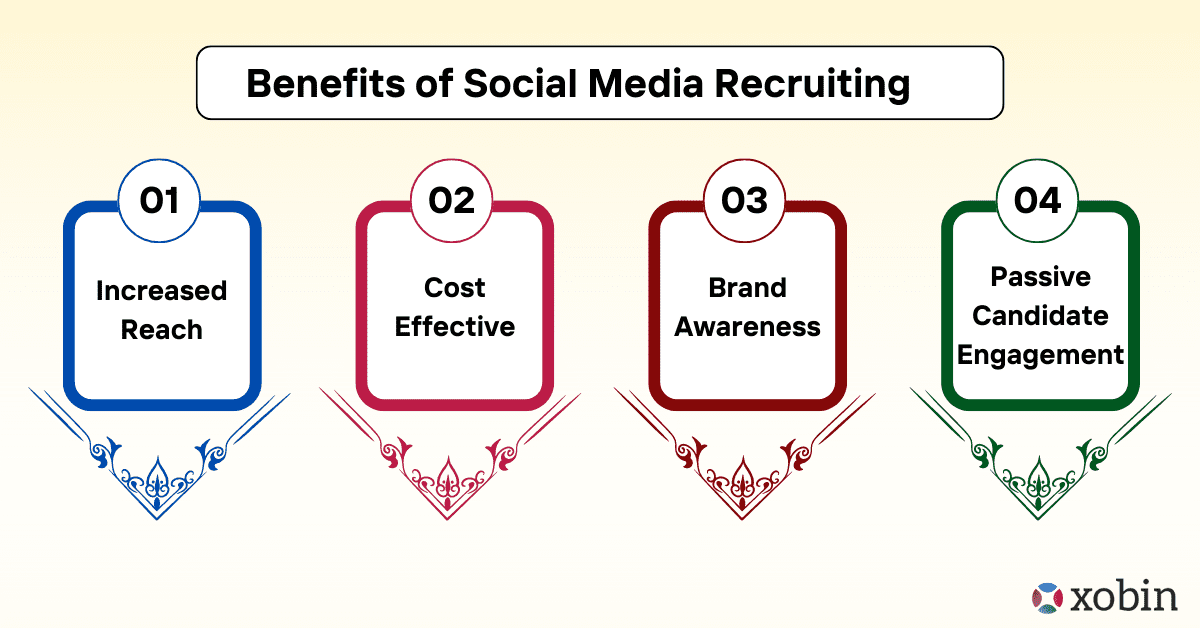 Increased Reach:
Social media sites like LinkedIn, Facebook, Twitter, and Instagram have transformed the hiring process. Also, Tiktok views enhance the branding and helps in beating the competition. In fact, according to a study, 55.5% of brands prefer TikTok over other platforms for influencer marketing. Like by giving businesses a quick and affordable means to get in touch with a large pool of prospective employees. Social media platforms, which have billions of users globally, enable businesses to access a wider audience. Also, advertise their job openings to a variety of people, including passive job seekers as well as someone who are looking for a change.
Interestingly, social media recruiting gives businesses the chance to develop their employer brands and highlight their mission, culture, and values to draw in individuals with similar ideas and values. Organizations can speed up their hiring procedures with remote proctoring and improve their chances of discovering the ideal applicant for open positions by utilizing social media.
   Looking for Talent Sourcing Software? Check out the best Talent Sourcing Software solutions.
Cost-Effective:
To locate and attract multigenerational workforce for open positions, firms are increasingly turning to social recruiting. Social recruiting is frequently viewed as a more economical alternative to traditional recruiting techniques like job boards and recruitment firms. This is because a lot of social networking sites let you post jobs for free, which makes it a cheap option for companies to find people without having to spend a lot of money. Social recruiting is not only cost-effective, but it also gives companies access to a larger talent pool and lets them interact with job seekers who may not be actively looking for new positions but are open to new opportunities if they come across an alluring opening on social media.
Brand Awareness Using Social Media:
Using social media recruiting to enhance brand recognition and draw in candidates is a successful technique for businesses. Organizations can use social media channels to highlight their corporate culture, values, and mission, which can assist in raising awareness and spark interest among job candidates who share their objectives. Organizations can position themselves as an employer of choice and set themselves apart from their rivals by disseminating interesting and educational content like employee reviews, job openings, and business events. Increased engagement and a stronger employer brand awareness may result from this, which may aid in luring top personnel and boosting retention rates. In general, social recruiting is a formidable tool that may connect businesses with potential employees and help them create a strong talent pipeline for the future.
Best HR Software Solutions
Campus Recruitment Software
With our online campus recruitment software screen, hire top talents hassle-free. Everything is under one platform, from test creation to the candidate's evaluation. from test creation to the candidate's evaluation.
Rating 5.0
Based on 321 user ratings
API Integration by Xobin
Get integrated and harness the strength of robust assessments with Xobin APIs. Save sweat and time and focus on your core offering, not building your assessment stack. from test creation to
Rating 5.0
Based on 321 user ratings
Coding Skill Assessment Software
With our 100+ coding assessments on various languages such as Java, Python, JavaScript, React, Angular, etc., evaluate and hire the best-talented developers. from test creation to the candidate's evaluation. to the candidate's evaluation.
Rating 5.0
Based on 321 user ratings
Pre-Employment Testing Software:
Get access to the vast library of validated tests to screen candidates using online assessments. Simplify your recruitment process with our cloud-based Pre-employment Testing Software. from test creation to the candidate's evaluation.
Rating 5.0
Based on 321 user ratings
Pre-recorded Video Interview Platform:
Pre-recorded Video Interview Platform allows candidates to fully express themselves to a pre-recorded question. So that you can get more insight into candidates in far less time than a traditional phone interview. from test creation to the candidate's evaluation.
Rating 5.0
Based on 321 user ratings
Passive Candidate Engagement :
Finding and attracting top people is essential for firms to be competitive in today's fiercely competitive labor market. It might be difficult for businesses to connect with the finest prospects because not all of them are actively seeking new employment possibilities. Social media recruiting platforms provide an efficient remedy by giving businesses a forum to interact with passive candidates. Organizations can have a strong social media presence that draws top talent they might not have otherwise considered by producing and distributing interesting content that highlights the company's culture, values, and accomplishments. By using this strategy, businesses can increase the talent pool available to them and increase their chances of hiring the most qualified applicants.
Tips for Leveraging Social Media in Recruiting: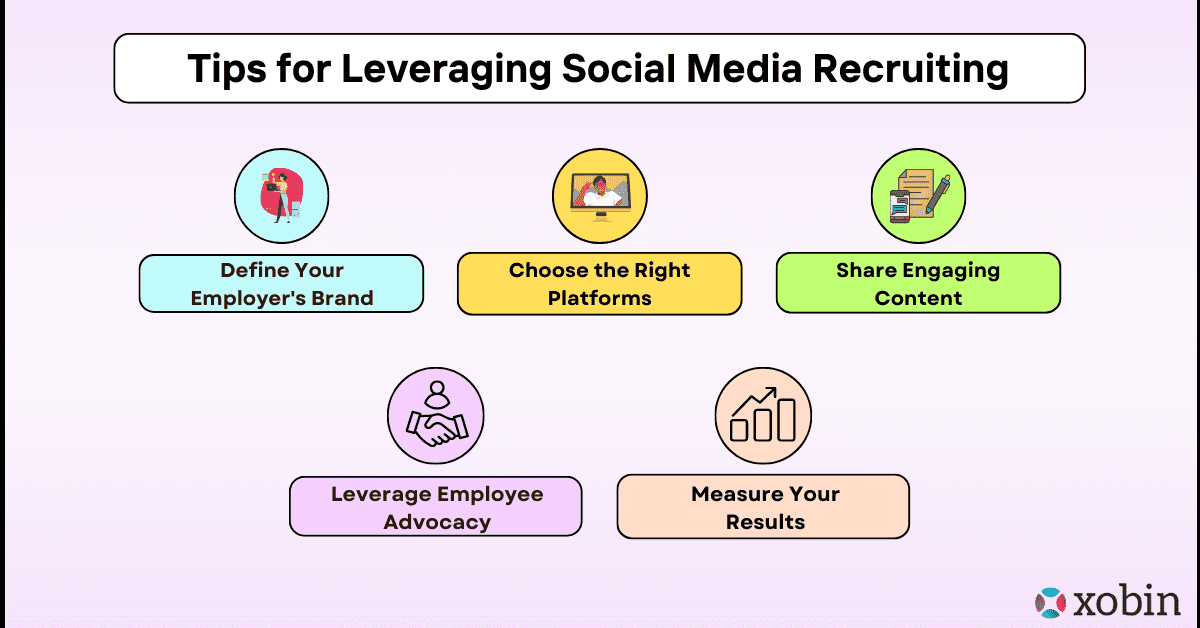 Define Your Employer's Brand :
Establishing your employer brand is essential before using social media in recruiting. This encompasses the culture, goals, and unique selling points of your business. Understanding what makes your company unique will help you develop a social media strategy with a proper backlinking strategy that promotes your employer brand and draws in excellent candidates.
Choose the Right Social Recruiting Platforms :
There are numerous social media platforms accessible, and each one has advantages and disadvantages of its own. It's crucial to select the channels that are consistent with your employer's brand and most pertinent to your target demographic. For instance, Instagram may be more useful for showing corporate culture and interacting with younger applicants than LinkedIn when it comes to professional networking and B2B recruiting.With 90% of its users actively choosing to follow business accounts and 25% of marketers declaring Instagram as the platform with highest ROI, Instagram has made its place as a preferred platform for commercial engagement.
Share Engaging Content:
Building relationships with prospective prospects is the foundation of social media recruitment. Sharing interesting material that promotes your employer brand and benefits your audience is crucial to accomplishing this. Also, you can buy TikTok auto views and grow your reach on it. So, job ads, staff spotlights, behind-the-scenes looks at your workplace culture, and news and trends in your business might all fall under this category.
Leverage Employee Advocacy:
On social media, your staff may be effective brand ambassadors for your company. Therefore, encourage them to post company news and job openings on their social media pages and provide them with the resources they need to do so successfully. As a result, this can broaden your audience and bring in excellent candidates who might not have otherwise noticed your job advertising.
Measure Your Results:
The success of your social media recruiting efforts should also be evaluated. Track your reach, engagement, and conversion rates with social media analytics tools, and change your plan as necessary. You can determine what is and is not working with your results, and then you can adjust your social recruitment strategy for optimal impact.
Conclusion:
In conclusion, social media recruiting can be a powerful tool for attracting top talent and building your employer's brand with diversity recruitment. So by choosing the right platforms, sharing engaging content, leveraging employee advocacy as well as measuring your results. As a result of this, you can leverage social media recruiting platforms to attract the right candidates and build a strong talent pipeline for your organization.