Growth in business is synonymous with hiring. After all, to achieve ambitious goals, companies need a skilled workforce. From tech startups to retail giants, companies are looking to at conducting high volume hiring events to quickly address their staffing needs.
Take the case of Amazon. The retail and tech giant hired 1,25,000 employees in 2021. Now, that is some seriously large hiring volume.
 High volume hiring is easier said than done. A thumb rule to remember is, as the volume increases, the complexity grows exponentially.
To meet these staffing demands, recruiters need to change the hiring process. Digitalizing the recruitment process can make these volume recruitment processes much more efficient. If you haven't yet, now is the time to add these changes to the recruitment process.
No high-volume hiring can be complete without a pre-employment test. After all, this is critical to filtering applicants through the recruitment process.
   Looking for Hiring Software? Check out the best hiring software.
Before going ahead, let's take you through the details of High Volume Hiring.
What is High Volume Hiring?
In the recruitment process, a company has to fill a higher number of positions in a short period. Therefore, this process is defined as high volume recruitment. Automation and software solutions are crucial in making the high volume a success.
The traditional hiring process doesn't work in bulk recruitment when the applicants are in high numbers. Hiring managers need to effectively screen and source the needed talent. According to studies, the replacement of an employee can cost a lot. As a result of this process, the turnover rates have increased, which are up to 2 times that of employee salary. In 2020, it zoomed to 57%. So your business can not afford to make a mistake in volume hiring.
Let us see what strategies you can use to make volume hiring a success.
Strategies to improve High Volume Hiring
According to Jobvite reports, the average job posting attracts less than 50 applicants, and a high volume hiring attracts more than 250 applicants. As a result, companies spent more time screening and shortlisting the candidates for such a high number.
Here are a few techniques for your volume hiring,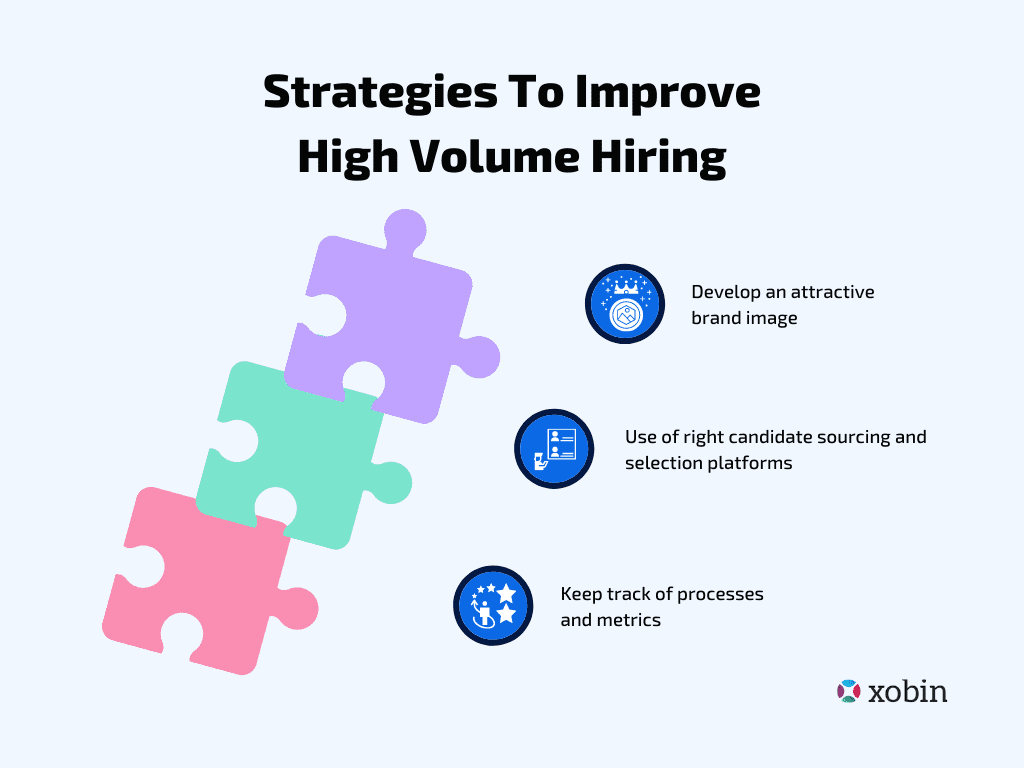 1. Develop an attractive brand image:
To attract new talent to an organization in volume recruitment is all about the brand. Therefore, candidates tend to look for employee activities and the company's digital presence before applying to any position.
Most of the applicants prefer applying using mobiles. So companies should make the application process mobile optimized.
Keep the application process short: According to a business news daily article, applicants don't want to spend more than

15 minutes on an application

. Recruiters can ask for social profiles like LinkedIn in the application form for more insights.
One-click application process using social job platforms or video resumes in the application process.
Show applicants the advantages for them in the job description and the life at your workplace.
The above methods will help in volume hiring as well as create an attractive image and make applicants understand the culture. Also, these methods will create an attractive and fast application process that will attract suitable candidates.
Best HR Software Solutions
Campus Recruitment Software
With our online campus recruitment software screen, hire top talents hassle-free. Everything is under one platform, from test creation to the candidate's evaluation. from test creation to the candidate's evaluation.
Rating 5.0
Based on 321 user ratings
API Integration by Xobin
Get integrated and harness the strength of robust assessments with Xobin APIs. Save sweat and time and focus on your core offering, not building your assessment stack. from test creation to
Rating 5.0
Based on 321 user ratings
Coding Skill Assessment Software
With our 100+ coding assessments on various languages such as Java, Python, JavaScript, React, Angular, etc., evaluate and hire the best-talented developers. from test creation to the candidate's evaluation. to the candidate's evaluation.
Rating 5.0
Based on 321 user ratings
Pre-Employment Testing Software:
Get access to the vast library of validated tests to screen candidates using online assessments. Simplify your recruitment process with our cloud-based Pre-employment Testing Software. from test creation to the candidate's evaluation.
Rating 5.0
Based on 321 user ratings
Pre-recorded Video Interview Platform:
Pre-recorded Video Interview Platform allows candidates to fully express themselves to a pre-recorded question. So that you can get more insight into candidates in far less time than a traditional phone interview. from test creation to the candidate's evaluation.
Rating 5.0
Based on 321 user ratings
2. Use of right candidate sourcing and selection platforms for it:
The problem for an employer these days is looking at candidates in their database. The proper use of ATS in volume recruitment will help them look in their database. Also, filter out the previous applicants as per their job and skill requirements. So this HR tech will help you find the talent in your database upon filling the job description will save the extra efforts in sourcing.
After sourcing applicants, the selection is a task. Using the right platform for selection will save a lot of time in the selection process and shortlist the candidates.
In bulk hiring, pre-employment assessment software helps match candidates with the right skills and characteristics for your roles.
Here are a few things to look out for in a high volume candidate selection platform:
Which can handle a large number of applicants
Customized tests as per role are available.
Automating parts of communication or feedback
Interested? Have a look at the buyers' guide to pre-employment assessment software
3. Keep track of processes and metrics:
In mass hiring, automating the steps of tracking the candidate process will reduce efforts. Keeping track of metrics like their screening and progress on each level is essential.
A few tracks that are very necessary for the recruiters to keep are,
Keeping track of sourcing platforms and spending on it.
Conversion rate per platform
Diversity goals at every step of the hiring process.
To have access to these metrics is more beneficial for future hirings. In addition, the use of this data will help avoid mistakes and make database decisions.
How Can Technology be Used in High Volume Hiring?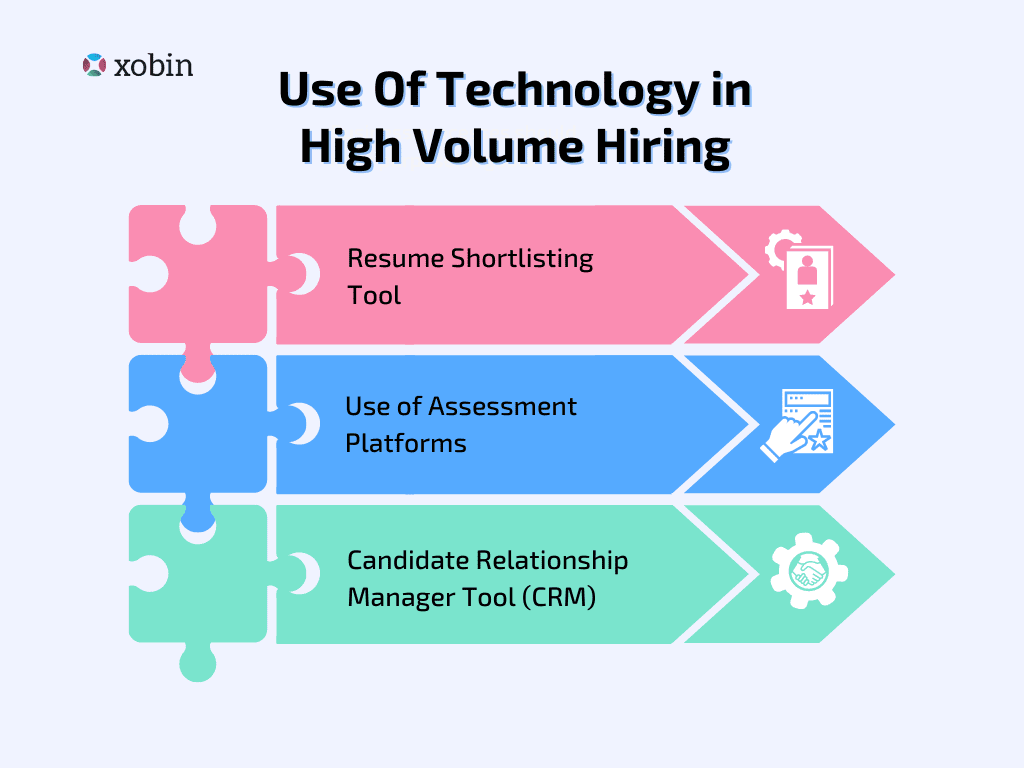 1. Resume Shortlisting Tool:
To manage the flood of applications in the shortlisting, application tracking system (ATS) software can be a benefit.
So how can these tools be used in the resume shortlist?
The talent rediscovery algorithm will automatically screen every resume in your ATS to find the most suitable matches by entering a job description or a keyword according to your profile.
2. Use of Assessment Platforms:
A good platform will help you with all your problems in assessment. So let me take you through some common candidate assessments for volume hiring.
Skills Tests: These types of tests are used to evaluate the required skills of the candidate for the position – for example, typing tests, aptitude or communication skill tests, programming language skills, and many more.
Job Knowledge Tests: These tests are designed to test the knowledge of candidates who already have experience in the field. For example, This can test their task handling skills.
Aptitude Tests: These tests can give insights into candidates' reasoning and problem-solving skills.
Personality Tests: This test gives insights into an applicant's personality. Personality tests are one of the most important parts of the hiring process.
3. Candidate Relationship Manager Tool (CRM):
A CRM tool can be of use in mass hiring to give the applicants the best experience while they are in the application process.
These tools will help build a solid pipeline by creating an automated job alert and hotlist candidates. In addition, automating your ATS using CRM tools will fasten the process and save you time and produce positive candidate feedback.
Conclusion:
In conclusion, large-scale volume hiring comes with challenges and can affect the quality of candidates. To avoid these challenges, managers can research and create strategies to source and leverage to improve the hiring process ahead of time. Hiring managers can use software solutions to achieve hiring goals and master the art of high-volume hiring.