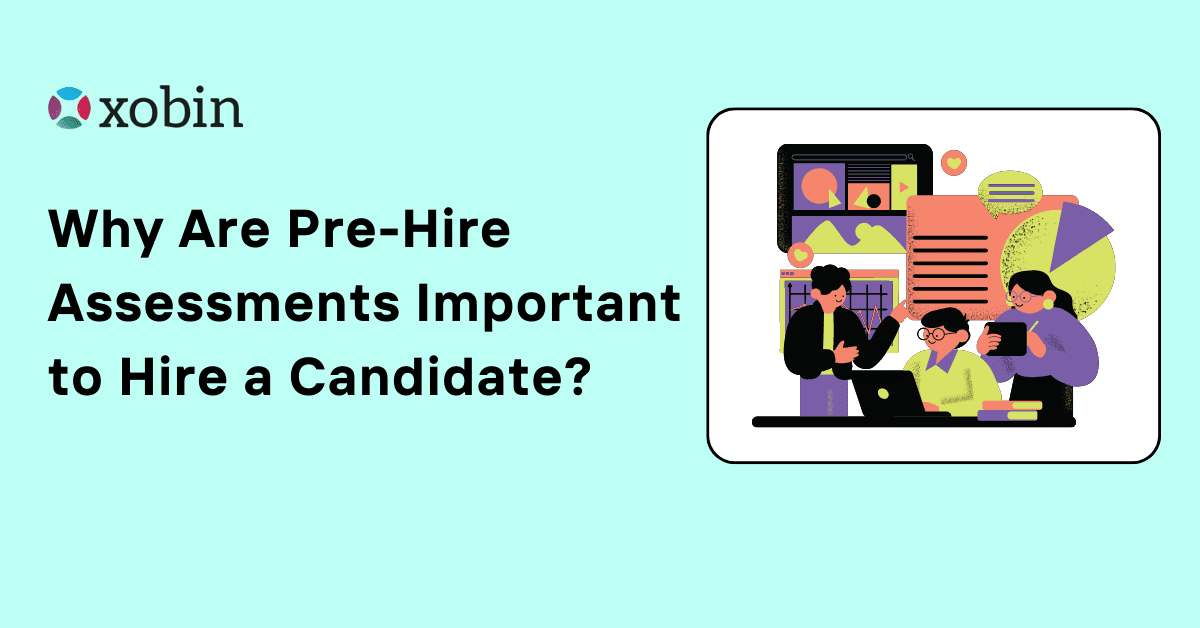 Pre-hire assessments are a standardized tool for gathering data to assess and validate a candidate's ability to perform on a job. Pre-hire assessments and tests aim to reduce the burden on recruiters and hiring managers. They aid in assessing the analytical and logical ability, hard skills, soft skills, psychometry, and domain knowledge of the candidates.
Based on a study conducted by the Economic Times, only 5% of the recruited candidates are the right fit for their jobs in the booming IT sector. Hiring typically takes twice as long and costs twice as much as you think it will. Therefore, it is only fair that applicants for the job go through multiple layers of scrutiny.
Can you imagine the amount of labor that goes into hand-picking a suitable employee? Pre-hire assessments and tests are the founding stone of a well-crafted recruitment process.
   Looking for Pre-Hire Testing Software? Check out the best pre-hiring testing software.
Old and New Recruitment Strategies
A traditional recruitment process generally deals with age-old methods that have been in the picture for quite some time. On one hand, companies follow the old school way of recruitment by sending out paper advertisements detailing the job requirements. On the other hand, they tend to involve employment agencies in the hunt for the right candidates.
Another strategy that traditional methods use is the process of internal hiring where existing employees are promoted to better positions within the organization.
While traditional recruitment processes play it safe, it is definitely not suited for a modern digitized company in the 21st century. Consultancies and employment agencies are inadequate in today's live digital world as the tools they deploy are outdated and inefficient. With the advent of automation and Artificial Intelligence, there are numerous ways to optimize the recruiting process to identify the most eligible candidate.
The Bane of Mis-hiring
Hiring the wrong candidate can be the biggest mistake that an organization can commit. Pre-employment assessment helps to overcome these potential threats by picking an unsuitable candidate who may bring a massive issue for the company.
However, relying extensively on conventional recruitment strategies can put you in a tight spot with respect to the company's productivity and reputation in today's highly competitive business atmosphere. With competitors eyeing your company's roof like a hungry hawk, a pre-employment assessment can be the miracle your firm needs. Resulting in increased accuracy, reduced costs, and a lesser duration to hire make it an ideal option for recruitment.
A pre-employment assessment is a widely familiar way to assess a candidate's skills. These tests are usually a generic way of evaluating the candidate's suitability for the job. A job-specific pre-employment assessment is also available. They are near perfect and custom-made for every job description.
Pre-employment assessment involves a varied set of tests. They range from the initial aptitude test to the complete background check and social media profile analysis. Let's probe into the question of why an array of individual skill tests are important.
How to use Pre-hire assessments the right way?
Skill assessment helps you to screen the right candidates by giving personalized tests. Aptitude, in general, is based on the specific skill set of an individual.
A job aptitude test is how you test the candidate, extensively, on their problem-solving and out-of-the-box thinking abilities. This is the initial screening procedure for the pre-employment assessment.
A person with impressive quantitative aptitude will be better equipped to handle the problems at the turn of events. She/he will possess a knack for cracking such mishaps efficiently and not blow the whistle under pressure.
Best HR Software Solutions
Campus Recruitment Software
With our online campus recruitment software screen, hire top talents hassle-free. Everything is under one platform, from test creation to the candidate's evaluation. from test creation to the candidate's evaluation.
Rating 5.0
Based on 321 user ratings
API Integration by Xobin
Get integrated and harness the strength of robust assessments with Xobin APIs. Save sweat and time and focus on your core offering, not building your assessment stack. from test creation to
Rating 5.0
Based on 321 user ratings
Coding Skill Assessment Software
With our 100+ coding assessments on various languages such as Java, Python, JavaScript, React, Angular, etc., evaluate and hire the best-talented developers. from test creation to the candidate's evaluation. to the candidate's evaluation.
Rating 5.0
Based on 321 user ratings
Pre-Employment Testing Software:
Get access to the vast library of validated tests to screen candidates using online assessments. Simplify your recruitment process with our cloud-based Pre-employment Testing Software. from test creation to the candidate's evaluation.
Rating 5.0
Based on 321 user ratings
Pre-recorded Video Interview Platform:
Pre-recorded Video Interview Platform allows candidates to fully express themselves to a pre-recorded question. So that you can get more insight into candidates in far less time than a traditional phone interview. from test creation to the candidate's evaluation.
Rating 5.0
Based on 321 user ratings
Pre-hire assessment to understand the work style of your candidate
A psychometric test can help you analyze the personality, behavioral traits, and mindset of your prospective candidate even before the hiring process starts. It helps you save time in trying to " get to know your employees ."
The results are measurable, as opposed to the gut feeling which may or may not be correct every time. It helps to shape your HR strategy.
An ideal analysis and report explaining the psychometry of a candidate look like this.

Pre-hire assessment to assess technical skills
The right skill set may help the process, but the right personality helps in the all-around development of the company.
In the current age of Software development, you need to assess the basic and advanced coding skills of your candidate.
It is important to assess domain knowledge of the platforms that your company works with while hiring for the role of a software developer
Domain-specific pre-hire assessments
Sometimes a

talent acquisition manager

may have to hire for an unfamiliar function, in such cases, a ready-made pre-employment assessment can help to pick the candidates with the right skill set.
For instance, a talent acquisition manager is hiring for the role of a sales representative. In such cases, it is important to assess the negotiation skills, persuasion skills, customer service, and sales ability of candidates.
An estimated 80% of the Fortune 500 companies in the US use psychometric pre-assessment tests to hire their future employees. Manpower is the founding pillar of any organization, giants like Walmart, Macy's, Bloomingdales, and Burger King believe in the notion as they utilize pre-assessment tests to gauge a prospective candidate's skills and suitability for the job. Walmart's questionnaire for the pre-assessment test includes various questions that focus on customer relations, work-related situations, self-analysis, and much more.
Although the pre-employment assessment can help you in attaining the proper job fit, they give the candidates a fair chance to prove their skills. Therefore, potential hires are always good hires.
Employees are the key to running a successful company and that's why one needs to take extra care during recruitment.
Matching the right candidate to the right job leads to increased employee satisfaction, increased fecundity, and reduced employee turnover. As Steve Jobs rightly said, " It doesn't make sense to hire smart people and then tell them what to do; we hire smart people so they can tell us what to do."
Having discussed the various types of pre-employment assessment and their importance, we conclude by saying that pre-employment assessments can have a positive impact not only on onboarding, candidate fit, and retention but on a wider range of positive HR indicators, including time to hire, performance and engagement.
Looking for a pre-hire assessments platform?
An ideal pre-hire assessment should harness the technology. Hence, online pre-hire assessments help you to make challenging hiring decisions by conducting AI-enabled proctored tests. They generate extensive analysis and report on a candidate's performance thereby making the process unbiased. A pre-employment assessment needs to appease the hiring process, making it a win-win situation for both the hiring managers and the candidates.
Xobin serves as a one-stop pre-hire assessment solution to assess and hire the right candidates for you!