It's hard to believe that another year has come and gone. As I sit down to write our year's review blog post, I'm filled with a sense of nostalgia and excitement. For Xobin it has been a year of connecting and reconnecting. A lot of companies moved back to the office and had their team happy hours. On the other hand, according to our 2022 survey many others continued to learn creative new ways to work together. Xobin's year in review 2022 and our highlights of it.
Interestingly we at Xobin chose innovative ways of work. Also, we've made significant progress in our platform, question library and many exciting features. In this year's review blog post, we'll highlight some of our biggest achievements, our feature updates and look back at the events that shaped Xobin. So as the year comes to an end, we wanted to take a moment to reflect on the past 12 months and what we've accomplished as Xobinions.
   Looking for Hiring Software? Check out the best Hiring Software solutions.
All about the numbers and statistics:
Let's start with some numbers. Today, Xobin conducted over 1.2 Million Tests over the last 365 days. That is 3200+ candidates screened per day, or 1 candidate screened every 20 seconds. On the other hand, In India alone Our customers have used Xobin to successfully conduct their Virtual Campus Hiring using campus recruitment software. So, in the past 2 years our customers have conducted more than 800+ recruitment drives in 310+ colleges and campuses. In these hiring drives they have screened more than 5,00,000+ Students.
Features: Xobin's new features that made recruitment process more efficient
In 2022, We all at Xobin were on a mission to make it the best friend of our HR community. Throughout the year, Xobin launched new ways to make our product more effective and ease out the recruitment process. Our product updates help you understand our software easily.
1. Email Notification and Reminders to Candidates:
For instance, our feature of Email Notification and Reminders to candidates. This feature lets you schedule and communicate with the candidate without needing you to watch the clock.
2. Xobin Workflows – Custom Redirections, Follow-up assessments and Webhooks:
Xobin provides Workflow customizations for our customers in the Standard Plan dashboard.
In this feature, once the customer subscribes to our plan you can enable Follow-up Assessments to automatically invite a candidate for the subsequent assessment on qualifying the current assessment. Then enabling Submission Webhook will allow connecting different web apps with webhooks. Lastly, enabling Redirection will allow redirection of Xobin data to a URL that you specify.
3. Xoforms – Track applicants:
We always wanted to bridge this gap between different products for sourcing candidates, ATS, interview scheduling, etc. and recruiter hence we launched our new product XoForms, which would be the only software, wherein our customers use to manage their whole recruitment process starting from candidate data collection to virtually conducting interviews.
4. Audio and Video Interview Questions
Assessment questions based on audio and video format are also supported by Xobin, wherein the candidates can answer either through video or audio response or can also be subjective in their answers.
5. EasyCode:
With numerous feedback from candidates, we deprecated our legacy coding questions by launching easy code questions, which were positively accepted by a huge number of candidates.
Best HR Software Solutions
Campus Recruitment Software
With our online campus recruitment software screen, hire top talents hassle-free. Everything is under one platform, from test creation to the candidate's evaluation. from test creation to the candidate's evaluation.
Rating 5.0
Based on 321 user ratings
API Integration by Xobin
Get integrated and harness the strength of robust assessments with Xobin APIs. Save sweat and time and focus on your core offering, not building your assessment stack. from test creation to
Rating 5.0
Based on 321 user ratings
Coding Skill Assessment Software
With our 100+ coding assessments on various languages such as Java, Python, JavaScript, React, Angular, etc., evaluate and hire the best-talented developers. from test creation to the candidate's evaluation. to the candidate's evaluation.
Rating 5.0
Based on 321 user ratings
Pre-Employment Testing Software:
Get access to the vast library of validated tests to screen candidates using online assessments. Simplify your recruitment process with our cloud-based Pre-employment Testing Software. from test creation to the candidate's evaluation.
Rating 5.0
Based on 321 user ratings
Pre-recorded Video Interview Platform:
Pre-recorded Video Interview Platform allows candidates to fully express themselves to a pre-recorded question. So that you can get more insight into candidates in far less time than a traditional phone interview. from test creation to the candidate's evaluation.
Rating 5.0
Based on 321 user ratings
6. Automatic Test Creation:
Once you subscribe to our platform. Head towards the Create new assessment segment. Afterwards select the skill test you would like to test and name the assessment. Once done proceed with the required details in the next steps and press the launch assessment button and you will have the assessment added in your dashboard.
A year in review on our top tests in 2022 :
Thanks to our customer's feedback and their expectations from us pushed us a little further. We made tweaks to ensure we don't leave any field behind in the assessments.
Therefore, we added over 35 New Domains in aptitude, tech, operations, marketing, finance and HR. Our question library is our power and this year we crossed over 1,00,000 questions in our question library.
Let me take you through our most popular tests:
Virtual Assistant Test
Graduate Aptitude Test
Finance Controller test
SEO and Digital Marketing Test
Python Developer Test
Emotional Intelligence Test

Our Achievements: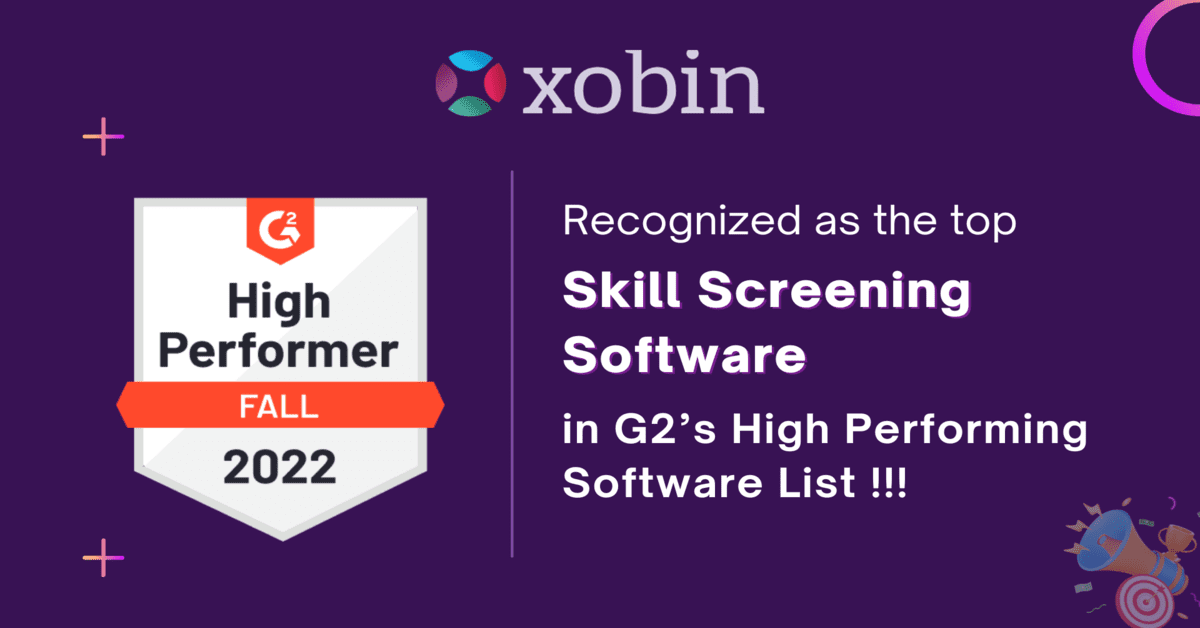 All of you are known to many platforms like Xobin's assessment platform. Software in Sales Tech and HR Tech that provide similar services, but not as effective as Xobin, which makes us stand apart from the rest.
YES !! Once again we are on the list of top skill screening software in 2022. But guess what! We are on the list with a better rating that is way above the average market ratings. YES! We have achieved the High Performer award for Fall 2022 from G2.
Interestingly G2 has announced its 2023 High performing software's in fall list and we again stood out among our competitors.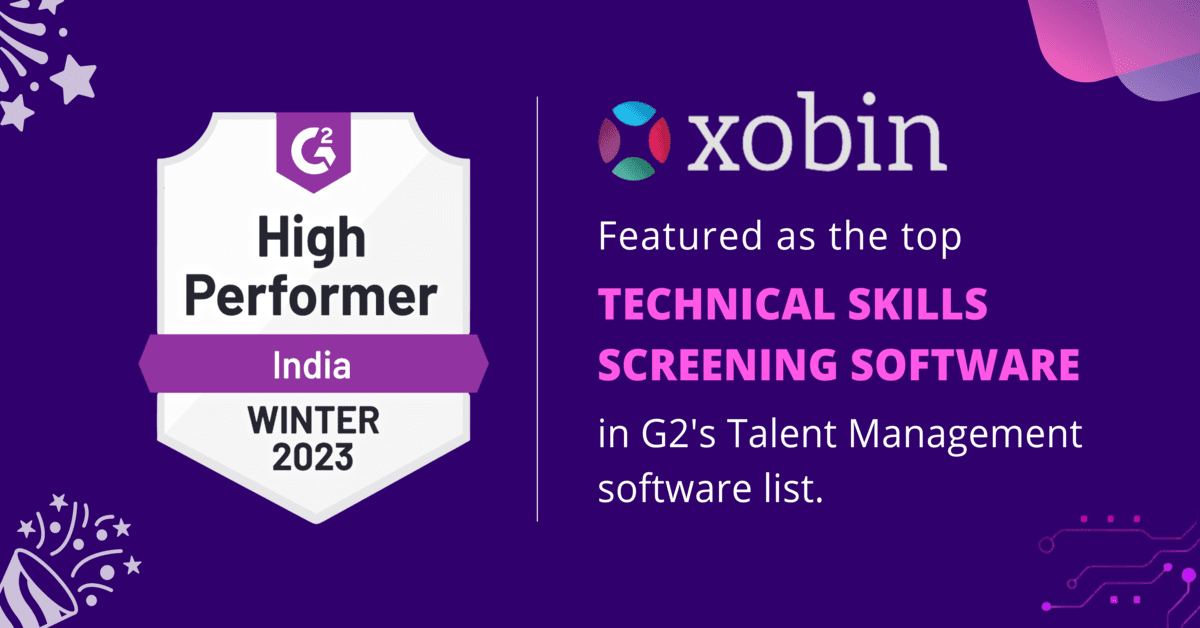 Will be back in the new year with exciting updates and achievements. Until next, have a great time and happy new year!
Want to know more about the Xobin and its innovations. Get in touch with us.