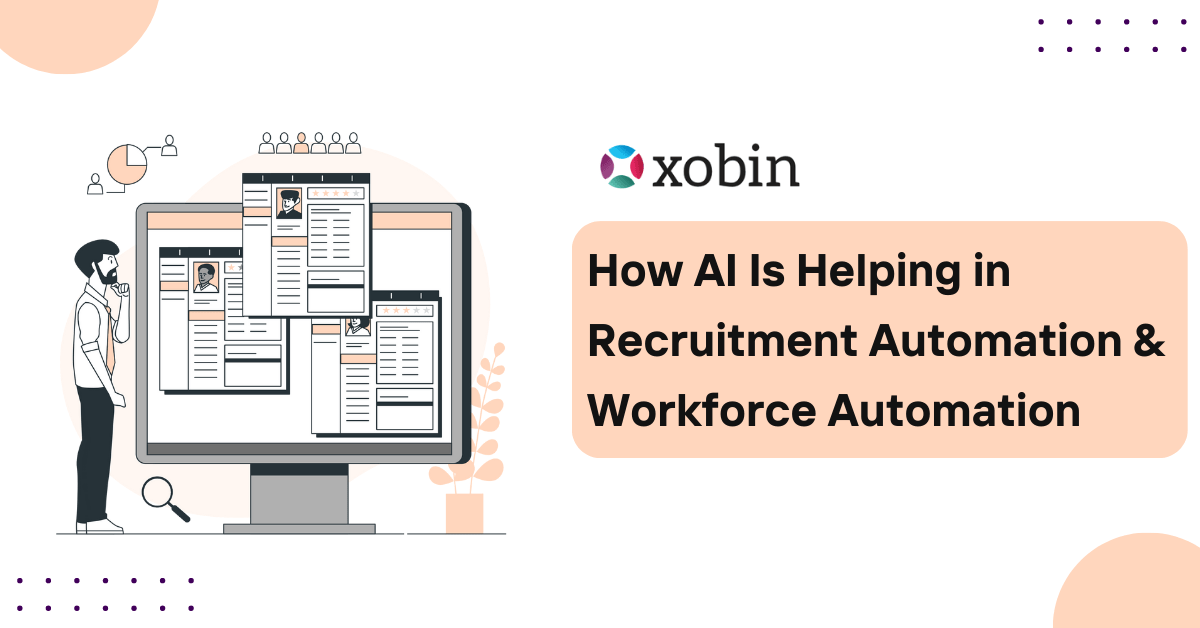 Artificial intelligence (AI) has become a powerful force for change that is reshaping several industries. Businesses want their recruitment procedures to be quick, accurate, and efficient. On the other hand, recruitment automation and AI technologies have stepped in to speed up the entire process, from applicant sourcing through onboarding. Hence, we look into the interesting world of workforce automation and recruiting automation enabled by AI. So, using recruitment analytics and software that is AI-driven. Top talent is being attracted by employers, who are also offering unrivaled candidate experiences. Automation and AI in recruitment give you the time and resources to do both.
 Looking for Recruitment Software? Check out the best recruitment software.
The employment process is now entirely dominated by technology. Here, we look at the numerous ways artificial intelligence is being used in the fields of recruitment and labor management.
Various Ways in Which AI Is Helping in Recruitment Automation and Workforce Automation
There are several methods to use AI and automation technology for candidate experience and talent acquisition throughout the recruitment process: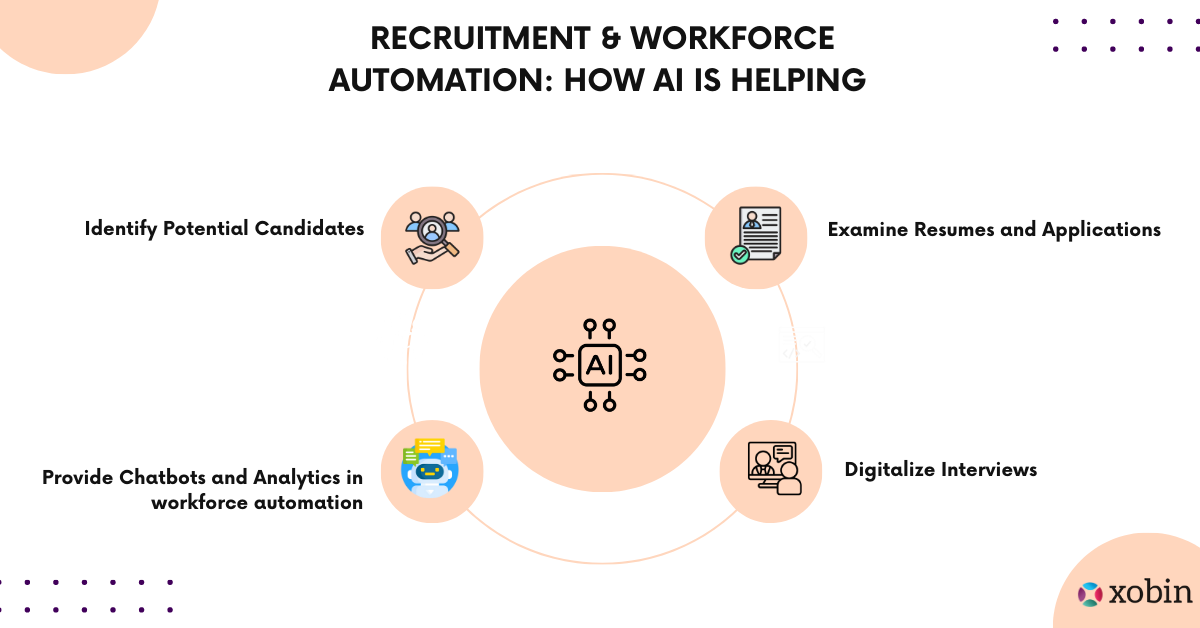 Identify Potential Candidates
Offering highly targeted Employee Value Propositions (EVPs) for each candidate is made possible by AI technology. This makes it possible to tailor outreach efforts to the needs of each candidate. By monitoring a candidate's behavior and sending them messages and content that are specifically tailored to their interests.
AI is also capable of quickly analyzing tens of thousands of social media profiles. There are numerous AI tools on the market. A paraphraser aids in removing wordiness and repetition, much like in the resume screening phase. Based on their job title, it can find applicants who are both passive and active. By doing this, you can be certain that you will find your ideal applicants, no matter where they are. Your talent pool will considerably increase as a result.
Examine Resumes and Applications
It's critical to assess applicants' qualifications during the hiring process. AI can choose the best candidate by comparing a candidate's knowledge and abilities to the demands of the post. Using recruitment software, the top candidates can be automatically ranked, evaluated, and shortlisted. Based on the recognized requirements for the role in terms of skills, talents, and qualities.
The skills that will be screened for during hiring might be decided by your hiring team. AI technology can evaluate a current employee's performance and experience. Using the results, screening can also be performed.
Provide Chatbots and Analytics in workforce automation
Candidates will have a better impression of the organization if they receive frequent updates throughout the application process. Chatbots used in recruitment may provide candidates with real-time information and chat. They enable job seekers to inquire about the requirements for open positions or the recruiting process. They provide insightful criticism and suggestions for the ensuing behaviors.
Chatbots can also be used to screen applicants by asking them about their qualifications. They can quickly process this information and move the candidate on to the next stage of the selection process. A favorable applicant experience is produced by this proactive interaction. Additionally, it raises the likelihood that candidates will view the organization favorably.
To forecast future hiring demands, predictive analytics makes use of historical data and AI systems. Data-driven decisions can be made by HR experts. They make sure there is a consistent flow of excellent personnel and provide their company with a competitive edge.
Best HR Software Solutions
Campus Recruitment Software
With our online campus recruitment software screen, hire top talents hassle-free. Everything is under one platform, from test creation to the candidate's evaluation. from test creation to the candidate's evaluation.
Rating 5.0
Based on 321 user ratings
API Integration by Xobin
Get integrated and harness the strength of robust assessments with Xobin APIs. Save sweat and time and focus on your core offering, not building your assessment stack. from test creation to
Rating 5.0
Based on 321 user ratings
Coding Skill Assessment Software
With our 100+ coding assessments on various languages such as Java, Python, JavaScript, React, Angular, etc., evaluate and hire the best-talented developers. from test creation to the candidate's evaluation. to the candidate's evaluation.
Rating 5.0
Based on 321 user ratings
Pre-Employment Testing Software:
Get access to the vast library of validated tests to screen candidates using online assessments. Simplify your recruitment process with our cloud-based Pre-employment Testing Software. from test creation to the candidate's evaluation.
Rating 5.0
Based on 321 user ratings
Pre-recorded Video Interview Platform:
Pre-recorded Video Interview Platform allows candidates to fully express themselves to a pre-recorded question. So that you can get more insight into candidates in far less time than a traditional phone interview. from test creation to the candidate's evaluation.
Rating 5.0
Based on 321 user ratings
Digitalize Interviews
The word selections, voice patterns, and facial expressions of a candidate can be evaluated using AI-based video interview software. In order to help you decide if they are a good fit for the job and your company's culture. The evaluation of soft skills may require the use of these digital interviews. Especially if you are hiring workers from a distance. Understanding a person's body language can reveal a lot about who they are on the inside.
Software used for recruitment interviews also reduces the number of candidates. In order to increase the effectiveness and specialization of the last round of in-person interviews. Additionally, automatic scheduling software makes it simple to fit these in-person interviews into your schedule as well as the preferences of the candidates.
Benefits of using AI in Recruitment Automation and Workforce Automation
Saves Time
Recruitment software works seamlessly with your existing hiring procedures. You'll also save time and effort on administrative responsibilities. As a result, you will have more time to concentrate on the human component of the employment process.
An average recruiter looks for fresh applicants for between 40 and 60 percent of their working hours. Recruiters can reclaim 3 to 5 hours per day by automating the sourcing and preliminary screening procedures. It can be used to interact with candidates and carry out other activities that call for human intelligence.
Improved Applicant Experience
Offering a fantastic candidate experience is one of the recruiters' top priorities in our candidate-driven employment market. However, given that there are typically 250 resumes received for each job position, how can recruiters achieve this? Automated recruiting software is the obvious solution.
Automated recruiting systems make applications simple and one-click in order to increase the number of applicants. Additionally, the program offers the capacity to maintain ongoing communication with applicants. Candidates receive frequent updates on where they stand in the hiring process. The time it takes to hire someone is also reduced by automated recruiting software. It doesn't take a lot of work from the recruiter to provide VIP candidates with a great experience. To do the task, consider using automated recruiting tools.
Saves Money
Employers who employ AI technology are more successful than those who don't. In reality, these businesses outperform their competitors by 30% in terms of profitability and by 18% in terms of revenue. The cost-to-screen has decreased by 75% for businesses that early on implemented AI-based recruitment tools. Additionally, according to Ideal, their staff turnover decreased by 35%.
Bottom Line
The impact of AI on workforce management and automated hiring is significant and wide-ranging. Businesses that adopt AI technologies get a competitive advantage. By luring top personnel, streamlining HR procedures, and promoting a positive workplace culture. AI's influence on how human resources will be used in the future is becoming more and more clear as it develops.