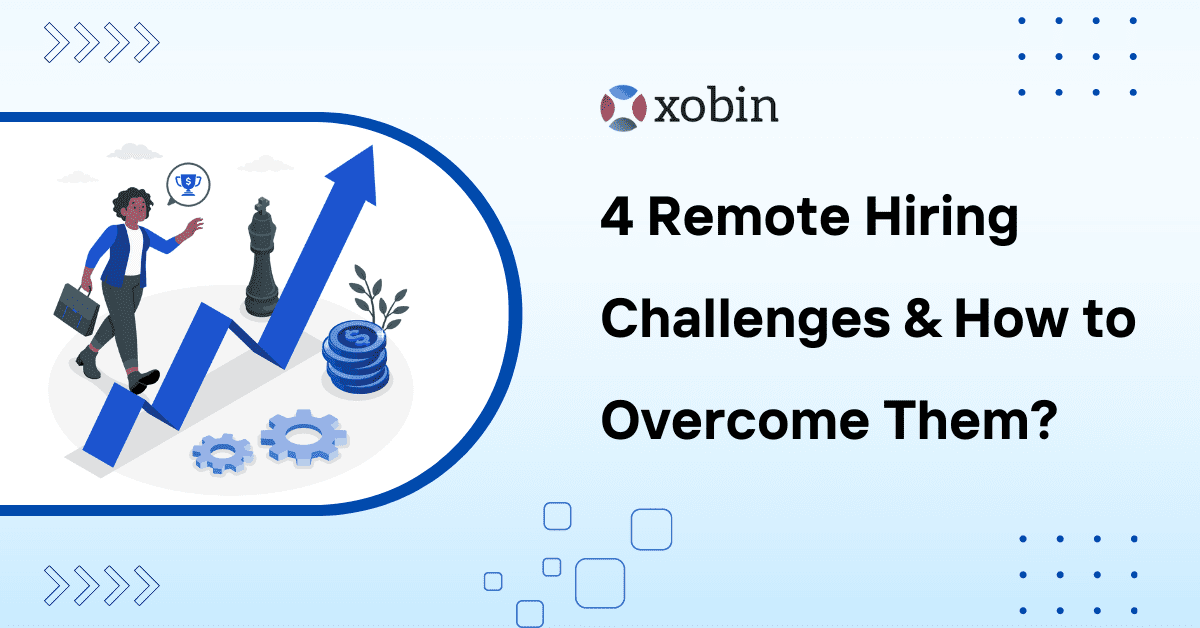 Growth knows no boundaries. And therefore, when you are looking to find the right talent for your business, geographical limitations go out of the window. The post-pandemic hiring process is more about adapting to the new norms of remote work that break free from the confinements of traditional employment, evolving into a multicultural, multilingual, multifaceted, and omnipresent force. On the other hand, as good it was this new change came in life with new hiring challenges for human resource managers.
A 2022 Gallup survey revealed that given a choice, a mere 6% of employees prefer to work exclusively from an office. The remaining majority opt for remote or hybrid working arrangements. Such hiring challenges often hinders hiring managers from reaping the full benefits of this new work arrangement.
It is also imperative to remain competitive in acquisition of top talent, pushing you, as an employer, to get to terms with the reality that remote work is here to stay. While remote work has surged in popularity in recent years, it brings challenges for hiring remote candidates.
Each company will encounter difficulties when hiring remotely and must devise tailored solutions that best address those.
   Looking for Hiring Software? Check out the best Hiring Software solutions.
Fortunately, identifying and navigating the way out of such remote hiring challenges can help businesses thrive with effective management strategies for remote hiring.
Let's explore the most prevalent remote hiring challenges and outline how to triumph over them successfully.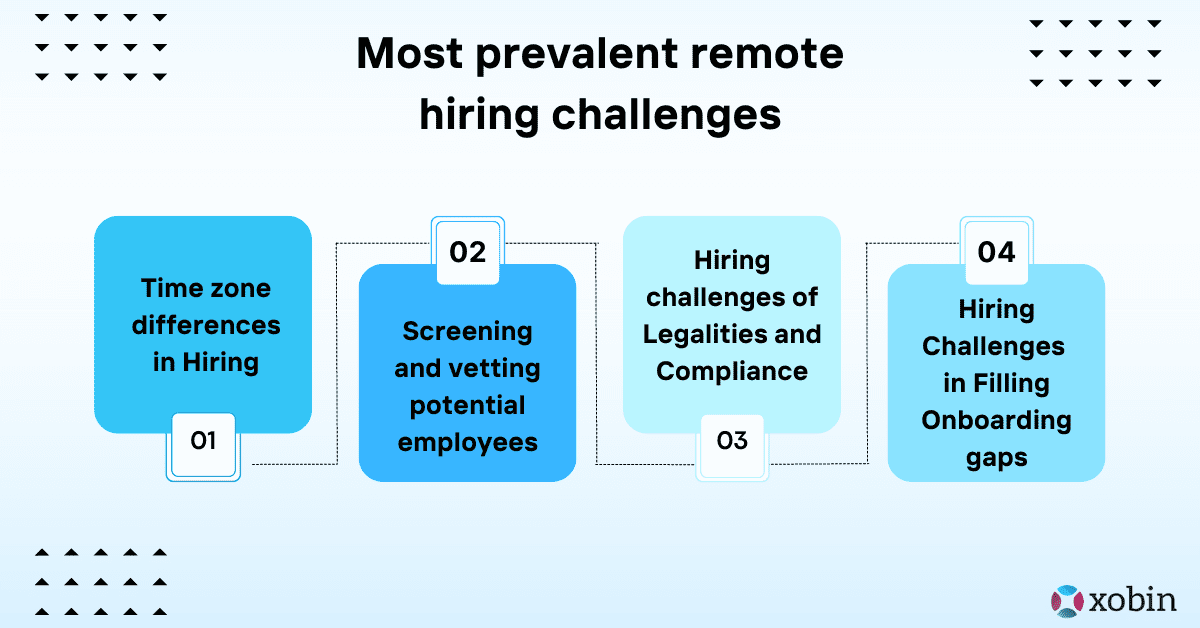 Time zone differences in Hiring:
Hiring workers remotely opens the possibility of vetting candidates from different countries where time zone differences are bound to occur. This also poses significant hiring challenges when orchestrating interviews with applicants across the globe.
For instance, time zone differences make it difficult to schedule interviews, conduct tests, and even further the talks with a prospect. Finding a suitable time for everyone involved (team lead for more technical rounds) is challenging, especially when hiring candidates across different time zones. Hence, HR teams are responsible for scrutinizing remote workers. Also, can overcome these hiring challenges of time zone differences in the following manner.
Implement asynchronous communication:
Conduct remote interviews by leveraging asynchronous communication tools like email, chat platforms, and project management software. This enables candidates to respond conveniently, alleviating the concern of missing out on key interviews.
Set core hours for collaboration:
Designate a specific time during which required team members are expected to be online and accessible for collaboration. This approach helps the existing team members participate in the hiring process and ask helpful questions that simplify hiring.
Shuffle meeting times:
If there are more than two to three rounds of interviews, the HR team should consciously schedule such events at different times. This can distribute the inconvenience of attending such events outside of regular working hours evenly among all team members.
Screening and vetting potential employees:
Surely, all HR's might have agreed this is one among the top hiring challenges for them. Screening and vetting candidates during the hiring process help determine if they possess the relevant experience and personality traits for the open position. HR teams must perform a comprehensive vetting process remotely and choose the right hiring.
Therefore, hiring remote employees requires overcoming hiring challenges like checking their technical competency, evaluating soft skills, and trusting their identity.
Evaluating soft skills using software:
Remote interviews can focus on behavioral and situational questions to assess soft skills. For instance, we have pre-employment testing software to optimize the hiring process based on skills. Recording such asynchronous video interviews enables revisiting them and sending them across relevant department(s) to get internal feedback.  
Best HR Software Solutions
Campus Recruitment Software
With our online campus recruitment software screen, hire top talents hassle-free. Everything is under one platform, from test creation to the candidate's evaluation. from test creation to the candidate's evaluation.
Rating 5.0
Based on 321 user ratings
API Integration by Xobin
Get integrated and harness the strength of robust assessments with Xobin APIs. Save sweat and time and focus on your core offering, not building your assessment stack. from test creation to
Rating 5.0
Based on 321 user ratings
Coding Skill Assessment Software
With our 100+ coding assessments on various languages such as Java, Python, JavaScript, React, Angular, etc., evaluate and hire the best-talented developers. from test creation to the candidate's evaluation. to the candidate's evaluation.
Rating 5.0
Based on 321 user ratings
Pre-Employment Testing Software:
Get access to the vast library of validated tests to screen candidates using online assessments. Simplify your recruitment process with our cloud-based Pre-employment Testing Software. from test creation to the candidate's evaluation.
Rating 5.0
Based on 321 user ratings
Pre-recorded Video Interview Platform:
Pre-recorded Video Interview Platform allows candidates to fully express themselves to a pre-recorded question. So that you can get more insight into candidates in far less time than a traditional phone interview. from test creation to the candidate's evaluation.
Rating 5.0
Based on 321 user ratings
Ensuring technical competency using online assessment tools:
Use online assessment tools and platforms that allow candidates to complete tasks or projects relevant to the role. This can help gauge their technical competency. For example, a programming task for a developer role or a design assignment for a graphic designer position. You can use our coding skills assessment test to get started.
Hiring challenges of Legalities and compliance:
Organizations have significant hurdles when balancing factors affecting remote work arrangements. Therefore, remote hiring requires overcoming challenges regarding the slow-to-change regulatory landscape, especially jurisdiction and state (or nationally) applicable law, employment compliance, taxation, data security, etc. But there are some ways to overcome such hiring challenges.
Providing employment contracts that abide by the candidate's local laws:
Specify in the employment contract which jurisdiction's laws will apply to the employment relationship. HR should work with a lawyer to ensure this provision is enforceable.
Obtain legal advice on the employment laws:*
Remote hiring should require complying with employment law that needs legal advice in the jurisdictions where your remote employees are based. You can also use specialized HR compliance software to help you keep track of different employment laws.
Considering taxation:
You should consult a tax professional to understand the tax implications of hiring remote workers in different locations. You may need to register for tax purposes in those locations.
Discussing employee rights and benefits:
For example, in the United States, employee rights and benefits are often extensive in other countries. This means a company that permits remote work in a given country may be obligated to provide substantial or additional benefits, such as leave or termination payments, to its workers.
Hiring Challenges in Filling onboarding gaps:
Research reveals that newly hired employees typically operate at just 25% productivity in their first month after training. Therefore, even before hiring, the HR team must streamline the hiring process from screening candidates to onboarding employees.
Remote hiring may make the new employees feel too distant and less involved. Therefore, consider preparing comprehensive introductory sessions beforehand so the new joiners can access a wealth of business resources. This includes pre-recorded videos on company culture, virtual orientation sessions, and department-specific team members who can communicate workflow and processes.
Overcoming the remote onboarding challenges involves the following.
A structured onboarding process:
It is best to have a well-structured onboarding process that empowers remote hiring from day one. The goal should be to have resources that can be offered in a step-by-step banner to boost new joiners' productivity, allowing them to contribute to the organization's overall success.
Welcome kit:
Before joining, the new joiners can be sent a welcome package that could include company goodies (like a t-shirt or mug), important documents, and any necessary equipment like a laptop or phone.
Online resources:
You must have a central repository of online resources that new hires can access anytime. This could include HR information, training materials, company policies, leave policies, and FAQs.
Wrapping up:
Remote hiring has become a prevalent practice in the modern workforce but isn't devoid of challenges. It boils down to how effectively hiring managers manage the process.
Overcoming these hiring challenges mentioned above requires employers to find new ways to evaluate candidates through virtual interviews, assessments, and references. Also, firms must set up clear communication channels, provide training on remote work practices, and utilize technology to enhance the hiring process.
Brace yourself for new, modern ways to hire remote employees by overcoming the above-mentioned hiring challenges. When you are prepared to embrace remote hiring, it provides opportunities for employers to access a larger talent pool, reduce geographical restrictions, and foster greater diversity in the workplace.
Software you need for all your recruitment process
1 Million +
Test takers per year
About Author: Aanya Rachel is the Content Manager at The Address, a coworking space in Ahmedabad, Gujarat. She's passionate about sharing her knowledge, experience, and extensive research in this field. She writes on various subjects related to coworking, remote work, employee productivity software, and tech startups.