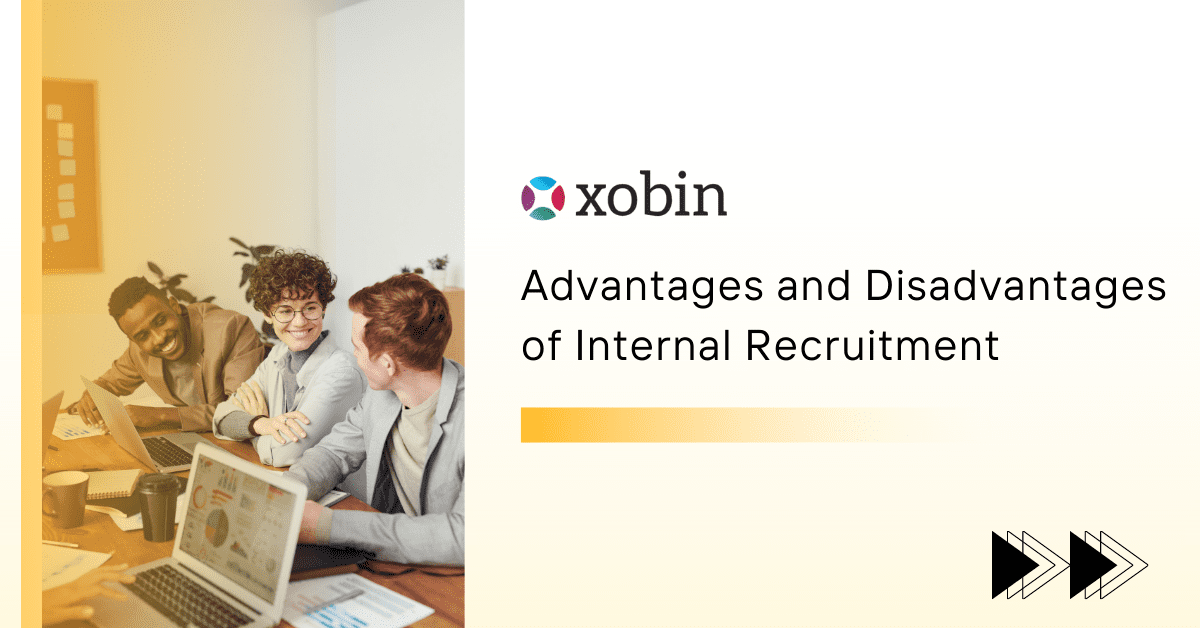 If you're in charge of a small organization, it's crucial to comprehend both the benefits and drawbacks of internal recruitment. After all, effective hiring is essential to the survival of your business. Whatever else you may have in place, your company ultimately wouldn't exist without the team that manages it. In fact, building a great team from scratch is frequently the most satisfying aspect of expanding a business.
   Looking for Hiring Software? Check out the best Hiring Software solutions.
But let's first clarify the fundamentals.
What Is External Recruitment?
The more conventional hiring process is called external recruitment, and it entails finding people from outside your company. You might do this by using online job boards or a recruitment firm instead of doing internal searches for candidates.
What exactly is Internal Recruitment?
On the other side, internal recruitment refers to looking within your own organization to hire or promote current personnel to a new post.
We'll discuss the latter and outline the benefits and drawbacks of hiring from your existing talent pool in this post.
What benefits come with Internal Recruitment?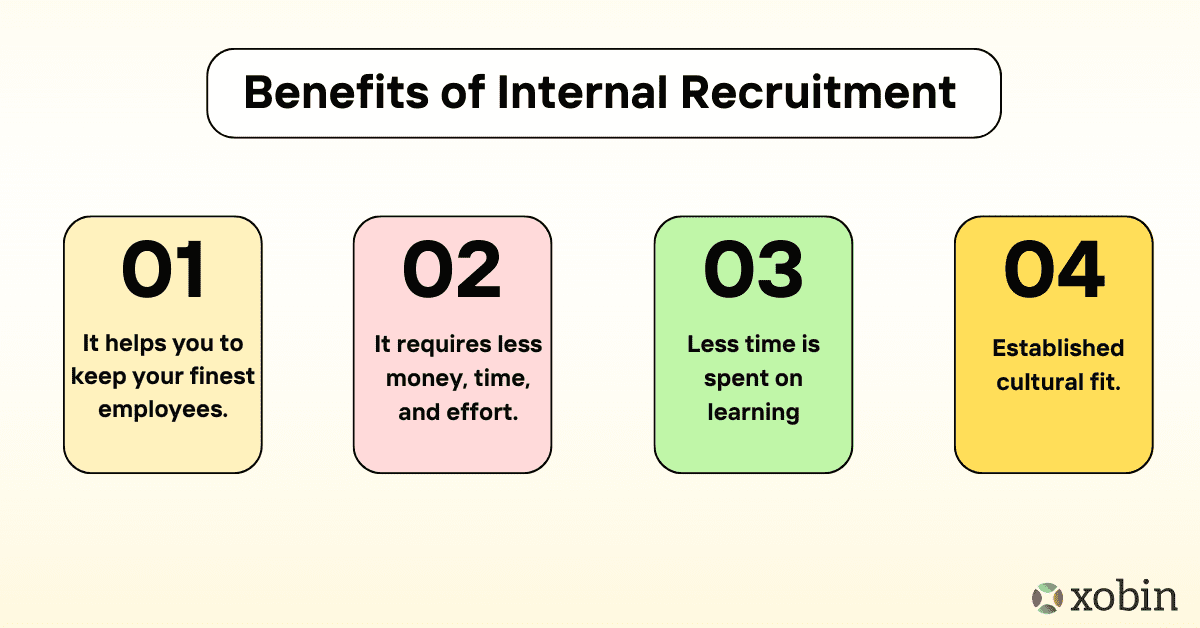 1. It helps you to keep your finest employees:
Making internal promotions sends a very clear message to your staff. They are informed that there are obvious chances for advancement within the organization and that their time at work can be a career rather than merely a job.
Your finest employees are much more likely to stay with your company if they can see a clear route for advancement.
2. It requires less money, time, and effort:
The process of hiring someone externally is notoriously time- and money-consuming.
The costs associated with hiring a new employee are broken down by our helpful calculator. Taking into account recruitment costs, new equipment, and work space, this might amount to £15,000 per hiring.
Reducing these costs and the time it takes to fill a post are two of the most obvious advantages of internal hiring.
3. Less time is spent on learning:
A previous employee at your organization will already be well-versed in the working methods and procedures used there. This ought to imply that the learning curve is much less than it would be for a new employee.
An internal hire may even be able to use the knowledge gained from their prior position to your advantage by giving them crucial insights into how the various components of your company interact.
4. Established cultural fit:
Let's be blunt and direct. Rarely is a two or three-hour interview long enough to truly get to know someone. Every new hire you make carries a certain amount of risk; perhaps they won't be as seamless a cultural fit as you had intended.
Best HR Software Solutions
Campus Recruitment Software
With our online campus recruitment software screen, hire top talents hassle-free. Everything is under one platform, from test creation to the candidate's evaluation. from test creation to the candidate's evaluation.
Rating 5.0
Based on 321 user ratings
API Integration by Xobin
Get integrated and harness the strength of robust assessments with Xobin APIs. Save sweat and time and focus on your core offering, not building your assessment stack. from test creation to
Rating 5.0
Based on 321 user ratings
Coding Skill Assessment Software
With our 100+ coding assessments on various languages such as Java, Python, JavaScript, React, Angular, etc., evaluate and hire the best-talented developers. from test creation to the candidate's evaluation. to the candidate's evaluation.
Rating 5.0
Based on 321 user ratings
Pre-Employment Testing Software:
Get access to the vast library of validated tests to screen candidates using online assessments. Simplify your recruitment process with our cloud-based Pre-employment Testing Software. from test creation to the candidate's evaluation.
Rating 5.0
Based on 321 user ratings
Pre-recorded Video Interview Platform:
Pre-recorded Video Interview Platform allows candidates to fully express themselves to a pre-recorded question. So that you can get more insight into candidates in far less time than a traditional phone interview. from test creation to the candidate's evaluation.
Rating 5.0
Based on 321 user ratings
With an internal hire, you are already familiar with the applicant. There won't be any cultural surprises for you because you are fully aware of how they approach their task.
What drawbacks exist with Internal Recruitment?
1. Watch out for echo chambers:
You do run the risk of having stale working practices if you rely too heavily on internal promotions. Fresh perspectives and new ideas are more likely to originate from sources outside of your firm than from within.
Every time a new employee starts working for the organization, they bring new perspectives to the table. They are able to offer some really insightful perspectives because they are not a member of the internal "thought-bubble."
2. Growing businesses may not always be able to hire internally:
Internal recruitment may not be an option for small businesses or businesses with aggressive growth ambitions. There may simply not be a large enough pool of internal applicants, and rapid development may force businesses to go outside their borders.
Making Internal Recruitment Successful
Are you trying to succeed with internal recruitment? Here are some pointers to make that procedure go more smoothly.
1. Being clear is your ally:
Share exact and accurate expectations for the chosen candidate and be very explicit about the recruitment process. They will be able to understand exactly what they need to accomplish in order to submit a successful application in the future, which will make it easier if you have to reject an internal applicant who may not be suitable yet.
2. Invest in your employees now for future rewards:
Be prepared to set aside some money for your team members' learning and development. This will enable kids to take control of their education and motivate them to pinpoint areas for improvement.
This is advantageous to the business on two levels. First, you aid in the professional development of your workers. Second, they might feel more content and committed to their careers at your business.
Conclusion:
Why not invest in someone's future in the firm if you have faith in their character and willingness to learn? It can be advantageous for everyone concerned to hire internally for some positions, particularly those at the mid-level.
While you will eventually need to look outside your immediate area for potential, don't overlook the talent that is already there in your current team.