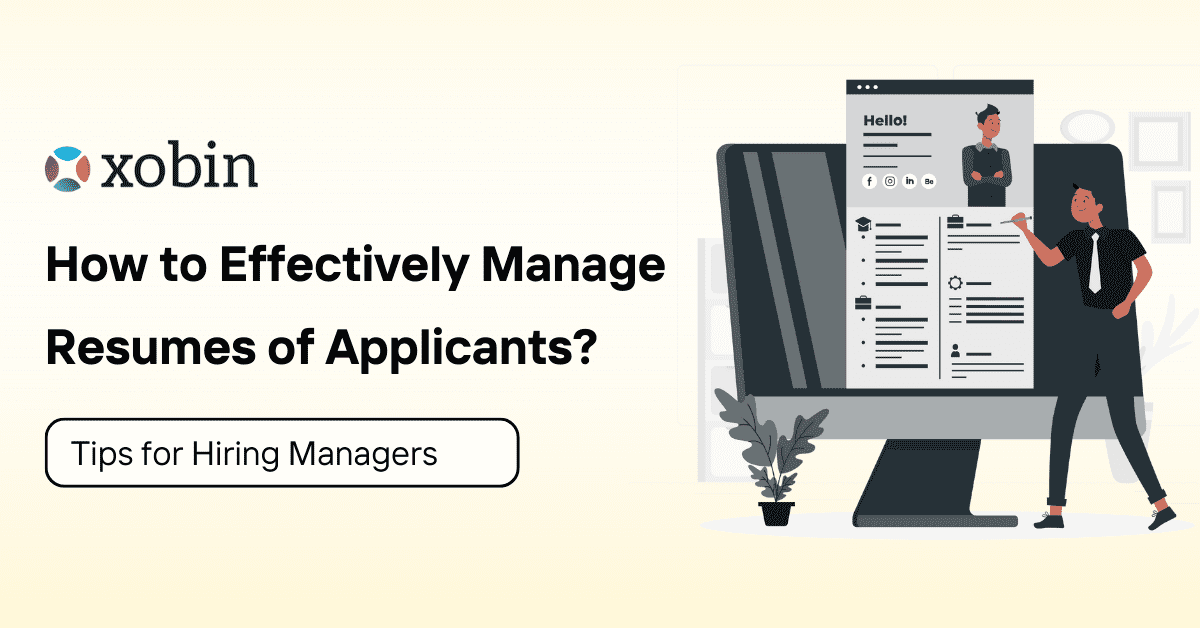 Employees usually think that hiring managers have nothing to do. They just recruit employees off and on, and they get paid for doing nothing.
However, this is different. The whole process of talent recruitment can be challenging for hiring managers. Sometimes, it takes weeks to find and hire even a single employee. As well as challenges in sourcing.
Moreover, they receive tons of applications every day. They have to see each application, manage them, check references, schedule interviews, and select the best candidates for a role.
   Looking for Hiring Software? Check out the best Hiring Software solutions.
Out of all of them, the most challenging task is to managing resumes of applicants. When they receive a lot of resumes for different positions, sometimes it takes hours to go through and manage them. If your hiring managers are also facing issue in managing resumes, this article is for you.
Let's directly come to the point!
The Importance of Managing Applicant's Resumes
The applicant's resumes indicate their qualifications, experience, and skills. That's why hiring managers must manage their resumes as best as possible. It can help them easily compare applicants and decide which applicants should be called for the initial interview.
Here are a few benefits of perfectly managing applicant's resumes;
It helps managers in evaluating different resumes
It makes the overall screening process easier
It reduces recruiters' work
It allows managers to categorize applications for each role
How Hiring Managers Can Manage Resumes?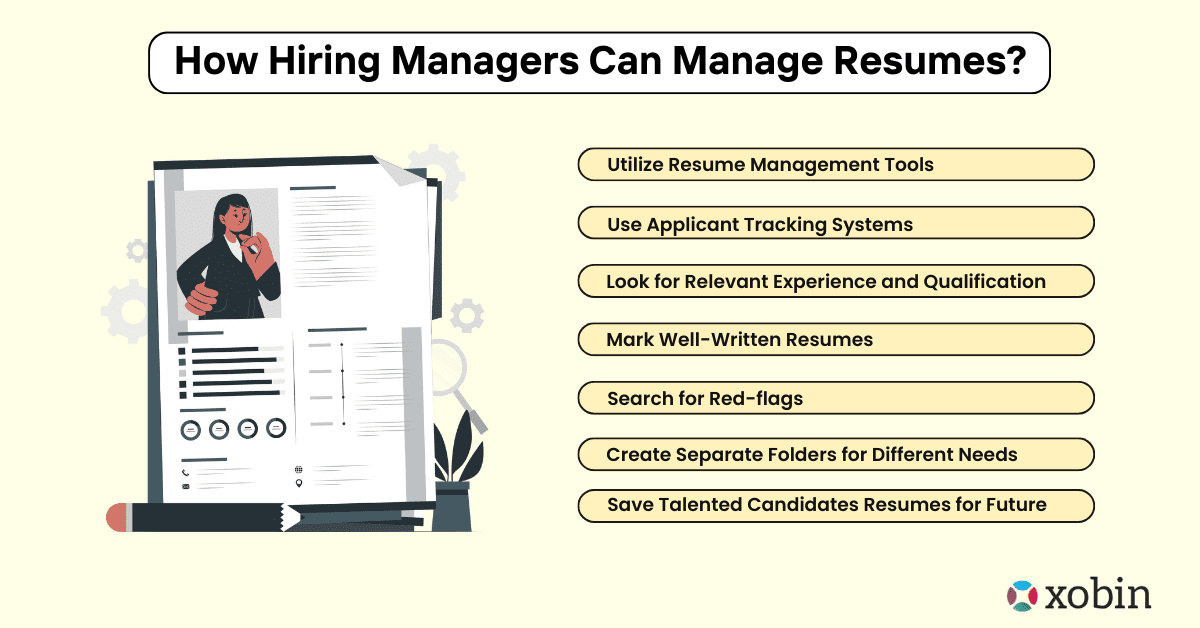 Here comes the most important question. Many new managers need help to managing resumes. So they try different methods that are both time-consuming and hectic for them.
However, below are some tips for them on managing resumes effectively:
1. Utilize Resume Management Tools:
Many companies have created resume management tools to assist hiring managers. These tools offer many great features that assist hiring managers in managing tons of resumes with minimal effort. For instance, they provide applicant tracking systems, screen resumes, create interview schedules, provide advanced search options, etc.
To avoid any trouble while managing resumes, you must find and use the best resume management tool. Otherwise, you would waste a lot of your time only managing resumes and may not be able to perform other duties.
2. Use Applicant Tracking Systems:
As hiring managers, you should know about the Applicant Tracking System (ATS) programs. They are specially designed for hiring managers. These programs are very similar to resume managing tools. However, they have a few additional features. For example, ATS programs filter through different applicants and suggest resumes having more than one relevant keyword. That's how hiring managers can find more suitable candidates without much effort.
In addition, these programs secure the data of qualified candidates who cannot join the company for whatever reasons. Using that data, you can contact them to join the organization. As a recruiter, you must get assistance from ATS programs as they are beneficial and efficient in the work.
Best HR Software Solutions
Campus Recruitment Software
With our online campus recruitment software screen, hire top talents hassle-free. Everything is under one platform, from test creation to the candidate's evaluation. from test creation to the candidate's evaluation.
Rating 5.0
Based on 321 user ratings
API Integration by Xobin
Get integrated and harness the strength of robust assessments with Xobin APIs. Save sweat and time and focus on your core offering, not building your assessment stack. from test creation to
Rating 5.0
Based on 321 user ratings
Coding Skill Assessment Software
With our 100+ coding assessments on various languages such as Java, Python, JavaScript, React, Angular, etc., evaluate and hire the best-talented developers. from test creation to the candidate's evaluation. to the candidate's evaluation.
Rating 5.0
Based on 321 user ratings
Pre-Employment Testing Software:
Get access to the vast library of validated tests to screen candidates using online assessments. Simplify your recruitment process with our cloud-based Pre-employment Testing Software. from test creation to the candidate's evaluation.
Rating 5.0
Based on 321 user ratings
Pre-recorded Video Interview Platform:
Pre-recorded Video Interview Platform allows candidates to fully express themselves to a pre-recorded question. So that you can get more insight into candidates in far less time than a traditional phone interview. from test creation to the candidate's evaluation.
Rating 5.0
Based on 321 user ratings
3. Look for Relevant Experience and Qualification:
When hiring candidates, nothing matters more than their relevant experiences and qualifications. These two are must-have things for hiring managers. If you want to speed up the hiring process or quickly manage all the resumes you get against a job, you must look at the candidates' relevant experience and qualifications. Based on these two things, you should categorize their resumes.
Keeping the experienced candidate's resumes on one side and the inexperienced on the other is very beneficial. It can reduce a lot of your burden, and you can efficiently manage the resumes of all those you want to hire immediately or after a few months.
4. Mark Well-Written Resumes:
When going through all the resumes, you must mark them one by one. Create initial marking criteria that benefit well-written and well-structured resumes. Many hiring managers prefer this method. First of all, they just briefly analyze resumes. Their experience helps them find resume inconsistencies, making the overall resume management process easier.
Until you are that experienced, you must mark all resumes analyzing their writing style and structure. It can help you in the initial scrutiny phase and make the overall process less hectic and time-consuming.
5. Search for Red-flags:
Only some applicants have a true story to tell in their resumes. Many lie about their experiences, expertise, and qualifications. Some copy others' resumes and change their details. They don't make any effort to create a resume themselves. No matter what strategy a candidate uses, you must discover all the red flags while analyzing resumes.
When searching for red flags, you have different online tools and strategies that can help. For instance, when looking for those who have copied others' resumes, you can use an online trustworthy plagiarism check tool to help you detect if the resume is plagiarized. Moreover, you should look for formatting errors, spelling mistakes, and employment gaps. It can help you easily manage resumes as you can only save the resumes with no mistakes and ignore every other resume.
6. Create Separate Folders for Different Needs:
The problems related to resume management usually start when recruiters save all the resumes in one folder. However, there are better ways to save them. Creating separate folders for each need is the best way to save resumes. Moreover, in those folders, you must create subfolders for your ease.
For instance, if you are hiring for different roles in different company departments. In that case, you should create a separate folder for each department. Then, in that folder, you should create subfolders for each role. After that, the moment you get a resume, you should immediately save it in the destined folder. That's how you can easily manage tons of resumes without any issues.
7. Save Talented Candidates Resumes for Future:
In case you find a candidate suitable for the role but somehow you hire another applicant, you must not delete that candidate's resume. Instead, you should save them in a separate folder. It can help you fetch their resumes whenever you want them. Moreover, this practice is also cost-effective and time-efficient.
For instance, whenever you have a new job opportunity for the same role, you can immediately call them and ask for an interview. If they get selected, you don't need to post the job, analyze many resumes, schedule interviews, etc. That's why almost all seasoned hiring managers first check their own database and then decide whether they should post the job or not.
Conclusion:
Hiring managers jobs is more challenging than many think. However, they can make it easy by learning the best methods of managing resumes. This article has outlined all the best strategies to manage resumes. As a recruiter, if you utilize them, you can manage tons of resumes and make your work easier and smoother.
Moreover, it can also help you and other hiring managers create an outstanding database that can help you throughout your career.