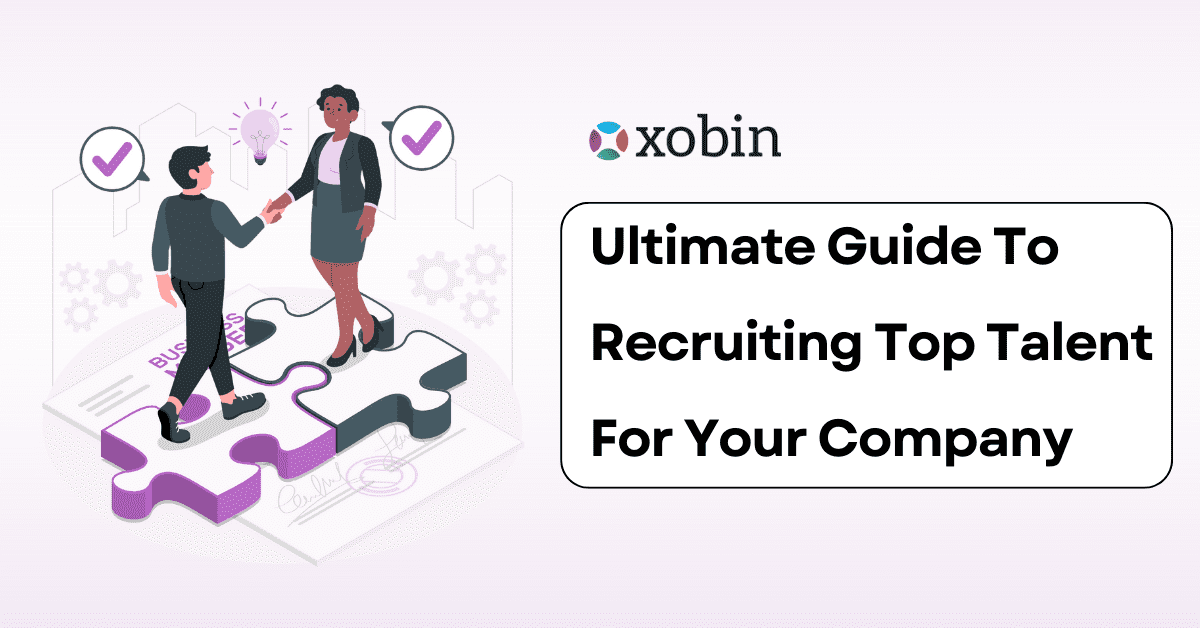 Whether you are a small business, a large corporation, or a startup, recruiting top talent is crucial in your hiring process and for your growth. Choosing the wrong employees can lead to various issues such as low employee engagement, toxic company culture, and reduced work quality & efficiency.
Although there are a number of challenges in recruiting top talent that companies face, they can be solved using a systematic approach. If you are a business that hasn't invested in a well-planned recruitment process, then you are at the right place. Here we are going to discuss everything about the ultimate guide to recruiting top talent for your organization effortlessly.
Step-By-Step Guide To Recruiting Top Talent For Your Organization
The recruitment process may ask for some alteration based on the organization and its goals. But overall the recruitment process will remain the same. Let us check out the step-by-step recruitment process that will help you in recruiting top talents for your organization.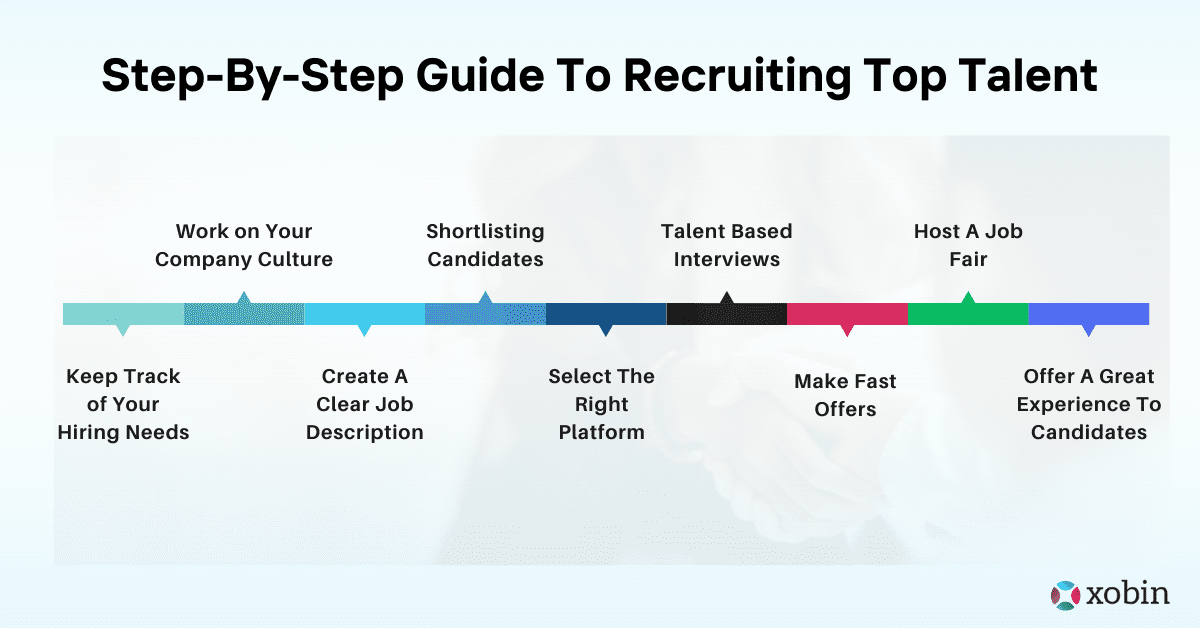 Keep Track of Your Hiring Needs:
The first step for you is to understand what type of hiring requirements are there in your organization. There could be a new opening in your company or an employee must have left the job. Hence, you want to fulfill those requirements.

First step in the recruiting process is to identify the hiring requirements. Then, in the next step you need to define the specifications of the job such as skills, knowledge, and experience. Companies can even create a precise chart that keeps a record of the employees and their skills. So whenever your company has a hiring requirement you can get clarity around it and fulfill it in no time.
   Looking for Hiring Software? Check out the best Hiring Software solutions.
Work on Your Company Culture:
A lot of companies fail to attract top talent for their organizations. On the other hand, the simplest way to make it possible is by working on your company culture. Having an amazing work culture at your office positively impacts the performance of employees, as it develops a sense of belonging and pride in their work.
Secondly, you must have heard that a great culture is going to help you attract great team members. If you are planning to build a high-performing team, then it's mandatory for you to build an exceptional work culture.
While finalizing your hiring decision, you need to think about if the person would be able to fit in your organization with the co-workers and more. If you are able to get a positive response based on your judgment, then you should move forward with that person.
Create A Clear Job Description:
Developing a clear job description is helpful for both the company and new joinees as well. By understanding the job description, new people can easily apply for the right position, while on the other hand, companies can hire the right person effortlessly.

Here is the list of important elements that you should keep in your job description:
Required qualifications & skills
Perks and benefits of the job
Title & Responsibilities
Location & type of job
Shortlisting Candidates:
There are a number of companies that are able to generate a large number of applications for their requirements, but it becomes challenging for them to shortlist the right candidates. If you are someone in the same situation then here are the steps you can take to shortlist the right candidates:
The first step would be to sort out all the candidates that have the minimum qualification and remove all those applicants with lower qualifications.
In the next step, the resumes will be filtered on the basis of their certifications, experience, skills, and other factors. Nowadays, every company looks at the quality of resumes shared by new candidates, which makes it important for them to have great resume writing skills.
At last, the candidates with minimum qualifications, good skills, and better experience would be shortlisted.
Select The Right Platform To Recruiting Top Talent:
There are a number of ways and platforms to help you find new talent for open positions in your company. But, a platform working for one company does not mean that it will work for your company as well. Hence, it's a hit & trial method for every company in which they can try out finding and recruiting top talent from different social media platforms, and within some time you would be able to learn which platform works the best for you.
Best HR Software Solutions
Campus Recruitment Software
With our online campus recruitment software screen, hire top talents hassle-free. Everything is under one platform, from test creation to the candidate's evaluation. from test creation to the candidate's evaluation.
Rating 5.0
Based on 321 user ratings
API Integration by Xobin
Get integrated and harness the strength of robust assessments with Xobin APIs. Save sweat and time and focus on your core offering, not building your assessment stack. from test creation to
Rating 5.0
Based on 321 user ratings
Coding Skill Assessment Software
With our 100+ coding assessments on various languages such as Java, Python, JavaScript, React, Angular, etc., evaluate and hire the best-talented developers. from test creation to the candidate's evaluation. to the candidate's evaluation.
Rating 5.0
Based on 321 user ratings
Pre-Employment Testing Software:
Get access to the vast library of validated tests to screen candidates using online assessments. Simplify your recruitment process with our cloud-based Pre-employment Testing Software. from test creation to the candidate's evaluation.
Rating 5.0
Based on 321 user ratings
Pre-recorded Video Interview Platform:
Pre-recorded Video Interview Platform allows candidates to fully express themselves to a pre-recorded question. So that you can get more insight into candidates in far less time than a traditional phone interview. from test creation to the candidate's evaluation.
Rating 5.0
Based on 321 user ratings
Talent Based Interviews:
Most companies lose on recruiting top talent because they are either new to the industry or don't have any previous work experience. To solve such a problem and stop losing efficient candidates, it's important for you to focus on talent-based interviews. Talent-based interviews are the ones where the company focuses specifically on your talent & skills, instead of your education qualification, grades, and years of experience.
Let's check out some benefits of talent-based interviews:
It helps you select top talent for your company.
It helps you improve your employee retention.
Helps you work on your organizational performance.
Make Fast Offers:
If you have selected a candidate and want to hire him/her for an open position in your company, it's important for you to make a fast offer for them. Otherwise, they might apply to some other company and get a job. By making them a fast offer you as a company would be able to show confidence in the candidate, which builds a positive impact. Secondly, it will help you fulfill the position early and start the work as soon as possible.
Host A Job Fair:
Another great way to recruit top talent for your company is by making applicants experience your organization closely. And to make that possible you can host a job fair. To invite people to your job fair you can send a social media or an email invitation. It will help you get access to a number of qualified candidates whom you can hire directly at the fair.
Tips to host your first job fair:
If it's your first time hosting a job fair, you should opt for a limited number of candidates. So, that management can be easier.
Develop a clear idea and outline around your job fair and what all the candidates can expect.
Offer A Great Experience To Candidates:
When you want to attract great candidates for open positions in your company, make sure to offer a great experience to them. In order to recruiting top talent, try to offer a clear and positive overview of your company to all the candidates that are going to apply for your open positions. The biggest advantage of offering a great experience to candidates is it helps in building a positive image of the company, and the new candidates get an idea of whether the company would be able to fulfill their expectations or not.
Here are some tips that can help in offering a great experience to candidates:
Always ensure that you are hiring at the right time when there's an actual open position.
Make it easy for your candidates to apply for jobs.
Share the complete outline of your recruitment process in the job description.
Stay in touch with your candidates who are in between the onboarding process.
Conclusion:
Recruiting top talent for your company is one such important task that leads to the growth of the company in every aspect. Still, finding it difficult to hire top candidates in your company? Make sure to use the discussed above tips.
Software you need for all your recruitment process
1 Million +
Test takers per year
About Author: Jessica Robinson loves to write interesting and knowledgeable blogs. She writes about business management, education and life to satiate the curiosity of her lovely readers. Currently, she is serving as a content manager at the 'Speaking Polymath'. Every piece of content that she writes demonstrates her immense love and passion for her profession.