Introduction:
Every day there is a new update on geopolitical conflicts and war and in the game of sanctions and oil prices and the fall of currencies. All of this challenges the economic trends and financial turbulence. As a result of all these evolving consumer trends and changing regulations, the responsibility all falls on the financial firms. Therefore it becomes the responsibility of these firms to make sure they attract the right talent. Talent that can keep up with the trend and is fast and intelligent enough to grasp the rapid transformations.
Right now, for businesses, it is a high time than ever to have the right candidate for their finance sector roles. Therefore skill gaps at this time may affect the issues for all kinds of businesses.
   Looking for Pre-Employment Testing Software? Check out the best Pre-employment testing software.
Roles like bank managers, finance officers, accountants, financial analyst, branch manager or any roles that involve the responsibility in managing the finances comes with a big responsibility.
Therefore in the finance sector, having a candidate with the right skill is always a plus point for businesses. So here's everything you need to know about pre-employment testing for financial roles.
What is pre-employment testing?
A pre-employment test is a test conducted virtually to screen applicants who have applied. These pre-employment and screening tests are used to get insights into the candidate's personality and skills, like technical and work experience in the field.
Therefore, these tests assess a candidate's cognitive abilities and mental strengths, and confidence in their future performance. As a result, employers can easily identify the best fit for their job and company using the data from these tests.
Advantages of using pre-employment testing for finance roles:
All brands and businesses are utilizing pre-employment testing. The main reason behind this is that they add value to their hiring process and make a real impact in the workplace. Hence organizations use these tools in the hiring process and after the hiring process.
For recruiters and employers, there is a constant fight in between organizations to get their hands on the right fit. Hence these pre-employment tests play a crucial role in their hiring processes. Let me take you through the advantages of these tests.
1. To save time and costs in the hiring process:
We all are aware of how long it takes to join an organization from the application process. So we can surely say the hiring process is long and it costs money. For companies, the longer they don't have an employee, they face challenges in the workflow. Therefore managing a recruitment budget is a must for recruiting managers.
So the hiring team should invest in the right tool to make their hiring process fast and crisp. The use of these tools will assess the candidate on the needed domain skills and parameters and fastens your hiring process. As a result, it gives you the right fit in less time and saves a lot of money on making bad hiring plans.
2. Brand Image Building using the recruitment process:
As per the research, there are 250 applications per vacancy in an organization. Interestingly according to the Xobin State of Corporate Recruitment survey, 55% of organizations say on two joining offers, they have one candidate joining. With so much competition and applications, you may overlook the best fit for your company. This bad experience might create a bad reputation and create a bad image as well.
Hence, with the right tools like ATS, it is easy to keep a watch and avoid mistakes. So these tools will make the process efficient and the candidate gets a good experience without feeling stuck in the process. As a result, it creates a positive brand image and you will build a strong team.
3. Streamlining the hiring process:
With the right tools and tests, an employer can make their recruitment process efficient. With the tests, it is easy to shortlist the candidate who has succeeded in the test on your parameters. On the other hand, you can take needed actions on those who did not qualify.
Varieties of the test cover a wide range of skills for the financial roles and their results give needed insights into the candidate. Therefore with these insights into their personality and skills, you can make your hiring process most efficient.
Best HR Software Solutions
Campus Recruitment Software
With our online campus recruitment software screen, hire top talents hassle-free. Everything is under one platform, from test creation to the candidate's evaluation. from test creation to the candidate's evaluation.
Rating 5.0
Based on 321 user ratings
API Integration by Xobin
Get integrated and harness the strength of robust assessments with Xobin APIs. Save sweat and time and focus on your core offering, not building your assessment stack. from test creation to
Rating 5.0
Based on 321 user ratings
Coding Skill Assessment Software
With our 100+ coding assessments on various languages such as Java, Python, JavaScript, React, Angular, etc., evaluate and hire the best-talented developers. from test creation to the candidate's evaluation. to the candidate's evaluation.
Rating 5.0
Based on 321 user ratings
Pre-Employment Testing Software:
Get access to the vast library of validated tests to screen candidates using online assessments. Simplify your recruitment process with our cloud-based Pre-employment Testing Software. from test creation to the candidate's evaluation.
Rating 5.0
Based on 321 user ratings
Pre-recorded Video Interview Platform:
Pre-recorded Video Interview Platform allows candidates to fully express themselves to a pre-recorded question. So that you can get more insight into candidates in far less time than a traditional phone interview. from test creation to the candidate's evaluation.
Rating 5.0
Based on 321 user ratings
Types of pre-employment tests for financial roles:
It might seem that pre-employment testing for finance roles is all about assessing a candidate's ability to use numbers. While that is a significant part of the pre-employment finance testing process, it is not the only one being evaluated. These are the key tests that financial service sector hiring teams should use when recruiting.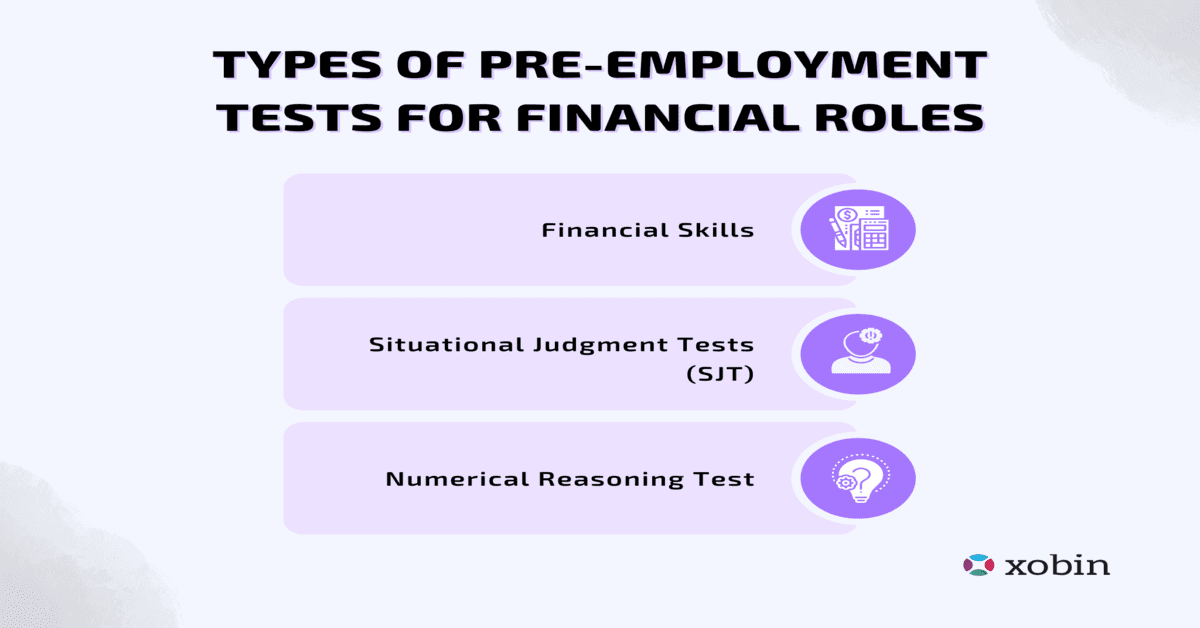 Financial Skills:
A financial skill test is an assessment of a candidate's financial knowledge and skill, usually taken as part of a job interview and in the hiring process. The purpose of performing a financial skill test is to see if candidates have the required knowledge and skills to perform relevant tasks in relation to their potential employment with the employer.

Hence these tests cover areas such as basic financial management skills like setting cash flow budgets, forecasting future sales volume, etc. It also helps an employer check the candidate's knowledge about their sector and industry. So you can check out Xobin financial skill assessment tests without relying on regular tests.
Situational Judgment Tests (SJT):
Pre-employment testing for finance roles is a must. Whether you are applying for a full-time role or a part-time role, there are certain aspects that you should consider before you apply for the job. One of those key aspects is financial situation testing. The use of SJTs in your recruitment process will test candidates according to your culture and work expectations. On the other hand, these SJTs can help a candidate get a clear idea about work pressure and responsibility before they begin working for you.

Therefore, SJTs present candidates with scenarios that are likely to happen in the daily responsibilities of a financial job. This could be a hypothetical problem that must be solved with a colleague or a mistake with a late invoice. The candidate will then be asked to choose from multiple choices.
Examples of some of the SJTs:
Listening and communication test
Comprehensive reasoning test
Time management test
Work culture and management tests
These tests will evaluate the candidate's values, judgment, and critical thinking skills. For finance positions, recruiters may customize the questions to assess leadership, integrity, and initiative. These are the essential competencies for finance positions.
Numerical Reasoning Test:
A numerical reasoning test is an online test that tests the ability to work out multi-digit numbers quickly and in the correct order. The test is usually for people who use computers for a living, such as accountants and financial analysts.
If you're looking for finance jobs, then you need to know that a numerical reasoning test is often considered one of the most important things in this field. Even if you don't have any previous experience, it's crucial that you pass this test before getting started.
Conclusion:
In conclusion, to make a successful hire in the finance role, you need to have the best tests. So pre-employment testing for finance roles is an important part of an employer's recruitment process. The purpose of this test is to ensure that you have a highly skilled workforce for the job and for your organization's development. In addition, the importance of having a high-standard background check procedure should not be overlooked.