Pre-employment testing software can help companies save a lot of time and cost in the hiring process. However, there are over 80+ online assessment tools and vendors. Each one claims to be the best. There may be many reasons to use assessment software. After all, every company wants to hire the best talent.
   Looking for Pre-Employment Testing Software? Check out the best pre-employment testing software.

So how should you go about choosing the right assessment vendor? We've got you covered. Here is a 12 Point checklist to keep in mind while selecting an assessment vendor. Download the Checklist
Budget and Pricing Options
Companies of all sizes face hiring problems. As a result, they all use pre-employment testing software. You'd want a vendor that fits your budget.
Let's understand how these companies may charge you.
A few vendors may charge you per job role. Others may charge per test invite. Some vendors may ask you to provide a minimum time commitment. There may also have a fee for admins and users.
Per-invite-based pricing may be apt for casual hiring. However, it may burn a hole if you have multiple openings or do high-volume hiring. So make sure you choose a tool that fits your budget.
Understand if the Software fits your Usecase
There are various use cases for pre-employment testing. The assessment tool you choose should have features relevant to your needs. For example, most softwares come with a question bank. Make sure you check the quality and relevance of these questions.
Some tools are great for tech screening, while others may be suitable for psychometric tests. For example, aptitude tests may be useful if you have a high-volume recruitment strategy. At the end of the day, the right software is one that fits your needs perfectly. It must match your hiring scale and fit into your hiring process.
Reporting Mechanism in your Pre-Employment Testing Software
The main purpose of using skill tests is to help recruiters and hiring managers make data-driven hiring decisions. However, it may be not easy to review each test response manually. Instead, it's best to choose an assessment software that can rank your candidates based on their test scores.
Most recruiters like reports to be concise and insightful. They prefer it when the reports and scores are generated automatically. A holistic candidate report sheds light on various aspects required to succeed at the job.
A rubric is a scoring guide. Make sure the report captures your defined rubric. Lastly, ensure that the software allows for reports to be exported.
Ease of use
We all have used software that feels like a clunky ERP if not check this list of ERP software in Dubai. It may take multiple clicks to achieve a simple objective. However, it is important not to be rash. After all, shiny and new may not be better. The best assessment vendors provide a great user experience. Their goal is to make users happy and feel productive. As the old adage goes, bigger isn't always better. It's often the small design aspects that can make all the difference!
Understanding the ease of use is simple. Just a glance at the vendor ratings can make it obvious. Then, compare them with the category average.
Best HR Software Solutions
Campus Recruitment Software
With our online campus recruitment software screen, hire top talents hassle-free. Everything is under one platform, from test creation to the candidate's evaluation. from test creation to the candidate's evaluation.
Rating 5.0
Based on 321 user ratings
API Integration by Xobin
Get integrated and harness the strength of robust assessments with Xobin APIs. Save sweat and time and focus on your core offering, not building your assessment stack. from test creation to
Rating 5.0
Based on 321 user ratings
Coding Skill Assessment Software
With our 100+ coding assessments on various languages such as Java, Python, JavaScript, React, Angular, etc., evaluate and hire the best-talented developers. from test creation to the candidate's evaluation. to the candidate's evaluation.
Rating 5.0
Based on 321 user ratings
Pre-Employment Testing Software:
Get access to the vast library of validated tests to screen candidates using online assessments. Simplify your recruitment process with our cloud-based Pre-employment Testing Software. from test creation to the candidate's evaluation.
Rating 5.0
Based on 321 user ratings
Pre-recorded Video Interview Platform:
Pre-recorded Video Interview Platform allows candidates to fully express themselves to a pre-recorded question. So that you can get more insight into candidates in far less time than a traditional phone interview. from test creation to the candidate's evaluation.
Rating 5.0
Based on 321 user ratings
Candidate Friendliness of your Pre-Employment Testing Software
Tests should be a breeze to use for test-takers. However, this is not always the case. A few vendors expect the candidate to visit an assessment center. Others may want the candidate to download. There have also been instances of test-takers being asked to download chrome extensions. All this adds friction to the test-taking process. It makes the experience very clucky for the applicant.
The best platforms let the candidates start the test from any device. Not just that, there are no restrictions on using any browser. Moreover, since everything is on the cloud, there is no need for test-takers to install any software.
Anti Cheating Features
Assessments must be fair for all. Therefore it is important to weed out anyone who tries to game the system. You wouldn't want applicants who score well on the test but fail your interviews.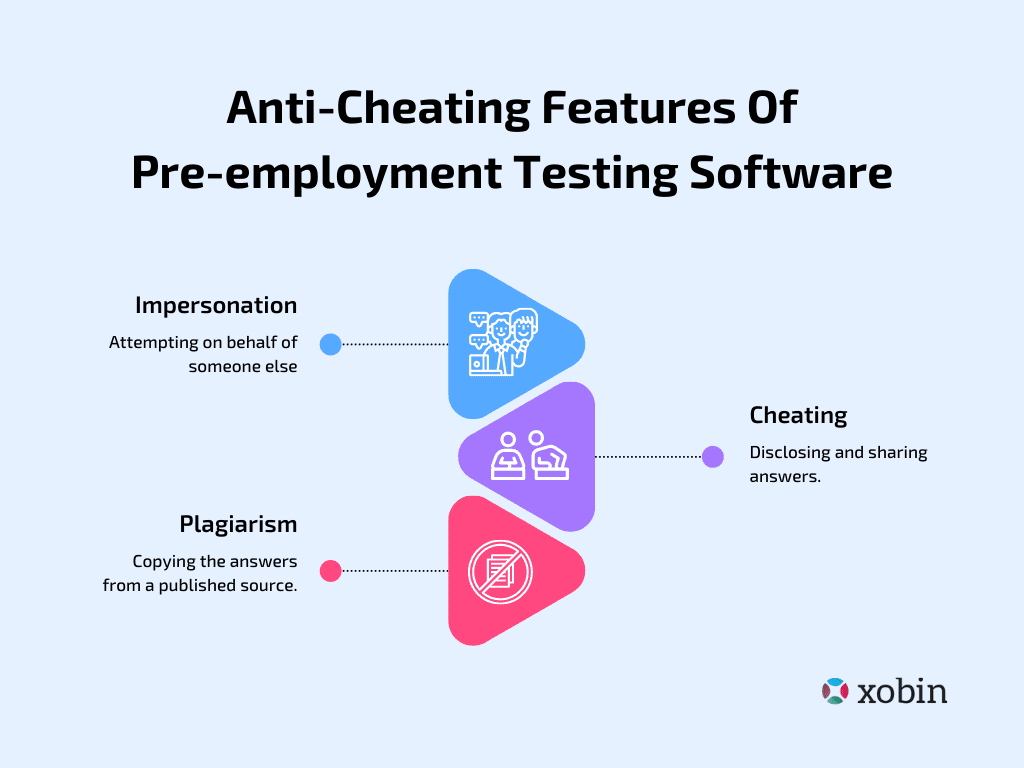 Three types of behaviours can affect the test's integrity.
Impersonation, i.e. attempting on behalf of someone else.
Cheating, i.e. disclosing and sharing answers. 
Plagiarism, i.e. Use a trusted plagiarism checker to measure the originality of content.
The top assessment vendors have multiple features to restrict these malpractices. You could use all or some of these features. Webcam proctoring and copy-paste detection are the most popular.
Check out how Xobin prevents cheating in online exams.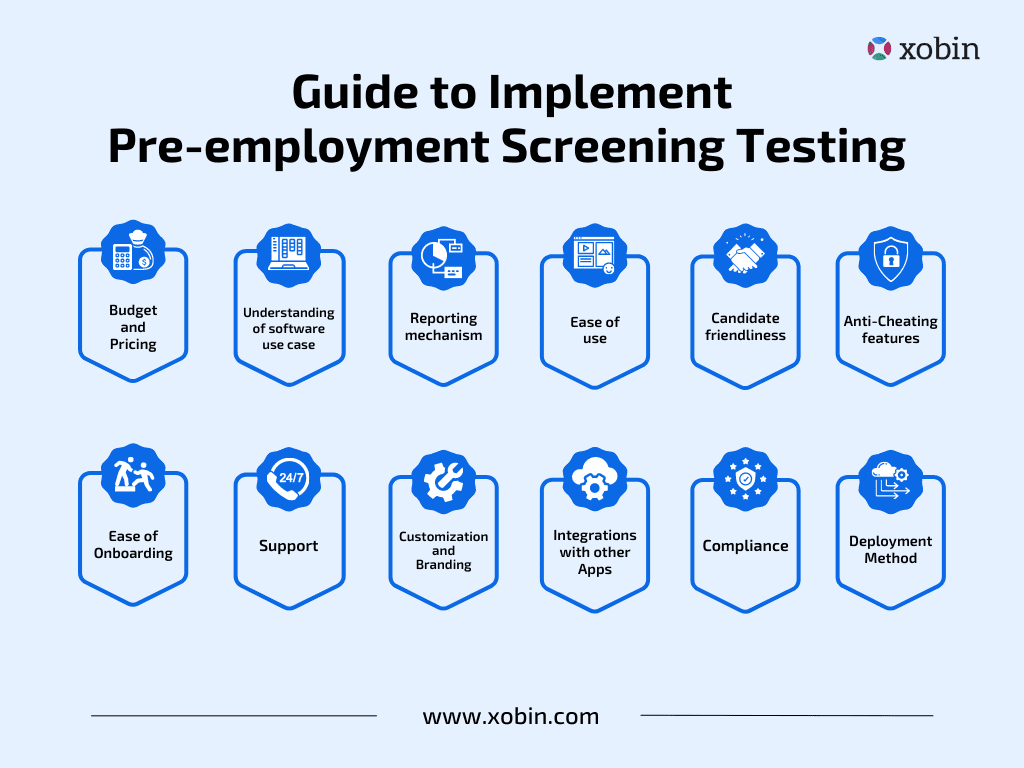 Ease of Onboarding
Not everyone is tech-savvy. You and your hiring team may need help in getting onboarded. It's best to ask your vendor the typical time frame. Some new software needs a week to implement. The others follow a self-service model.
Check if your vendor has ready-to-use help docs. The best assessment platforms may also provide live training sessions. In addition, you may want to spend time viewing public reviews. It would help analyze the quality of support
Support
Recruiters may not possess technical knowledge related to the software. Hence, they may require support at each stage. Right from test creation to generating reports.
Not just recruiters. Even test takers may face glitches while taking up the test. In such cases, time is critical. Support should only be a phone call or live chat away in such scenarios. A good platform must offer support to both – test takers and recruiters.
Questions to ask your pre-employment testing software vendor :
What type of support do you provide for different pricing plans?
Do you provide Live Chat Support and Phone Support?
What is the typical turnaround time for any support requests?
Customization and Branding Options In Pre-employment Testing Software
Employer Branding is critical in today's hiring market. Companies prefer the test to be in line with their brand identity. The top assessment software not only reflects the company brand. They enhance it.
Choose assessments that reflect your company culture. Your brand is more than just colors or logos. For example, a simple welcome message goes a long way in enhancing the brand.
Questions to ask your vendor :
Can the look and feel of the test be customized?
Does the test showcase the company logo?
Is the platform white-labeled?
Integrations with other Apps
Don't we love it when the entire process is streamlined? Of course, this is easier said than done since there are many touchpoints in the hiring process. Some teams may want to connect it to their ATS such that no candidate slips through the crack. Others may want to sync it with Slack. Integrations make ensure that everything is organized in one place.
Questions to ask your assessment software vendor :
Is it a standalone tool, or can it be integrated with your current HR systems?
Are there Webhooks and public APIs
Does the integration come at an additional cost?
Compliance for Pre-employment Testing Software
Hiring practices are meant to be fair and democratic. As part of your risk assessment, it's important to see if your vendor is compliant with your hiring practices. Understand what data your assessment software collects, how they store it, and where they store it.
While it is just a checklist, it's important to ask your vendor
If the software or tool is ISO Certified
If the software or tool is

EEOC-compliant

.
Does the software or tool have GDPR Certifications
What steps have been taken for the protection of personal data
Deployment Method
Most companies today use cloud-based assessment software. However, some IT teams still choose to host applications using on-premise servers. The IT Team mostly sets this requirement. In our experience, it is seen that schools and colleges prefer self-hosting their online exam software.
On-prem or cloud, make sure your vendor's deployment style is in sync with your IT Team.
Conclusion
So there you have it! Every company wishes to attract the best talent in the market. Once you have decided to buy, use this 12-point checklist before finalizing your pre-employment testing software.