Introduction:
As a marketer, you need to be able to think critically. There never seems to be enough time in the day to complete everything that needs to be done. This blog post is about pre-employment assessments for marketing roles. With a focus on the industry, I will highlight the various important variables and aspects you should look into before hiring a person for a role.
What is pre-employment testing for marketing roles?
A pre-employment assessment is the first step in the hiring process. It allows employers to better understand your skills, personality, and work ethic at a much earlier stage. Because there is no set schedule or format, you can use our pre-employment assessments for marketing roles to gauge if you are a good fit for the job and what it would take to succeed. We can also offer insights on how you might improve your candidacy with additional training or experience in specific areas of expertise.

How Pre-employment tests are used for marketing roles?
Have you ever started a new job without knowing what was expected? Or have you ever been in a position where you were asked to complete a test before starting your new position? I'm sure it has happened to most of us. Some companies have pre-employment assessments that test candidates for jobs in marketing roles. These tests can help the employer ensure their candidates meet certain requirements for their roles, such as level of education, experience, etc.
Therefore, a screening test aims to identify a candidate's skills, abilities, and motivation; and determine which personality and attributes would best fit the position. The pre-employment assessment is not a screening process, but it will help determine whether or not the candidate will be suitable for the job. This type of assessment may include a personality test, strengths, and weaknesses test, an ability to communicate test, and an interest in marketing.
Following are the Pre-employment assessments for marketing roles: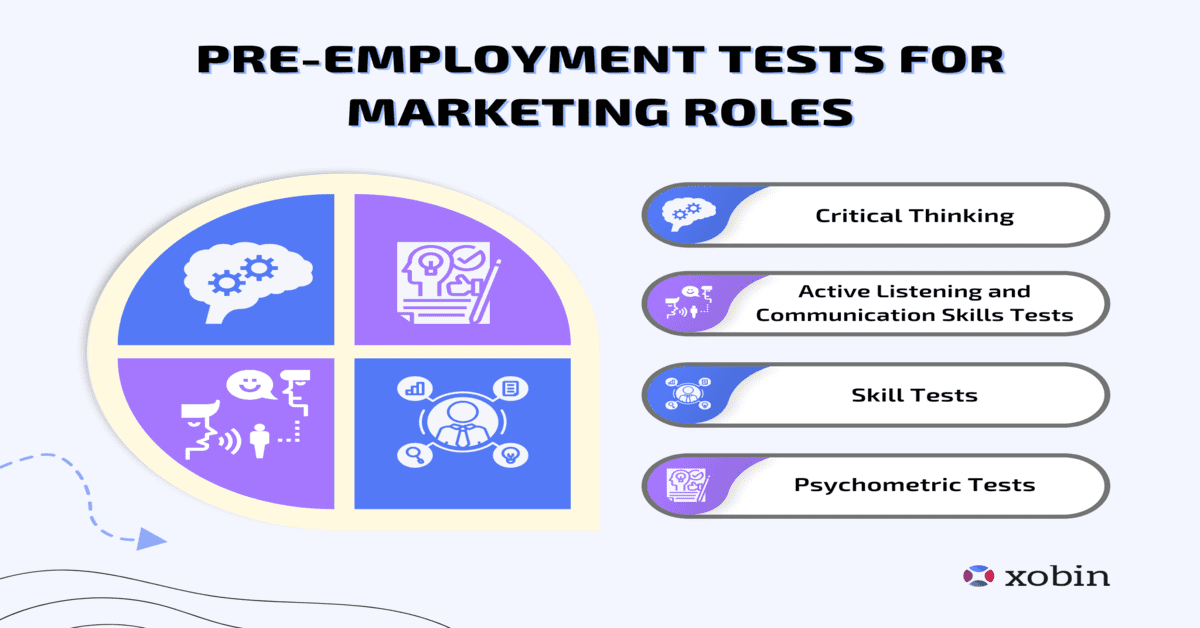 Critical Thinking:
As a marketer, you need to be able to think critically about your work. As I have said above, there never seems to be enough time in the day to complete everything that needs to be done. We're always trying new things and implementing changes to different areas of our business. However, when dealing with current clients, critical thinking on an ad hoc basis is critical for long-term success. If a candidate has not thought critically about an assessment task that may have been biased or not as equal, things will fall apart for them in the future if they cannot do so.

Active listening and communication skills tests:
The Critical Thinking Assessment is an online self-assessment tool that can help you determine how well you think. It can be determined by scoring your performance on important cognitive skills such as reasoning, inference, analysis, synthesis, and critical thinking in a practical context. The test is designed to help you identify your strengths and weaknesses in the critical thinking domain, improve your reading comprehension, and learn more about yourself.

Skill Tests:
In marketing-related roles, skill testing is important in operating on multiple tasks. So use the right pre-employment skill tests to assess the needed skills for your open role in such scenarios. Most of the time, these skills are easier to evaluate as they are more technical. With these skill tests, employers can test candidates' analytical, SEO knowledge, creative and technical writing, out-of-the-box thinking, strategic answering, and many more.
Best HR Software Solutions
Campus Recruitment Software
With our online campus recruitment software screen, hire top talents hassle-free. Everything is under one platform, from test creation to the candidate's evaluation. from test creation to the candidate's evaluation.
Rating 5.0
Based on 321 user ratings
API Integration by Xobin
Get integrated and harness the strength of robust assessments with Xobin APIs. Save sweat and time and focus on your core offering, not building your assessment stack. from test creation to
Rating 5.0
Based on 321 user ratings
Coding Skill Assessment Software
With our 100+ coding assessments on various languages such as Java, Python, JavaScript, React, Angular, etc., evaluate and hire the best-talented developers. from test creation to the candidate's evaluation. to the candidate's evaluation.
Rating 5.0
Based on 321 user ratings
Pre-Employment Testing Software:
Get access to the vast library of validated tests to screen candidates using online assessments. Simplify your recruitment process with our cloud-based Pre-employment Testing Software. from test creation to the candidate's evaluation.
Rating 5.0
Based on 321 user ratings
Pre-recorded Video Interview Platform:
Pre-recorded Video Interview Platform allows candidates to fully express themselves to a pre-recorded question. So that you can get more insight into candidates in far less time than a traditional phone interview. from test creation to the candidate's evaluation.
Rating 5.0
Based on 321 user ratings
Psychometric Tests:
Recognizing the value and benefit of psychometric testing, recruiters and employers consider these psychometric tests in evaluating a candidate's cognitive abilities, personality, and suitability for the job. For example, psychometric tests have been used to analyze a candidate's mental skills and assess various aspects of their thinking.

So then, it is clear that cognitive testing ability for marketing roles is beneficial for companies, especially considering low costs and high return on investment. The work environment changes with each passing day, so I recommend you periodically reevaluate and assess when you want to use this test. These tests usually consist of multiple choice options that combine questions from various areas to assess your candidate's cognitive aptitudes.

Therefore cognitive ability or psychometric tests are useful for senior and junior roles. For senior roles, the tests might measure your applicant's capacity to make swift, practical decisions. For junior positions, the tests evaluate your candidate's ability to develop quickly and their ability to learn and adapt to new skills.
Why is pre-employment testing important for marketing roles?
In part above, we have seen the need for pre-employment testing for the marketing roles. Hence nowadays, the role of marketing is not what it once was. The demand for the roles and responsibilities marketers carry in an organization carries a high value and is a crucial task.
Therefore, to test a candidate with these skills and responsibilities, pre-employment tests play an important part in recruitment related to marketing roles. But with the recruitment process, these tests involve so many more aspects. So for an employer, these tests save costs, time, startup turnover rate, and many other factors to consider.
Following are the factors to focus on:
Candidate Hiring Experience
Brand Image Building using the recruitment process
Avoiding bias based on Color, Religion and Gender
Maintaining the privacy of your candidate's data
Considering other legal compliances
All the above factors are essential in recruitment and help you achieve your goals. Goals like finding you a candidate as per your requirement with insights into the candidate's profile.
However, there are many reports out there where students have admitted to cheating on their resumes. Therefore this is another reason why pre-employment plays an important role in recruitment.
Conclusion:
Hence, if we look around the companies, it is obvious that marketing roles are essential. For company's use of these pre-employment testing over traditional tests will give them current latest industry-ready results. Also, new age tests available today consider a candidate's technical skills and confidence level according to the role.