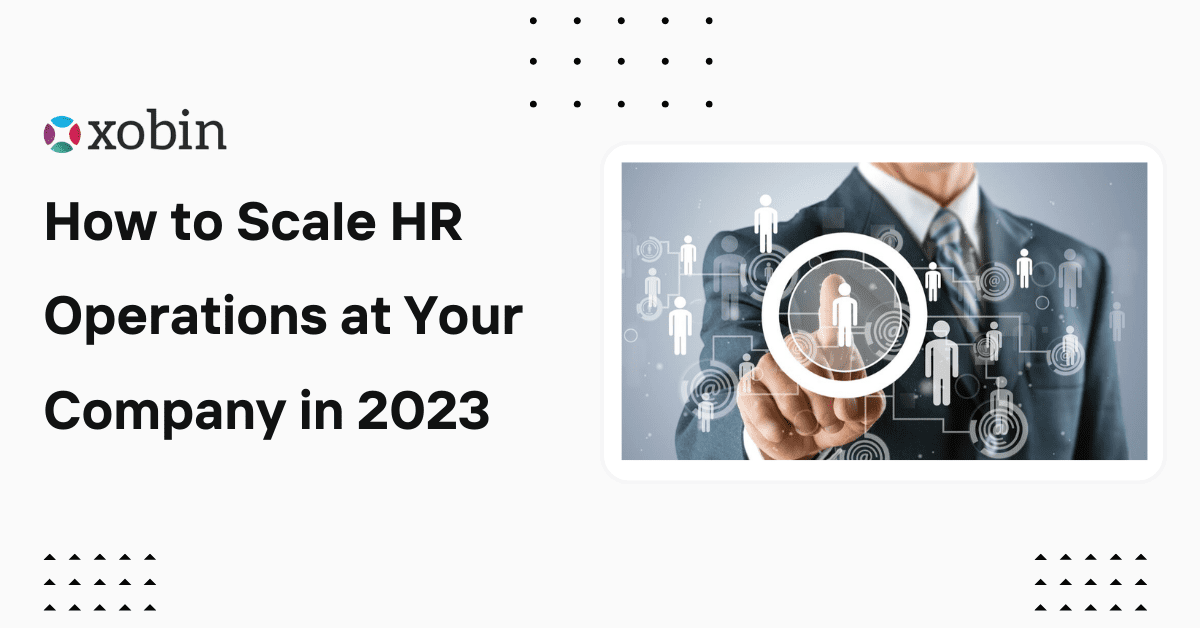 Growing your business means scaling it from the revenue perspective and hiring a flexible workforce to change the organization constantly. Combining these two factors will help you overcome the HRM challenges of a competitive market. But first, setting the correct HR operations in place is crucial.
On the other hand, streamlining HR operations help you align workplace processes and practices, streamline employee hiring processes, and hassle-free foster a thriving work culture. Besides this, one may experience various other features when scaling HR operations.
 Looking for Recruitment Software? Check out the best recruitment software.
Benefits of Scaling HR Operations:
Integrating such technology into your HR operations stack will allow you to manage your employees and track their progress on a regular basis. But there is more that you can achieve once you scale HR operations. Some of these benefits include:
1. Ensure data security: Make sure that the data of all your employees and company processes stays secure with the right tools. With the best knowledge base software, you can ensure that the data shared internally doesn't get shared publicly.
2. Improve business decisions: Once you scale HR operations, identify the departments requiring new resources or replacements. You can track the current output to measure whether they are reaching their existing goals. If it is a resource crunch, you can figure that out and search for candidates who meet the job requirements.
3. Enhance recruitment and onboarding: From securing the right talent for your organization to onboarding them to all your current processes, you can do it all once you scale HR operations with the help of the right stack.
Best HR Software Solutions
Campus Recruitment Software
With our online campus recruitment software screen, hire top talents hassle-free. Everything is under one platform, from test creation to the candidate's evaluation. from test creation to the candidate's evaluation.
Rating 5.0
Based on 321 user ratings
API Integration by Xobin
Get integrated and harness the strength of robust assessments with Xobin APIs. Save sweat and time and focus on your core offering, not building your assessment stack. from test creation to
Rating 5.0
Based on 321 user ratings
Coding Skill Assessment Software
With our 100+ coding assessments on various languages such as Java, Python, JavaScript, React, Angular, etc., evaluate and hire the best-talented developers. from test creation to the candidate's evaluation. to the candidate's evaluation.
Rating 5.0
Based on 321 user ratings
Pre-Employment Testing Software:
Get access to the vast library of validated tests to screen candidates using online assessments. Simplify your recruitment process with our cloud-based Pre-employment Testing Software. from test creation to the candidate's evaluation.
Rating 5.0
Based on 321 user ratings
Pre-recorded Video Interview Platform:
Pre-recorded Video Interview Platform allows candidates to fully express themselves to a pre-recorded question. So that you can get more insight into candidates in far less time than a traditional phone interview. from test creation to the candidate's evaluation.
Rating 5.0
Based on 321 user ratings
4. Cost-saving: Once you automate specific HR processes, you reduce the cost of talent acquisition and training and boost employee satisfaction. You can avoid attrition and ensure a stable flow of work that helps you achieve your company goals.
5. Boost employee experience: Satisfy your employees by setting the right processes that help them achieve their goals. Help them learn about new tools and execute them. Streamline their review process so they don't have to wait for their updated remuneration. This retains your employees and increases the satisfaction rate.
Features for Scaling HR Operations: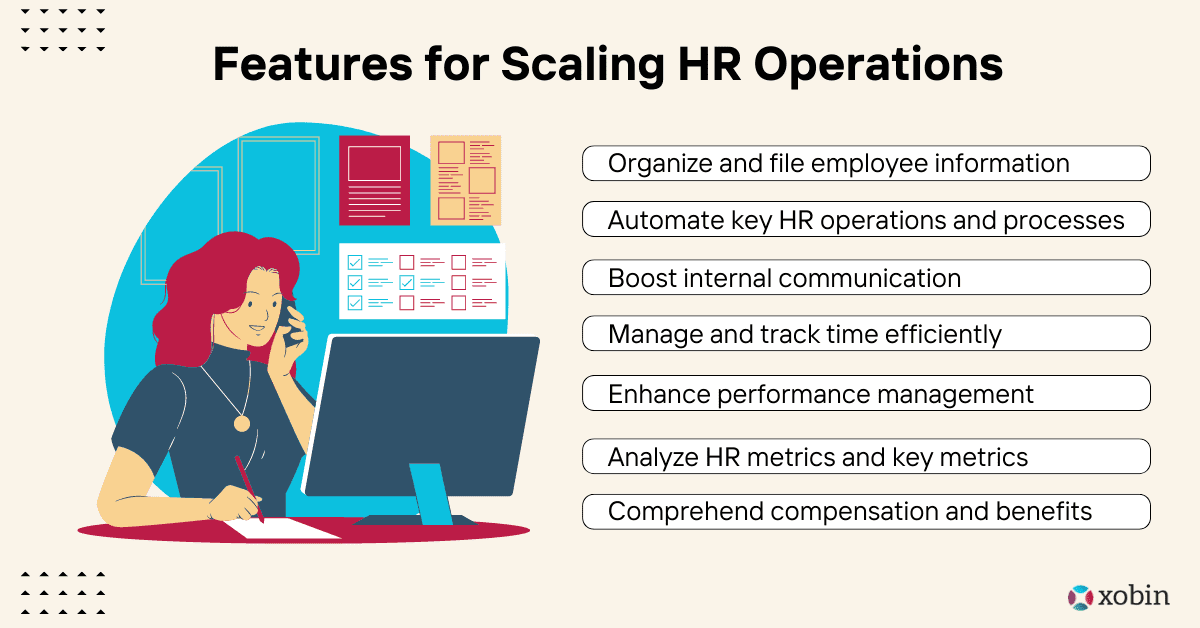 Organize and file employee information:
One of the core features of HR operations is organizing and filing employee information. You need to secure details such as:
The joining date of the employee
The role they got hired for
Their respective remuneration package details
Who they'll work under or closely with
Their workstation details (inclusive of the system and its accessories)
With their entire journey documented in a place, it becomes easier for you to recognize their contribution to the organization and how they need to be rewarded accordingly.
Automate key HR operations and processes:
With HR operations in place, you can automate various activities that were earlier done manually. These key activities include but are not limited to:
Managing the attendance of each employee regularly
Ensuring salary disposal on time
Tackling commonly asked questions using a chatbot or knowledge base
Monitoring employee performance during the review cycle
Creating and posting job postings on various platforms
And many other vital processes have been automated with the help of HR operations.
Boost internal communication:
It is always a task for HRs to communicate with all employees and take in their feedback. The same task becomes all the more challenging as the organizational expansion takes place. However, HR operations runbook enable you to boost communication and knowledge sharing between the employees and the HR team, and support cross-team collaboration.
Manage and track time efficiently:
HRs get to track and manage their time with the right processes in place. They can use time management tools to track how long they were productive at the workplace as well as look for employee wellbeing at workplace. The exact mechanism can help HRs look into the productivity hours of other employees at the workplace. This way they can ensure that employees are giving their 100% and identify any roadblocks to their productivity.
Enhance performance management:
HR operations also enable your organization to streamline the performance management process efficiently. You can manage everything, from the base level from tracking individual performances to getting assistance during review cycles. What's more, you get to reduce manual efforts throughout the process and ensure employees feel rewarded for their efforts.
Analyze HR metrics and key metrics:
You need to assess multiple HR metrics and KPI's to ensure you are getting the most out of the HR operations. These metrics are inclusive recruitment, engagement, performance management and many other metrics. Some of these include the following:
Cost per Headcount
New-hire turnover
Time to hire
Retention rate
Talent turnover rate
Absence rate
Overtime hours
Revenue per employee
And the list goes on. But these metrics give you a clear idea of how the HR operations benefit your organization's different aspects.
Comprehend compensation and benefits:
Identify the proper compensation and benefits for all the new employees per industry standards with the help of HR operations. This can be challenging if you are scaling your organization and have zero clue how to compensate employees based on their positions.
How to streamline hiring with HR Operations?
While we have understood the multiple features one can gain through HR operations, we are yet to see how you can scale your organization with digital HR operations. Here are 6 steps on how to scale with HR operations digitally.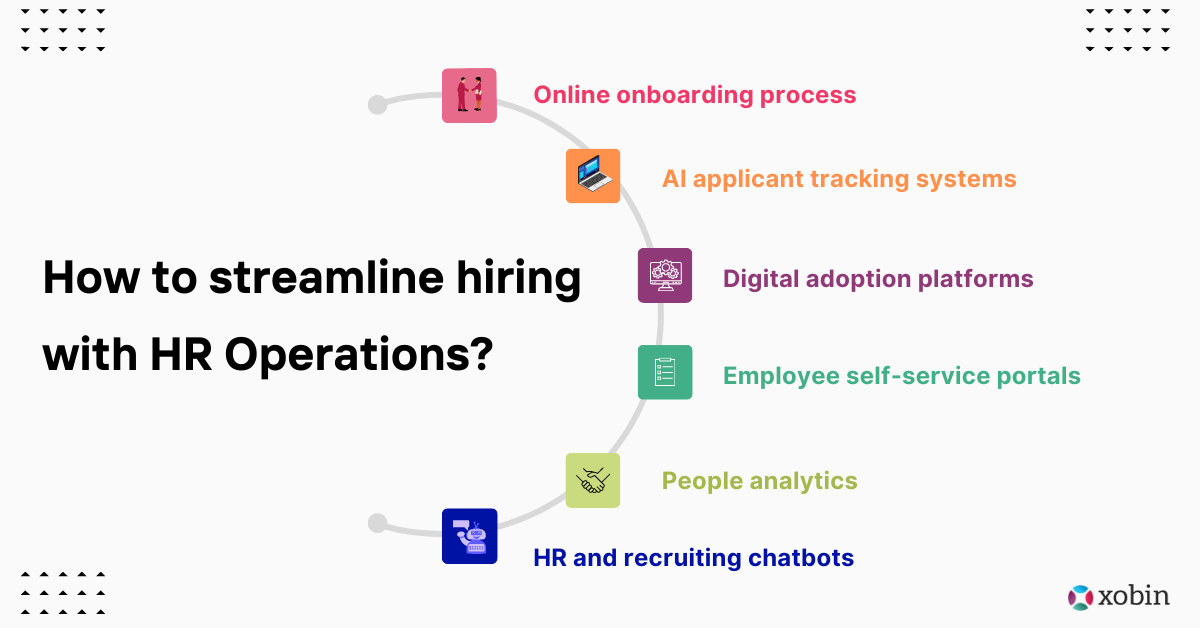 Online onboarding process:
Create a training manual for your employees to ease the onboarding process. You can either create one in Word and convert it into a PDF or use a knowledge base solution to document the next steps in the onboarding process.
AI applicant tracking systems:
Use resume scanner apps that help you narrow down the right candidates for the open positions. You can see if they have the right skills to be considered further in the hiring process. What's more, these apps help you track the current status of the applications submitted by candidates.
Digital adoption platforms:
There are various platforms that you introduce so that employees can become more productive at the workplace. However, not all employees are able to learn those platforms and how to work with them in a short period. Using digital adoption platforms, you can expedite the learning process for your employees. They will get to learn about these platforms faster and increase their work productivity too.
Employee self-service portals:
From product and service to roles and responsibility related common questions, employees will come up with a lot of doubts. They will seek other team members to resolve their queries. This not only increases the resolution time but also create dependencies. To resolve this, you can introduce knowledge base software where employees can find information faster or create an internal community to avoid dependence on one person.
People analytics:
From tracking an employee's consistency towards working hours to monitoring their productivity via goal completion, people analytics software helps you do it all. That's why getting one can help you automate a lot of the processes for HRs and assist them to be more productive.
HR and recruiting chatbots:
Want to ensure that candidates receive the right answers to their questions even if HRs aren't there to help them? Introduce a recruitment chatbot to your HR operations. This will allow you to answer questions from potential candidates and direct them to the right course of action which simplifies hiring process for you.
Conclusion:
In conclusion, scaling HR operations are crucial for any business to streamline its workforce against the organization's goals. The best part is that there isn't one but multiple ways to scale HR operations correctly. You can also introduce multiple tools that automate HR operations by digitizing them for all employees and helping them save time on various processes. So, if that's the intention you have in mind and you are looking for various ways to scale your HR operations, you can scan through our quick guide and get started.
We hope this helps!
Software you need for all your recruitment process
1 Million +
Test takers per year
Author's Bio: Sai Dheepika is a passionate writer and self-motivated content creator at Kovai.co. She produces content whenever and wherever she can. If not, she's planting trees!