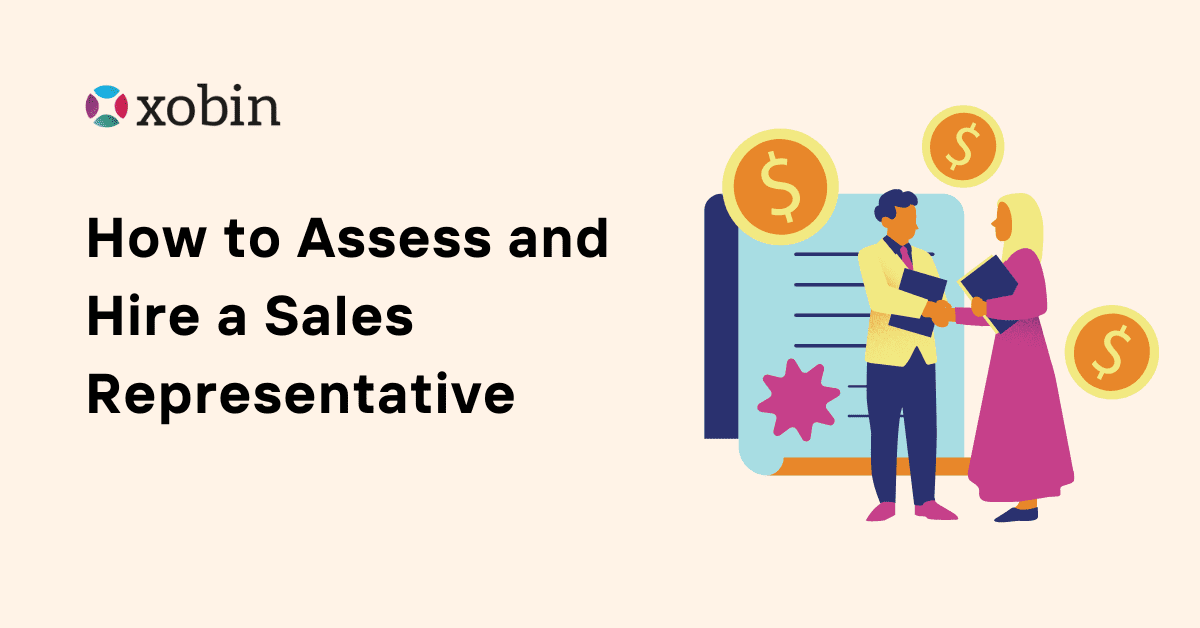 Sales Representative : A designation used for salespeople in high technology and business service organizations.
They repesent the face of the company. They pitch, nurture, negotiate and close deals for the organization. They are tasked with building long lasting professional relations between organization. In this blog, we try and analyze best ways to hire your sales team.
Before you proceed further, just close your eyes for a minute. Imagine an ideal salesperson. Which character did you imagine?
Sales Representatives have been typecast in films. They are shown as the closers. They drive the revenue. They are portrayed as ambitious individuals who love to put themselves in front of other people. The smooth talker with a suit and go-getter attitude. Sounds familiar right ?
Yes. But a lot more than that. So how would you go about hiring a sales representative.
Qualities of Top Sales Representatives

The Pareto Principle i.e the 80/20 rule says that approximately 80 per cent of sales is accomplished by the top 20 per cent of sales people. A Harvard Business Review study revealed that over 1000 successful sales representatives to understand those top viable and powerful traits of top sales performers
While hiring a sales person, check for the following are the must have traits.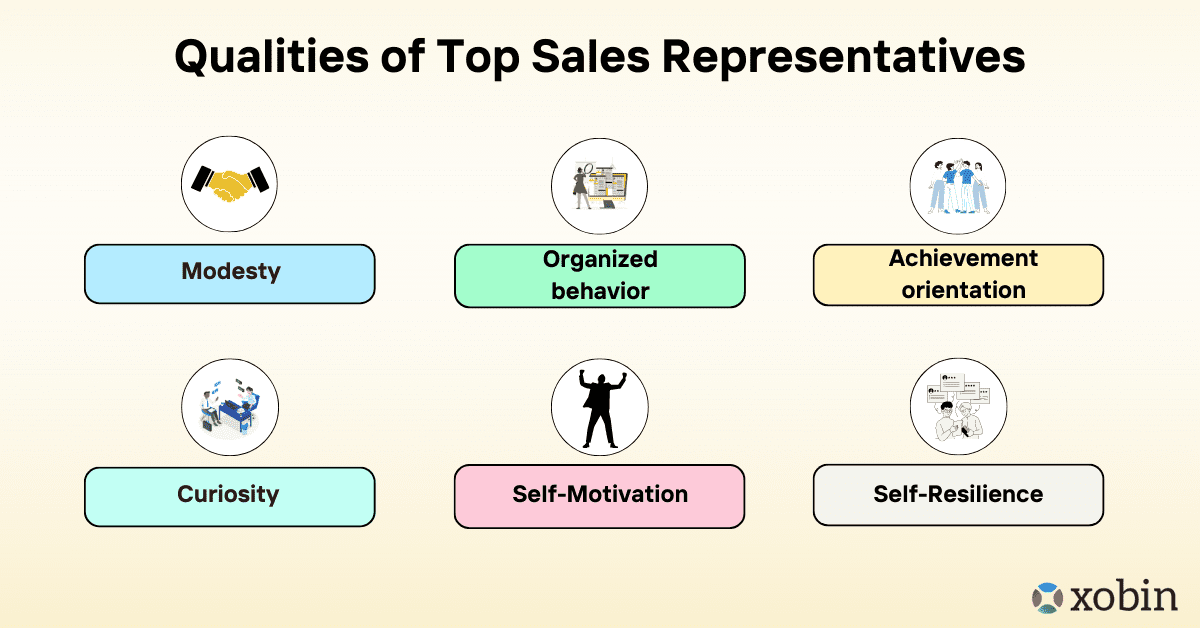 1. Modesty
It is no wonder that successful people are down to earth. A study conducted by HBR found that 91 per cent of top salespeople had medium to high scores of humility and modesty tests. Modest people have better connect to customers problems.
2. Organized behavior

It's a no-brainer. Successful salespeople are organized. They always maintain a clear list of proposals and follow up date.
A well organized sales representative should
Make a list of prospects you should visit or call everyday
Maintain a schedule up-to date and prepares well in advance for the important events and meeting
Connect with leads right away
Leverage the use of technology to enhance their organizational skills
Achievement orientation
Eighty-four per cent of the top performers tested scored very high in achievement orientation. They are fixated on achieving goals and continuously measure their performance in comparison to their goals.
Top salespeople belong to the ambitious lot and they possess excellent sales closing techniques. This particular notion of top sales performers drives them to meet with key decision-makers and make great deals.
Curiosity
Ask open-ended questions!
Open ended questions helps the sales representatives to understand the buyer's needs. Not just that, they help in creating a rapport with customers and quickly offer best possible solutions.
Curiosity is the measure of a person's hunger for knowledge and information. Eighty-two per cent of top salespeople scored extremely high curiosity levels. Top salespeople are have extreme levels of curiosity and embrace ambiguity.
Hire sales representatives who are psychologists dressed up in suits to read the mind of customers.
Best HR Software Solutions
Campus Recruitment Software
With our online campus recruitment software screen, hire top talents hassle-free. Everything is under one platform, from test creation to the candidate's evaluation. from test creation to the candidate's evaluation.
Rating 5.0
Based on 321 user ratings
API Integration by Xobin
Get integrated and harness the strength of robust assessments with Xobin APIs. Save sweat and time and focus on your core offering, not building your assessment stack. from test creation to
Rating 5.0
Based on 321 user ratings
Coding Skill Assessment Software
With our 100+ coding assessments on various languages such as Java, Python, JavaScript, React, Angular, etc., evaluate and hire the best-talented developers. from test creation to the candidate's evaluation. to the candidate's evaluation.
Rating 5.0
Based on 321 user ratings
Pre-Employment Testing Software:
Get access to the vast library of validated tests to screen candidates using online assessments. Simplify your recruitment process with our cloud-based Pre-employment Testing Software. from test creation to the candidate's evaluation.
Rating 5.0
Based on 321 user ratings
Pre-recorded Video Interview Platform:
Pre-recorded Video Interview Platform allows candidates to fully express themselves to a pre-recorded question. So that you can get more insight into candidates in far less time than a traditional phone interview. from test creation to the candidate's evaluation.
Rating 5.0
Based on 321 user ratings
Self-Motivation
Yes, rejections are depressing! Failures outnumber successes in sales. Even the finest of salespeople have been through this thorny path.
However, top performing sales people possess the intrinsic ability to handle emotional disappointments. They mentally bounce back from losses and prepare themselves for the next opportunity to compete. They have high spirits and keep them motivated all the time.
Here are few motivational tips from top salespeople:
Set realistic goals
Make a plan and stick to it
Map your progress
Stay calm and take mental breaks
Self-resilience
Top salespeople are shameless.
They are thick skinned and remain motivated even after several rejections. They shamelessly follow up, follow up and follow up. Self-consciousness is the measurement of how easily someone is embarrassed. The by-product of a high level of self-consciousness is inhibition. Less than five per cent of top performers had high levels of self-consciousness.
Hire a sales representative who are customer centered than self-centered.
Here is another interesting finding of top traits of successful salespeople by Fuel-McKinsey report
Red Flags while hiring a Sales Representative
Now we have understood the best traits of top sales representatives. Now, it is also equally important for the recruiters to make sure that the sales representatives they hire are devoid of some destructive traits. According to Forbes magazine, the red flag traits are as follows: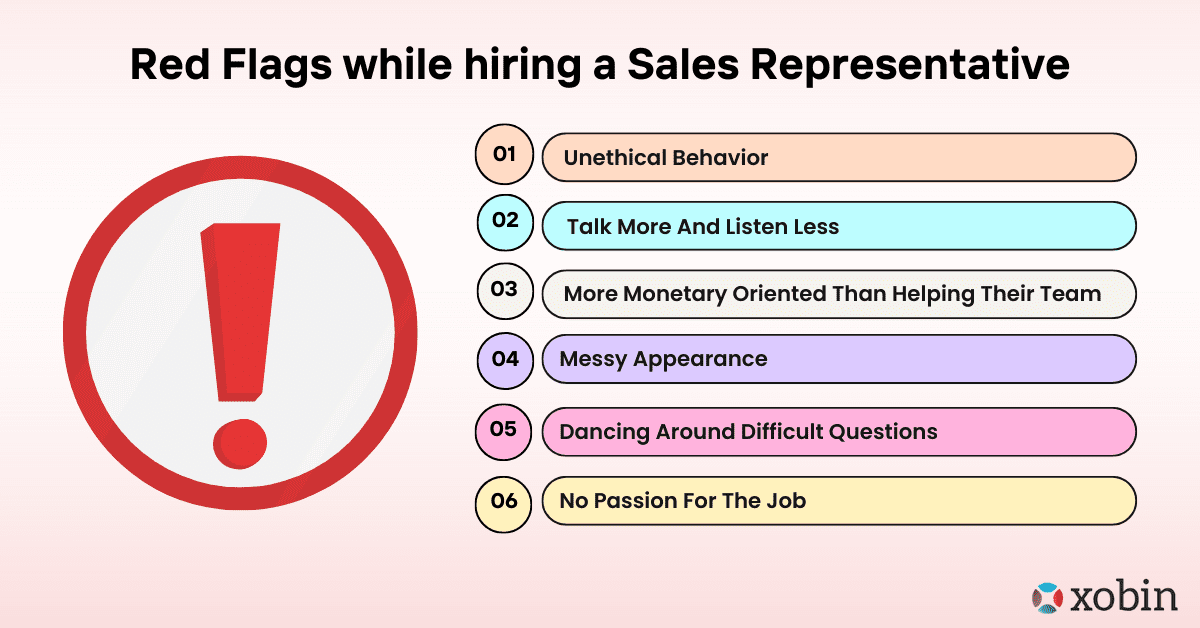 1. Unethical Behaviour
An action that falls outside of what is considered morally right or proper for a person, a profession or an industry. Some salespeople only care about the number of conversions. Never hire a sales representative who makes numbers count at the stake of the company's reputation.
Talk More And Listen Less
Top sales performers have exemplary listening skills.
Quite often we see sales representatives who just talk , talk and talk. They don't pay heed to what a customer wants. Do not hire a sales representative who just brags about the product and doesn't care about knowing what the customer really needs. A salesperson who only talks is probably going to be mediocre at best. A good salesperson is one who listens and understands the requirements of the customers.
More Monetary Oriented Than Helping Their Team
No doubt salespeople should be ambitious and goal oriented but also need to be a team player. Successful salespeople have great team bonding skills and also help other team members to achieve their respective goals.
When salespersons are too self-centered or focused on creating a brand just for themselves, that's a red flag. Hire a sales representative who aligns his goals with the goals of his team members.
Messy Appearance
Salespeople must have a good appearance to make a good first impression.
Forget sales representatives, do you even trust any person with messy appearance when you deal with money?
If a person looks disheveled, they appear unorganized. As a business owner, you are handing over money to sales reps, and you need to know your dollars are in trustworthy hands. If it appears the candidate cannot take care of him or herself, you may feel you are unable to maximize your dollars. Hire a sales representative who looks who can sway customers emotion and cognition with his/her endearing appearance.
Dancing Around Difficult Questions
Never hire a sales representative who says 'Well, let me get back to this later'. This reveals that he is unsure and unprepared about his product.
A salesperson should possess good market research skills, knowledge of competitor's pricing and ability to answer customer's queries. If salespersons avoid difficult questions from customers, this behavior projects that they are dishonest and considered as a red flag. Make sure that the sales representative you hire has he ability to build and manage top-notch sales knowledge base.
No Passion For The Job
This is the most important aspect to look for while hiring a sales representative. Selling is an art, no doubt about it. However, it can be learnt over a period of time. Hire sales representatives who can mould themselves and have the ability to withstand rejections. If a person shows no passion for the sales job or doesn't visualize a well-defined path for himself, that is a serious red flag.
Why Is It Important To Assess The Skills Of Candidate For The Role Of Sales Representative?
The role of sales representatives can vary greatly from company to company. The sales department plays a pivotal role in the success of the business. The unique and important role of sales is to bridge the gap between a customer's needs and the products/services that the organization offers.
Sales influence the growth and profit of an organization. Hence it is very important for the recruiter to find the best and fittest sales representative who foresees the future of the company. A sales representative should stand as a trademark for the quality, assurance and values of an organization. Therefore, a 360-degree assessment is very important to recruit a person for the role of a sales representative.
An ideal dissection of various traits appear post assessment appears like this!
What Happens If Recruiters Fail To Assess The Overall Skill set Of Sales Representative While Hiring?
In general, sales professionals are good at selling themselves. But recruiters should be more aware and conscious of all these tactics and cross-check the real skill set of candidates. Conduct Sales Aptitude tests to validate if a candidate can prove to be a right fit or not.
Pre-assessment tests are mandatory to ensure fair and square selection of candidates. If recruiters fail to assess the overall skill set while recruiting sales representatives, they may have to face hardships in the future.
They may end up with a bad hire who is not the right fit for the organization. Hence recruiters should assess if the sales representative has a long-term goal. Ensure that the new hires are result oriented, have ability to handle rejections and other basic soft skills.
Did you know?
39% of businesses report a decrease in productivity due to a bad hire- Global HR Research2
Interesting statistics explaining the cost of bad hire.
How To Pre Assess The Skills Of Candidates For The Role Of Sales Representative?
Setting up a few sales-related questions as the first-pass filter will enable the recruiter or hiring managers to immediately put candidates' claims to the test.
Additionally, it will allow you to weed out any mediocre candidates straight away. Now, the recruiters or hiring managers can invest more time with the right candidates during the interviewing process. The one shop solution for this is Xobin!
Recruiters or hiring managers can assess the candidates based on the following assessments:
Logical reasoning and analytical ability tests
It is important to test the basic reasoning and analytical abilities of sales representatives. Logical reasoning and analytical ability tests help the recruiters to assess the thought process of the candidates and map them against the standard skill set required for the job.
Communication skill assessment test
Sales persons should possess effective verbal and written communication skills. Communication assessment test helps the recruiters to identify the candidates who have a good command of the language and can persuade the customers with their communication skills. Sometimes the sales representative may have to follow up on a customer over email, hence it important to assess the writing skills and email etiquette of the candidates.
Psychometric tests and sales skill tests
Psychometric tests help the recruiters to assess the soft skills or mental ability of sales representatives. They reveal the inhibitions and the actual behaviour of the candidates
Sales Drive: Does the individual enjoy presenting, persuading, negotiating, and motivating others? How much do they enjoy these activities?
Emotional toughness: How rapidly does the individual rebound from rejection? Do they learn from their experiences and move on quickly? Or, do they suffer a sustained reduction in productivity? Remember, sales representatives should always possess higher levels of motivation.
Effective probing techniques: Does the individual ask good questions? Can they dissect answers and pick out the pieces? Can they continue the conversation and connect with the customer's problems?
Service Drive: How friendly and agreeable is the individual? How interested are they in building relationships and helping others? Sales representative should always project themselves are reliable sources at the time of distress. This service drive nature of business representatives will lead to a long lasting relationship between customers and organization. This in-turn brings huge profits to the organization, as a potential customer over a period of time become a loyal customer due to enhanced customer service.
Assertiveness: How self-assured is the individual? How effective are they at convincing others to take action?
Attitude: How self-assured is the individual? How effective are they at convincing others to take action? Do they possess a go-getter attitude?
Competitiveness: How competitive is the individual? How does their competitiveness manifest itself?
Energy: How energetic is the individual? Are they always "on the go", or do they need to be prodded into action?
Independence: How readily does the individual accept direction from others?
Learning rate: How rapidly does the individual learn new information? What styles of learning are most productive for them?
Xobin pre-assessment tests help the recruiters and hiring managers to pick the right candidates from the never-ending pile of applicants.
As we have presented you some insights, now it's your turn!
Let Xobin analyze the Sales DNA of your applicants using Sales Fundamental, Email Writing and Situational Judgement tests. Signup with Xobin to understand the sales aptitude and sales psyche of your applicants!