According to a survey by the Society for Human Resource Management (SHRM) in June 2020, 60% of organizations had implemented a hiring freeze in response to the COVID-19 pandemic.
Another survey by the same organization in July 2021 found that 44% of employers were still maintaining a hiring freeze.
   Looking for Hiring Software? Check out the best Hiring Software solutions.
Since September 2022, Many big tech players have implemented hiring freezes in light of economic uncertainty and a looming global recession. Hence, the thought of a hiring freeze can bring confusion, anxiety, and fear among HR teams. So, let's understand in depth the hiring freeze.
What is a hiring freeze?
As the name suggests, a hiring freeze is a temporary cost-saving measure implemented by an organization to suspend hiring new employees. So, during a hiring freeze, all recruitment operations are on a halt. In other words, the company accepts no new job applications, conducts no candidate interviews, and makes no job offers.
A hiring freeze happens for various reasons, such as budget constraints, a change in organizational structure, or a shift in business priorities. Of course, for certain critical roles, some exceptions are made.
The duration of a hiring freeze can vary. From 3 months up to 15 months, depending on the economic conditions.
Related: Hiring Freeze and Layoffs
When done strategically, freezing or pausing hiring can create much-needed breathing space for your HR teams. In today's competitive talent market, hiring teams can be caught up in the rat race of recruitment- i.e., trying to bring in more qualified candidates as quickly as possible.
This speed can often come at the cost of candidate quality and cultural non-alignment. Moreover, candidate experience, a crucial aspect of the hiring process, often gets overlooked. A hiring freeze gives HR teams time to reflect, analyze what has worked and hasn't, and redefine the hiring process.
1. UpSkill and Re-skill your HR Team
The profession and work profiles in the HR field are fast changing.
All HR functions- recruiting, onboarding, and performance management – undergo a sea of change.
Here is how things have changed in the past seven years: –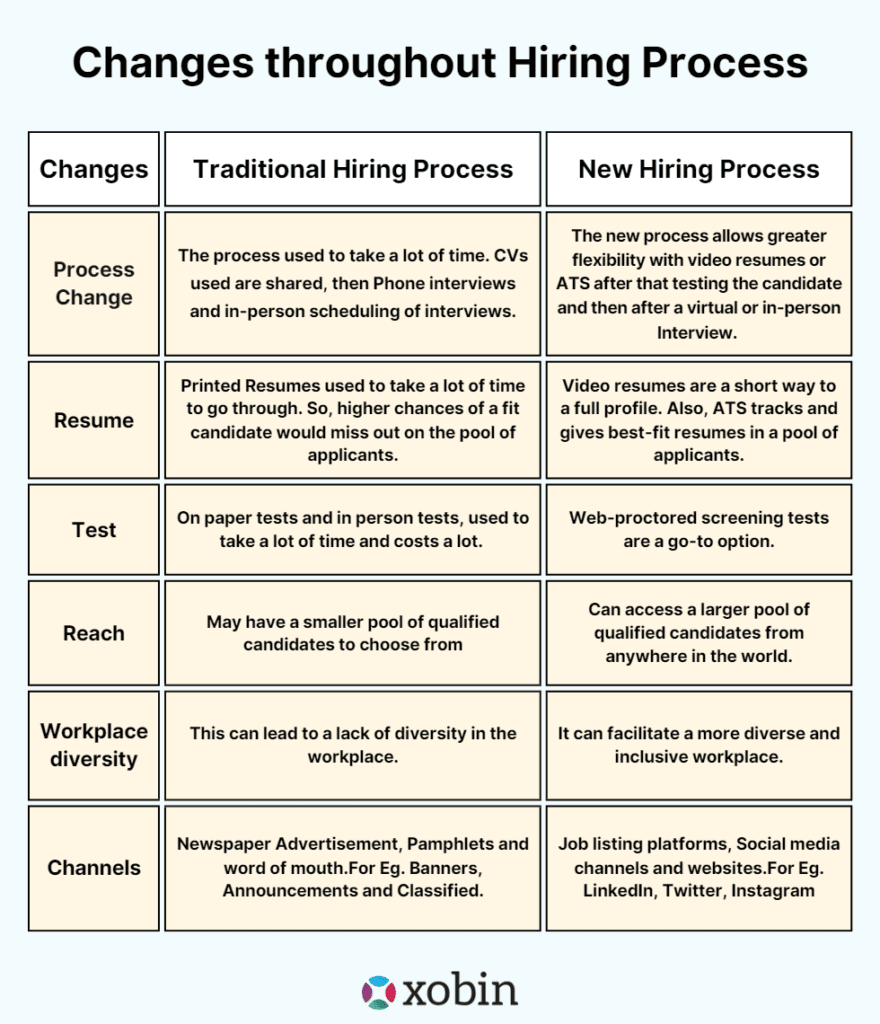 Increasingly, organizations are employing remote and flexible workers. This has led to the need for new HR practices such as remote onboarding and virtual team management.
Related: HR Conferences for 2023 that you can't miss
Additionally, there are many ways to educate and upskill yourself. This could be via HR-related Youtube Channels or HR related Slack Communities.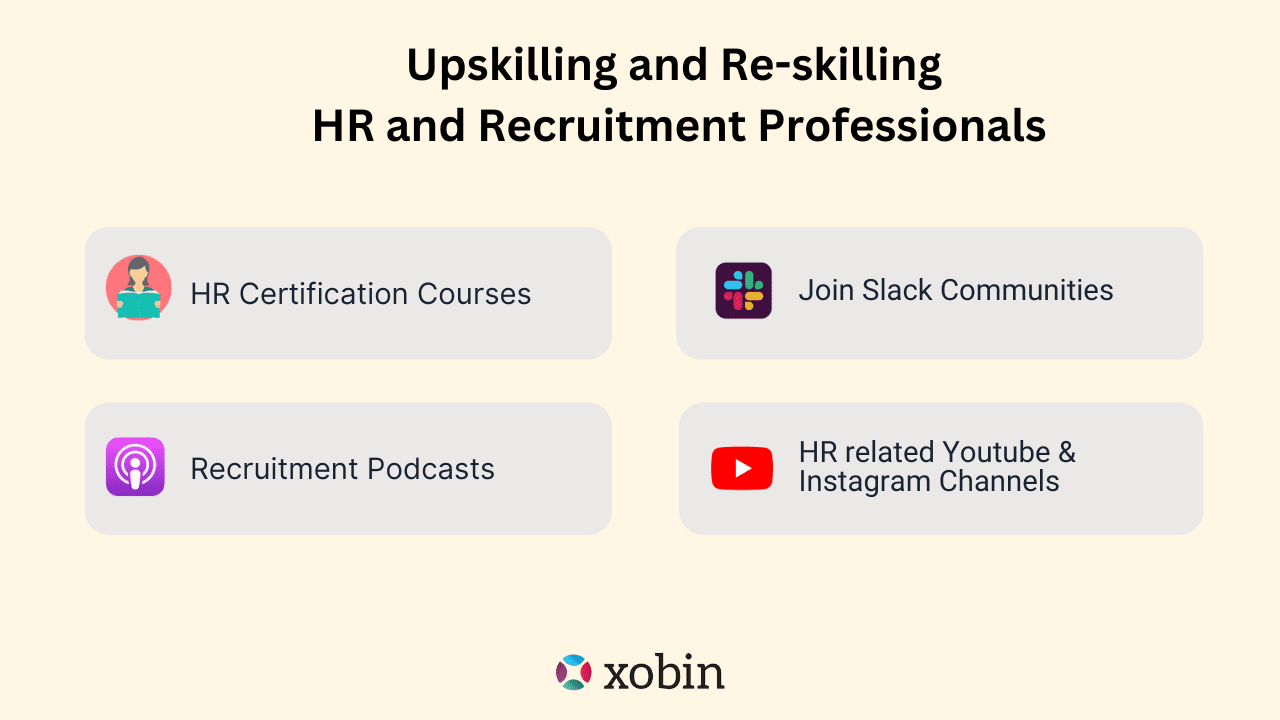 2. Employer Brand
Talent availability is not just local. It is now on-demand and remote.
Talent acquisition channels are changing from traditional job postings on job boards and career pages to targeted outbound sourcing and AI-based scouting.
Here are some ways that recruiters can contribute to employer branding:
1.

Showcase company culture
HR's can promote the company's culture and values by highlighting them during recruitment. They can provide candidates with insights into what it's like to work at the company, its benefits, and how the company values its employees.
2.

Emphasize employee experiences
Recruiting managers can also showcase the experiences of existing employees to give candidates a better understanding of what it's like to work at the company. Also, HR's can create videos that feature employees talking about their roles, their work, and how the company supports their growth.
3.

Engage with candidates
Recruiting managers can engage with candidates by providing timely feedback. Also, by addressing their questions and concerns, and making them feel valued. And by making the recruitment process efficient and respectful for them.
Recruiting managers can use social media to showcase the company's culture and values and employee experiences. Also, use it to connect with potential candidates.
5.

Ensure a positive candidate experience
Recruiting managers should ensure the recruitment process is positive and respectful for all candidates, even those not hired. By providing timely and constructive feedback. Also, by addressing concerns, and making the recruitment process a transparent one.
By contributing to employer branding efforts, recruiting managers can help attract and retain top talent. As result, building a strong employer brand.
3. Build your Talent Network
Let's make one thing clear. A hiring freeze ≠ dormancy in your talent acquisition activities. Hence, HR's have to continue to build a Talent Network as it will open doors for different opportunities. Also, the constant effort towards it will bring its own reward along the way.
Here are some steps that can help a talent acquisition team build its own talent network:
1.

Define the ideal candidate
By defining the characteristics and skills of the ideal candidate in the job posting. Also, helps you attract the talent you want.
2.

Use multiple channels to attract candidates
Utilize different channels such as job boards, social media, industry events, and employee referrals to attract potential candidates to your talent network.
3.

Create an engaging career site
Your site should provide candidates with information about your organization and the type of roles you want to fill. It should also allow candidates to join your talent network and receive job alerts easily.
4.

Utilize email marketing
Regularly communicate with candidates through email marketing. For example. share job openings, company updates etc.
Use social media to engage with potential candidates and build your talent network. Share job openings, company updates, and industry news on your social media channels. If you use LinkedIn, make sure to schedule your LinkedIn posts to build a regular posting schedule and keep your audience engaged.
6.

Attend industry events
Attend industry events such as job fairs, conferences, and HR networking events. Prepare some brochures to hand out to prospects so that they can learn more about your company, its mission, and values. Use a brochure maker to create professional brochures. As a result, HR's will meet potential candidates and promote your organization.
7.

Prioritize candidate experience
Make sure that the candidate experience is positive, from the application to the final offer. This will help build your reputation as an employer of choice and increase the likelihood that candidates will refer others to your talent network.
Hence, by following these steps, HR can build a strong talent network to help them fill open positions efficiently.
Best HR Software Solutions
Campus Recruitment Software
With our online campus recruitment software screen, hire top talents hassle-free. Everything is under one platform, from test creation to the candidate's evaluation. from test creation to the candidate's evaluation.
Rating 5.0
Based on 321 user ratings
API Integration by Xobin
Get integrated and harness the strength of robust assessments with Xobin APIs. Save sweat and time and focus on your core offering, not building your assessment stack. from test creation to
Rating 5.0
Based on 321 user ratings
Coding Skill Assessment Software
With our 100+ coding assessments on various languages such as Java, Python, JavaScript, React, Angular, etc., evaluate and hire the best-talented developers. from test creation to the candidate's evaluation. to the candidate's evaluation.
Rating 5.0
Based on 321 user ratings
Pre-Employment Testing Software:
Get access to the vast library of validated tests to screen candidates using online assessments. Simplify your recruitment process with our cloud-based Pre-employment Testing Software. from test creation to the candidate's evaluation.
Rating 5.0
Based on 321 user ratings
Pre-recorded Video Interview Platform:
Pre-recorded Video Interview Platform allows candidates to fully express themselves to a pre-recorded question. So that you can get more insight into candidates in far less time than a traditional phone interview. from test creation to the candidate's evaluation.
Rating 5.0
Based on 321 user ratings
4. Track your Recruitment Metrics and KPIs:
A hiring freeze gives recruitment teams time to reflect on their work. Hence, before making any changes to the hiring process, it's important to identify what has worked and what hasn't.
To kick off this study, gather all data and crunch your recruitment KPIs and recruitment Metrics.
Here are a few metrics you should know at the back of your hand.
Time to fill
Cost to hire
Applicant to Interview ratio
Source of Hire
Offer Acceptance Rate
Quality of Hire
Diversity of applicants
This exercise is incomplete if you crunch your internal hiring record. Therefore, as an organization, you also need to study the performance of your staffing agency partners. Your recruitment vendor charges you anywhere between 8% – 25%. Ensuring that they are demonstrating accountability and meeting your standards and KPIs is important.
Here are a few metrics to measure the performance of your staffing and recruitment agency partner:
The number of quality submissions – Ideally, provide 3–4 candidates per opening.
The number of pre-screened candidates – If the agency provides pre-screened candidates, it reduces 1 round of technical screening.
Time to submit – You won't want to wait a week. Top agencies provide CVs within 24 Hours.
Submission to interview – Industry Benchmark is 50%.
Interview to offer – At least 20%. Anything below this is a problem.



5. Address Diversity and Inclusion
It has been proved beyond doubt that equitable employers outpace their competitors. And why not?
So, an employer that looks after all employees' unique needs and perspectives is more likely to tap their potential.
D&I, as it is popularly known, is beyond headcount or policies. It's about the programs and initiatives taken. A hiring freeze is a great opportunity to double down on these initiatives. Here is what you can do:
1.

Diversify your Candidate Pool
Review your current recruitment sources. Identify where your current candidates are coming from. Consider diversifying your recruitment sources to reach a more diverse pool of candidates.
2.

Re-write your job descriptions to remove gender bias
Ensure that your job descriptions are inclusive and avoid using language that may discourage certain groups of people from applying.
3.

Re-evaluate the interview questions
Interviews are a two-way conversation to gather data points about a candidate, their skills, and their motive. Make sure interview questions are not discriminatory. Skip the questions on marital status or age. Stop evaluating applicants on their eye contact or handshake. Remove questions that are not relevant to the job.
Related: Interview Guide for Recruiters and Hiring Managers
It's important to remember that improving diversity is an ongoing process. It requires continuous effort.
6. Fix your HR Tech Stack
It's difficult to change the wheels of a moving car!
Quite similarly, it's difficult to revamp the hiring process when hiring all guns blazing. A hiring freeze is that much requested pit-stop. It is the best time to analyze which tools are working and which aren't.
Is your HR Tech Stack bloated?
Are your HR tools helping you improve any 1 recruitment metric?
Is your tech team getting overloaded with integration requests for every HR tool?
Are you forcing gimmick AI-based, blockchain-powered, gamified solutions for your use case?
To fix your HR and Recruitment Tech stack, ask yourself the following questions:
You buy HR Tools to automate work, reduce administrative legwork and improve your metrics.
But sometimes, you buy fancy tools that do quite the opposite.
Related: How to add Pre Employment Testing Software to your HR Stack
Here is an easy framework to ensure you have the right tools.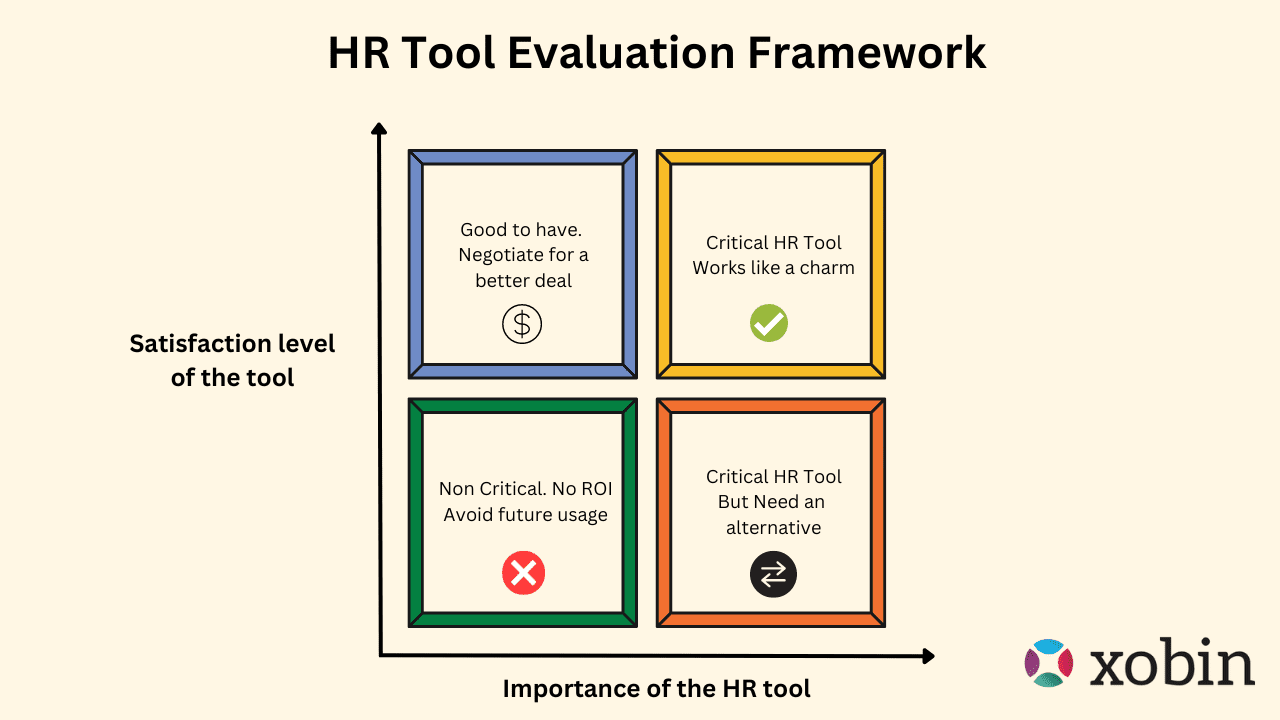 List down all the HR Tech tools that you have.
Categorize them on their importance (Critical vs Non-Critical)
Rate the tools based on your product satisfaction level (Great vs Disappointing)
Map the tools on a 2×2 matrix based on importance and satisfaction
There you go. You've got yourself a well-mapped tool evaluation framework.
Sit down with your team and churn out the non-critical tools. Retain the ones that work like a charm.
Only Software you need for all your recruitment process
1 Million +
Test takers per year
Conclusion:
In Conclusion, navigating a hiring freeze is not a cakewalk, but with proper planning and careful consideration, your business can continue operating smoothly while meeting budget requirements.
So, with this advice in mind, you'll be able to navigate even the toughest of hiring freezes successfully!