Candidate experience is a term used to describe the overall experience that job seekers have throughout the recruitment process, and how they perceive a potential employer's brand when they apply to a role; it encompasses all aspects of the application process – from applying to onboarding. Gen Z employees are estimated to comprise 27% of the global labor force by 2025, and with gen Z being one of the more progressive generations who expects a good experience, recruiters need to understand how their interactions with candidates affect the latter's perceptions of them and their brand, as well as the overall quality of their hiring process. This article explores how poor candidate experience has an impact on businesses and what firms can do about it.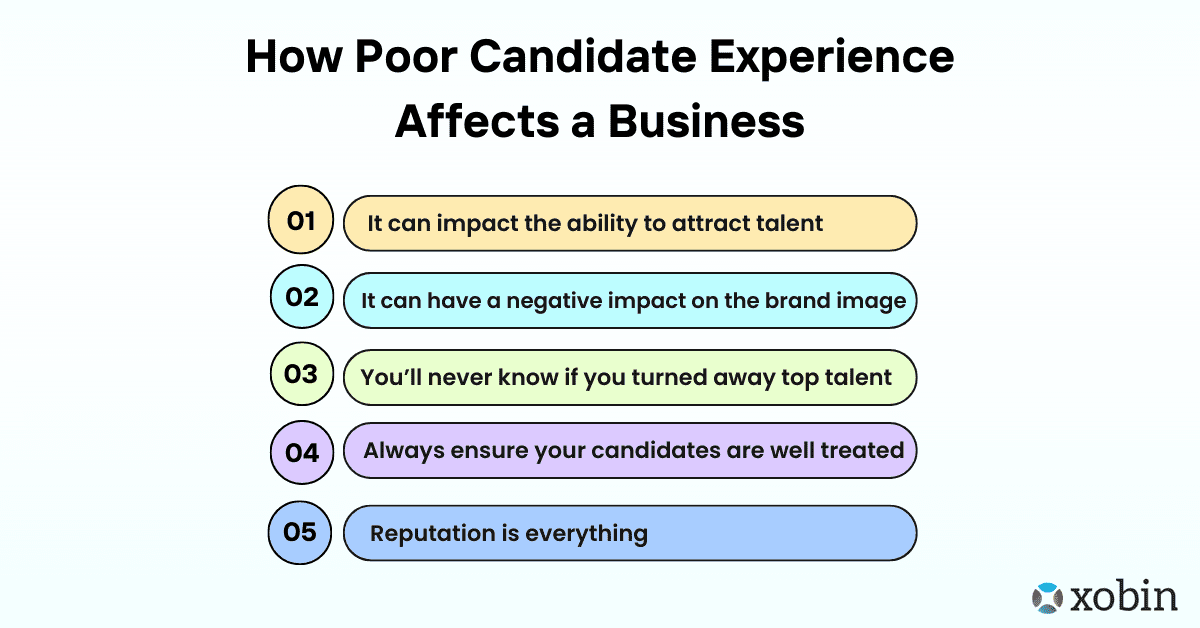 Looking for Talent Acquisition Software? Check out the best Talent Acquisition Software solutions.
Poor candidate experience can impact the ability to attract talent
As a business, you're always looking for ways to attract talent. But what if the way you treat candidates is preventing them from wanting to work with you?
According to Deloitte and The Talent Board, candidate experience is becoming increasingly important in attracting talent. Hence, it's vital that you get this right as soon as possible in order to create long-term relationships with potential hires who are interested in working at your company. Not only does it make hiring more efficient, but it also saves money by helping you avoid costly mistakes such as wasting time interviewing unqualified candidates or forgetting about those who would otherwise have been great fits for open positions within your organization.

Furthermore, it has been found that almost 69% of candidates would think about sharing a negative recruitment experience with their friends and professional network; on the other hand, a good 82% stated that they were likely to share a positive employment experience. This can be extremely damaging to your brand, turn away top-notch candidates and can cause serious damage to your bottom line.
Best HR Software Solutions
Campus Recruitment Software
With our online campus recruitment software screen, hire top talents hassle-free. Everything is under one platform, from test creation to the candidate's evaluation. from test creation to the candidate's evaluation.
Rating 5.0
Based on 321 user ratings
API Integration by Xobin
Get integrated and harness the strength of robust assessments with Xobin APIs. Save sweat and time and focus on your core offering, not building your assessment stack. from test creation to
Rating 5.0
Based on 321 user ratings
Coding Skill Assessment Software
With our 100+ coding assessments on various languages such as Java, Python, JavaScript, React, Angular, etc., evaluate and hire the best-talented developers. from test creation to the candidate's evaluation. to the candidate's evaluation.
Rating 5.0
Based on 321 user ratings
Pre-Employment Testing Software:
Get access to the vast library of validated tests to screen candidates using online assessments. Simplify your recruitment process with our cloud-based Pre-employment Testing Software. from test creation to the candidate's evaluation.
Rating 5.0
Based on 321 user ratings
Pre-recorded Video Interview Platform:
Pre-recorded Video Interview Platform allows candidates to fully express themselves to a pre-recorded question. So that you can get more insight into candidates in far less time than a traditional phone interview. from test creation to the candidate's evaluation.
Rating 5.0
Based on 321 user ratings
It can have a negative impact on the brand image
Candidate experience is a reflection of the brand. A candidate's experience with your company will be a reflection of how you treat them and how much care you put into the recruitment process. This can have a huge impact on your overall brand image, which can affect everything from sales to customer loyalty. In fact, 71% of candidates conduct their own research online before applying to a company.
You'll never know if you turned away top talent
The longer you make candidates wait for an interview or not engage with them and fail to adequately respond to their queries, the more likely they are to be lost to the competition. If your organization is the only one in town that hasn't responded yet, or if it's taking longer than expected, then you could be losing out on top talent.
This is especially true if you're looking for a superstar employee who has their pick of employers. You can easily lose that person because they had better options elsewhere. This can also happen if you have a great candidate and they decide not to wait around any longer – they may just take another job offer that comes along after yours was delayed too long, or if there was a lack of proper communication!
Always ensure your candidates are well treated!
When you're constantly rejecting candidates, it can be hard to keep up with the growing number of applications. This leads to a lot of hard work and time spent on things that just don't pay off in the end. Before you know it, managing your recruitment process feels like more trouble than it's worth. If candidates feel frustrated by their experience with your company, they won't want to apply again in the future. This means less qualified people applying for jobs at your business – which can damage your brand image and reputation as an employer! One of the best solutions to provide a hassle-free experience without it taking a good chunk of your time is to invest in a flexible ATS that is known to prioritize candidate experience through intelligent automation.
Reputation is everything!
You may already know this, but your company's reputation is its most valuable asset. In fact, it's what makes or breaks a business. Your corporate reputation is everything when it comes to not only recruiting top talent, but it is increasingly being identified as the most important strategic asset for a company's value creation.
Only Software you need for all your recruitment process
1 Million +
Test takers per year
And when it comes to hiring, brand reputation is everything. Recruitment is a vital part of business success and companies need to be aware of the impact a poor candidate experience can have on their brand image and reputation, especially since 75% of the new generation of workforce has abandoned opportunities due to a poor candidate experience.