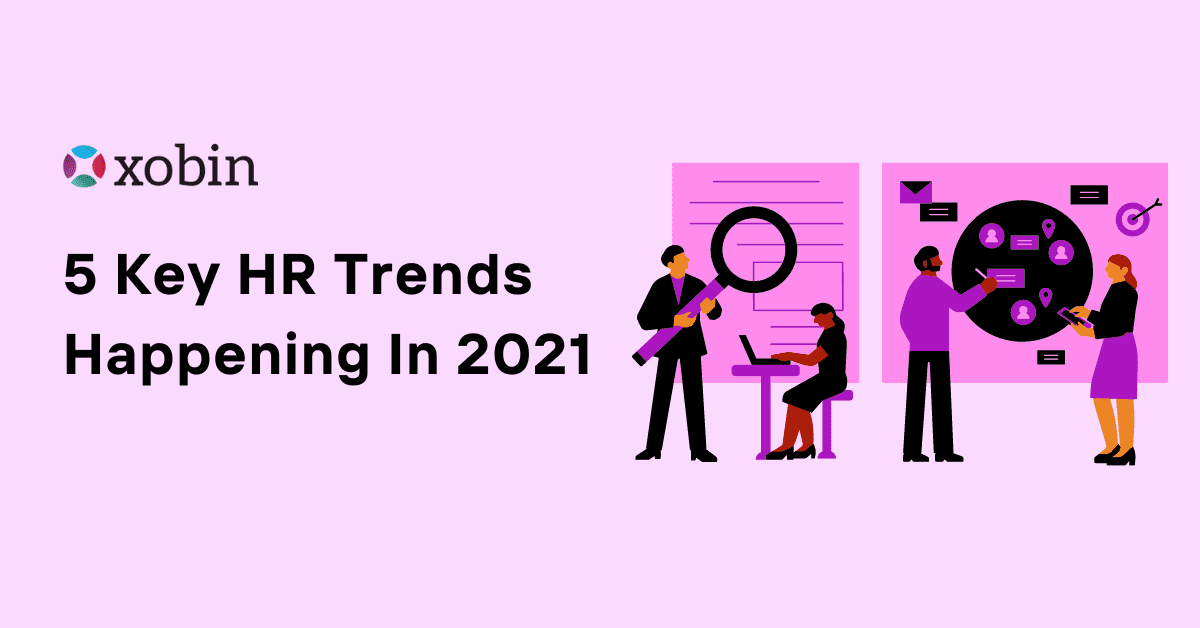 Year on year, technological advancements around the world are leaving us in awe. Last year was all about AI Chatbots, Blockchain, HR Gamification. With the year 2021 as a strategic landmark for many organizations, here are the HR trends that look to consolidate their presence in the HR space in 2020!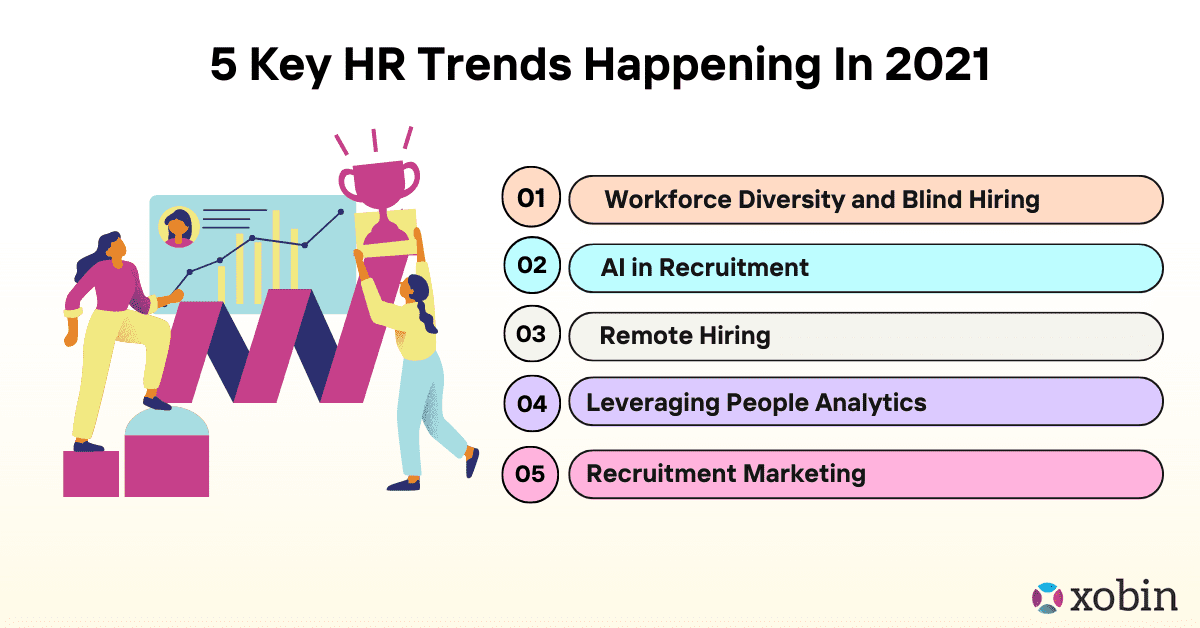 HR Trend #1: Workforce Diversity and Blind Hiring
With gender diversity and ethnicity being the major focal points, they still remain to be a distant dream from many organizations. HR leaders and industry experts are brainstorming and implementing various strategies to strike the balance.
Drafting a job description? There are 90% chances that your job description is gender biased!
Yes, the choice of words in your job description significantly influences the gender diversity of your applicants. You may be unconsciously driving away qualified candidates before they even applied. Although it is completely unintentional, let's eliminate this unconscious bias next time we write a JD.
Textio, an augmented writing platform made an interesting study dissecting how the tone of the job description can affect the gender diversity of your potential applicants. Organizations have started to rely on AI to make gender-neutral job descriptions
Software tools:- You can use Textio or Gender decoder to write an unbiased job description
HR Trend #2: AI in Recruitment
Google feed in 2018 had umpteen number blogs on AI. Artificial Intelligence has left its mark over the nook and corner of businesses. In 2019, AI will continue to take the forefront in the recruitment industry.
Sail along with the AI wave!
While hiring the top talent, at times, in a candidate-driven job market, the recruiters need to up the game by spending quality time with the right candidates to evaluate their strengths and motivate them to join their organization.
In 2019, Recruiters need to buddy up with AI to accelerate hiring, remove manual tasks, and spent quality time on the right candidates. Artificial intelligence has enormous potential when it comes to recruiting.
But how do you separate the wheat from the chaff? Take the burden off your shoulder by outsourcing a talent assessment platform.
Here is where Xobin comes into the picture!
Xobin merges the Science of Machine Learning with Psychology to help organizations with Recruitment and Skill Assessment. Our assessment platform is foolproof and also deters candidate from cheating. We have AI enabled proctors in place to monitor your candidates' eye movements and browser activity.
By the end of the assessment, our assessment platform instantly brews a piping hot assessment report with regards to the candidates' performance.
Best HR Software Solutions
Campus Recruitment Software
With our online campus recruitment software screen, hire top talents hassle-free. Everything is under one platform, from test creation to the candidate's evaluation. from test creation to the candidate's evaluation.
Rating 5.0
Based on 321 user ratings
API Integration by Xobin
Get integrated and harness the strength of robust assessments with Xobin APIs. Save sweat and time and focus on your core offering, not building your assessment stack. from test creation to
Rating 5.0
Based on 321 user ratings
Coding Skill Assessment Software
With our 100+ coding assessments on various languages such as Java, Python, JavaScript, React, Angular, etc., evaluate and hire the best-talented developers. from test creation to the candidate's evaluation. to the candidate's evaluation.
Rating 5.0
Based on 321 user ratings
Pre-Employment Testing Software:
Get access to the vast library of validated tests to screen candidates using online assessments. Simplify your recruitment process with our cloud-based Pre-employment Testing Software. from test creation to the candidate's evaluation.
Rating 5.0
Based on 321 user ratings
Pre-recorded Video Interview Platform:
Pre-recorded Video Interview Platform allows candidates to fully express themselves to a pre-recorded question. So that you can get more insight into candidates in far less time than a traditional phone interview. from test creation to the candidate's evaluation.
Rating 5.0
Based on 321 user ratings
Take a look at our technical assessment report and psychometric report for instance.
The psychometric assessment report will reveal the job-fit psychometry of your candidates. Recruiters can now map the candidates' performance against the standard skillset required by the organization and take data-driven hiring decisions.
Pro tip: Check out how AI is influencing the recruitment cycle
HR Trend #3: Remote Hiring
As organizations are looking for talent beyond their home countries, we need to have remote hiring options. Video Interviewing is the new talk of the town.
Imagine this – Your potential candidates clear the gruelling rounds of aptitude, technical and psychometric assessments, you pin your hopes onto them, feeling the accomplishment of solving the Tetris puzzle.
Wait! Here is the inflection point.
You invite your candidates for an onsite interview. Your candidate feels inconvenient to drive across town during the workday for a formal interview and may end up opting out from the recruitment funnel.
Thankfully, professional video-interviewing tools such as Xobin provides seamless solutions to remote hiring.
Yes, it is equally exhaustive from your end to schedule a 1:1 interview for a large number of candidates and ensuring that the hiring panel are available. With the help of Video Interviews, you can now schedule for an interview with your candidate at your convience.
Xobin Video interviewing platform allows you to record the interview so that hiring managers can review and discuss the candidates' performance with the team leaders in the organization before taking a decision.
HR Trend #4: Leveraging People Analytics
Psychometric assessments have proven their objectivity and reliability in various HR decision-making processes and have paved the way forward for organizations for making data driven decisions. Organizations are gaining momentum and have started to adopt people analytics in hiring, training and retention strategies.
The data obtained from the psychometric assessments are being used to identify the unique behavioural traits of the employees and thus aiding in building synergistic teams.
Many elements of people analytics are already being implemented to improve day-to-day operations. 2019 will finally bring more understanding and a level of data mastery that previously didn't exist in the HR industry. Executives may become more educated about how to use their data, or additional positions in data management may appear.
HR Trend #5: Recruitment Marketing
Although recruitment and marketing are mutually exclusive functionals, recruiters in top organizations are now wearing the 'marketer's suit' and working on employer branding events. Recruitment marketing is implementing marketing tactics by the HR department to woo and recruit new talent.
In this process, a skills assessment software comes in handy as one of the latest HR trends in this field. The main objective for adopting this strategy is to help you to pick the top talent, map them against the industry standards, identify the training needs to bring the candidates onboard, thereby driving your candidates through your way.
Pro tip: How organizations can implement recruitment marketing strategy.
Summing it up . . .
Technology is taking over the traditional HR practices. In an ever-growing population of millennial employees in the workplace, organizations need to keep abreast by adopting HR Tech in the job description, talent sourcing, talent assessment, candidate experience and employee engagement.
Embrace the above HR trends to nurture your candidates through the recruitment pipeline. If you any noteworthy HR trends in your plate, please share them in the comments section below.