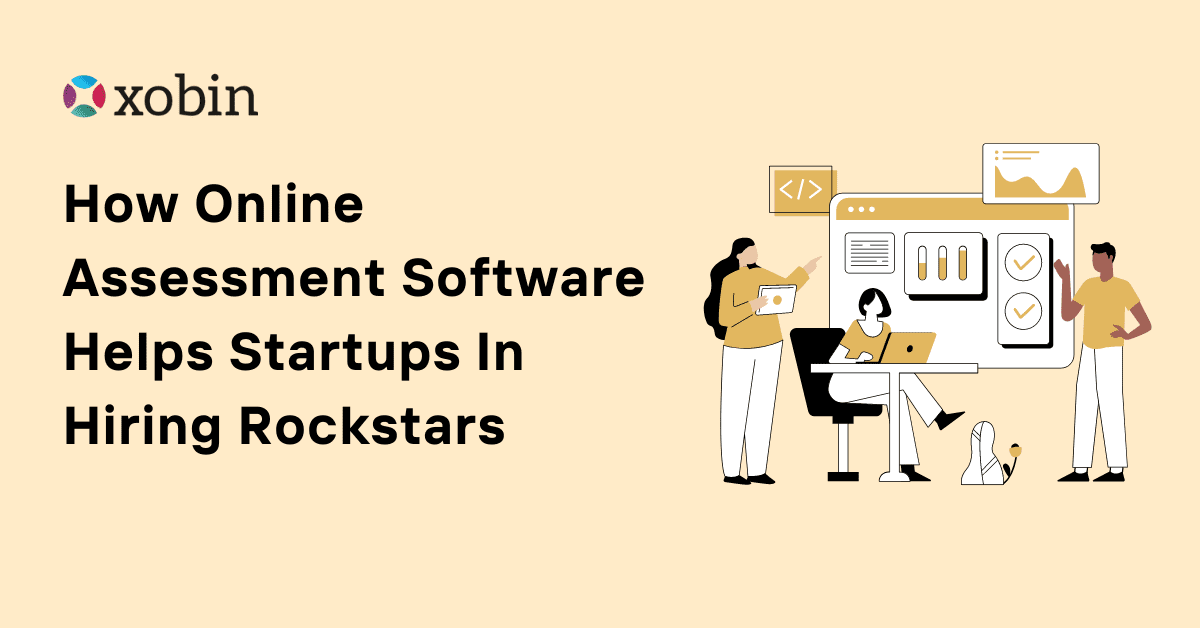 Putting on a nerve-wracking gauntlet and heading to pick the right talent for your startup? Congratulations! You are now a fellow superhero sailing on the same boat as I'm. As a matter of fact, these times I have added a life jacket, an assessment software.
The most difficult task for startup founders is to target and attract the right type of candidates, who just not only possess the right skills but also believe in the vision of the founders and align with the goals of the company. And as a founder, I have walked several miles ( still walking), trying out various permutations and combinations of recruitment techniques to bring such dark horses onboard.
   Looking for Online Assessment Software? Check out the best online assessment software.
In the process of aiming at the darts, burning my fingers with a couple of wrong hires. Below are few life-changing facts I wish I already knew before.
Facts:
1. The job market is not completely devoid of ambitious candidates. If not, top brands (Apple, Microsoft which were initially startups) wouldn't have had made that cut.
2. Moreover, I witnessed that those ambitious candidates meant for working in startups are cut from a different cloth altogether. Yes, such candidates possess an innate ability to deal with ambiguity, passion, and conviction to sail along with the founders all through the crests and troughs. It is the sole responsibility of the founders to find the needle from the haystack, vet them using an online assessment software, and spend quality time with the right candidates.
3. Failure to attract culture fit candidates can spell doom, and may eventually bore a hole in your pocket.
An assessment software has genuinely proven to optimize recruitment efforts by manifolds. Although the intent of this article is not just to pitch the product that I happen to be the CEO of, but to address the pain points startup founders face in recruiting the first few employees.
Importance of An Assessment Software in Hiring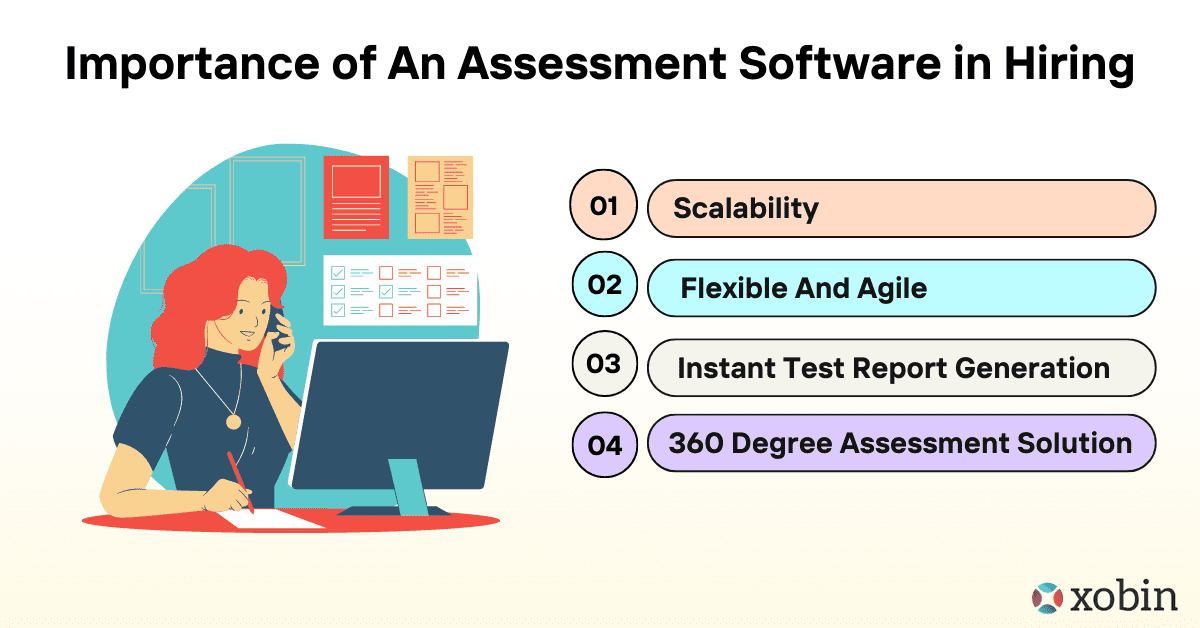 Scalability
Since fast-paced startups cannot afford to have an exclusive recruiter or a hiring manager, the founder has to wear the hat of the recruiter and maneuver the ship. As a part of our recruiting strategy, most founders lookout to tap fresh talent. But going to each campus takes a lot of time, resources, and money. Here is where exactly start-up founders need to shift their gears, break out from redundant methods. They should harness an online assessment software platform as the first step towards better hiring.

You get to assess multiple candidates at once from your office in a matter of a click. To ensure fairness in the assessment process, Xobin has AI-enabled proctors in place. These proctors will monitor your candidate's eye movements and browser activity. The best part of an assessment software platform is that it eliminates both schedule and location constraints.
Best HR Software Solutions
Campus Recruitment Software
With our online campus recruitment software screen, hire top talents hassle-free. Everything is under one platform, from test creation to the candidate's evaluation. from test creation to the candidate's evaluation.
Rating 5.0
Based on 321 user ratings
API Integration by Xobin
Get integrated and harness the strength of robust assessments with Xobin APIs. Save sweat and time and focus on your core offering, not building your assessment stack. from test creation to
Rating 5.0
Based on 321 user ratings
Coding Skill Assessment Software
With our 100+ coding assessments on various languages such as Java, Python, JavaScript, React, Angular, etc., evaluate and hire the best-talented developers. from test creation to the candidate's evaluation. to the candidate's evaluation.
Rating 5.0
Based on 321 user ratings
Pre-Employment Testing Software:
Get access to the vast library of validated tests to screen candidates using online assessments. Simplify your recruitment process with our cloud-based Pre-employment Testing Software. from test creation to the candidate's evaluation.
Rating 5.0
Based on 321 user ratings
Pre-recorded Video Interview Platform:
Pre-recorded Video Interview Platform allows candidates to fully express themselves to a pre-recorded question. So that you can get more insight into candidates in far less time than a traditional phone interview. from test creation to the candidate's evaluation.
Rating 5.0
Based on 321 user ratings
Flexible And Agile
At times, the founders hiring candidates for the role of web developer may want candidates who have a basic understanding of data structures and algorithms. They might want to assess more than 2 domain skills of the candidates.
Xobin being a highly flexible and user-friendly platform has got an extensive question library with various levels of difficulty. You could use our tailor-made assessments, add questions of your choice or you could also seek out help from us to prepare a fresh piping hot assessment. Also, we have a 'random question' feature to ensure that no two students get the same questionnaire.
Instant Test Report Generation
Another great hurdle to cross in the hiring process is managing the drop-off ratio.
The candidate drop-off ratio is a function of hiring velocity! Automation is the key to manage this element in the hiring process.
An instant assessment dissecting the overall performance of your candidate helps you to make strategic hiring decisions. As a result, it will decrease the candidate drop-off ratio.
The key goal of assessment software is to provide a valid and reliable 'true' score.
An ideal test analysis of an online assessment platform should portray:
1. Performance of a candidate with respect to various sections
2. Performance of a candidate with respect to the level of difficulty
3. Gap analysis of a distinctive score with respect to the standard score
4. Address strengths and areas of improvement
5. Valuable feedback and suggest ways for improvement
Engage with your candidates and keep them informed about the status of their candidature with a personalized email throughout the hiring process. Do not burn bridges with rejected candidates, as they might be a perfect fit for a different position in your company some time in the future.
360 Degree Assessment Solution
The major differentiator between startups and corporates is Organizational Culture. Startup hiring is not just about qualifications but finding the right culture fits. Any mismatch between a candidate's behavioral traits and the organization's culture will have a magnified impact on the performance. Organizational culture is the reason why startups churn out high employees compared to corporates.
Hence, the new hire needs to be spearheaded, self-driven and possess a deep sense of ownership. Also one who will take accountability and willingness to learn on the go. All of which could be assessed and interpreted by adopting a job-fit psychometric assessment into the hiring process. A professional online assessment platform like Xobin offers a 360° assessment solution to all your hiring needs.
Conclusion:
You can train your new hires if they lack a few technical skills, but it's too late to instill manners, ethics, or numeracy. You can't train enthusiasm or a solid work ethic. As a matter of fact, I inculcated the habit of asking culture fit questions in the interviews to candidates. Also, I always insist my fellow startup buddies assess the cultural fit of candidates. Test these cultural fits before they even measure their technical skills.
Shout-out to all startup founders!
Have any other successful hiring strategies in mind? Please comment below, I'm all ears!